CANNIBAL CORPSE
1991 - Butchered At Birth.
1996 - Vile.
Référence croisée Helter Skelter.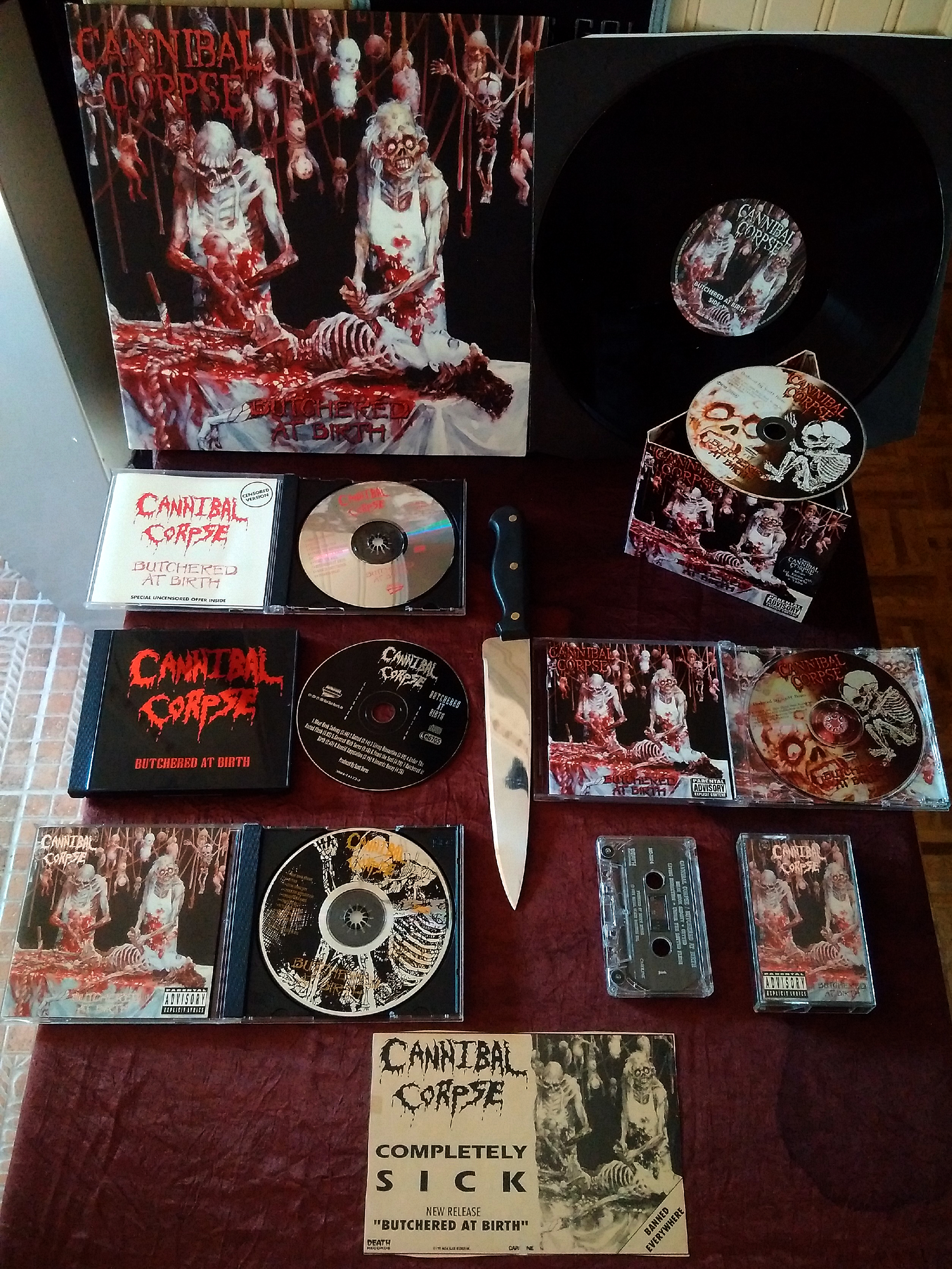 July 1, 1991 - 2021: 30 years of: Butchered At Birth.

The deathmetal Buffalo stampede.

1991: the summum for the most extreme music on the face of the Earth: Death-Metal. Eruptions from Sweden, Holland, Great-Britain ...and State-side: from Tampa, New-York and now Buffalo.

Five angry young men, with a deranged taste for blood, guts and violent deaths. This band would become a staple in the genre. CANNIBAL CORPSE viciously attack with hate in mind, with Butchered At Birth, a brutal album with an actual after-taste.

The 1:21sec deep growling intro sets the murder-mood for the massive rear-entry slaughter of "Meat Hook Sodomy". If brutal deathmetal could be encapsulated in a single track, this would be it. Completely sick and blunt, like a hammer smashed face !

The ravaging "Gutted" leaves not much to the imagination, while "Vomit The Soul" gets the extra evil treatment, courtesy of backing-vocals by DEICIDE's Glenn Benton. The title-track cuts right to the bone, as the unborn fetus is ripped from the womb. Any left-overs, inanimate remains, "Innards Decay" simply rots away, just like a pile of mush left to dry in the sun.

1991: the epitome for brutal deathmetal, as two of the deepest vocals are from the North: CANNIBAL CORPSE's Chris Barnes and New-York newcomers, SUFFOCATION's Frank Mullen.

30 years of burned flesh and scream bloody gore, this is The Buffalo Chainsaw Massacre. Banned everywhere, the crew rapidly moved to Tampa to join the ever-growing deathmetal-brotherhood. Many acts have come and gone by the slaughterhouse, yet the cannibals are still here ...still butchering.

*
Butchered At Birth = full CD
https://www.youtube.com/watch?v=wGOYoCnBIzY&list=PL2uZY7sB-yqR6lw1XK2tO2NIf4UXiZ6F5
At Morrissound Studios
https://www.youtube.com/watch?v=1xIbCEdtWzw
Live in Belgium in 1991
https://www.youtube.com/watch?v=ARHxkm2ch2Y





May 21, 1996 - 2021: 25 years of: Vile.

Welcome George.

Open the bleeding tomb and butcher yourself back to life. After 4 bloodthirst records from the most brutal deathmetal machine in the scene, frontmen Chris Barnes needed a change. Exit into his newly formed supergroup, the death-rock SIX FEET UNDER ...this left the cannibals with only once choice: get a new monstrosity. CANNIBAL CORPSE welcomes the other voice of deathmetal, Fort Lauderdale's own MONSTROSITY: George Corpsegrinder Fisher.

The rotted remains are "Devoured By Vermin" as the impact is imminent. The violence, the blunt force and the stamina of Corpsegrinder is an impressive asset. The slimy pace of "Bloodlands" with it's seven-string massive heaviness slays, while the brutal killings of "Disfigured" and the sadistic "Orgasm Through Torture" are sure to turn the mosh-pit into a human abattoir.

It is never an easy task to switch lead-singers, yet for this particular event, both parties got what they wanted. Barnes got to headbang with more rock-attitude, while the Corpses were back with one goal in mind: created to kill. Still 25 years later, no reunion or no sing thereof has surfaced, and both bands still destroy stages globally.

The Monolith Of Death DVD is a great companion to the actual "Relentless Beating" that was happening in the raw live environment.

*
Devoured By Vermin = video
https://www.youtube.com/watch?v=u58IHiS6Yg4
Vile = full CD
https://www.youtube.com/watch?v=GneupcCpfAU&list=PLkROH3Eqs0T9ljaK2Fsvn3DFPfcbWaOsA
Interview in 1996
https://www.youtube.com/watch?v=U32drO6dZ1c
Live Monolith Of Death 96-97 tour
https://www.youtube.com/watch?v=_cP97jalUGo
Corpsegrinder: Fact or fiction
https://www.youtube.com/watch?v=XxANeEtHRMs



Référence croisée Helter Skelter: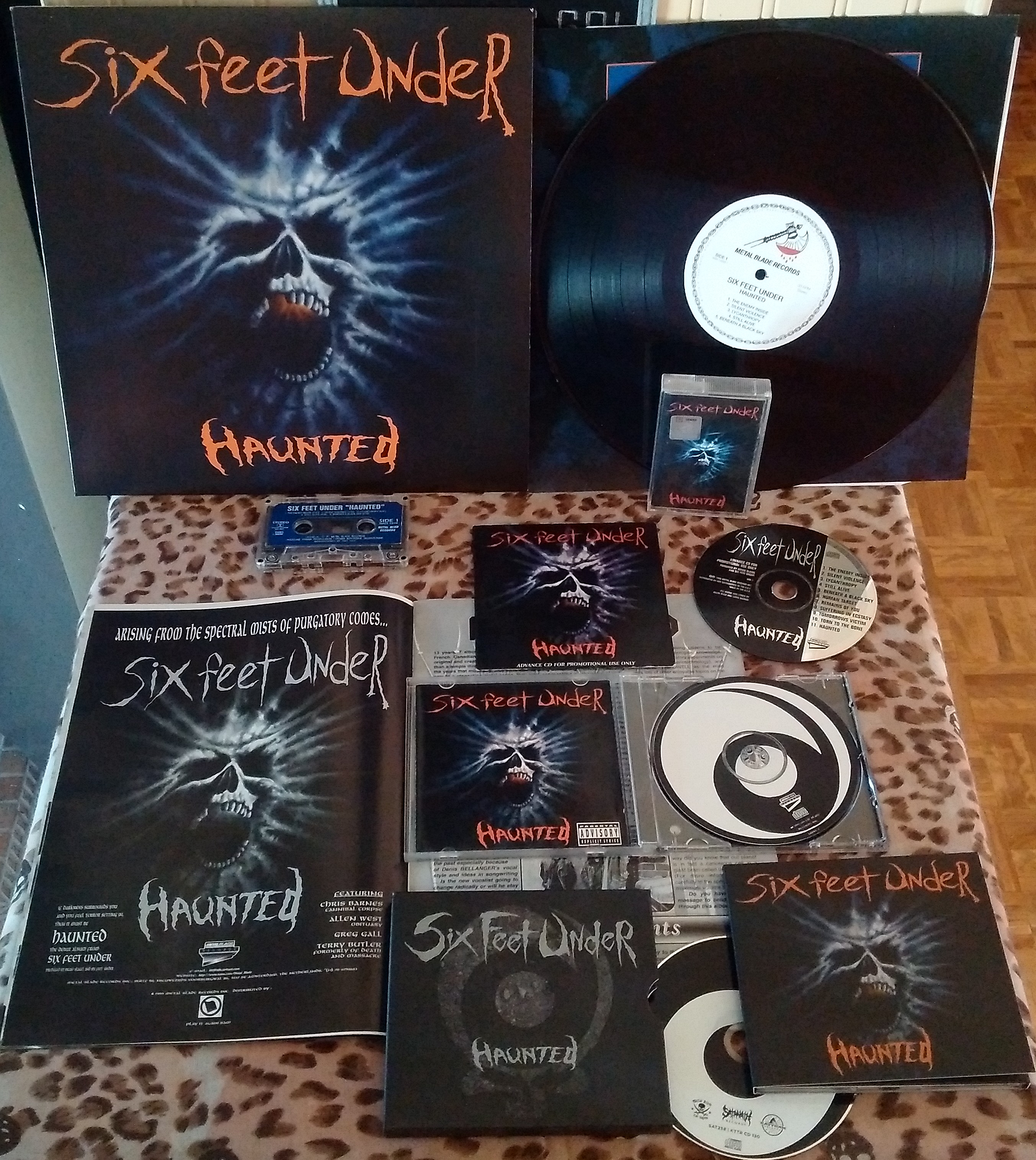 SIX FEET UNDER
&


Death-Metal US 1991
&


Death-Metal 1988-92
INDEX
helterskelter.ca
(c) (p) 2017-2021 helterskelter.ca. All Rights Reserved. Tous Droits Réservés.