EDGE OF SANITY
1992 - Unorthodox.
1996 - Crimson.
Référence croisée Helter Skelter.


July 8, 1992 - 2022 : 30 years of: Unorthodox.

Sweden's deathmetal supremacy.

The 1991-92 rivalry between deathmetal powerhouses: Florida versus Sweden. Although parts of the genre rapidly morphed into progression and melodicity, no band embodies progression and melodicity more then the very tip of the genre: EDGE OF SANITY.

The tone is alive on the deadly opening-track "Enigma". A wide opened 7:06sec adventure into extreme sounds and 70s prog-rock. Clean vocals, deep vocals, morbid melodies and grind attacks, this is probably the genre's best track ever ...four full years before the 40min Crimson-track supernova.

Old-school vibe on "Incipience To The Butchery", the fast "Beyond The Unknown", the riffology of "A Curfew For The Damned (...Blind Belief)" and the doomy "After Afterlife". This full package is of elite musicianship.

The unique unit of EDGE OF SANITY rapidly bloomed from their 1991 dark-deathmetal Nothing But Death Remains debut CD. 92's Unorthodox sets the bar higher in a scene that was already being tempted by the blackmetal church-burners.

More focused, the band would incorporate some Eurometal influences on 1993's The Spectral Sorrows CD.

*
Unorthodox = full CD
https://www.youtube.com/watch?v=wGrV8Vuy1sc&list=OLAK5uy_k6S7SGRqwZLOoP3Qlf0fmN3kxEEjEc5t0
some girl
https://www.youtube.com/watch?v=A842tr36Xqg





April 2, 1996 - 2021: 25 years of: Crimson.

Deathmetal's 2112.

Sweden strikes again. In the extreme-metal context, Strike One was issued with the first deathmetal wave of 1990, led by ENTOMBED and DISMEMBER ...and soon after came Strike Two: the creative magic of EDGE OF SANITY. After their 1992 gigantic opus Unorthodox CD, the buzz was alive and then the rock-vibe was incorporated on 1994's Purgatory Afterglow CD.

And now we get Strike Three: 1 single track ...40 minutes of material ...360° in the extremes.

From traditional deathmetal with death-grunts and mosh-riffing, this adventure eventually slows down into jazz-territory and even 70s progressive element, yes you read that right. Never a dull moment, it's an intelligent crossfire of brutal guitars and melodic harmonization.

Concept from head-to-toe, the lyrical backbone is about a sterile world where humanity is ruled by one woman who becomes Queen. She is later overpowered by society and kept locked in a suspended state. A tale definitely on the edge of sanity.

Led by chef-mastermind guitars/vocals/keyboards/engineering/etc wonder Dan Swanö, the piece also features an apparition from other Swedish scene-icon OPETH's Mikael Åkerfeldt. A sequel in Crimson II shall eventually be released in 2003. Fans of the extremes take note: the Crimson expedition is truly a one of a kind metal-adventure you do not want to miss.

*
Crimson = full CD
https://www.youtube.com/watch?v=-XaE_qasDoI&list=OLAK5uy_kc234KSvAyaJHqIRkO4yjmjveLEqVOiyQ



Référence croisée Helter Skelter: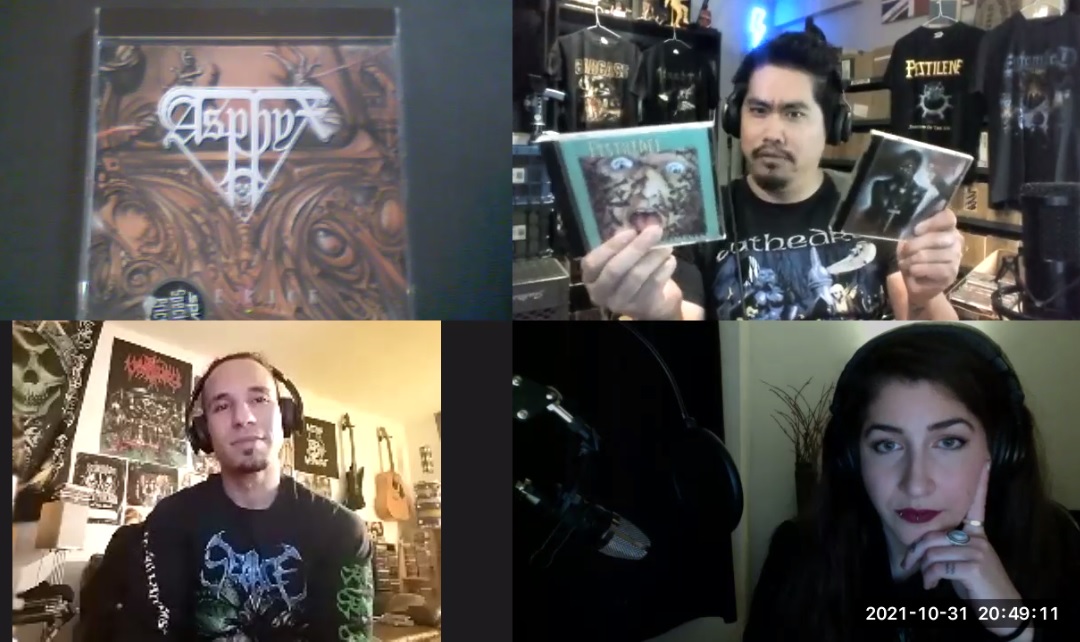 Death-Metal EU 1991
&


Death-Metal 1988-92
INDEX
helterskelter.ca
(c) (p) 2017-2022 helterskelter.ca. All Rights Reserved. Tous Droits Réservés.