METALLICA
1982 - No Life 'Til Leather.
1984 - Ride The Lightning.
1986 - Master Of Puppets.
1987 - The $5.98 EP Garage Days Re-Revisited.
1988 - And Justice For All.
1991 - Metallica.
1996 - Load.
2003 - St.Anger.
Référence croisée Helter Skelter.


July 6, 1982 - 2022: 40 years of: No Life 'Til Leather.

The birth of Thrash-Metal.

Jammed, recorded and released in true DIY-fashion, this is METALLICA's forth demo-tape and the most widely traded. At that point in time, before the introduction of mass-consumption dual cassette-decks, home-made Xeroxed copies were created with hard-core means and a lot of love. The rough recording made it's way across the globe via the rabid Eurometal fan-base, in search for new extremes.

The seven-tracks of aggressive metal features songs that would be later professionally recorded for the July 1983 Kill 'Em All LP.
- James Hetfield on vocals and guitars,
- Lars Ulrich on drums,
- Ron McGovney on bass
- and a very creative Dave Mustaine on guitars.
The über raw energy is there, the attitude, as well as the destroy-factor. Looking to burn their idols, the SoCal teens wanted no part of the Los Angeles glam-scene. These tracks are a direct influence from actual rage against the machine.

Soon after, the addition of bassist-mutant Cliff Burton and migration to the San Francisco Bay-Area, a scene widely opened to hardcore-heavymetal, would bloom the rocknroll-dream and eventual American heavymetal take-over.

With the No Life 'Til Leather demo-tape, a genre was hatched. Powerful heavymetal: faster then JUDAS PRIEST, more raging then IRON MAIDEN, more crushing then DIAMOND HEAD, all under the godly attitude of MOTÖRHEAD. This new powerful heavymetal would be universally known as: Thrash-Metal.

*
No Life 'Til Leather = full tape
https://www.youtube.com/watch?v=PieALIuzqlo&list=PLdjNPtWsfxyr4C9Y08JTdxVygvWI6CBM5
Interview in 1982
https://www.youtube.com/watch?v=SMa-iSu8cFs
Live in San Francisco in 1982
https://www.youtube.com/watch?v=tpznYFcxylQ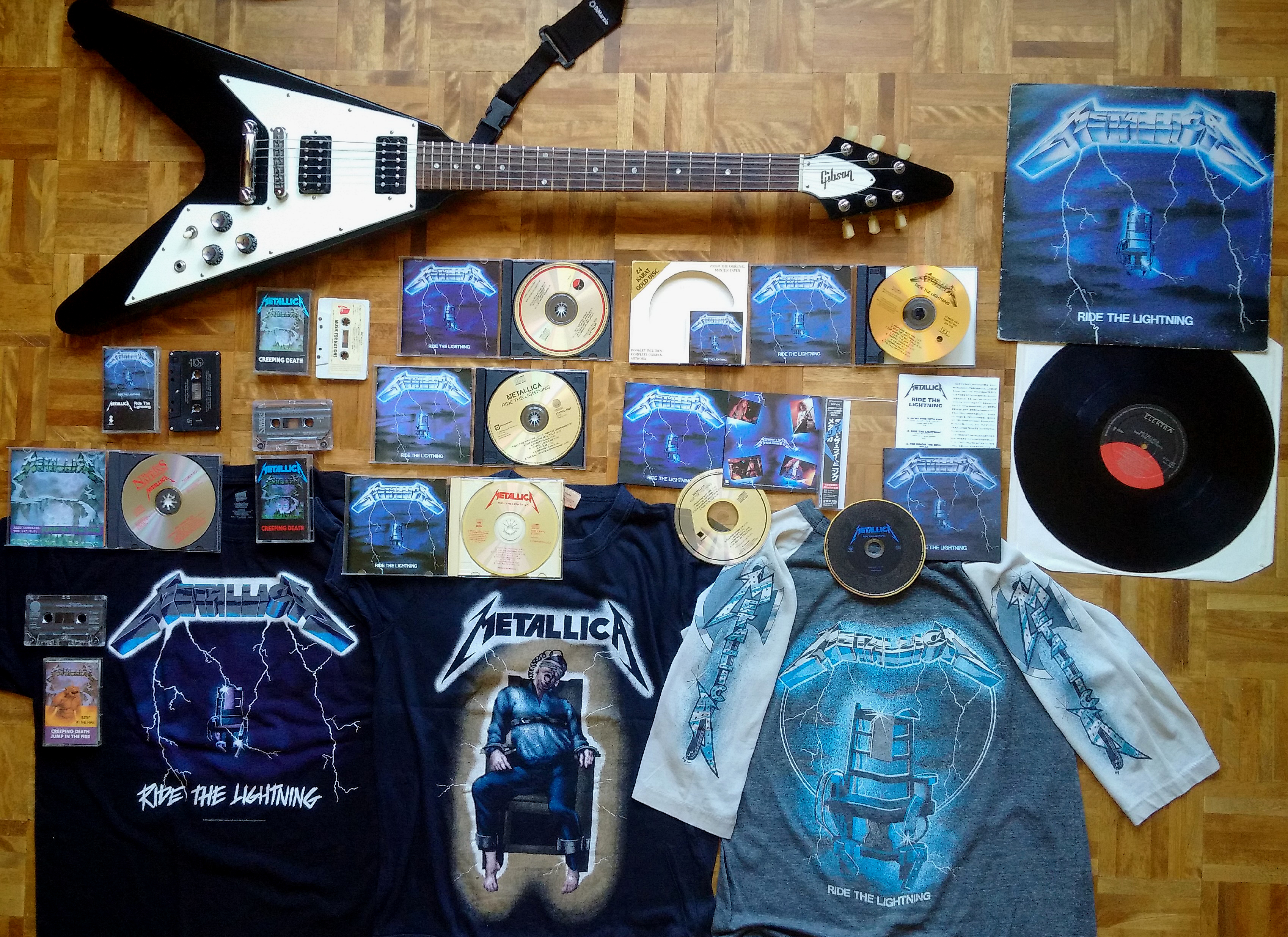 July 27, 1984 - 2019: 35 years of: Ride The Lightning.

Take a look to the sky just before you die...

1984-85-86 is speedmetal's peek time: EXODUS, SLAYER, SODOM, POSSESSED along Swiss extremist CELTIC FROST ...and METALLICA's 1984 Ride The Lightning opus is no different, with all of it's aggression and viciousness !

Second album in a mere year and last LP for Megaforce Records, the label that discovered them and pushed the band into 1983's summer Kill 'Em All debut LP ...the world was not ready for this. The California boys were now locked and loaded, leading a changing of the guards in heavymetal's landscape. While NWOBHM was strumming it's last few chords, thrashmetal was now the heaviest thing under the sun.

Trailblazing the way with a "metal up your ass" attitude, METALLICA were the first to bring thrashmetal out to the masses while still being and "underground act" ...for the time being. Remember that the European mammoths of heavymetal: the PRIESTs, the SCORPIONSs and the MAIDENs were still on top of the game and while the sleaze of L.A. badboys, the WASPs, the RATTs and MÖTLEYs were conquering the arenas and television-sets of the world ...the thrashmetal movement was setting in, with power and hate in mind !

That power and hate in mind burns to a melting-point on "Fight Fire With Fire" one of the band's fastest track ever. Attacking with blunt force, this track sums-up the raw power and the METALLICA rage-filled mindset in a blazing 4:45sec face-melting exhibition. The onslaught continues with the stunning title-track. More melodies are included in the bridge/lead section, a full 120seconds of sheer thrashmetal-unison. A piece featuring left-over parts co-written by Dave Mustaine.

The eerie and melodramatic "Fade To Black" is the first of many METALLICA "powerballads". The progressive clean-guitars builds-up to the monumental mid-part Euro-powermetal climax. Pure magic ...a song still present in today's setlist.

The neck-breaking wrist-warming fiesta continues on Side B with the madness of "Trapped Under Ice" and the driving anthemic "Creeping Death". If there would be such thing has a "thrashmetal-anthem", an explosive army-motivating fist-pumping crowd-cheering opus, "Creeping Death" is it !

"The Call Of Ktulu" is a RUSH-like tour-de-force. Classical-guitars intro, heavy-riff mid-parts and intricate leads, "Ktulu" is a well appreciated heavymetal curve-ball. The 8:55sec instrumental melodic madness is a collection of hooks and riffs, has it ascends to a Titanic-finale !

Hard to choose between so many classics, but the universally recognized METALLICA signature-track comes alive in "For Whom The Bell Tolls". The Cliff Burton bass-intro remains one of the most cherished moments of his legacy. The following riff is one of heavymetal's heaviest ever, NOT written by Tony Iommi. The laidback heavy-chord sing-along track is epic epicness of God-like status.

Ride The Lightning is a firm and massive statement and a now heavymetal-milestone. The rebellion and rage, as well as, the clever execution on all 8 tracks, makes this not only a fan-favorite but a required-listening in the genre. Unfortunately no official video exists, as this medium was still un-common in 1984's metal. Like a wild-fire, Lightning achieved Platinum-status without the help of any singles or air-play ...old-school all the way. It currently stands in the 6 million+ units sold in the USA alone.

This release was also the beginning of the METALLICA-pattern: the thrash-trilogy of 1984's Ride The Lightning, 86's Master Of Puppets and ending with 88's And Justice For All.

Please consider the following facts:
- All 3 albums have been produced by Flemming Rasmussen
- All #1 songs have an intro: either a classical-guitar intro while "Blackened" has the reversed-riff intro
- All 3 albums opens-up with a speedmetal track
- All #2 songs are the title-tracks
- On both Lightning and Puppets, #3 songs are mid-paced songs
- All #4 songs are "powerballads"
- On both Lightning and Puppets, the first track on Side B is a speedmetal track
- All 3 albums feature a long epic instrumental song, all sequenced before the last track, except on Lightning
- On Master and Justice, the album closes with a speedmetal track, some of the fastest ever
- On Master and Justice, the first tracks are titled with a "B" and the last tracks are titled with a "D"
- All 3 albums feature strong progressive-elements, not present before or after these 3 specific releases
- ALL TRUE CLASSICS !!!

On a personal-note: the Gibson 67' Flying V is a direct Kirk influence. Before I deeply got into Hendrix, Downing and Azagthoth ...Kirk-motherfucking-Hammett was the man with the almighty V. I've been a V-player since.

...it's the last time you will !

*
Ride The Lightning = full LP
https://www.youtube.com/watch?v=OhT0g9jULpw
Live in Oakland in 1985 (Day On The Green)
https://www.youtube.com/watch?v=8Z04FtRzgJc
Live in Germany in 1985 (Metal Hammer)
https://www.youtube.com/watch?v=LNLm2Tq_Lds
some guy
https://www.youtube.com/watch?v=1aOYOo6xgRA





March 3, 1986 - 2021: 35 years of: Master Of Puppets.

Thrashmetal, Inc.

1986, the year for speedmetal and heavymetal-violence. Less rabid then other contemporaries DARK ANGEL, KREATOR and RAZOR, yet METALLICA are still leaders of the pack. After the electrifying high-voltage of 1984's Ride The Lightning LP, album #3 would cement the band into timeless immortal heights, while sadly loosing bassist Cliff Burton in the process.

1986, a crossroad for hardrock and thrashmetal. For every action, there's a reaction ...and Master Of Puppets is that very reaction. Labeled the Big Four of the thrash-movement, METALLICA, along ANTHRAX, MEGADETH and the unholy SLAYER, were the horror MTV wasn't ready for. They all managed to gather a die-hard fan-base and massive sales, all without the support of traditional medias.

Don't let the flamenco-guitar intro of "Battery" fool you, as hell implodes at 0:38sec. The ultimate E-riff drives the crowd mad as the speed-factor hits like an H-bomb. Still a live-favorite, this cut is now a mosh-pit must. Right into the title-track were "Taste me you will see, more is all you need, dedicated to, how I'm killing you" is about addictions. The punches for "Master ! Master !" cuts like a knife and the mid-breakdown is a sure sign that Hetfield and the gang are above metal-musicians.

A few eye-brows lifted for "Fade To Black", well here they do it again with another now signature-track in "Welcome Home (Sanitarium)". Progressive-metal intertwined with mosh-music and the ending screams aloud "Just leave me alone !" while lead-guitar player Kirk Hammett flys away in a speedmetal organized cacophony.

Now "Orion" might very well be the all-time best track ever by METALLICA. Following the foot-steps of "The Call Of Ktulu" this fresh epic 8:27sec journey is a metal-rollercoaster from top to bottom. Mid-paced, the tempo breaks down for a Burton-apparition at 3:49sec, then supported by tearful twin-guitar harmonies, a clear Eurometal influence. The cadence picks-up at 6:55sec and turns into a gargantuous fire-storm. The album's closing track "Damage, Inc." hits Mach IV at 1:20sec, the speediest of speedmetals. Raw, crude and fuck it all and fuckin' no regrets !

Currently RIAA-certified 6x Platinum, the counter keeps-on running. Still the biggest achievement is that this record is in the middle of a classic metal-trilogy. An evolution in the extremes, from Ride The Lightning to Master Of Puppets and ending with 1988's And Justice For All LP, these masterpieces are the quintessential part of the ultimate thrashmetal-trifecta.

On tour with the madman, Mr. Osbourne, the excesses were the norm, yet the wake-up call would be the utmost brutal. On an ice-cold Swedish road, the tourbus side-swiped and ended in a deadly accident. In the early hours of the mourning, everyone was screaming and pulling out of the ditch, except for Cliff. Thrown-out still asleep, the 13-ton vehicle landed on him, killing him instantly.

The band would regroup and hire Jason Newsted from FLOATSAM & JETSAM to finish the tour, and later create the And Justice For All tour-de-force ...and later conquer the world !

1986's Master Of Puppets: a genre stepping-stone and a perfect heavymetal album.

RIP Cliff Burton (1962-1986)

*
Master Of Puppets = full LP
https://www.youtube.com/watch?v=jMOFeo9ebkQ&list=PLvyFvczmiBrunjTBsQ5jypBacIcCMDw6P
Interview in 1986
https://www.youtube.com/watch?v=jvDA11C6Zjs
Live in Detroit in 1986
https://www.youtube.com/watch?v=aIapbGZgCwE
Documentary
https://www.youtube.com/watch?v=XQ-XIOUe0jI
Cliff' Em All - VHS video
https://www.youtube.com/watch?v=FLezYQWwqdE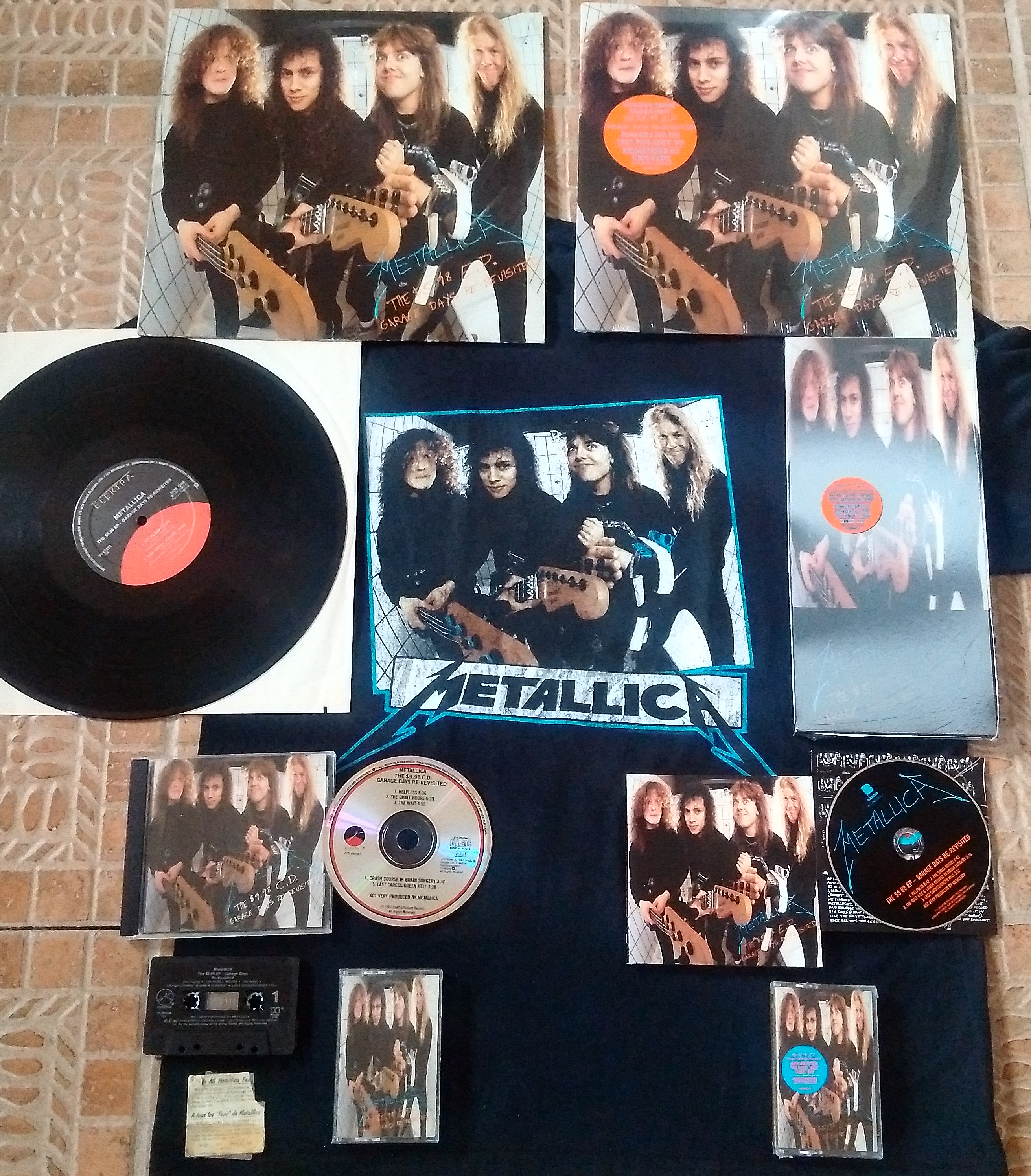 Il y a 29 ans, en Fev/Mar 1989, j'ai acheté cette cassette (en bas a gauche). Je voulais leur dernier album And Justice For All avec la piece "One" dessus, mais j'avais pas assez d'argent faque j'ai pris ce que je pouvais. Bonheur dans mon malheur !

Mon EP préféré qui m'a fais découvrir un "autre METALLICA" ainsi que "d'autres bands" tous aussi variés les uns des autres.

Célèbrons 31 ans de Garage Days. Sortit initialement en 1987, ce "jam" étais juste ça: un jam, mais qui a éventuellement fini sur disque. L'énergie est incroyable, les pièces sont incroyable et bienvenu à bord Jason Newsted !

*
ORIGINAL
https://www.youtube.com/watch?v=yrOYPemEcpk
REDUX
https://www.youtube.com/watch?v=ASZz8353c4M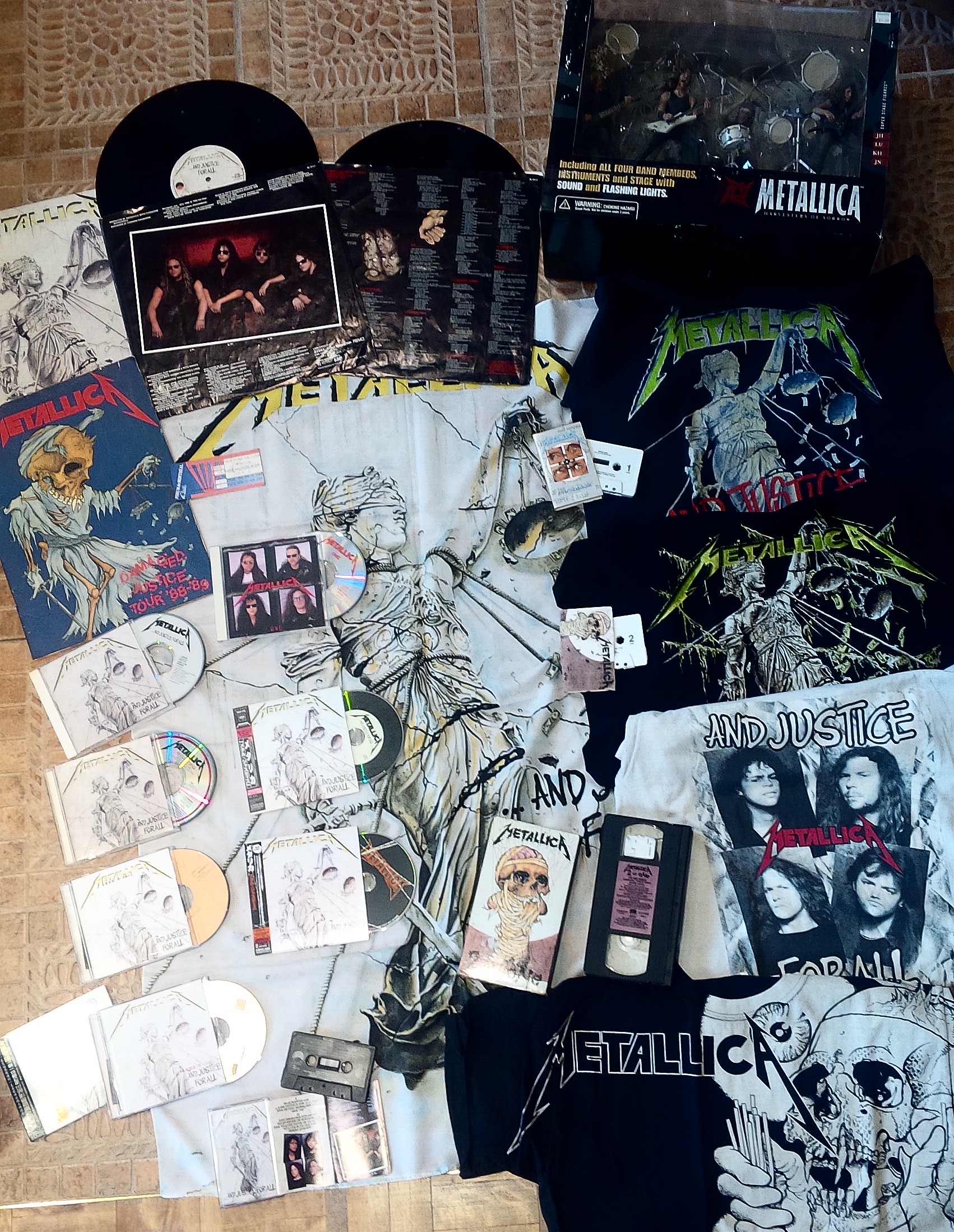 METALLICA
And Justice For All
1988

*
One = video
https://www.youtube.com/watch?v=WM8bTdBs-cw
And Justice For All = full LP
https://www.youtube.com/watch?v=GLbnTzYJXdQ&list=PLvyFvczmiBrtEXuJ4mTzqIGzN1qzoue9Q





August 12, 1991 - 2021: 30 years of: Metallica AKA The Black Album.

Love it or hate it: this is the biggest metal album of all time.

Maybe not metal-wise, but definitely sales-wise. A fuckin' staggering 25 million+ sold worldwide that includes the RIAA-certified 16x Platinum plateau. That's 16 million records sold in the USA alone ...mind you there's currently 330 million Americans in the land of the Red, White & Blue: that's 1 album per 20 human ! Other artists in this sales-metric includes: Shania Twain, Garth Brooks, Alanis Morissette and Bruce Springsteen ...let that sink in for a second.

After the perfect thrash-trifecta of Lightning, Puppets and Justice ...something had to give. The lengthy 8min progressive adventures had taken it's toll on the Four Horsemen. After an intense 6 year thrashmetal-facewash, it was time to clean things up. Enter producer perfectionist Bob Rock and his earthy philosophy. Start over, strip everything down to the bone and rebuild from the ground up on a solid standard rock-foundation. Remember that Mr. Rock is from the CULT + CRÜE school of thought. Hetfield wasn't initially into it, but Ulrich loved the idea.

After AC/DC's successful 1980 Back In Black black-cover LP and the way, way, way less successful SPINAL TAP 1984 Smell The Glove black-cover LP ...three's a crowd ...and it was now 'TALLICA-time !

"Enter Sandman" ...you know the song, your Mom knows the song, your grumpy Uncle knows the song as it's been played a million times at your favorite topless-club and it's been played a gazillion times at your local rock-bar. Edgier hardrock, not plagued by the 80s cliché, opened to the future with a simpler vibe with a fatter tone. Yes, light-thrashmetal was now a reality and METALLICA made it happen ...the same METALLICA that gave us the "To Live Is To Die" juggernaut of 1988.

"Sandman" became the catalyst for this heavyrock rebirth and new-metal for the 90s.
"Sandman" prepared the masses for the upcoming hard-music takedown from Seattle.
"Sandman" sat the pace as the band would become one of the biggest acts in rock. A position they still firmly hold today.
"Sandman" changed the game not only for METALLICA, but for the thrashmetal sub-genre, as this underground phenomenon was now accepted and embraced by the widespread FM-audience.

Massive promo was done to push "Enter Sandman" deep into the mainstream and these fruits were now ready to be harvest. The once rebel-against-radio headbangers where now the poster-boys for muscle-music. A complete 90° that would repel many hardcore fans from the 80s, but diametrically welcome millions of new faces into the rock / metal arena. "Enter Sandman" and the Metallica full-length CD are a major turning-point in rocknroll's history. Ironically Mr. Rock had foreseen "Holier Than Thou" as the lead-single, but Ulrich pulled him back.

"Do you want heavy ? METALLICA gives you heavy babey !"

...a live Hetfield statement heard around the globe as the monolith of "Sad But True" rips away. Tuned to D, a first, mid-tempo, not a first, as this military rhythm breaks down walls with it's monstrous down-picking submission. Now one of the ultimate crowd-gathering song, this piece almost didn't make the final track-listing. It was Bob Rock's idea to downtune and slow the pace, for that xtra mojo of heaviness.

More kick-ass metal-singles in "Wherever I May Roam" and the melodic MTV-powerballad "The Unforgiven". And speaking of powerballads, this time, they went all the way. "Nothing Else Matters" is an actual full-blown all acoustic made-for-radio ballad. Not NELSON-like or WARRANT-like, but they were in that zone. Where did this command came from ? Elektra Records ? Bob Rock ? industry-pressure ? ...none of the above, as this lovely emotive ballad is fully signed and heartfelt by the Hetfield + Ulrich creative duo. For most metal-heads, this was the ultimate desecration, the no-no, the fine line that defines one act as a metal-band ...versus a rock-band. METALLICA gambled alot for this, losing metal-respect in the process from it's very conservative-brotherhood ...yet on the other hand, see opening paragraph for it's gain counterpart.

Finally heard on the mix, Jason Newsted gets justice with two intro-basslines to color things up on the gigantic "The God That Failed" and the darker "My Friend Of Misery" ...the album's longest song, clocking at 6:50sec.

But do no fear metal-fans, some shades of actual thrash are found on the killer "Through The Never", the redneck "Don't Tread On Me" and the final-cut on the record, another E-riff staccato, the hidden power-punch of "The Struggle Within", who happens to includes one of Kirk Hammett's best lead-work to date. The bonus ANTI-NOWHERE LEAGUE track "So What ?" and "Killing Time" by SWEET SAVAGE reprise are signs the crew still has a grasp on their punk and NWOBHM roots.

Recorded in L.A. during the international-tensions of the Persian Gulf War, this hasn't stopped the fun and goofiness of the band in and out of the studio. The massive sound, the lively vibe, the guitar-tone, the bass-ring, the large headroom drums ...all Bob Rock tricks that were previously used on the Dr. Feelgood sessions. On the road for a full 3 years, the pillage included a stop at Moscow's Monsters Of Rock, Wembley's Freddie Mercury tribute, a 5-night stay in Mexico City, immortalized on 1993's Live Shit: Binge & Purge CD/VHS Boxset and the gigantic quarter-century Woodstock '94 celebrations. Later in 1995, they'll even play in the northernmost village on Earth: Canada's Tuktoyaktuk.

Being 16 and seeing their November 17, 1991 gig in Montreal, I can tell you that the arenarock-vibe was alive and well in the Forum that evening, and that many, many female-fans were now proudly showing their 'TALLICA appreciation in person. The impressive multi-function diamond-shaped center-stage was very fresh for 1991 ...a page straight out of the LEPPARD handbook.

Another hardrock milestone was reached as they said it would never happen: the matching US/CAN Stadium-Tour with none other than the other biggest band in the world: GUNS N' ROSES. An army on the road as the Summer '92 adventure was almost lethal for Hetfield at the now infamous Montreal explosive carnage. Plagued with mishaps and at 40000 people average per night, the trek clearly showed that METALLICA still had a street-level attitude against the flamboyant hardrock excesses of the Sunset Strip badasses. The companion home-video A Year And A Half In The Life Of METALLICA double-VHS documentary, displays the boys at the top of rocknroll-stardom, befriend with numerous rock-peers and wrecking stuff with their rabid fans.

Forever breaking away from the Big Four and the mean-metal stigmata, the Black Album cemented the end of an era and closed the lid on the late-80s thrashmetal expansion. Rapidly, many, many bands would change their sound and signature to try to capture a portion of said 16mill record-buying public. This new-found fame and metal-revival also diluted and destroyed a once underground cult-like following and changed the mainstream perception of 80s-heavymetal. And just like the Back In Black LP did eleven years earlier, the Metallica CD did not only changed the band and it's acceptation, but changed the entire perception of rock / metal in this ever changing industry. 1992 would finally present a worthy Grammy to METALLICA, to commemorate said album ...thankfully JETHRO TULL hadn't release a disc that year.

With a black-covered artwork, AC/DC changed the game of hardrock, forever !
With a black-covered artwork, METALLICA changed the game of heavymetal, forever !
And Seattle was a couple of weeks away of, once again, changing the game, forever !
Welcome to the 90s, turbulent times filled with new vibes and new attitudes ...sad but true.

The Black Album: simple, beautiful, classic.

*
Enter Sandman = video
https://www.youtube.com/watch?v=CD-E-LDc384
The Unforgiven = video
https://www.youtube.com/watch?v=DDGhKS6bSAE
Nothing Else Matter = video
https://www.youtube.com/watch?v=tAGnKpE4NCI
Sad But True = video
https://www.youtube.com/watch?v=A8MO7fkZc5o
Metallica = full CD
https://www.youtube.com/watch?v=DtJzRErAJ3Q&list=PLokAorcvoBv9LAxeK6xwqn3rSEEMhGfGr
Interview and MSG listening-party
https://www.youtube.com/watch?v=Khl9YYXU-70
Live MTV Award in 1991
https://www.youtube.com/watch?v=hFq0hgptcAI
Live Grammy in 1992
https://www.youtube.com/watch?v=C6mkwKK06Do
Life backstage in 1992
https://www.youtube.com/watch?v=soikN4KRLCE
Stadium Tour with GNR in 1992
https://www.youtube.com/watch?v=tYVnJy2xugg
A year and a half in the life of
https://www.youtube.com/watch?v=42_ZT-xx9vQ
Live Shit in San Diego VHS
https://www.youtube.com/watch?v=5dDFy0Goc6E





June 4, 1996 - 2021: 25 years of: Load.

Get a load of this ...do you remember these classic albums ?
- Soft 'Em All
- Ride The QG-cover
- Master Of Videos
- ...And Haircuts For All

The year was 1996, the band was METALLICA. Yes the same METALLICA that created thrashmetal and gave a F.U. to videos, to fashion-standards and to many mainstream trends of the moment ...they were now embracing them fully. Talk about a full 90° !!!

What to do after releasing the Black Album, the 20 million+ selling metal karaoke-machine ? simple: you slow down and go hardrock-blues. They were at the top of the heavymetal Charts, globally, so insight, the band was in competition with themselves, changing and challenging everything they stood up against in the process.

Bold move and commercial-suicide, but they didn't care and it was the mid-90s, a time when everything remotely heavy (beside deathmetal and blackmetal) went either: Alternative-Rock, Grunge, Nümetal, Industrial, New-Punk, Street-Metal and eventually Rap-Metal. Musically Load is a statement that METALLICA can write many types of music and rock hard, even with country overtones, stuck to their metal-roots, but the damage was done.

Load was the beginning of a decade-long downward spiral, that followed with the copy-paste filler Re-Load in 1997, a metal-orchestra album in 1999, the 2000 Napster fiasco, the exit of bassist Jason Newsted in 2001 and alcohol-abuse rehab of James Hetfield in 2002.

The band did eventually won it's crowd back, very slowly with 2003's St.Anger and eventually with 2008's Death Magnetic, but it took a full 12 years for the Titanic-thrashers to rise again ...a true testament to the Hetfield + Ulrich dedication to music.

In retrospect, Load is a very-very-very different album, with windows wide-open, which hasn't been done at that point, and has never been re-done since, by a "thrashmetal band".

*
CD
https://www.youtube.com/watch?v=I-6_rKWkN1M
VID
https://www.youtube.com/watch?v=eRV9uPr4Dz4
MTV LIVE
https://www.youtube.com/watch?v=VzphWm8pUwI





METALLICA
St. Anger
2003

Today is St.Anger-day !!!
(non pas pour de vrai, mais ceci est une expérience hautement sociologique)

*
St. Anger = full CD
https://www.youtube.com/watch?v=LAq9xoJb-oQ&list=PL6vwnon3sINoNaBSLoO5dEBKc6GNKYI8_



Référence croisée Helter Skelter: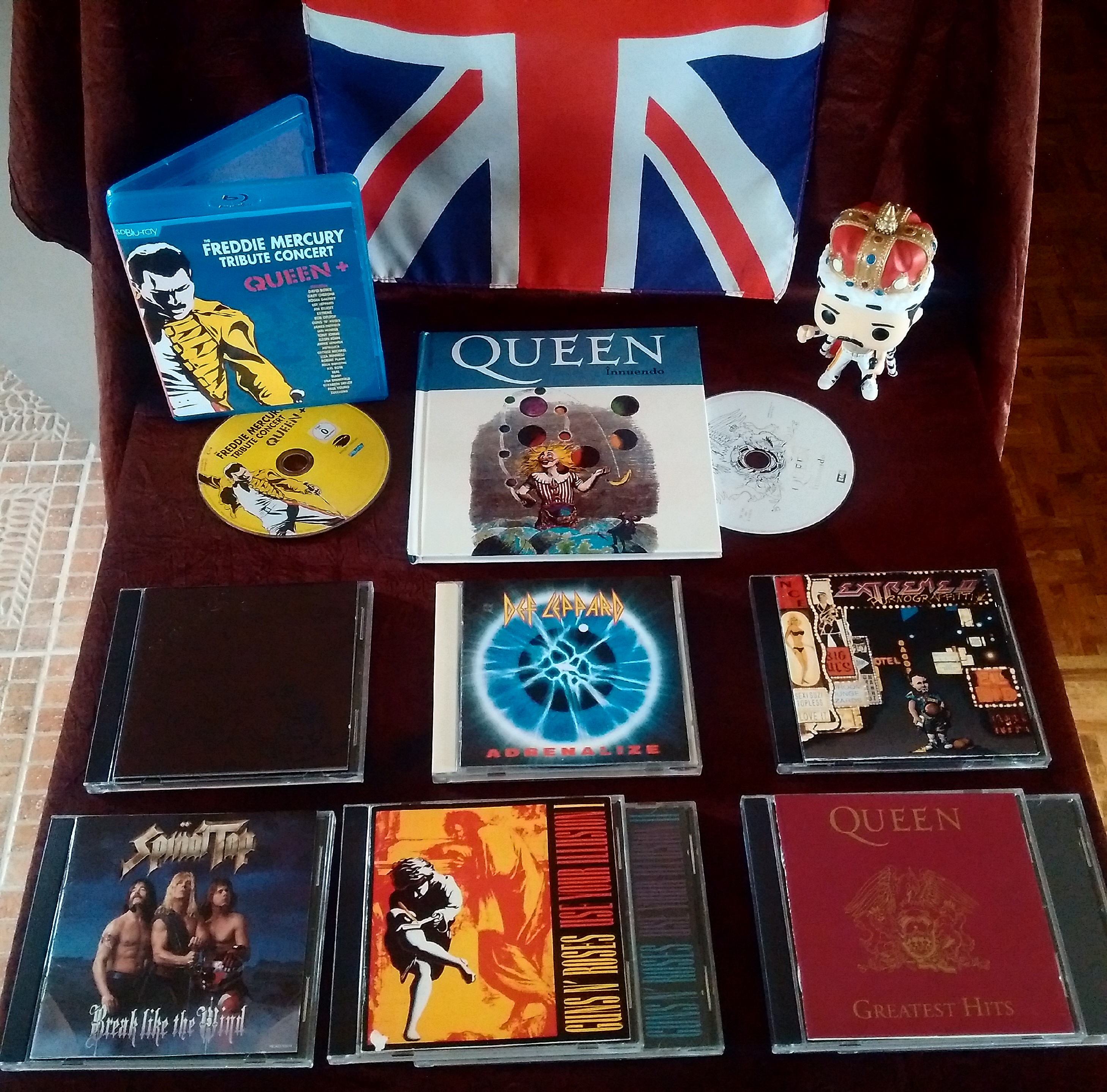 Freddie Mercury Tribute
&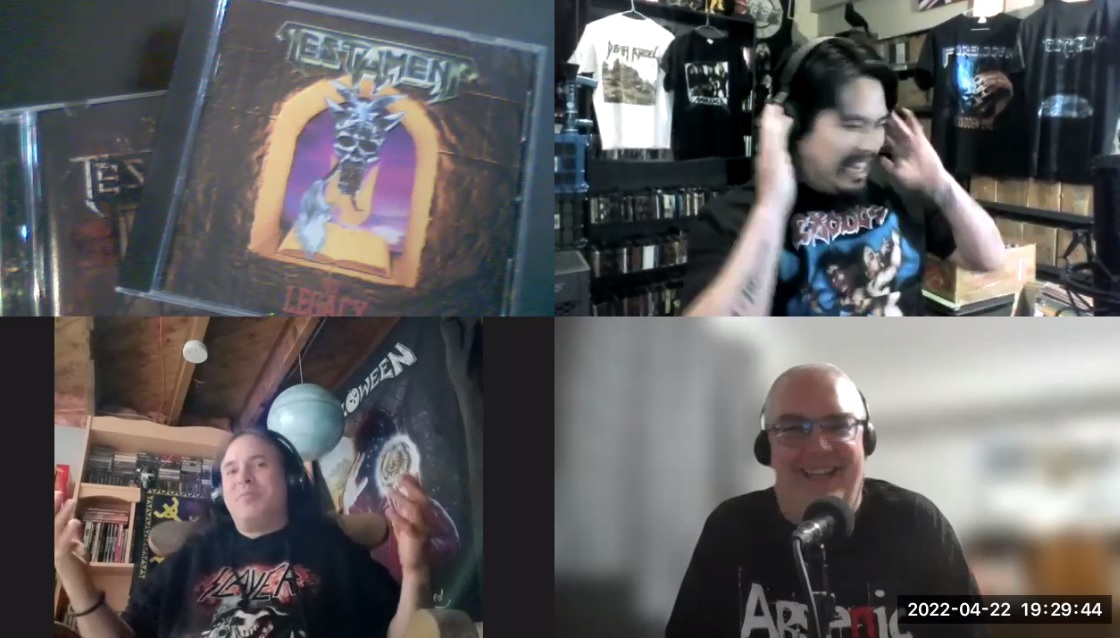 Bay-Area 87-88
&


Big Four 88-92
&


L'ère post-Black Album
INDEX
helterskelter.ca
(c) (p) 2017-2021 helterskelter.ca. All Rights Reserved. Tous Droits Réservés.