MÖTLEY CRÜE
1981 - Too Fast For Love.
1985 - Theatre Of Pain.
1987 - Girls, Girls, Girls.
1989 - Dr. Feelgood.
1997 - Generation Swine.
Référence croisée Helter Skelter.


November 10, 1981 - 2021: 40 years of: Too Fast For Love.

The birth of rawknroll !

West-Hollywood in the 80s: Ground Zero for rebellion and hardrock showmanship. Still ablazed and dazzled by the almighty untouchable VAN HALEN, from the trashed back-alleys, led by a rabid Nikki Sixx, comes the new kids on the block.

Leather ...check,
Chains ...check,
Pentagram ...check,
Switchblade ...check,
Power drug induced and rough punk-attitude ...CHECK !

Pushed and shoved to new levels, the opening-cut "Live Wire" is an Americanized-NWOBHM explosion. Double-bassdrums, deep rumbling bass, a burning guitar-riff and the raging voice of a very young Vince Neil. The initial and dangerous heavymetal MÖTLEY.

All cylinder keeps on pumping diesel with "Come On And Dance", another metal-riff supported killer, while the speedy "Take Me To The Top" brings more crunch into the crunch-department. The title-track is another slick street throat-cutter, while the powerballad-y "Merry-Go-Round" displays some sweet melodies that would later bloom deeper into their 40+ year career.

Originally independently released on none other than the band's own shoe-string-tiny-budget Leathür Records, the buzz was instant and all copies flew within weeks. Major-label Elektra Records finally came aboard and the rest is part of feelgood rocknroll-history.

The flair,
The sound,
The attitude,
The bad-assery,
The CRÜE's rage and aggression would bleed profusely again on 1983's darker and metaller, the eventual PMRC-feared Shout At The Devil LP.

*
Live Wire = video
https://www.youtube.com/watch?v=Ahq4blDfU5s
Too Fast For Love = full LP
https://www.youtube.com/watch?v=mCBPCnl7qE8&list=PLBnJv6rImVe8cSb_2IJIjxAhRdUecF0Sd
Interview in 1981
https://www.youtube.com/watch?v=10Msff5M9M0
Live at the Starwood in 1981
https://www.youtube.com/watch?v=bnQgwj54AjY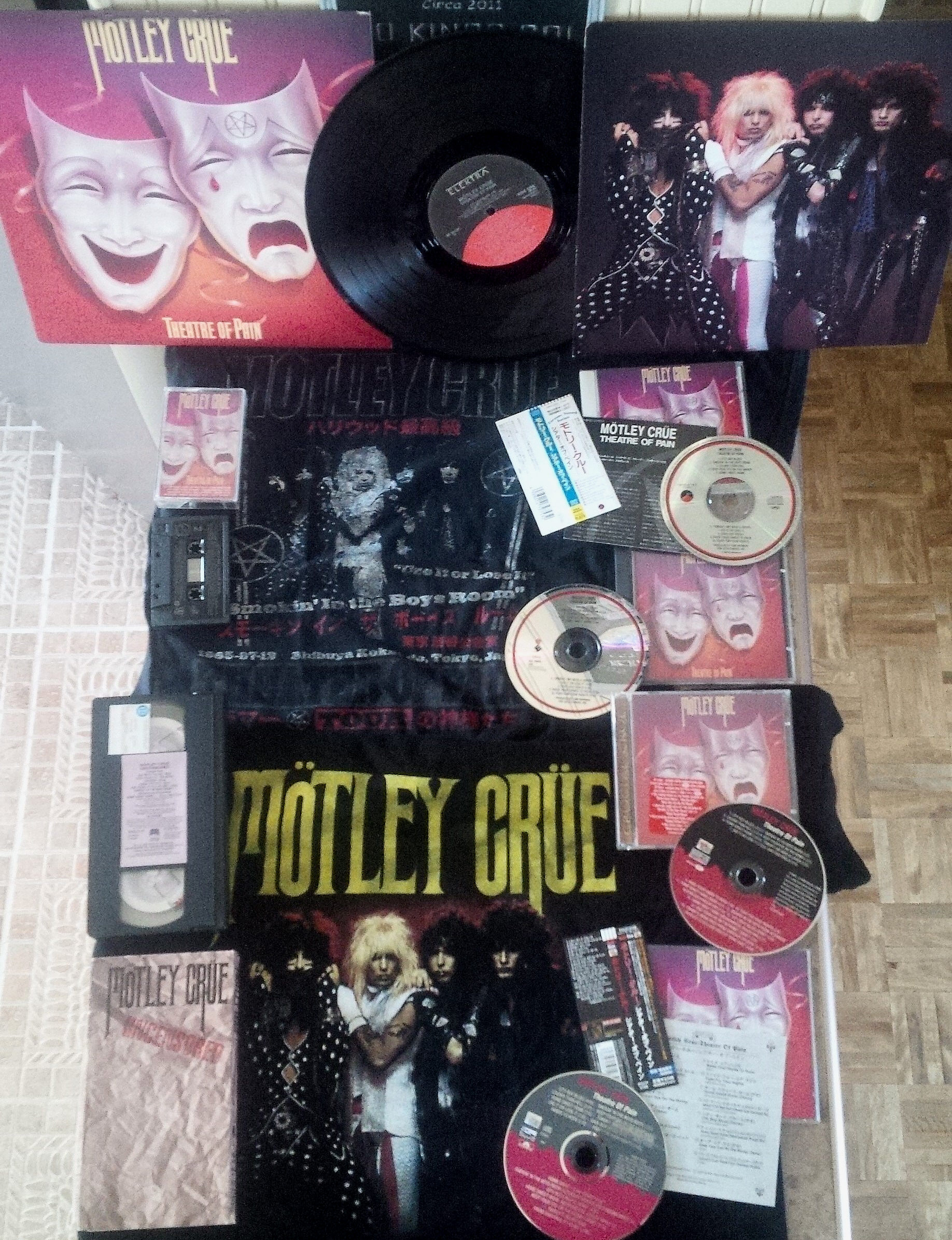 June 21, 1985 - 2020: 35 years of: Theatre Of Pain.

From gutter-punks to glam-rock centerfolds, the world's most dangerous hardrock-band were on the verge of superstardom.

MÖTLEY have been terrorizing America and ruling The Strip since the Summer of '81, but Theatre Of Pain, their 3rd effort, finally opens-up the flood-gates to a new hungry rock-crowd. "City Boy Blues", "Fight For Your Rights" and "Keep Your Eye On The Money" all kick major asses, yet the point of no return is the heavenly powerballad: "Home Sweet Home" …the piano-epic not written by QUEEN.

The CRÜE were the shit and there are no stop-signs ahead. Rock hard mötherfückerz !!!

*
Theatre Of Pain = full LP
https://www.youtube.com/watch?v=8Wjlz3ZGByY&list=PLJb37SMYzPuB8Yx4ntCll4FIngHt0427e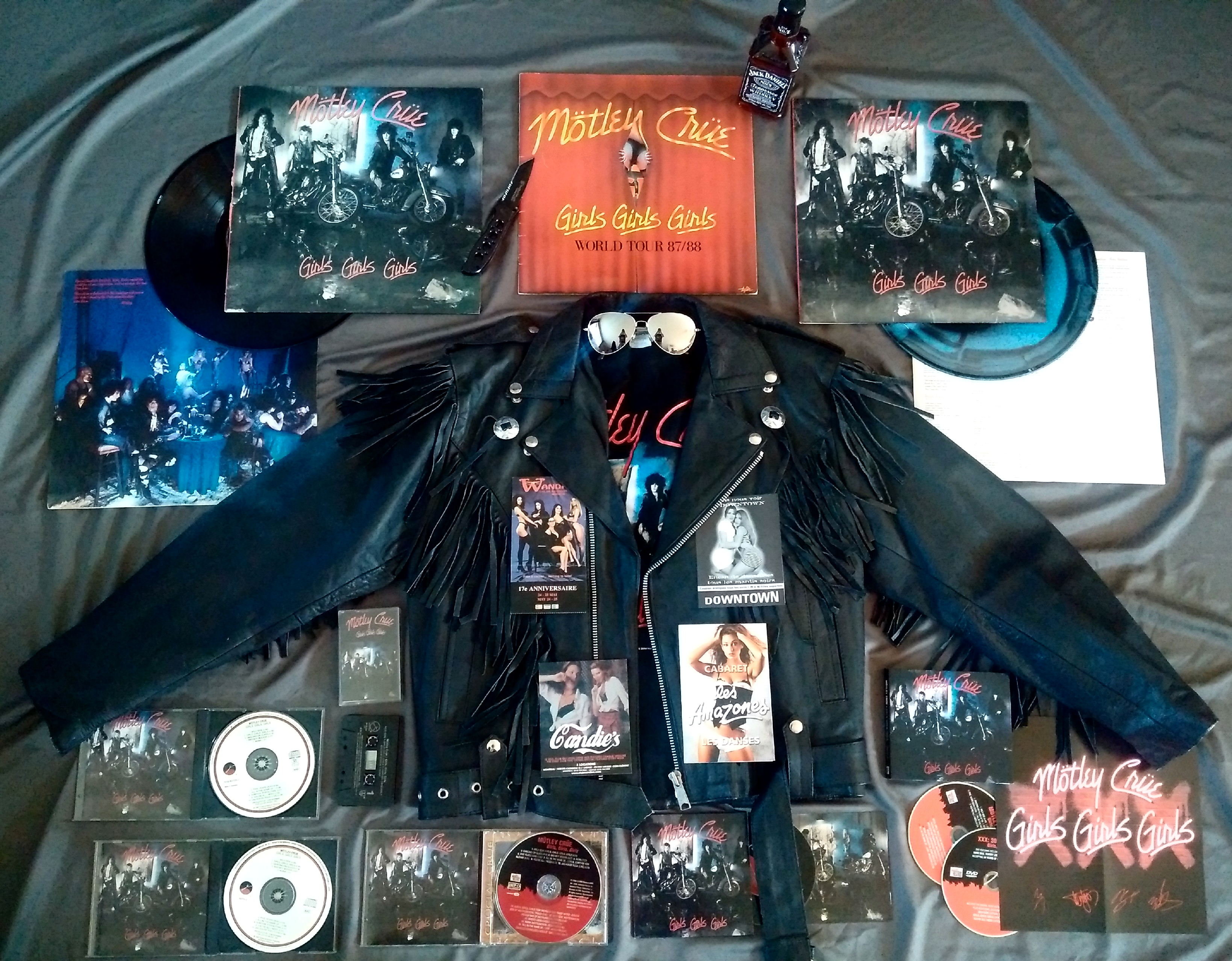 May 15, 1987 - 2022: 35 years of: Girls, Girls, Girls.

In 1987 MÖTLEY CRÜE didn't play rocknroll - rocknroll played MÖTLEY CRÜE !

The heydays of American hardrock, real ass-kickin' rocknroll: biker culture, unlawful activities, reckless attitudes and bohemian spirits ...let's celebrate the epitome of this movement with MÖTLEY CRÜE's finest offering: Girls, Girls, Girls !

The Sunset Strip debauchery started with VAN HALEN in 1978 and reached unprecedented highs (or lows) during the 1986-87-88-89 era ...it's still kinda hazy for me. Remember when being into hardrock was bad, bad as in good and when only the meanest badasses were into it ?

After being too fast for love shouters at the devil inside the theatre of pain, it was now time for the real CRÜE to shine: motorcycles, girls, whiskey, girls, drugs and more girls, this is just another day at the office for the Tinseltown-rebels. The LP is barebones hardrock with the most decadent vibe, during the US's most decadent times. A tale, written by four outlaws, that lived to tell: the 80s excesses and the good ol' ways of West-Hollywood.

Opening the party, the driving rattle of Sixx's bass on "Wild Side" grabs you by the balls and won't let go ...the perfect way to kickstart your heart. The themed strip-club title-track leaves nothing to the uncensored imagination. Meet me tonight at Tattletale, The Dollhouse, The Seventh Veil or world-renown Crazy Horse in Paris ...girls I'll keep you over-employed ! You can smell the mix of fuel and leather from the speakers ...to the dangerous "Dancing On Glass" about white-powder addiction, another heavy guitar-driven riff.

Onto the flip-side with the fast paced "All In The Name Of..." where Neil shouts about a naughty obsession while Lee destroys the kit, to the inevitable powerballad, the love / hate "You're All I Need" ...this time with a twist, a melodramatic cut that displays the band's other-side, the CRÜE's darkest song, ever.

All killers - no fillers - motherfuckers !

The LP also features some of hardrock's sleaziest lines: "Valentine's in London, found me in the trash" about Nikki's overdose and the pusher that left him in a back-alley garbage-bin. "She's only 15, she's the reason, the reason I can't sleep, you say illegal, I say legal's never been my scene" about ...well about you know what it's about. The PMRC's hotline went red hot for this one !

On tour, everything went into XXX-overdrive: a little bit to the right, a little bit to the left, fuck it let's go 360°. T-Bone on top of the world: https://www.youtube.com/watch?v=Cl_J-JDIgbk

The CRÜE's anthics were so wild, that they had to clean-up, re-group and re-focus, just in time for 1989's pristine medical rendez-vous with the Dr. Feelgood.


AMEN !!!

*
Girls, Girls, Girls = video filmed at LA's Seventh Veil
https://www.youtube.com/watch?v=33jsQcS_hmI
You're All I Need = video
https://www.youtube.com/watch?v=0dldfR1NMow
Girls, Girls, Girls = full LP
https://www.youtube.com/watch?v=omAQzrHSz8Q&list=OLAK5uy_m8uAZPPIPGt1kUOuXTnevbwvI5KRZWTG0
Interview in 1987
https://www.youtube.com/watch?v=wJyszq4Pk4g
Live in Tacoma in 1987
https://www.youtube.com/watch?v=dDBApXgkR3o
30 years documentary
https://www.youtube.com/watch?v=81eizbtTZJM





September 1, 1989 - 2019: 30 years of: Dr. Feelgood.

There are good bands out there, there are big bands out there, there are better bands out there ...and then there's MÖTLEY CRÜE !

The 1988-89 era is the summum for the hardrock movement, commonly labeled as the glamrock movement. The hair was huge, the Harleys were roaring, the scene was exciting and all the bands were at their creative peak and commercial-success: AEROSMITH, WHITE LION, L.A. GUNS, WINGER, BON JOVI, GNR, WHITESNAKE, POISON, W.A.S.P., THE CULT and even the immortal Alice COOPER had a hit under his belt ...what a fantastic time to be alive.

1989's pristine album Dr. Feelgood is synonymous with this era. Loud, fun and dangerously MÖTLEY ! The pinnacle of the band and the pinnacle of the scene, the Diamond-clad crown that firmly sits on the tail-end of the 80s decade ...it doesn't get any better than this ! The Doctor is in, Mister Bob Rock is behind the mixing-desk. Finally a producer that will properly capture the music and makes it come alive on record, this marriage was meant to be and Feelgood still stands as one of hardrock's best sonically produced record, ever.

Fresh outta rehab, weird though ain't it ? ...all four CRÜE members where now fully focused on one simple thing: kick fuckin' ass ! And asses where kicked, I'm talking about major Chart-topping, Platinum-selling, MTV-dominating, worldwide-touring and hell-raising kick-ass rocknroll ! Don't call it a comeback, but a perfect follow-up and companion to the divine 1987 Girls, Girls, Girls LP and this one is, once again: all killers - no fillers rocknroll !!!

Your prescription is in:

The dramatic T.N.T emergency-room sound-clip is the perfect intro to the destructive title-track "Dr. Feelgood". One of the CRÜE's most ravaging song, ever, as a new level of heaviness is unlocked with the full fat Nikki Sixx bass-rhythm and Tommy Lee's earth-shattering eardrum-piercing percussions. A song about a badass drug-lord that owns the city and rules the streets, a somewhat wink to MÖTLEY's illustrious past.

How about a "Slice Of Your Pie" a monstrous boogie-vibed track that cleverly end with a BEATLES-esque outro ala "I Want You (She's So Heavy)". Another rock-punch is delivered with "Rattlesnake Shake" were we learn that "She's a sex machine, she keep's her engine hot, her motor clean", pure Vince Neil classiness. More sex is exposed on "Sticky Sweet" a Mick Mars mega-riff monster and the kinky bare-all tongue-out "She Goes Down"

The mandatory power-ballad "Without You" is a soul-searching experience, while the single "Don't Go Away Mad (Just Go Away)" will help you to get rid of those unwanted one-night mourning surprises. The LP would also spawn a new MÖTLEY-signature, the heavier and fast-paced "Kickstart My Heart". Taking cues from the thrashmetal genre, wrapped in punk-attitude and simple woh-yeah hooks, "Kickstart" would take a life of it's own and become one of hardrock's new ballsy anthem ...the last massive hit of the glorious glamorous 80s.

The CRÜE's titanic return would hit the road, starting with a warm-up at the historic Moscow Music Peace Festival in August 1989, the Woodstock of hardrock, along other rocknroll buddies: Ozzy OSBOURNE, SCORPIONS, BON JOVI, CINDERELLA and SKID ROW.

The CRÜE was on top of the hardrock food-chain, they could do no wrong, as the LP was selling, the crowd was chanting and the band was rocking, clean and sober, until the turmoil that led to Neil's departure in early-1992. 30 years later, Dr. Feelgood still feels good and stand on it's head as one of heardrock's defining release ...the soundtrack of a decadent generation !

Welcome to Jimmy's town !!!

*
Dr. Feelgood = uncensored video
https://www.youtube.com/watch?v=trGX3ET3jTQ
Kickstart My Heart = video
https://www.youtube.com/watch?v=ybcxIpb-R_0
Dr. Feelgood = full LP
https://www.youtube.com/watch?v=4Xi8O74C9r8
Live in Moscow in 1989
https://www.youtube.com/watch?v=5NEVNOV3bo8
Live in Kansas City in 1989
https://www.youtube.com/watch?v=cgCxC3G1Vtk
Interview a Solidrok en 1990
https://www.youtube.com/watch?v=vJA_rKGC440
https://www.youtube.com/watch?v=IRdMvCf2Jik
Live MTV Awards in 1990
https://www.youtube.com/watch?v=n-bT4Fo_y8s





June 24, 1997 - 2022: 25 years of: Generation Swine.

Another, new MÖTLEY.

After the '92 Vince Neil split, came the ultra dark 1994 self-titled Mötley Crüe CD. A left-field heavyrock record that definitely wasn't what the fans expected. In the post-grunge era, still with the Personality #9 title in mind, the to-be second John Corabi led CRÜE was rapidly cut short and politics brought Neil back ...in a very different crew.

"Huh Huh, destroy !"

The heaviest of metal for a CRÜE record as "Find Myself" drives the record into new territories. Loud drums and modern guitar tones, this is an angry band. The formula comes back on the punky "Anybody Out There ?", the street-thrash vibed "Let Us Prey" and the speedmetal influenced title-track "Generation Swine". This is an angry band.

On the wildside, the single for "Afraid" features obvious industrial-samples as well as on the nümetal flaired "Beauty", while the heavenly "Glitter" should've appeared on an actual pop-record. The revamped and pointless "Shout At The Devil '97" has modified structures, courtesy of keyboardist / record-producer Scott Humphrey.

Expectations were sky-high, the Doctor is in, Vince is back, so what went wrong ?

On paper the magic is there: Mars, Lee, Sixx and Neil ...but this is 1997 and every standards of looks and sounds in rock are being challenged. The 80s party-metal template was at the very bottom of the agenda and Generation Swine very rapidly fell down the Charts. Even if the record would've been a classic Girls + Feelgood exhibition, the market was sadly not perceptive to arena-rock.

To some extend, the Swine era was the beyond continuation of the Mötley '94-signature, but set in modern-times. The unstoppable CRÜE would come back, minus Tommy Lee, with 2000's real down to earth ass-kicker New Tattoo CD.

"I'm a dick, I'm your Master, I'm a rock-n-fuckin'-roll disaster !"

*
Afraid = video
https://www.youtube.com/watch?v=P_hqTdxn2us
Generation Swine = full CD
https://www.youtube.com/watch?v=Rwj8LxmvpS0&list=OLAK5uy_n8b6WS8PbCaHQKj80cfFPDeWO1Z3NBim4
Interview in 1997
https://www.youtube.com/watch?v=rwvrMH07VfY
"Live" on AMA in 1997
https://www.youtube.com/watch?v=5VsxbjB715c
Live on Letterman in 1997
https://www.youtube.com/watch?v=4jm69jRYDF4
Live in Tokyo in 1997
https://www.youtube.com/watch?v=-fEDEKd2lms



Référence croisée Helter Skelter:


MÖTLEY CRÜE
INDEX
helterskelter.ca
(c) (p) 2017-2022 helterskelter.ca. All Rights Reserved. Tous Droits Réservés.