OSBOURNE, Ozzy
1980 - Blizzard Of Ozz.
1981 - Diary Of A Madman.
1986 - The Ultimate Sin.
1987 - Tribute.
1988 - No Rest For The Wicked.
1991 - No More Tears.
2001 - Down To Earth.
Référence croisée Helter Skelter.


September 20, 1980 - 2020: 40 years of: Blizzard Of Ozz.

One of heavymetal's most critical album.

Being fired from the world's heaviest band, a burden most rockers wouldn't be able to cope with, and Ozzy's no different. After the disastrous 1978 Never Say Die LP with BLACK SABBATH, the future Prince Of Darkness hits rock-bottom.

Left to rot in some random hotel-room, drugged and emotionally hurt, a hand reaches out, for warmth and help. On the other end, a young Sharon Arden befriends the Madman and would eventually become associate, manager and Mrs. Sharon Osbourne. On the road to recovery, the duo builds-up a band that includes writer/bassist Bob Daisley (ex-RAINBOW), drummer Lee Kerslake (ex-URIAH HEEP) and a very young blonde aspiring guitarist, aiming sky-high. Having already tasted some minor success with local rockers QUIET RIOT, the prodigy would team along the Ozz-camp and began to re-write rock history.

What is this ?
"I Don't Know" !

One menacing riff over-heads and crushes all in it's path. Drums and bass abound and just like that Ozzy reclaims his rocknroll-throne. The high-voltage lead-guitar blow-torches it's way throughout the speakers, setting the pace for the upcoming decades of metal-shredders and electric-guitar aficionados: Ladies and Gentlemen, please welcome into the rock-arena, Mister Randy Rhoads !

The brawl continues on the thumping "Suicide Solution", a track supposedly about the fallen AC/DC frontmen Bon Scott who passed away months earlier, while the rapid "Steal Away (The Night)" is the best NWOBHM-track not written and performed by an actual NWOBHM-band. The haunting keyboard intro to "Mr. Crowley", performed by Don Airey currently in DEEP PURPLE, is pure Hollywood-material. The main riff is all muscle, while the dark lyric-set is about infamous occultist Aleister Crowley. Not one but two distinctive epic lead-guitar sections are present. Still performed today, this song is one of heavymetal's ultimate signature-track.

The swanky "Revelation (Mother Earth)" is a beautiful ballad that turns into a smashing heavyrock-heavyweight. Metal finesse at it's best featuring church bells, a full piano mid-part and another incendiary Rhoads-lead. Next and final stop: Hell. Headbangers hop into the "Crazy Train", a fun and super catchy hardrock piece that features once again the bite and hammer-on dexterity of the young passion-filled virtuoso. 40 years later, this one remains one of Ozzy's most fan-cherished in his entire catalog.

After all suspicions evaporated, all was left was instant success. Critics and rockers embraced the album and the Blizzard Of Ozz LP created and solidified Ozzy Osbourne as a genuine post-SABBATH solo-artist. On tour, after the 1980 European-leg, Ozzy changed his rhythm-section: now on drums Tommy Aldridge and on bass Rudy Sarzo.

In a twist of fate/hate, the newly Ronnie James Dio fronted BLACK SABBATH were managed by Don Arden, Sharon's tyrant father. This inner family feud added much fuel to the fire, a heated competition that lasted until the early-90s. The Osbournes Vs SABBATH is one of the most documented rivalries in metal's history and at that point in time, Ozzy had everything to prove, having to stand tall face-to-face against BLACK SABBATH's monstrous 1980 Heaven And Hell LP.

Now RIAA-certified 5x Platinum, Ozzy, America's favorite TV-dad after Cliff Huxtable, is still being worshipped as rocknroll's Prince Of Darkness. From fame to controversy, from highs to incredible lows, from dove eatin' to bat chewin' ...all of this madness started in a single blizzard.

All aboard !!!

*
Full LP
https://www.youtube.com/watch?v=772NKQjj1u4&list=PLBzBwYhHpqLLVvQVUQIM_Hrwa5ctDK2g6
Mr. Crowley live in the TV studio in 1981
https://www.youtube.com/watch?v=G3LvhdFEOqs
I Don't Know live in the TV studio in 1981
https://www.youtube.com/watch?v=mSfNvTVEALw
Documentary: 30 years After The Blizzard
https://www.youtube.com/watch?v=BoHwI_Zs8no
Some guy
https://www.youtube.com/watch?v=l1pH-yWYPag





November 7, 1981 - 2021: 40 years of: Diary Of A Madman.

Randy Rhoads = revered rock royalty.

1980's bombastic Blizzard Of Ozz LP, not only saved Ozzy Osbourne, but spearheaded Randy Rhoads as the new icon to follow. Round Two cemented the band and displayed Randy as the new-school in edgy hardrock guitar prowess.

The blunt metal-riffing of "Over The Mountain" blasts out into hard-rocknroll mayhem, right into the stratosphere-bound "Flying High Again". One of Rhoads ultimate signature-leads. Raw cuts like "Believer" and the hammering "Little Dolls" are enough to secure Ozzy as the reigning metal lord of darkness.

The epic "S.A.T.O." captures with it's entwining rhythm-guitar and melody-line, while the grandiose title-track is a showcase in melodramatic operarock. The message is loud and clear, shouted throughout the decades, one simple line that gathers generations of rockers into a stand-alone army: "You Can't Kill Rock And Roll" ...it's here to stay !

Louder and uglier, the Osbourne band was officially a force to reckon with. Sadly this fast paced hardrock-madness would end in a sudden bloody tragedy. While on tour, an improvised airplane joy-ride flight crashed and killed it's three passenger, including a very young Rhoads ...the date was March 19, 1982.

The rock-world hasn't recovered since, Ozzy hasn't recovered since. Drowning himself in alcohol to the point of double-vision, the Madman would later eventually return with more dark rocknroll, with new guitar-player Jake E. Lee on 1983's Bark At The Moon LP.

Let's now celebrate the music, the impropable union, the horse-power and the demented melodies of the too short lived Osbourne + Rhoads hardrock duo.

Ladies and Gentlemen, Randy Rhoads's final offering: 1981's Diary Of A Madman.

RIP Lee Kerslake (1947-2020)

*
Diary Of A Madman = full LP
https://www.youtube.com/watch?v=UObs94oZRUU&list=OLAK5uy_lo1e5CCcA5PVU2FZY2Mu8e2i-FXRcj7KM&index=1
Interview in 1981
https://www.youtube.com/watch?v=Q_POnE9muos
Live in NYC in 1981
https://www.youtube.com/watch?v=LznI4-9mLbA
some guy
https://www.youtube.com/watch?v=RLBPOQBCHqg





February 22, 1986 - 2021: 35 years of: The Ultimate Sin.

O - Z - Z - Y : The Ultimate Madman !!!

1986, on one side: flamboyant hardrock was in full motion, while on the other, the thrashmetal monster was roaring at full speed. Sadly this also meant troubled times for geezers like PURPLE, PRIEST and SABBATH who were desperately keeping themselves above water ...and Ozzy is no exception.

With his 4th solo-release, the madman, once again shuffled the cards. The tragic death of guitar-hero Randy Rhoads in 1982 was, and still is, felt in Ozz-world, but with album number-two with new slinger Jake E. Lee, the stakes were higher than ever. The Ultimate Sin picks up where Bark At The Moon left off in 1983 ...but in a more colorful way. The mid-80s were colorful and hardrock jumped head-first and The Ultimate Sin is the most glamorous Ozzy ever was, both musically and visually (see videos below)

On the flipside, remember that in the 80s, the British institution that is Ozzy Osbourne was perceived as the devil himself in the USA. Granted, his rocknroll lifestyle did, to some degree, perpetuate this perception of the singer, but the average household were genuinely scared of Mr. Osbourne (in a religious way) ...ironically these are the same families that would end-up worship him 15years later as American's favorite dad in the MTV-hit: The Osbournes !

Fresh out of rehab, the record opens-up with a floor-tom beat that kicks into the massive catchy arena-rock title-track, see the Ozz-humor in this accompanying video:
https://www.youtube.com/watch?v=O_ypaOIVmaA

We are just warming-up, some more heavy-hitters in the form of "Never Know Why" and "Secret Loser". Another explosive killer, a subtle current message is sent to the lukewarm Cold-War government in the hardrocking "Thank God For The Bomb" and the LP closes with the smash-hit "Shot In The Dark" ...a number still in rotation in today's setlist.

Yet the focal point of the album is without the shadow of a doubt, the monolithic powerballad "Killer Of Giants" ...a beautiful acoustic build-up that climaxes with a suave guitar-solo at 3:29sec, that cuts into a stunning tornado of pick-slides and eerie multi-layered-keyboards epicness at 4:04sec ...play it loud !

Eventhough Osbourne's career usually focuses on the Rhoads and No Rest + No More eras, The Ultimate Sin still managed to create some catchy material, displaying Lee's six-string prowess and Ozzy's will to carry on as the Prince Of Darkness. The future looked bright for the Madman ...as it would get wylder in 1988 !!!

Nuke ya ! Nuke ya !

*
VIDEO
https://www.youtube.com/watch?v=PYDpM7ljMHk
LP
https://www.youtube.com/watch?v=OTImQTd5a9U&list=PLBzBwYhHpqLK1cOo9gQ0hDVhE2CwQCThy
INTERVIEW in 1986
https://www.youtube.com/watch?v=7UMQDIt5i7c
THE TUBE in 1986
https://www.youtube.com/watch?v=-_2MNuOOZxE
LIVE in MONTREAL in 1986
https://www.youtube.com/watch?v=H5xXv_fhkKg
OZZY and Dr. RUTH
https://www.youtube.com/watch?v=r0iTN-B7Xdg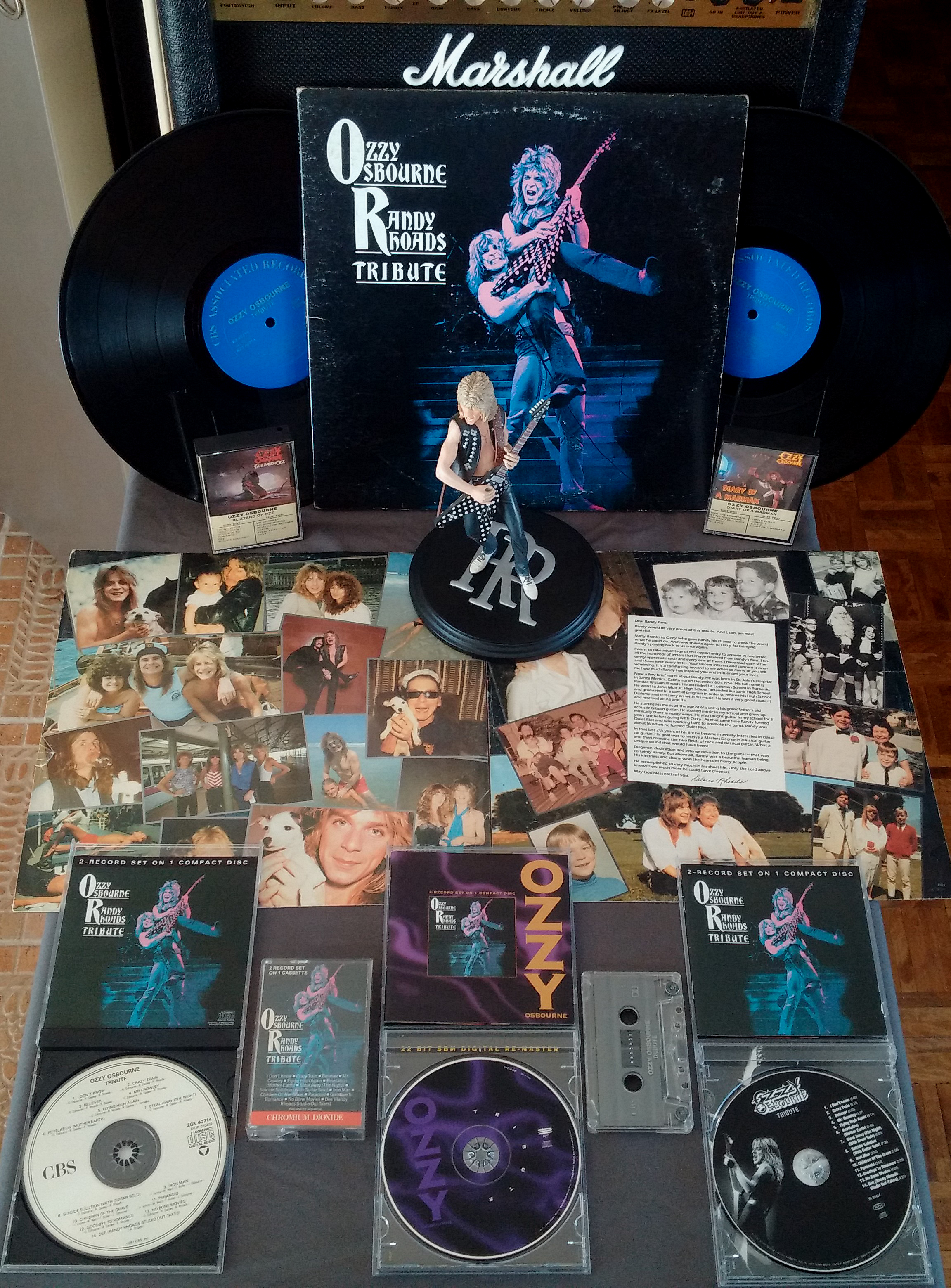 March 19, 1987 - 2022: 35 years of: Tribute.

An homage to the ultimate kid-wizard.

Guitar-hero and rock-savior, Randy Rhoads saved Ozzy Osbourne in 1980 and changed the game with the explosive Blizzard Of Ozz masterpiece. Round Two with 1981's bloody Diary Of A Madman, where the orchestral title-track welcomed the classical element.

Sadly on March 19, 1982, time stood still as an airplane accident took the life of the then 25 year-old prodigy.

Captured during the Diary '81 tour, the blazing live energy is second to none. Randy's delivery is trendsetting, while his tone, the ad-libs dives and harmonic-tricks, proves that Rhoads is from another galaxy.

Influential and still highly regarded today as Osbourne's best era, his 1980-82 euphoric epoch is Ground Zero for generations of raw hardrockers to follow.

RIP Randy Rhoads (1956-1982)

*
Crazy Train = video
https://www.youtube.com/watch?v=FVovq9TGBw0
Tribute = full LP
https://www.youtube.com/watch?v=mvwBbPIMhTY&list=OLAK5uy_miUzMqt2byCqTkBIGExKbRCO8uqdUlr3k
Rudy Sarzo remembers Randy in 2018
https://www.youtube.com/watch?v=vd0F_VQXJO0





OSBOURNE, Ozzy
No Rest For The Wicked
1988

*
https://www.youtube.com/watch?v=xDpToN2M3ao&list=PLb1r8Ukyq5ofHR9Gggm4X8pAVCCOERLXP





September 17, 1991 - 2021: 30 years of: No More Tears.

"Tell me I'm a sinner I got news for you, I spoke to God this morning and he don't like you !"

After the muscle facelift of 1988's powerhouse No Rest For The Wicked LP, featuring fellow SABBATH-buddy Geezer on tour, Ozzy was once again, kicking ass and taking names.

The current hardrock landscape now included heavy hitters like GNR, BON JOVI, SKID ROW and the updated WHITESNAKE ...no time to bark at the moon in this blizzard, it's time for the major-league. Round Two with Zakk Wylde, one of rocknroll's hottest ticket.

All aboard along the crazy "Mr. Thinkertrain", a rock-hard solid track that cuts deep to the bone. The 80s-flair and fashion is over, on with the 90s as Ozzy "Don't Want To Change The World" with "Desire" ...fully filled with heavy thrash-o-rama riffs, two of the raunchiest tracks of his entire catalog.

More hard edged metal is laid out on the back-from-the-dead "Zombie Stomp", a gem and raw primal track. The gigantic "No More Tears", the 7:24sec roller-coaster tour-de-force also closes the door on the 80s with it's massive dropped-D tuned rhythm-guitars, fully supported by angelic keyboards. The mid-part leaves Zakk in complete control, in a shred and slide-guitar face-melting tornado.

The obligatory beautiful powerballad "Mama, I'm Coming Home" is a now constant setlist-classic, while the Lemmy co-written "Hellraiser" raises the stakes in the dirty-department.

The Madman's crowning achievement.

On tour, the ordinary man was met with the usual ultimate sins, all exposed on the Live & Loud VHS. Although a career-change and an historical event happened in 1992, when his retirement tour was announced. Last ever solo-tour (!) that featured the grand finale in L.A.: a live performance with the original four-members of BLACK SABBATH. The seed was sown for the permanent full-blown 1997 re-union.

RIAA-certified 4x Platinum achievement, this was the B12-shot teens needed to kick-start this, to-be ugly, new decade. The original voice of BLACK SABBATH and the one you love to hate: Ozzy was once again on top of the rocknroll food-chain !

RIP Randy Castillo (1950-2002)

*
No More Tears = video
https://www.youtube.com/watch?v=CprfjfN5PRs
Mama, I'm Coming Home = video
https://www.youtube.com/watch?v=K0siYUjV9UM
Mr. Thinkertrain = video
https://www.youtube.com/watch?v=fy5L97Obq1k
Road To Nowhere = video
https://www.youtube.com/watch?v=YFSgYa8YfWk
No More Tears = full CD
https://www.youtube.com/watch?v=zDB_oy4ZFlU&list=PL22yevoIBQSEvlFhIGo3a0qcthub5lass
Live & loud = full VHS
https://www.youtube.com/watch?v=-c6ZDAesQAA
Interview in 1991
https://www.youtube.com/watch?v=chkoVJeQFpY
Live in S.F. in 1991
https://www.youtube.com/watch?v=So_oOH8S4Gc
some girl
https://www.youtube.com/watch?v=WA_fl6CZhxU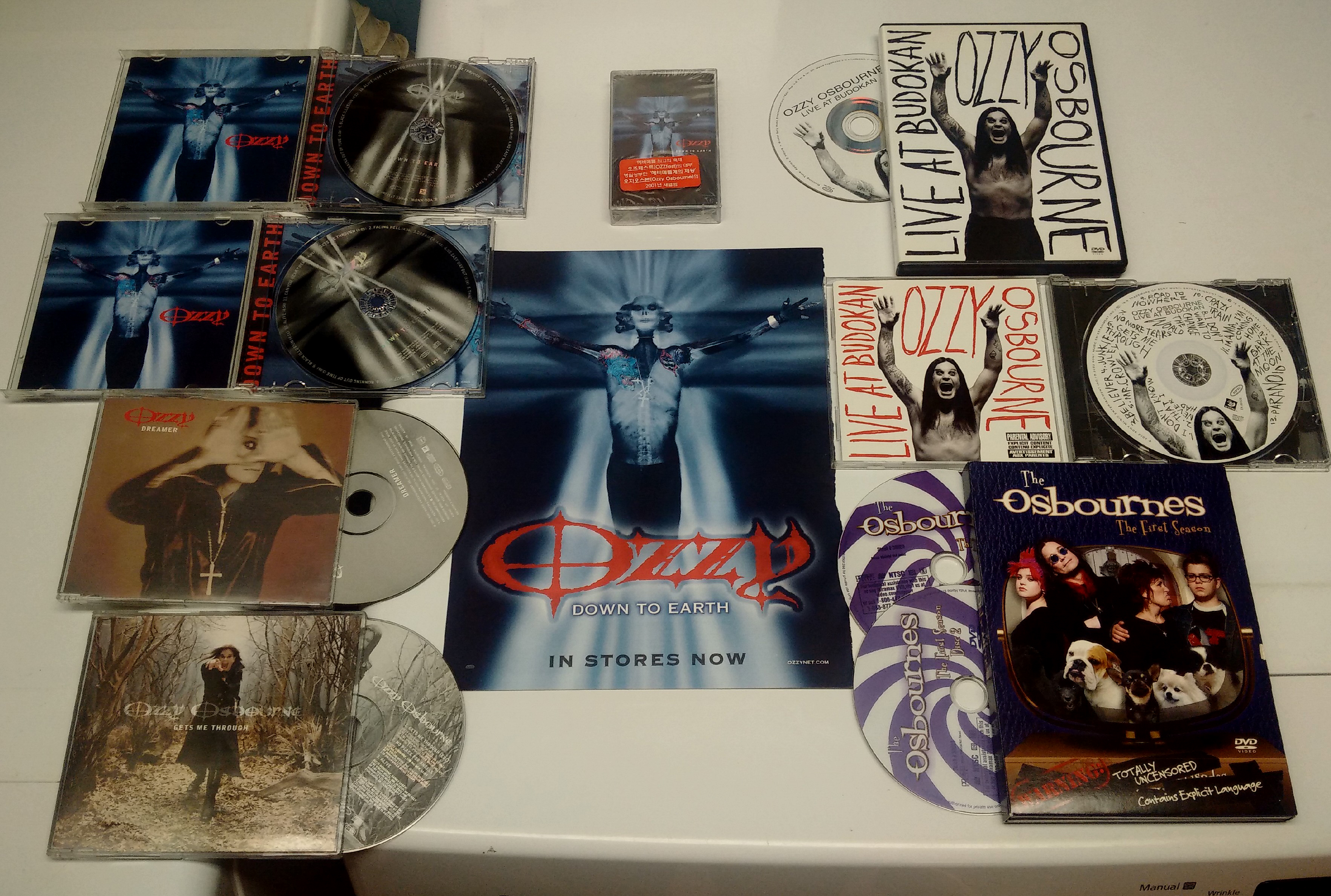 October 16, 2001 - 2021: 20 years of: Down To Earth.

From Prince Of Darkness to TV-dad.

Ozzy gets down to earth and updates his public-image. After the metal-hostile nineties, the one and only iron man still stands tall in the current Napster-era. 1995's super-charged Ozzmosis CD kept the crazy train roaring, but it really was the BLACK SABBATH reunion-tours that sent the Ozzman cometh into the stratosphere.

The opening loud-cut "Gets Me Through" is a heavymetal number with a simple message: he's just an ordinary man. Track two sends us right in front of the Gates where we all shall be "Facing Hell".

Fully metalized, the SABBATH-y "No Easy Way Out" crushes with pride, while the jack-hammering riff-o-rama of "Junkie" is another wylde whirlwind. The now-obligatory piano powerballad "Dreamer" did crack some FM-Charts, yet the massive metal-monster "That I Never Had" definitively didn't.

2002's superhit MTV-show The Osbournes, one of TV's favorite reality sitcom since Seinfeld and a trendsetter for the upcoming decade of this millennium. A very different take on the British rockstar, as we laugh, cry and follow Ozzy arguing with the TV-remote, barking at the many house dogs and his very own family. Ironicaly we also find out that Mr. Osbourne is the sanest of the posh Beverly Hills household.

Rocknroll product-placement at it's best.

*
Gets Me Through = video
https://www.youtube.com/watch?v=2AsLRPzqdpc
Dreamer = video
https://www.youtube.com/watch?v=LCCiwPEdEpg
Down To Earth = full CD
https://www.youtube.com/watch?v=td13jIYA3oI&list=PLUjgIRmbyREpc1eQes43Nzg0LffXfIO_7
MuchMusic Special in 2001
https://www.youtube.com/watch?v=_ZzHK70iOk8
Live At Budokan = full DVD
https://www.youtube.com/watch?v=dhFTlL8HggE
Live in 2001
https://www.youtube.com/watch?v=QxLCWjt94UY
The Osbournes
https://www.youtube.com/watch?v=LHUi6sNiB9w



Référence croisée Helter Skelter:


BLACK LABEL SOCIETY
&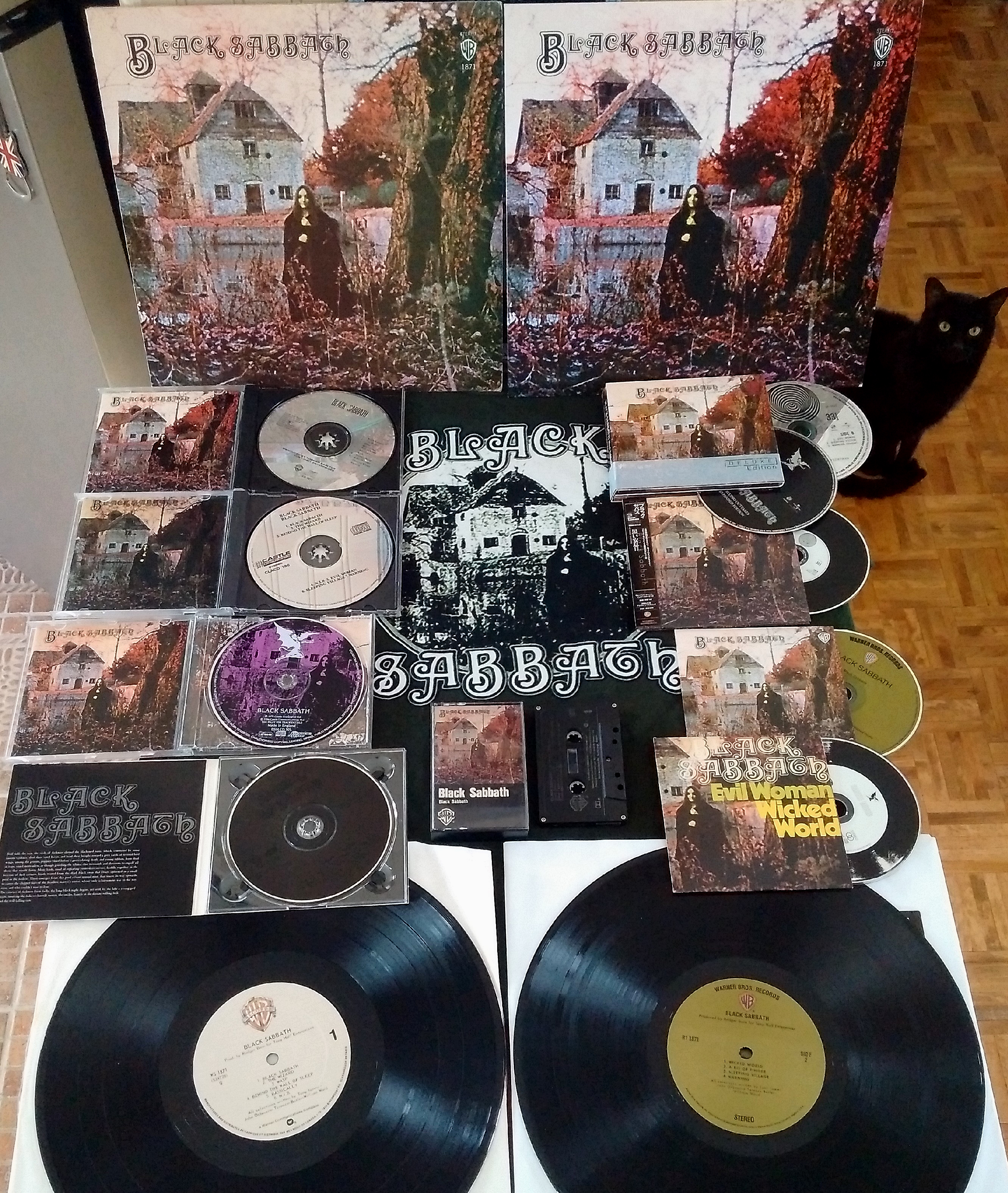 BLACK SABBATH
&



BLACK SABBATH
&


OSBOURNE, Ozzy
INDEX
helterskelter.ca
(c) (p) 2021 helterskelter.ca. All Rights Reserved. Tous Droits Réservés.