SEPULTURA
1987 - Schizophrenia.
1991 - Arise.
1996 - Roots.
Référence croisée Helter Skelter.


Not from the West-Coast, not from the East-Coast, not even from Germany, this is: Third-World Speedmetal !

Brazil's finest export comes in full fury with 1987's metal mayhem maelstrom: Schizophrenia !

From the slums of Belo Horizonte, to Europe's main stages, SEPULTURA have left to stone unturned, and even spear-headed a nümetal-revolution in the mid-90s

*
WAX
https://www.youtube.com/watch?v=x15OfQk8-JM
LIVE
https://www.youtube.com/watch?v=pV7pOH7ydQw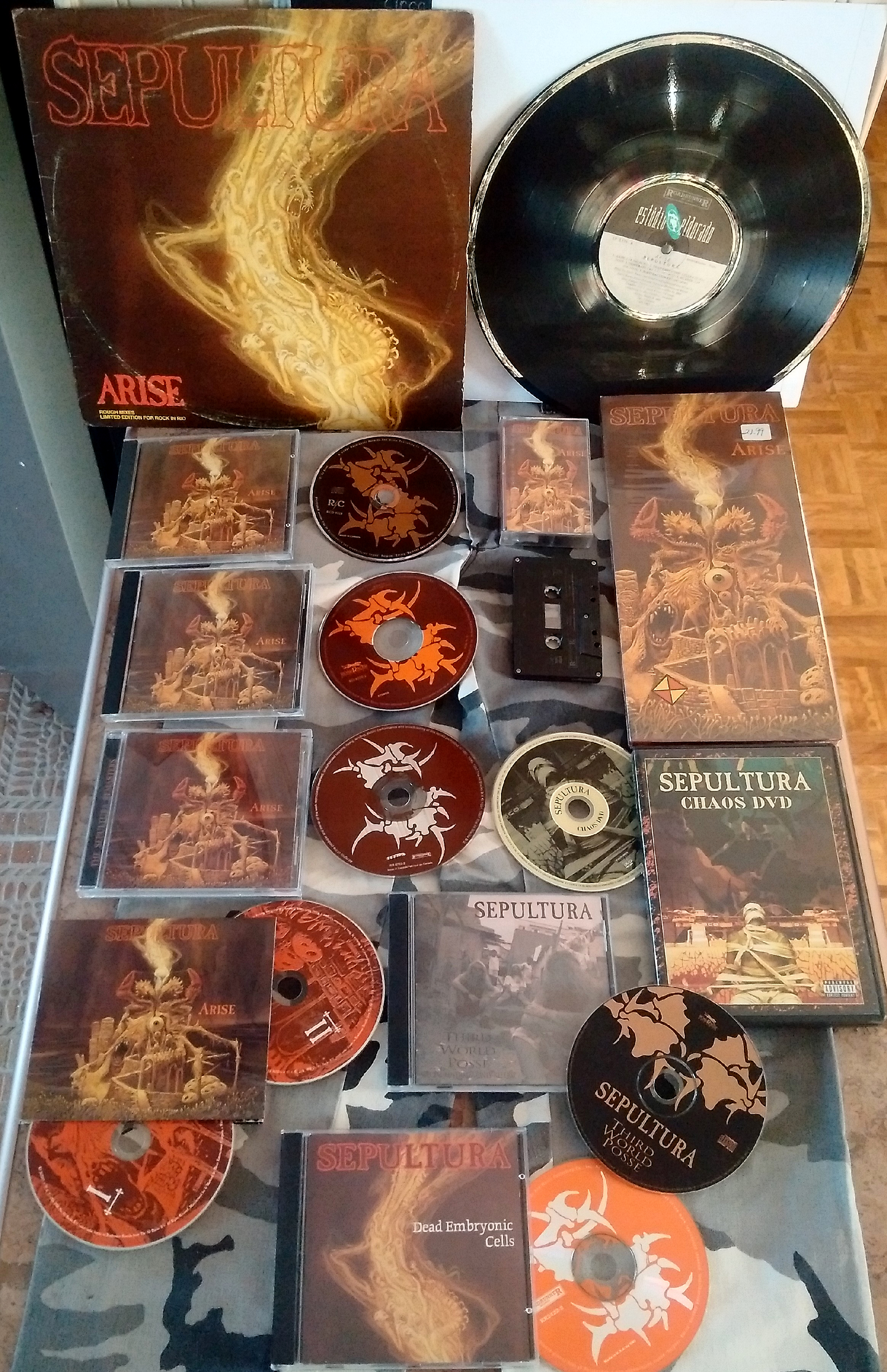 March 25, 1991 - 2021: 30 years of: Arise.

Under a pale grey sky, they did ARISE !

1991 is a pivotal year for heavy-music: on one hand, glamrock faded-out and thrashmetal was mellowing-out while on the other side of the rock-spectrum, grunge was to become king and deathmetal was the heaviest thing under the sun ...and from the slums of Belo Horizonte, comes 4 angry men with a mission: conquer the world ...and with this 4th record, for awhile, they did !

At that point in time, the thrashmetal-monopoly of METALLICA + MEGADETH was heavily questioned in the heavy-department, leaving room for new players to set in, the 90s thrashmetal steamrollers: PANTERA ...and SEPULTURA. With Arise, SEPULTURA finally reached the everlasting sough-after hybrid between: brutal and sophisticated ...in the same line as these 1991 classicks: MORBID ANGEL's Blessed Are The Sick, CARCASS's Necrotism and PESTILENCE's Testimony Of The Ancients.

Thru the perfect production, the polished guitar-tone, the gigantic drums and the street-level lyrics, the SEPS cleverly re-captured the rawness of 89's Beneath The Remains clashing along with the current new US guitar-groove movement ...thank you PRONG. The later vibe shall be exploited more on their 93's Chaos AD and way furthermore on 96's game-changer: Roots ! Recorded at the world famous Morrisound Studios with total posh production courtesy of Scott Burns and mixing by Andy Wallace, Arise is the SEPULTURA album that raised the bar, at a perfect time to make the Brazilian-tribe a household name.

The carnage opens up with the neck-breaking speedmetal finesse title-track, followed with "Dead Embryonic Cells" where the simple yet devastating E-string riff shines on at 3:34sec, to the killing fast-pace of "Murder", to the maelstrom palm-muting-fiesta of "Subtraction", to the progressive intro of "Meaningless Movements" to the final track, another speedmetal cut in "Infected Voice"

On tour they ripped thru North America with SACRED REICH, NAPALM DEATH and SICK OF IT ALL in the infamous appropriately titled: New Titans On The Block tour.

Today, Arise stands as a testament and stepping-stone in SEPULTURA's career, both musically and even more commercially. If Arise would've not been a hit, they would've faded into obscurity, side-swiped by the alternative tidal-wave of 1992.

We spit in your other face !!!

PS: Sur ma photo, les army-pants en dessous des CDs ont étés achetés en 1991, directement influencé de Max Cavalera dans le vidéo Arise. J'ai porté ces pantalons durant toute la fin de mon Secondaire 3-4-5

*
VIDEO
https://www.youtube.com/watch?v=6BOHpjIZyx0
CD
https://www.youtube.com/watch?v=Bm3U6nBLZhE&list=PLFVuS7T8XWrgXMKBepoiGbkoBJNrhGVvm
IN the STUDIO
https://www.youtube.com/watch?v=UF6u5sl9k0A
INTERVIEW a MONTREAL 1991
https://www.youtube.com/watch?v=BHn0wzTRKb8
LIVE in BARCELONA 1991
https://www.youtube.com/watch?v=1XYMzAIj7BQ
some guy
https://www.youtube.com/watch?v=9sJP88K5YNI





February 20, 1996 - 2021: 25 years of: Roots.

Brazil, bloody Brazil !

Changes, sometimes good, sometimes bad ...and sometimes they end up being trend-making. Here comes the roots of South America's heaviest export.

After the thrashmetal crossroad collision with hardrock and grunge in the 1991-92-era, most of them ended underground. From the streets, some new blood came a created a new type of thrash: FIGHT, MACHINE HEAD, PANTERA and eventually FEAR FACTORY ...yet nothing could've prepare the scene for SEPULTURA's ultimate 90°

The vicious fat-tone attacks on cue with the opening single "Roots Bloody Roots". Modern-metal from a legendary band. A simple pounding repetitive track with a simple riff that sticks and carries on for days ...and the outro-segment is a mosh jump-pit delight.

"Cut Throat" takes you hostage and slams you into heavymetal submission, while the energetic percussions of "Ratamahatta" rings with pride and brings the deep Brazilian indigenous tribes vibe into the 90s metal-world. SEPULTURA are a "Breed Apart" filled with "Straighthate" as more jungle tom-tom rhythms sludginess are added to the thrashmetal back-bone. No other band in the world could've done it ...this is part of the boys's DNA.

For the old-schoolers out there, some hardcore violence is found on the "Dictatorshit" brawl and the rude awakening of "Born Stubborn". The album features guest by key-player Mike Patton, Jonathan Davis and even HOUSE OF PAIN's DJ Lethal.

The band could've played it safe, as they were on their current back to back successes of 1991's Arise and 1993's Chaos A.D. But with the close collaboration of producer Ross Robinson, the SEPS cooked-up the ultimate hybrid: cutting edge digital production, high-gain amplification, downtuned guitars and earthly Xavante tribal rhythms. While KORN may have started the tone, SEPULTURA, the leaders of the new-metal movement took this tone into the main metal-masses.

Roots is more then a mere metal-masterpiece, it's an ancestral family-affair. Yet sadly family-affairs would also erode the band into 2 distinctive camps, as this record would be the last SEPULTURA / Max Cavalera offering. The lead-singer would soon arise again with the schizophrenic SOULFLY, while the SEPUL-tribe would come back from beneath the remains with new-frontmen Derrick Green with 1998's Against CD.

Breaking barriers, one riff at a time: Can you take it ? Can you take it ?

*
Roots Bloody Roots = video
https://www.youtube.com/watch?v=F_6IjeprfEs
Attitude = video
https://www.youtube.com/watch?v=0TanJ9jf-p4
Ratamahatta = video
https://www.youtube.com/watch?v=NiwqRSCWw2g
Roots = full CD
https://www.youtube.com/watch?v=nUCodt4zVw4&list=PL1ckg7Xvd7ES3PKYsa5dLbDaA6IJSb9FM
Interview in 1996
https://www.youtube.com/watch?v=gKw_tu-ZAvY
Live at Pinkpop 1996
https://www.youtube.com/watch?v=CBwgf8NRFhI



Référence croisée Helter Skelter:


Death-Metal US 1991
&


Frères métalliques
INDEX
helterskelter.ca
(c) (p) 2021 helterskelter.ca. All Rights Reserved. Tous Droits Réservés.