SLAYER
1984 - Haunting The Chapel.
1985 - Hell Awaits.
1986 - Reign In Blood.
1988 - South Of Heaven.
1990 - Seasons In The Abyss.
Référence croisée Helter Skelter.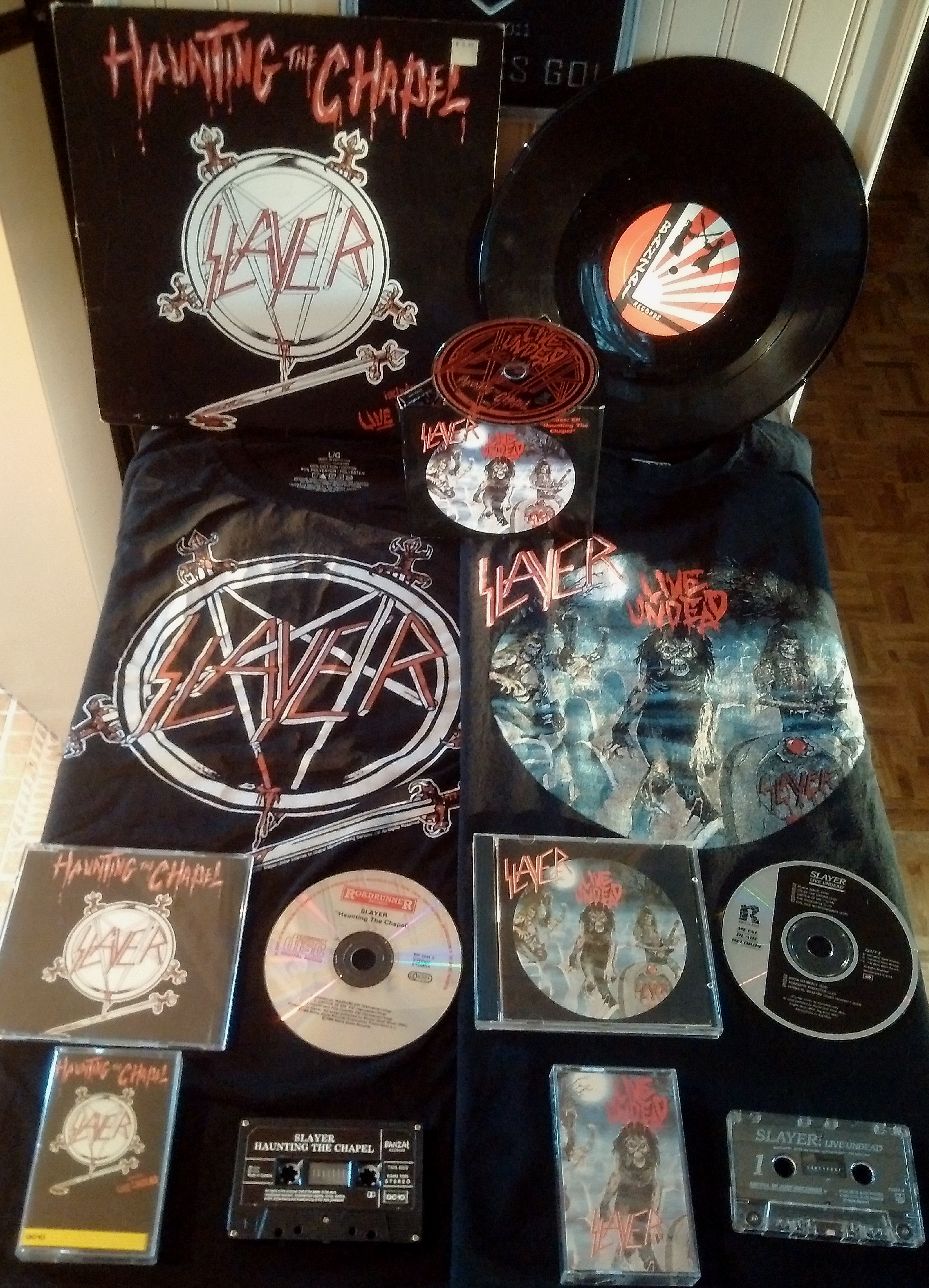 The greatest thrashmetal studio EP and the greatest thrashmetal "live" EP ever ?

This is the turning-point in time where the mighty SLAYER became evil. While their 1983 debut Show No Mercy was more Euro-heavymetal influenced, the 1984 Haunting The Chapel mini-album is without the shadow of a doubt: true 666-material !

3 intense tracks of pure thrashmetal energy and anger, filled with eerie lyrics and morbid themes. These 3 single tracks are the genesis of speedmetal and to some extend, what was to become deathmetal and blackmetal.

The table was set for what was to come, the most evil thrash-speedmetal LPs of all time: the massive killings of 1985's Hell Awaits, the onslaught of 1986's Reign In Blood and the darkening nightmare of 1988's South Of Heaven !

*
EP
https://www.youtube.com/watch?v=AmN0j0Ry-FE
LIVE IN THE STUDIO
https://www.youtube.com/watch?v=wAYZ876UiZ4&list=PLqytfNFx9Ghxi4YhfA5nf8fQz3VxnTcTe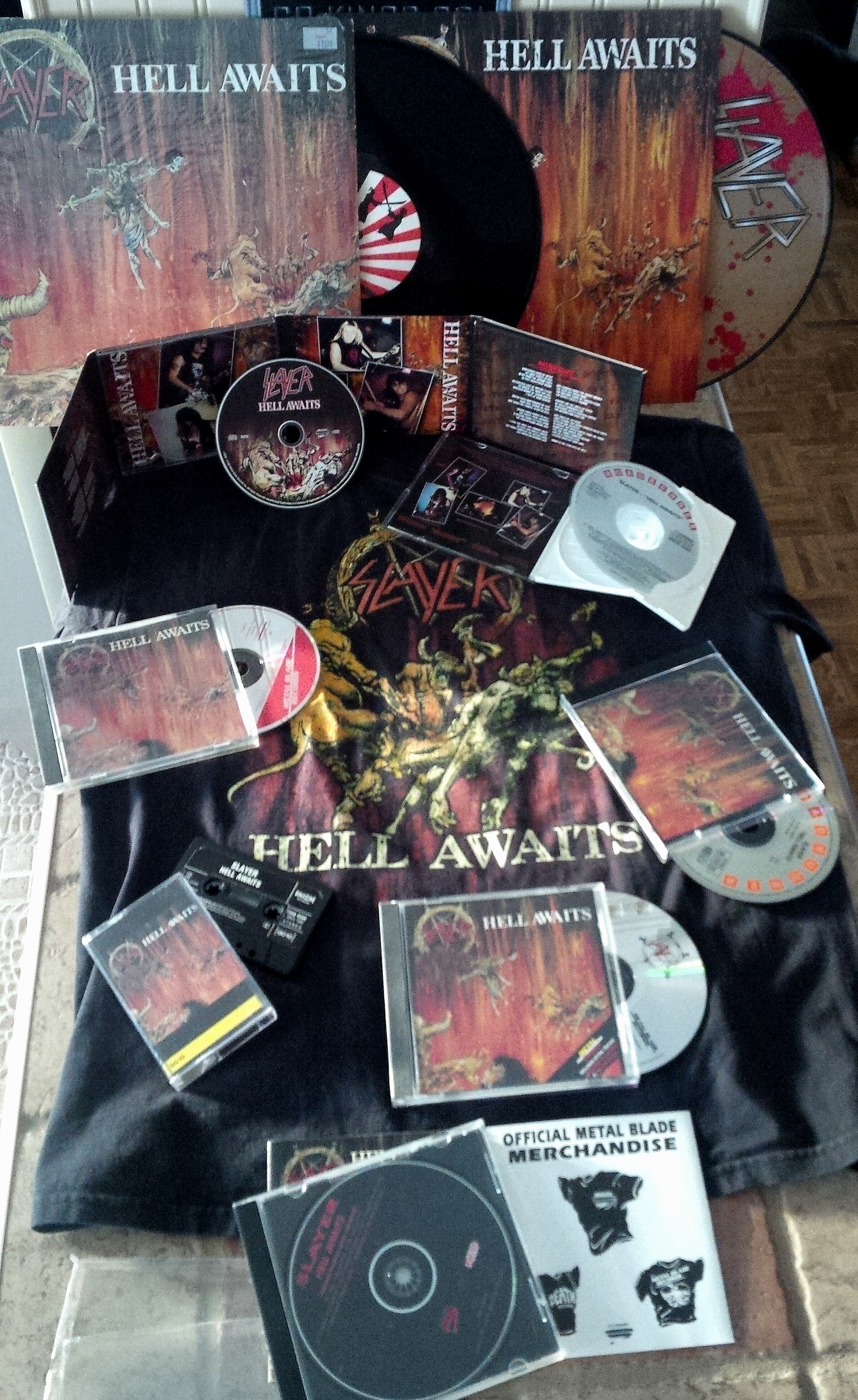 SLAYER
Hell Awaits
1985

...it no longer awaits.

*
https://www.youtube.com/watch?v=hEBQAnxGku4&list=PLqytfNFx9GhyIe1Kr7QlWTt1jUMK-QiC2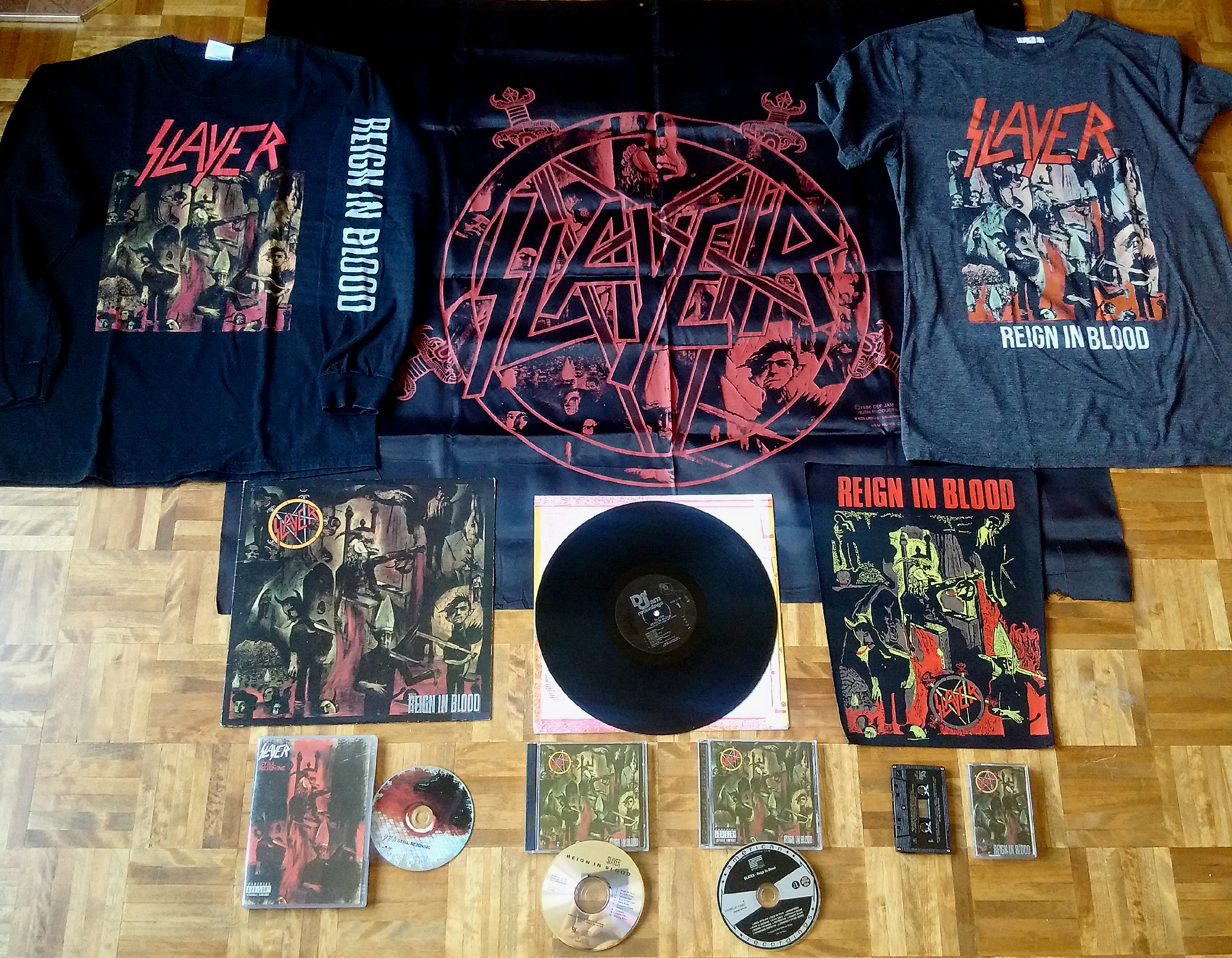 October 7, 1986 - 2021: 35 years of: Reign In Blood.

Creating my structure...

1986 is THE year for the world's fastest and most lethal genre of music: Speed-Metal. Rage, aggression and vile hatred, all wrapped in organized chaos ...speedmetal is the adrenaline of heavymetal, the fastest in thrashmetal and the genesis of deathmetal.

Mosh and rejoice with these immortal rabid classics: Pleasure To Kill, Darkness Descends, Game Over and Rrröööaaarrr ...and headbang alongside soon-to-be arena-fillers: Peace Sells and Master Of Puppets ...and from the unsafe slums of Los Angeles arises the unholy SLAYER.

While 1983's Show No Mercy is a fine Eurometal explosion, it is with 1985's Hell Awaits that SLAYER became SLAAAAYEEEERRRRR !!!! Dark, satanic, gruesome and overall violent ...yet we've seen nothing yet: 1986's Reign In Blood is 28.55sec of pure extreme hate, brimstones and fire ...all delivered to the Gates Of Hell at Mach 666 !!!

"Altar Of Sacrifice" is a monumental speedmetal anthem that will make you "soon to meet the undead". The second-half of the song is more mid-paced, while "the transformation" begins as you "Enter to the realm of Satan". Iconic !

The 1:41sec of "Necrophobic" is a hold-your-breath-just-a-little-more punch. Über guitar-leads and some of the most insane drumming, ever. The crunchy riffing of "Jesus Saves" swallows you into a tornado of devilish decibels while the off-set drum-intro of "Criminally Insane" once again, pushes the machine over the edge. "Postmortem" possesses one of thrashmetal's heaviest riff, has it fades into the haunting thunderous intro of "Raining Blood" where the lacerated skies abound wide open. Morbid and jaw-dropping !

Yet the best is yet to come in the Jeff Hanneman-signature "Angel Of Death" ...one of heavymetal's most controversial song. One of the fastest has it opens the madness to this very album and THE track ALL bands compares it's ugliness to. The visceral hate and criticism comes in the lyrical portion of this song, has it depicts, very graphically, tales of the Holocaust and bloody scenes from concentration-camps. Definitely single-hostile, yet this particular track became one of SLAYER's most known song and fan-favorite for decades.

First opus for Def Jam Records under major distribution, hate-wise, Reign In Blood is the album to match. 33+ years later it's legacy remains untouched ! Yes the speed and aggression has been matched by some other bands, mostly in the deathmetal and blackmetal scene, but the execution and it's lively-ness and blunt-force makes it an immortal classick in every department. Reign In Blood still reigns, has it still generates debate and still influences generations of bands to write and perform ...the ultimate sign of a classic !

...now I shall reign in blood !!!

*
LP
https://www.youtube.com/watch?v=aLDalKSJ18I
MTV Speed-Metal special in 1986
https://www.youtube.com/watch?v=0s5C0hwnKvI
Interview in 1986
https://www.youtube.com/watch?v=ahDPXwvAmKY
Live in 1986
https://www.youtube.com/watch?v=1E0PeD7e5EQ
some guy
https://www.youtube.com/watch?v=RVI5VXcEEDo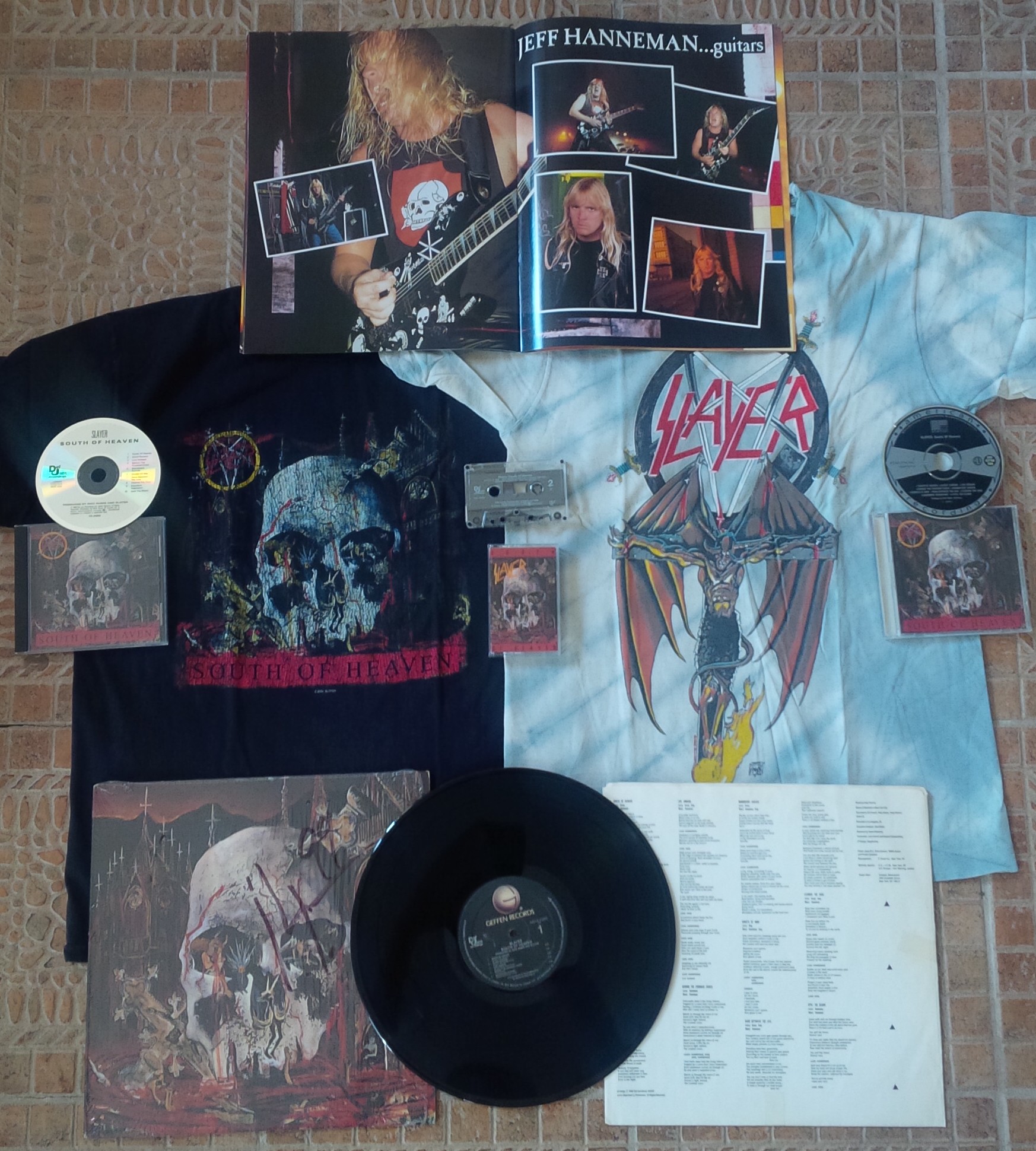 SLAYER
South Of Heaven
1988

*
https://www.youtube.com/watch?v=89xR26Hgvpg&list=PLPf69IGxwfBGHFpZZOvsMtfy3HySa3ig5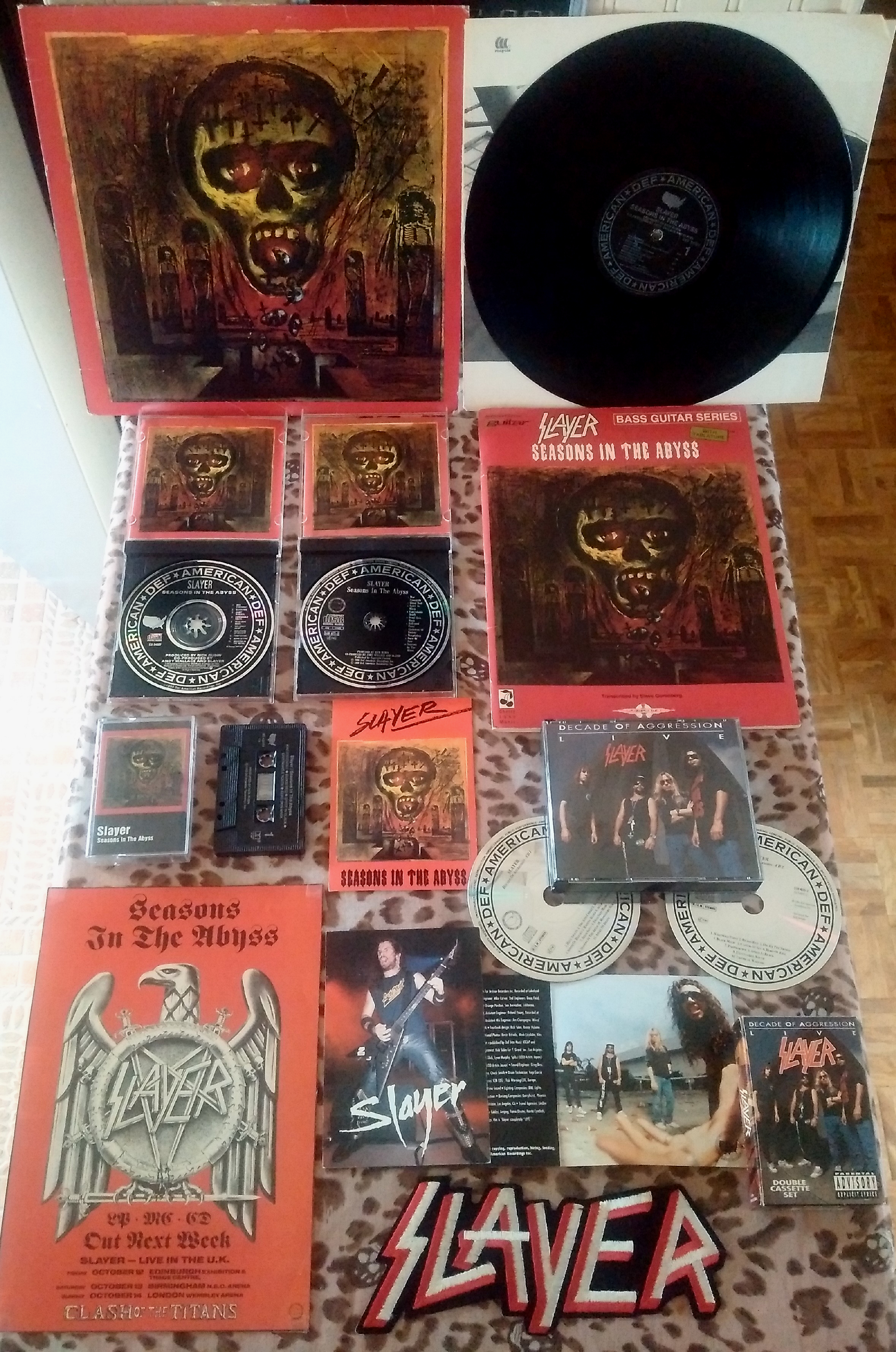 October 9, 1990 - 2020: 30 years of: Seasons In The Abyss.

Sad autumn time in the abyss.

The brutal ascension from 1985's Hell Awaits LP to the 1000mph Reign In Blood LP is unprecedented. Yet in 1988, a focused band proposed a more controlled exhibition, the morbid South Of Heaven LP.

1990, once again, the year for top thrashmetal releases. After the tidalwave of the first speedmetal and then thrashmetal LPs of the mid-to-late 80s, it was now time to celebrate. Moshing head to head with other 1990's Chart-toppers like ANTHRAX's Persistence Of Time, SUICIDAL TENDENCIES's Light, Camera, Revolution and the recent MEGADETH perfect performance of Rust In Peace, thrash's antichrists were now in line for another killing, a lighter killing ?

The heavymetal State Of The Union Address: "War Ensemble". This is SLAYER, the SLAYER known for speed, aggression and blistering solos. The endless war-topic is displayed and abused on this 4:51sec now classic signature-track. The hemorrhage continues on "Blood Red", where simpler riffs intertwine and creates a lively vibe. Mid-80s speedmetal rings aloud on the incendiary "Born Of Fire" and "Hallowed Point", where Mr. King and Mr. Hanneman haven't let us down in the whammy-bar department.

The lighter SLAYER is felt on easier tracks like "Expendable Youth" and the hard to swallow "Skeletons Of Society", were the E-downstroke is kinda overused. Shades of powerballad / rock-format are found on not one, but two specific tracks. The Ed Gein tell-all "Dead Skin Mask" and the closing title-track. Not that SLAYER were MTV Unplugged ready, but a video was cut for the aforementioned number. We were all in awe with South Of Heaven's dark venture in Spill The Blood, yet this time, this is somewhat lame and uninspired.

Once again produced by Rick Rubin, Seasons In The Abyss is a strong record, but a softer metal-release when bench-marked against their previous offerings. Comparison with the dreaded "Black Album" spring to mind as this is the band's most accessible CD, ever.

In the history books, SLAYER will always rule, but with this year's stellar releases, another band would come, push, shove it in everyone's faces and take hostage the upcoming decade-long thrashmetal-monopoly, either you wanted it or not ...here are the rednecks of PANTERA.

RIP Jeff Hanneman (1964-2013)

*
War Ensemble = video
https://www.youtube.com/watch?v=jqnC54vbUbU
Seasons In The Abyss = video
https://www.youtube.com/watch?v=DECp8LKurKs
Full CD
https://www.youtube.com/watch?v=VFPj4F_WJDo&list=PLPf69IGxwfBF5eMKlCRdhYOhuzfHA0mfp
Interview on Headbanger's Ball
https://www.youtube.com/watch?v=jAHq2dF9D7Y
Live in 1991
https://www.youtube.com/watch?v=m7uGpqF1wGc
Clash Of The Titans in 1991 in MSG
https://www.youtube.com/watch?v=TOcokdnVjPc
Some band
https://www.youtube.com/watch?v=CLe3MFFP9XI



Référence croisée Helter Skelter: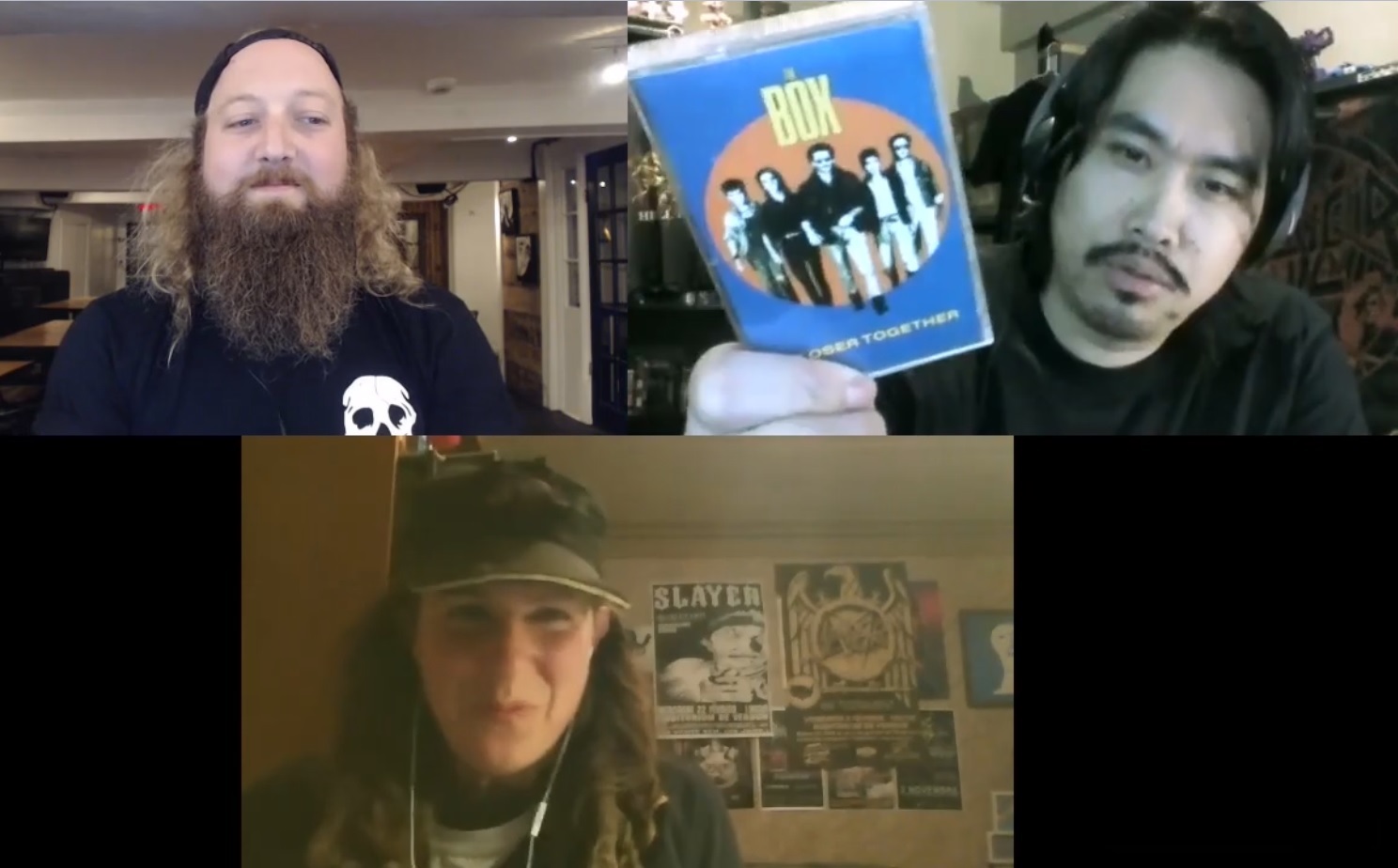 SLAYER
&


Big Four 88-92
INDEX
helterskelter.ca
(c) (p) 2017-2021 helterskelter.ca. All Rights Reserved. Tous Droits Réservés.