TYPE O NEGATIVE
1991 - Slow, Deep And Hard.
1996 - October Rust.
1999 - World Coming Down.
Référence croisée Helter Skelter.


Everrryday ...is Halloween.

Tonight's the night, I'll paint the town red !

From the open-wound fallout of CARNIVORE, flows an emulsion from a new black bloodline. An ice-cool repulsive subzero vibe with deadly consequences. Released to a hostile world coming down scene on June 11, 1991 ...this year we celebrate 30 years of: Slow, Deep And Hard.

Hard to picture a world without TYPE O NEGATIVE, yet there was. Our origins are common, highjacking our rocknroll trajectory ...yet our target destination remains: total darkness - total heaviness.

The noise, the feedback and Armageddon. The organized chaos of "Unsuccessfully Coping With The Natural Beauty Of Infidelity" is both a cry for help and a war-cry for revenge. Remember girl that he knows you're fucking someone else !

The controversial slobs of "Der Untermensch" are a fine mix of NYHC and apocalyptic-rock, while the head-scratching 1:05sec of "The Misinterpretation Of Silence And It's Disastrous Consequences" is a curve-ball no-one is ever going to forget.

The BLACK SABBATH-intro to "Prelude To Agony" and subsequent heavy doom-groove is another evident homage to the almighty British Gods, and the half-CBGB / half-gospelrock of "Zero Tolerance" displays some clever twists and unthinkable hooks.

TYPE O NEGATIVE totally cocked the scene with it's massive rock, every inch, every hole.

Post-punk, gutter-rock, alt-metal, dark-doom ...hard to label these Brooklyn bastards, yet the vibe was real and this new entity was about to set new high / low standards in the extremes. Peter Steele, Sal Abruscato, Kenny Hickey and Josh Silver are just 4 bums, but the message is crystal-clear, the emotions are high and the decibels are loud and real.

While LPs were swapped to CDs and while hard-rock was swapped to alternative-rock, 1991 is a hinge year of changes and musical trailblazing. Round Two would cement the gothmetal genre and esthetics with 1993's RIAA-certified Platinum and universally acclaimed Bloody Kisses CD.

But before the stardom, a very special artwork shall expose Peter's view on people's perception of the band. From Roadrunner Records's press-promo: "...the most intense band, ever !"

*
Slow, Deep And Hard = full CD
https://www.youtube.com/watch?v=Idfv4wyWfSs&list=PL0xXGZWysIyZq3hp-yG2R5s0_dqe3Z3AL
Line in Copenhagen in 1991
https://www.youtube.com/watch?v=e3P6llGYsB0





Everrryday ...is Halloween.

Eclectic, enigmatic, erratic and erotic ...TYPE O NEGATIVE's third album, the almighty one-of-a-kind October Rust is melodramatic-metal at it's best: crystal clear drop-dead perfection !

From back-alley punks to misanthropic gothstars, Brooklyn's four dicks are the summum of rocknroll in the 90s ...and beyond. Their 1993 RIAA-certified Platinum Bloody Kisses CD is an impressive trendsetting offering of eerie melodies and heaviness. But the real posh material lies in 1996's magnum opus musickal tour-de-force: October Rust.

Please review the following chain of key selling-points October Rust offers:
- perfect clean and electric guitar tone
- perfect bass tone
- perfect piano tone and keyboard samples
- perfect drum acoustics (although programmed)
- perfect vocals and matching melodies
- perfect lyric set
- perfect studio production
- perfect mood and album pacing
- perfect artwork and esthetics
- perfect looks and demeanor from the band-members
- did we made ourselves perfectly clear ?

The first track in "Love You To Death" is the perfect orgiastic melodicmetal song. The piano-intro sets the foggy mood and the main riff is all gloomy BLACK SABBATH worship. The aggro-sexy "Be My Druidess" is another lady-killer. On his knees, Peter Steele's baritone vocals never sounded so heavenly, positively one of TYPE O's best track. Wine pours aplenty on "Red Water (Christmas Mourning)" ...a dark galactic doom monolith of massive heaviness.

Some pop-rock vibe is majestically delivered on everyone's fantasy in "My Girlfriend's Girlfriend", a tried and true crowd mover. TYPE O NEGATIVE is a unique ensemble ruling in their own league and this track is simply another proof of this undebatable fact.

There is no "Off-Position" on the genius-switch !!!

The organic "Burnt Flowers Fallen" perfectly pictures Autumn. Soil, fire, cold winds and Nature's death, put into heavymetal-music ...an unprecedented romantic audio-nirvana. Magic transpires from their intelligent Neil Young cover in the revamped "Cinnamon Girl". A folk song that receives the full doom-rock treatment ...once again, the mighty TYPE O can do no wrong. Another long-form signature track, the feline "Wolf Moon" is beauty in darkness. A funeral verse followed by an apocalyptic addictive chorus, a 6:38sec epic bloody ride that bleed profusely at the 4:12sec explosive climax.

This is a perfect melodic heavymetal album !!!

As you all may know, all TYPE O NEGATIVE releases are a celebration of love, hate, strength, weakness, faith, fate, passion, apathy, life, death and lust. Deep church-like vocals, pounding drums, heavy catchy guitar riffs and haunting keyboard soundscapes. The universal union of Peter Steele, Johnny Kelly, Kenny Hickey and Josh Silver is forever ...there is no other band like them: the answer is none, none more negative !

Having toured with various crowds with OZZY, NIN, MÖTLEY, PANTERA and LIFE OF AGONY ...the Drab Four may have not supported the entire 90s on their shoulder per say, but you just couldn't look away.

Back in 1996, in the sterile cookie-cutter post-grunge era, melodic rock-metal wasn't the norm, yet TYPE O NEGATIVE was the band that brought it up and kept the rocknroll rolling, blame them ...they are the vandals !

RIP Petrus Thomas Ratajczyk (1962-2010), we miss you Green Man :(

*
Love You To Death - video
https://www.youtube.com/watch?v=xD5No_JRrZw
My Girlfriend's Girlfriend - video
https://www.youtube.com/watch?v=KgkBWZXVLyk
Full CD
https://www.youtube.com/watch?v=H09Mos2HLl8&list=PLx0yvhJuuBp8XPYdPgnUP4cyG7esT92lz
Interview in 1996
https://www.youtube.com/watch?v=bqrDI3MpE-c
Live in Montreal in 1997
https://www.youtube.com/watch?v=Hx6WM22X-PI
A retrospective: 23 years later
https://www.youtube.com/watch?v=sGSDoU-UvSw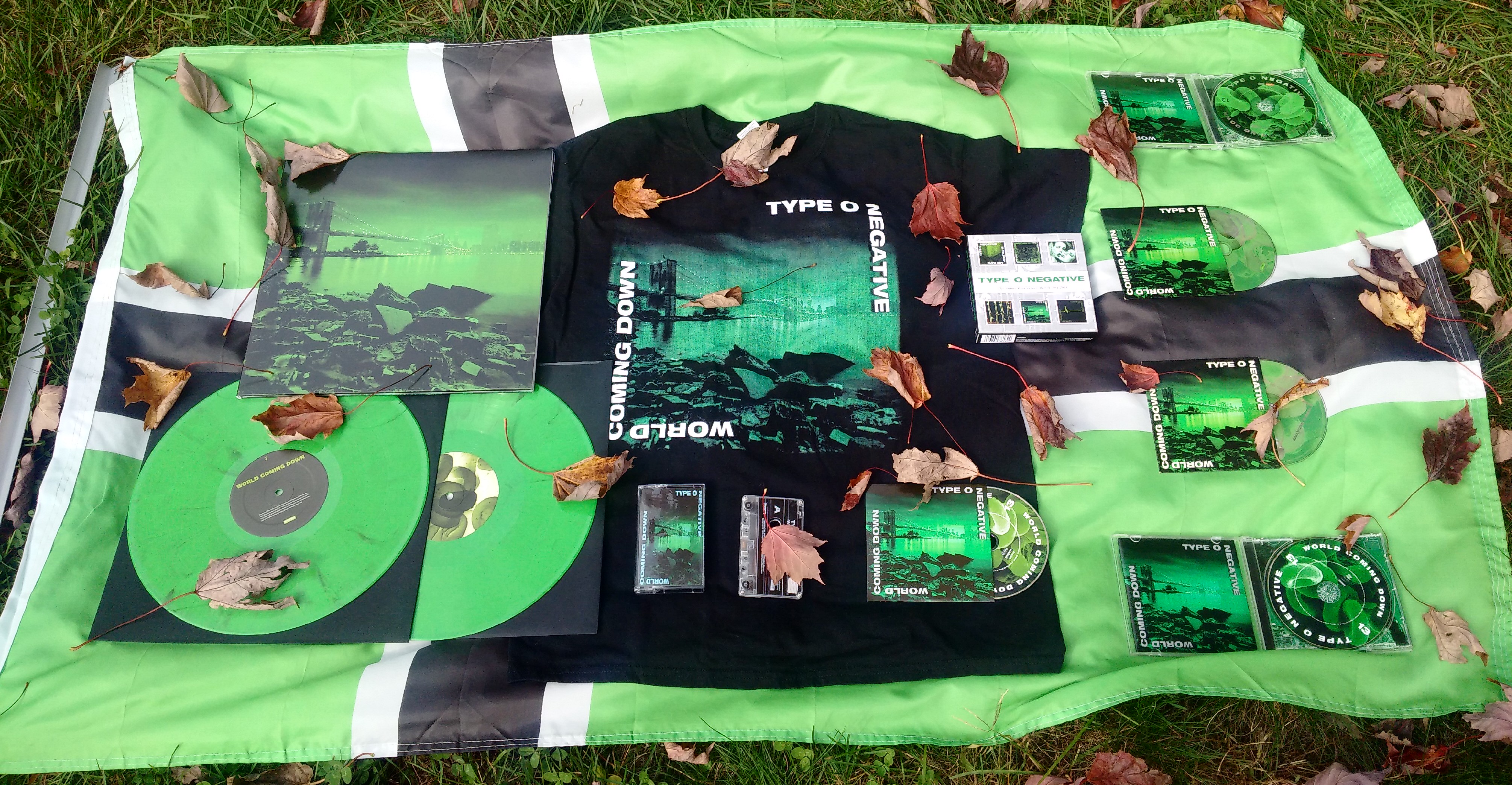 Everrryday ...is Halloween.

The heaviest record of the nineties. After the RIAA-certified Platinum celebrations of 1993's Bloody Kisses CD, the four dicks came back strong with the 1996 tour-de-force melodramatic October Rust CD. And now, everything crumbles and the world is coming down.

The odd-men in the metal-scene were about to change the face of heavy-rock, once again, just before the end of the millennium. Brooklyn, Ground Zero for the American working-class template and nothing says more "get the job done" than the divine union of TYPE O NEGATIVE.

Sinus - snort it

Pride, passion and power a potent mix used in the past and performed on "Everyone I Love is Dead". Massive harmonies and crunchy rhythms, this is up-beat doom-metal. The romantic melody of "Who Will Save The Sane?" is a haunting mountain of majestic might, that will not let you sleep well.

Liver - drink it

The apocalyptic title-track is a benchmark in doom-heaviness. Gasping for air as it is too thick, the multi-layered mix is a maelstrom of monstrous machiavellian metal. Mister Kenny Hickey on lead-guitars introduces us to another WW3-type riff in "Everything Dies", an obituary-like piece where Peter Steele remembers close loved ones and deceased family-members.

Lung - smoke it

Rock the world with one of the decade's stompiest riff. Afire on "Pyretta Blaze" the verse drives you into oblivion, while the chorus bleeds with a hip 70s-vibe. Pure magic. The mish-mash BEATLES-medley is an interesting bonus. This clever mix, once again, proves beyond the shadow of a doubt that the Drab Four are no shmucks and can make any song theirs.

Released in September 1999, World Coming Down is another brick in the massive TYPE O NEGATIVE monument of work. Thru real-life deaths and personal drama the gentle giant and casket-crew delivered the end of the world as we know it. So pack your bags and get in line at Noah's Ark doorstep, because this is the end.

*
Everything Dies = video
https://www.youtube.com/watch?v=NJ3aiM8K6D0
Full CD
https://www.youtube.com/watch?v=Pj17oXYHKVU&list=PLA2-nXsHvm3IVgKcTkyFKx-TJmBOcC6-_
Live in 1999
https://www.youtube.com/watch?v=4Qon_88BCBA



Référence croisée Helter Skelter:


TYPE O NEGATIVE
&


Alternative-Metal 1992
INDEX
helterskelter.ca
(c) (p) 2021 helterskelter.ca. All Rights Reserved. Tous Droits Réservés.