AC/DC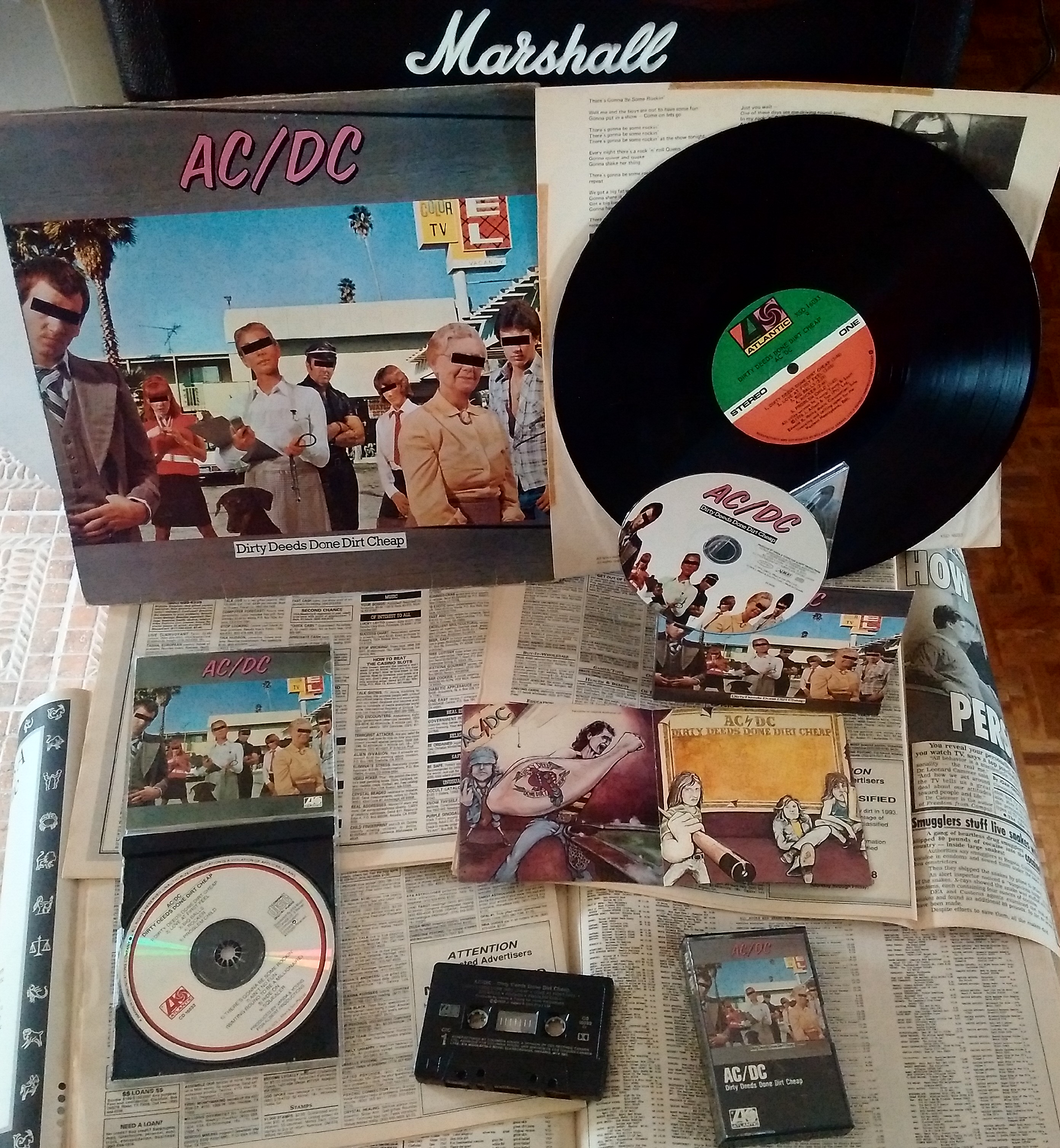 September 20, 1976 - 2021: 45 years of: Dirty Deeds Done Dirt Cheap.

Kind, keen, killer and kinky !

Our decadent darlings are back. Australia's newest fiery rock-machine, an iron fist in an iron glove, ready for world-domination ...full of shake, rattle and roll. Round Two and knocking at your backdoor, real rock is about to get some slick jaw-breaking action.

That deep low-E, that G, that A, that D, there they are: the basic-chords that makes rocknroll, the basic-chords that gets your "Dirty Deeds Done Dirt Cheap" ...because ...everybody wants some !

A little bit louder, a little bit rougher and a little bit naughtier, here's your late-night "Squealer". Come and gone, now that she's out of the bedroom, this leaves the way for the new King of rocknroll. He's a "Rocker", he's a roller, he's a right outta controller. A speedmetal template, mosh-favorite and destruction-assured decibel mayhem. Part-pirate, part-bull, all rocknroll-star, this bad-boy is the ultimate "Problem Child", another immortal sharp-shooter classic.

And now, the crew. It's already been proven that Bon has "Big Balls", yet it's safe to say, as the rest of the band proudly pledges: "But we've got the biggest, balls of them all !!!" ...clearly one of the greatest call in recorded-music. Funny and furious, there is none higher ...or bigger !

Powered up and rumbling for more, the boys would overturn the disco and punk movement, flick the switch and shake the foundations with high-voltage rocknroll for the upcoming 4 decades. Round Three would occur, in 1977, with the heavenly divine wisdom of the Let There Be Rock LP.

RIP Bon Scott (1946-1980)

*
Dirty Deeds Done Dirt Cheap = full LP
https://www.youtube.com/watch?v=UIE4UjBtx-o&list=OLAK5uy_mQ-HvDdcPbfOYNPaRD25pxpdqkRKyU_pI
Interview in 1977
https://www.youtube.com/watch?v=r7DZa-wJYQM
Live TV at ABC'S Countdown in 1976
https://www.youtube.com/watch?v=x56C5NineXE





Not just some mere riff raff !!!

Still blazing hot on the tail of 1977's magnum opus: Let There Be Rock ...the Aussies were still a long way to the top. Yet the big balls rockers led by #1 problem child Bon Scott, proved once again that Hell ain't a bad place to be !

While ALICE COOPER, BLACK SABBATH and DEEP PURPLE, were already perceived has aging rock-dinosaurs, a new-wave of new-heavyrockers was setting in with: VAN HALEN, SEX PISTOLS and the abrasive MOTÖRHEAD.

And from the depths of down-under, AC/DC lurks with 1978's monolithic electrified Powerage LP, the much needed rocknroll overdose that shook the establishment to it's very core. All Volts, all Watts and all supercharged rocknroll, nothing more, nothing less ...Powerage is the perfect remedy against damn disco and dirty leftover hippies.

The sing-along "Rocknroll Damnation" sets the pace while "Down Payment Blues" is a tongue-and-cheek realistic perspective on the rocker's lavish lifestyle: "I got myself a Cadillac, but I can't afford the gasoline". The foot-thumping' "Gimme A Bullet" is an all frills tune and the monstrous crowd-moving "Sin City" is mandatory listening for anyone akin in the rock-genre. The suave and sneaky "Gone Shootin" drives-off a simple bass-line and instantly gets you in the zone while the closing piece, the massive horse-powered "Kicked In The Teeth" is a freight-train punch that leaves a trail of unanimated bodies behind.

Still the true POWER and RAGE of Powerage dwells in the destroying kick-ass-show-stopping "Riff Raff". Not speedmetal but the genesis of. The frenetic Tasmanian-intro thrusts you into an up-beat inferno of guitars, drums and bass tornado that rabidly pumps blood to the boiling-point. 1-2-3-4 the main riff walks all over you and explodes like TNT. 5:12sec of crystal-clear pure street-style unadulrated switchblade-rocknroll ...see I just coined a new term: Switchblade Rock-N-Roll !!!

If you're addicted to adrenaline, look no further, forget all other bands, forget all other songs: this track is it !

Powerage is a fine exhibition of rawknroll, performed by 3 rebels, 1 pirate and a devilish schoolboy. The follow-up live companion offering If You Want Blood You've Got It LP, is all rock exuberance, attitude and bloody badass-ness. This well-oiled machine was firing on all cylinders and nothing could stop 'em. One of the best live experiences ever to be caught on tape.

From local clubs to arena-fillers, AC/DC would soon hit a worldwide grand slam with 1979's Highway To Hell LP and become Earth's loudest gang ...the final chapter in AC/DC 1.0

*
Radio commercial
https://www.youtube.com/watch?v=y8Ckm5LhhhI
Rock n Roll Damnation - video
https://www.youtube.com/watch?v=-0Oa5wvARSc
Riff Raff live in 1978
https://www.youtube.com/watch?v=ErXbMB9R5-0
Sin City live in 1978
https://www.youtube.com/watch?v=zYWYDx16JFg
some guy
https://www.youtube.com/watch?v=ozFGGJm1gaA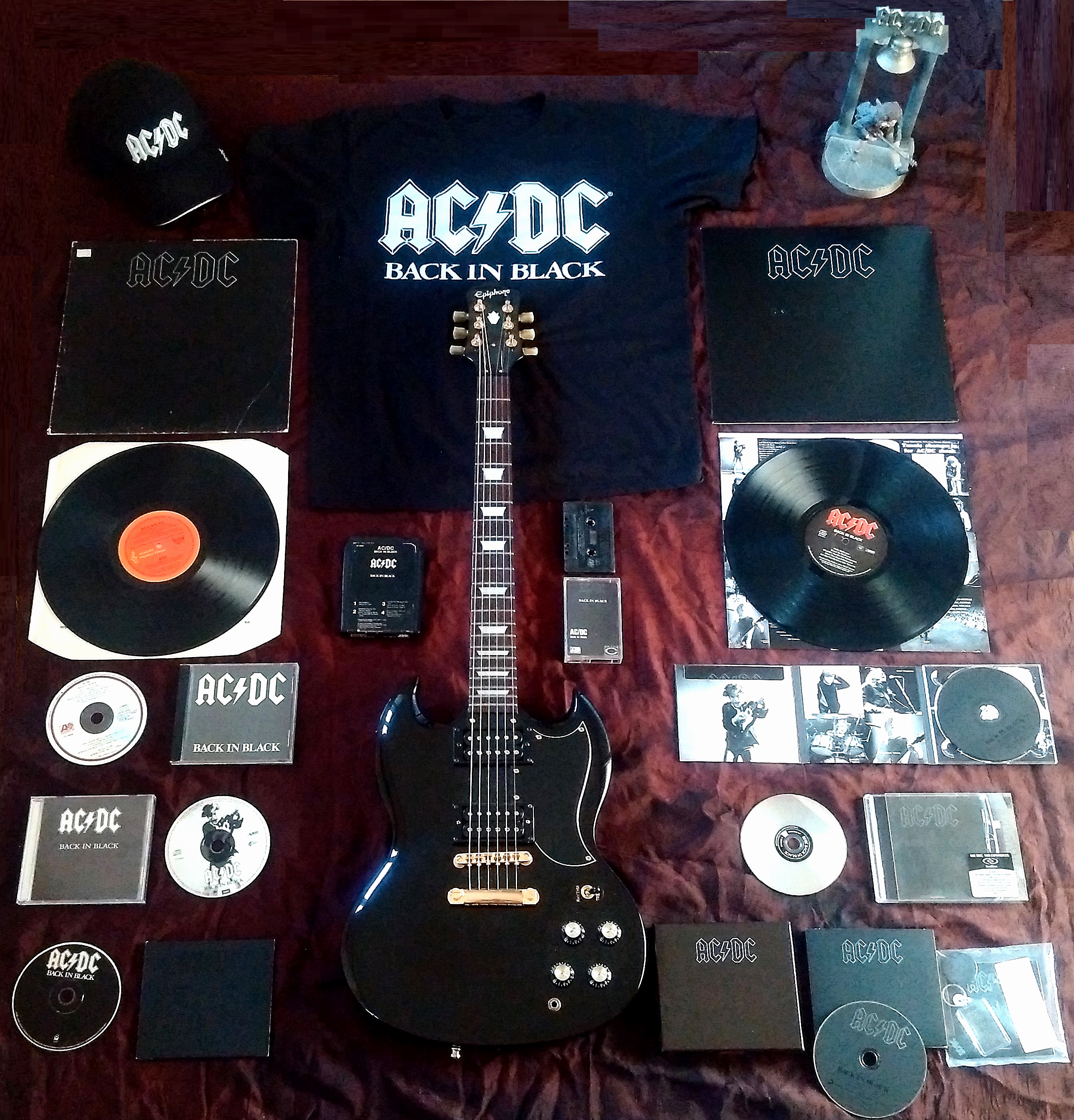 THE top selling hardrock album on earth: 50 million+ sold globally. Back In Black is THE definition of all killers no fillers !

After the tragic death of frontman rock-god Bon Scott, the Aussies pulled-back, regrouped and created rocknroll heaven for their fallen mate. The year 1980 is Day One for real classic heavymetal, the beginning of a new decade, kickstart the party with: British Steel, Ace Of Spades, Blizzard Of Ozz, Animal Magnetism, Heaven And Hell ...and Back In Fuckin' Black !

From the ghoulish intro bells of "Hell's Bells" ...aaaall the way to the closing riff of "Rock N Roll Ain't Noise Pollution", Back In Black delivers rocknroll in every department.

From Malcolm's wrist crushing rhythms, to Cliff's underlined bass rumble, to Phil's rock shattering drums, to Angus's volcanic leads, to Brian's (his first) hold-on-to-dear-life style of vocals ...Back In Black is the ONLY hardrock album that matters.

Added magic by studio-visionary and producer Mutt Lange, the heights achieved by Back In Black have since not yet been matched. No no no BON JOVI, step aside DEF LEPPARD, KISS ...kiss this, hold my beer METALLICA. Back In Black is still, 38 years later, THE TOP HARDROCK LP OF THE ROCK FOOD-CHAIN !!!

Oh and I dare to ask: What do you do for money, honey ?

*
CLIP
https://www.youtube.com/watch?v=pAgnJDJN4VA
LP
https://www.youtube.com/watch?v=GL56LY6fE0E&list=PLzqsoINOR51ZNYuuINo2XVKJu9PQtAcdK
2 DUDES
https://www.youtube.com/watch?v=ri2JDRAKCRA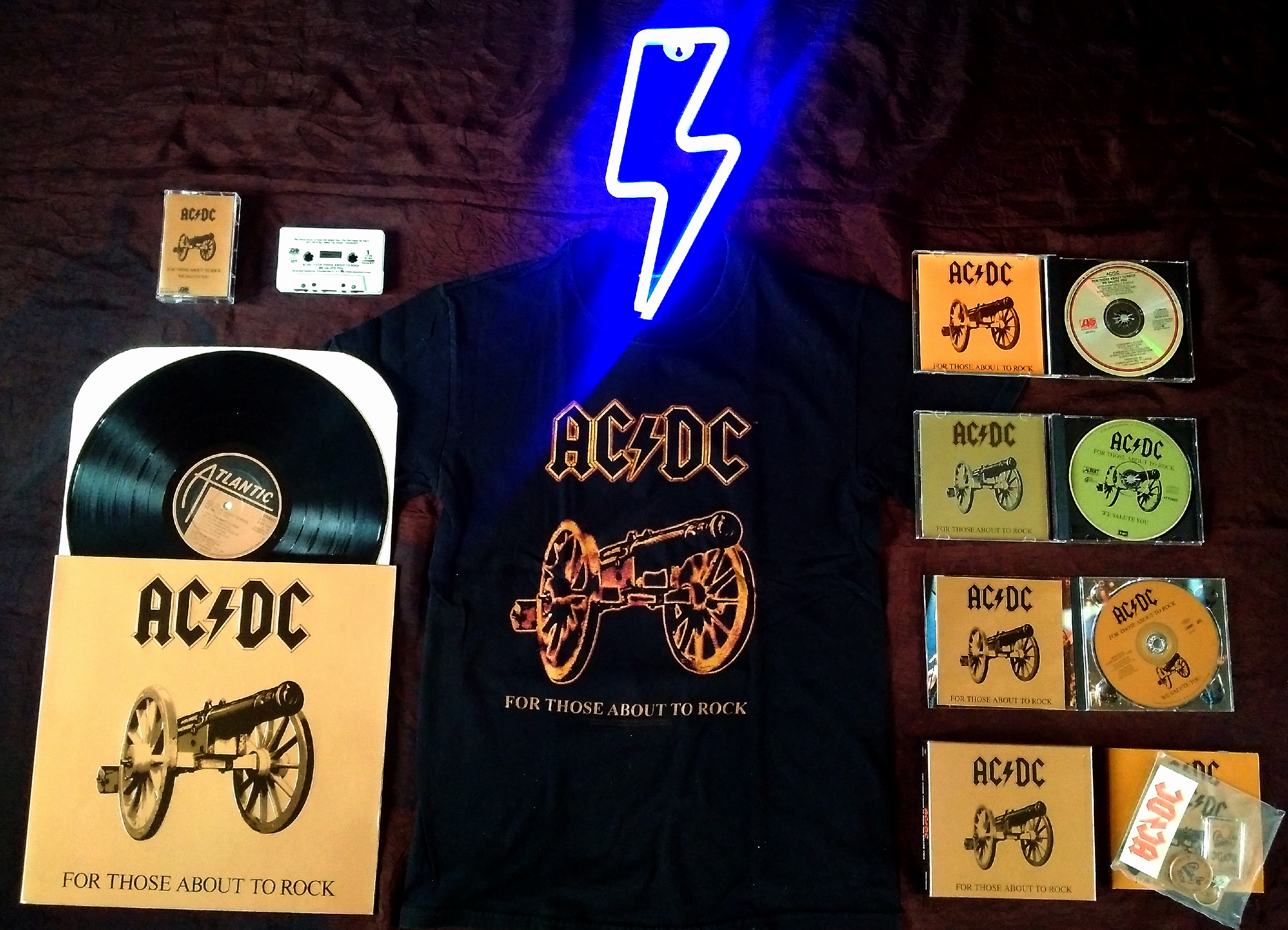 November 23, 1981 - 2021: 40 years of: For Those About To Rock We Salute You.

They are the dealers, they'll give you everything you need.

At the turn of the decade, a new edge of heavyrock was now ruling denim and leather: NWOBHM. Yet established band like SCORPIONS and JUDAS PRIEST were now teasing with the US-hardrock format. Forget Ohm's Law: AC/DC does not follow the rules, AC/DC are just AC/DC, regardless of the rock-landscape.

1980's mega mammoth Back In Black return-LP secured the band as the biggest, and loudest, hardrock band on Earth. Round Two with second singer Brian Johnson, but could they keep with the current pace ?

FIRE !

The sleek intro, the build-up, the pressure and the magma explosion. "For Those About To Rock We Salute You" is the ultimate call for all rebels across the Universe. Gather around and play loud ...cranium splitting-loud. If you're ready to rock, AC/DC shall meet and salute you with the utmost respect, with this hard, very very hard, hardrock cut that sets a define line between boys and men. One of the genre's best song and the war cry of the entire rebel-rock format.

FIRE !

Push harder, and louder, as the liquid of life is inserted within. The succubus gets her favorite treat as you "Inject The Venom", kinky and killer, while the loud arenarock powerhouse "Put The Finger On You" is an ear-plug mandatory cut.

FIRE !

The almost thrashmetal constructed "Snowballed" drives the speakers to the breaking-point while the boat crew shouts to "Let's Get It Up" ...the mast that is, another fine late-night double-entendre. Wanna send money to the Evil One ? ...make sure it's sent "C.O.D."

The boys wanted blood and they got it. Louder, wider and bigger. Sir Mutt Lange's 21 gun-salute is a major step-up in hardrock production. The RIAA-certified 4x Platinum sales shook the world all night long. In rocknroll there's loud ...and there's AC/DC LOUD !

AC/DC's legacy was now stronger and louder than ever. The piledriving rocknroll shall hit back with 1983's raw-er Flick Of The Switch LP.

Press Play, turn it up, hold on to dear life and...
Angus Young shall salutes you !
Malcolm Young shall salutes you !
Cliff Williams shall salutes you !
Phil Rudd shall salutes you !
and
Brian Johnson shall salutes you !

*
For Those About To Rock We Salute You = video
https://www.youtube.com/watch?v=8fPf6L0XNvM
For Those About To Rock We Salute You = full LP
https://www.youtube.com/watch?v=qsaTFcXVCNU&list=OLAK5uy_mSynb9j0mNVTdcrts-N43gW0A-mirPUvs
Interview in Lyon in 1982
https://www.youtube.com/watch?v=yLOg4reSVW8
Live in Largo in 1981
https://www.youtube.com/watch?v=uXVas4bUbsg
some guys
https://www.youtube.com/watch?v=zUGlJ2F4xd0





September 6, 1990 - 2020: 30 years of: The Razor's Edge.

We were shaking at the knees ...could we come again please ?

1990: the year of heavymetal rebirths. The end of the 80s, another page, another decade and a brand new vibe. Listen to Painkiller, Lights ...Camera ...Revolution, Cowboys From Hell and Rust In Peace, there is this electric vibe, a newfound life and an adolescent rebelicious burst of energy ...and then there's: The Razor's Edge.

Out of a jailbreak on a rocknroll damnation, the Aussie love hungry men have the biggest balls of them all. After the explosive 1-2 shoot to thrill punch of 1980's Back In Black LP and 1981's For Those About To Rock LP, the rockers were back in business, flicked the switch and were now finally ready to blow our videos.

Thunder !!!
Thunder !!!
Thunder !!!
Thunder !!!
...you've been:
"Thunderstruck", the new crowd-moving anthem of the new decade and more decades to come. The build-up from Angus's guitar, to the choir, to the extra-loud tom-toms, to Cliff's bass-guitar, to Malcolm's rhythms, to Brian's rap ...all heats-up to the boiling-point and the volcanic explosion is felt from miles around: AC/DC are back !

Lock up and "Fire Your Guns" a fast and gritty track that lights up any set. The heavy title-track is a reminder that this band is all about heavyrock, while the kinky Christmas-gift of "Mistress For Christmas" might be too much for some of you to handle. "Are You Ready" for some more hard rocknroll. Another loud-rock steamroller, nothing more, nothing less, what did you expect ?

The slick power-chords of the cash and carry "Money Talks" stuns on impact, while the decibel-hostile track #8 kindly and warmly, reminds you that you ain't goin' nowhere, as another pretty girl "Got You By The Balls"

Having stood tall against the hair-bands and the aggression of thrashmetal, welcome back AC/DC, we missed you ...and welcome aboard, on drums Chris Slade. The Live double-CD is a fine collection of hits and loud-crowds around the world, culminating with the monstrous Monsters Of Rock stop in Moscow at Tushino Airfield in 1991. The East opened-up to the West, along about a million rock-fans in attendance.

AC/DC are forever.

With The Razor's Edge, AC/DC became the biggest act in the rock-world and they became not only hardrock's loudest band, but also the only band of the genre to fill stadiums across the globe, yearly. No trend has or will stop them. A band that survived the 70s and the 80s were now kicking the door on the 90s. Still today, no arena is big enough to support them, they have to take the roof off.

They want blood and they got it !

*
Thunderstruck = video
https://www.youtube.com/watch?v=v2AC41dglnM
Money Talks = video
https://www.youtube.com/watch?v=2lqdErI9uss
Are You Ready = video
https://www.youtube.com/watch?v=CIhylLW4Fcs
Full CD
https://www.youtube.com/watch?v=lhg9bYNLvOg&list=PLBnJv6rImVe-Z_UoTvq2dGAh84anCJQ8v
Interview in 1990
https://www.youtube.com/watch?v=KyozpNzj_Ck
Back in the (ex) USSR in 1991
https://www.youtube.com/watch?v=1LVwYDhmrY4&list=PL40CC068B16032C5F





February 29, 2000 - 2020: 20 years of: Stiff Upper Lip.

Rocknroll for the new millennium: an old formula for a new era.

Possibly the very first hardrock record of the year 2000, nevermind the Y2K fiasco, this one WILL short-circuit your sorry ass ! The year 2000, where some of us though we would drive flying-cars, have robots cook us dinner and also take weekends off on the fuckin' moon, these were so beyond-beyond, it's laughable.

The rocknroll monarchy of AC/DC was put to test a few times since their last hit with 1990's The Razor's Edge. Having only released 1995's lukewarm Ballbreaker CD and having survived the grunge-era, the revived neo-punk and now the hip nümetal invasion, there is only one final conclusion we can all draw from this; get this cold hard fact into your thick skull: AC/DC IS THE CLASSIC ROCK BAND THAT WON'T GO AWAY !!!

"We still here ya know, we're a bit like a bad odor ya know, sorta ...just lingers ya know, a little mist" - Angus Young in 2000

The opening-track is all shake, rattle and hardrocknroll. "Stiff Upper Lip" is the one track that puts all of these 80s-90s rock-bands back to the drawing-board: listen and learn from the masters. Produced once again by older brother George Young, this is a family affair. The bad-boys from down-under have never been so heavy than on track #2. "Meltdown" kicks you in da teeth full-on bare-knuckles. The Phil Rudd + Cliff Williams rhythm section has never been so solid and lethal ...it's hot, hot, hot and gettin' hotter !

Marshall-stacks bleed Malcolm's dirty tone as he wipes the floor with all of those so-called guitar-shredders from past hair-generations on the monstrous machine that is known as "House Of Jazz" ...while the groove and Brian Johnson's funky vibes keeps it all on point and reminds us that he and the band "Can't Stand Still" ...pure addiction !

The killer boogie-pattern of "Come And Get It" would surely give Chuck Berry a stiffy and then "All Screwed Up" and "Safe In New-York City" are full-on red-blooded fist-pumping headbangers air-guitar ripping balls-deep party-tracks. "Satellite Blues" and "Damned" are another energetic foot-stompers ...and the quintet also proudly highlights that you "Can't Stop Rock 'N' Roll" ...and who in their right mind would disagree ?

At press-time, some big-name critics have argued that AC/DC have made the same album 13 times ?
Angus laughed and replied "That's a lie ...we've made the same album 14 times !"

AC/DC's long and illustrious career, at that point in 2000, was still divided between the Bon Scott-era piraterock of 1977's Let There Be Rock and its companion in 1978's Powerage LP ...all the way to the 1-2 punch return of the Brian Johnson-era with 1980's universal Back In Black and 1981's For Those About To Rock LP. But finally, after being in the band for a mere 20 years, with Stiff Upper Lip Mr. Johnson didn't felt like the "new guy" anymore.

...and now, Ladies and Gentlemen, would you please welcome:

Rock-N-Roll Hall Of Famers,
The 200 million+ worldwide selling artist,
The Aussie - Aussie - Aussie - Oi - Oi - Oi,
The electrifying,
AC/DC !

RIP Malcolm Young (1953-2017)

*
Stiff Upper Lip - video
https://www.youtube.com/watch?v=S2Z8WIlaPH4
Safe In New-York City - video
https://www.youtube.com/watch?v=JTDZ5O5lH_0
Satellite Blues - video
https://www.youtube.com/watch?v=wouywGKu7I0
Full CD
https://www.youtube.com/watch?v=wAfPLyLzCkQ&list=PLBnJv6rImVe_9FTghCUT4odW-ZDYO4AL0
Press conference in 2000
https://www.youtube.com/watch?v=gBYBXVfG7X0
Live in Munich in 2001
https://www.youtube.com/watch?v=SUR8ZIjLKFg




Référence croisée Helter Skelter: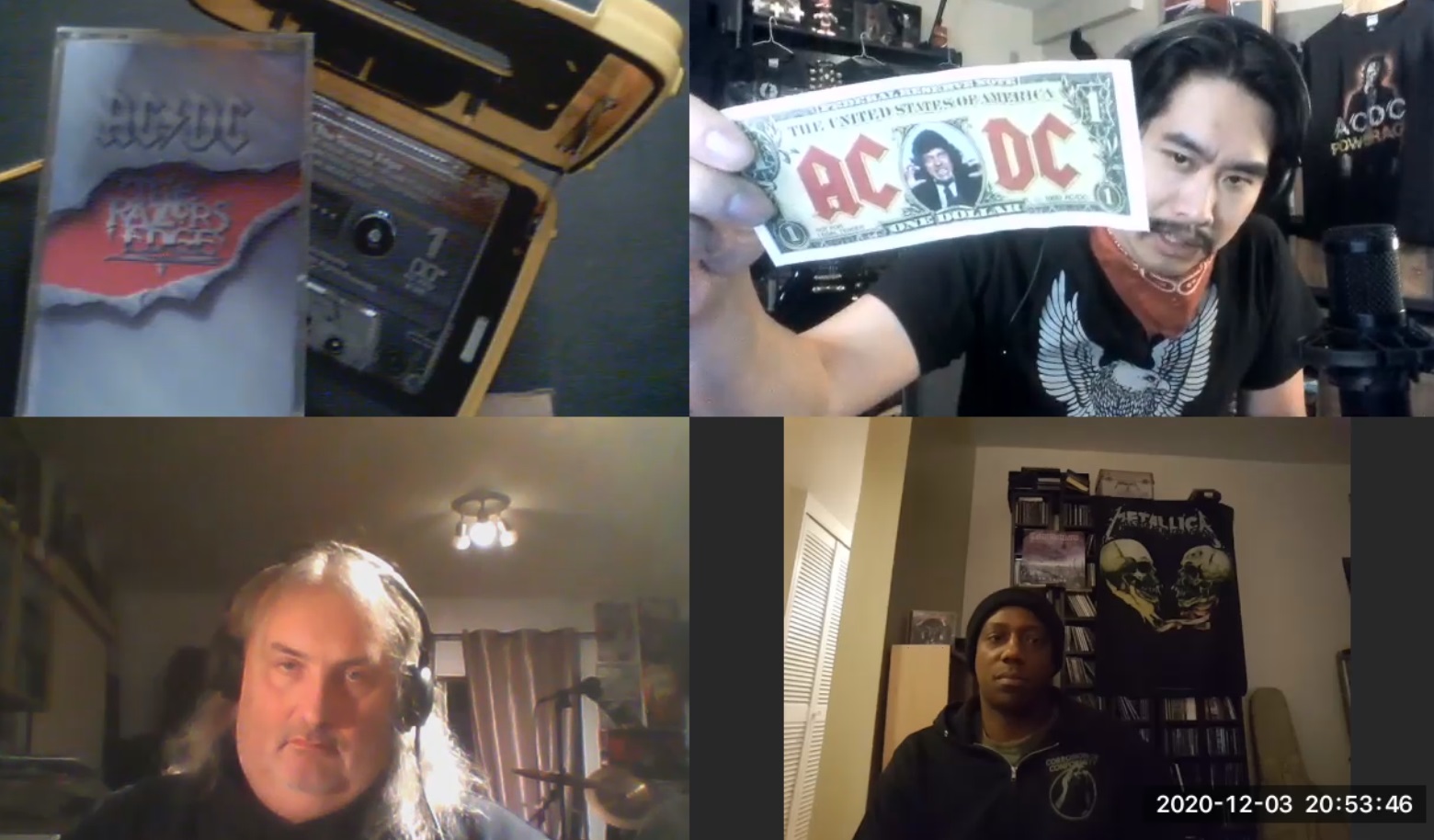 AC/DC
INDEX
helterskelter.ca

(c) (p) 2021 helterskelter.ca. All Rights Reserved. Tous Droits Réservés.