BACHMAN-TURNER OVERDRIVE
1973 - Bachman-Turner Overdrive.
1974 - Not Fragile.
way more Helter Skelter.


May 17, 1973 - 2023: 50 years of: Bachman-Turner Overdrive.

Canadian Revenue Agency rocks: Give 'em your money !!!

Cold and not calculated, this Winnipeg-born classicrock is a full family-affair. After bailing out of THE GUESS WHO, Randy Bachman led the way along brother Robbie, brother Tim and new creative partner C.F. Turner to new heights. The boys were on a mission: bring rock to the forefront ...the real boogie the glitzy 70s desperately needed.

The cash-register screams as it yells-out "Gimme Your Money Please", probably Canada's best rock-track ever crafted, the carnage is real, while the stampede of "Little Gandy Dancer" is all addictive hooks, hot guitars and lethal rebel-rock the crowd eats off.

The heartbeat hits 110 with "Hold Back The Water", were Turner shines behind the mic. In unison, the UV-meters melts in the red of "Don't Get Yourself In Trouble" ...a cut that also dances near heavymetal-borders.

The dark heavyness of "Stayed Awake All Night" holds a candle next to the British giants of rock, while the Mississippi guitar-twang of "Down And Out Man" would wake any party up.

Americana ? ...no: Canadiana !

This well-oiled machine had a name: BACHMAN-TURNER OVERDRIVE. Having being rejected by every record-labels under the sun, they finally signed with Mercury Records and released their self-titled debut LP in 1973, to a rock-hungry audience. Bleeding thru the FM areas of blue-collar Detroit, St-Louis and Buffalo, the Bachman-Turner Overdrive LP AKA BTO1 became a grass-root phenomenon. One full year before the other Canadian hard-stuffer came around: RUSH

These rock hard renegades would take care of business on December 1973's follow-up Bachman-Turner Overdrive II LP.

RIP Robbie Bachman (1953-2023)
RIP Tim Bachman (1951-2023)

*
Bachman-Turner Overdrive = full LP
https://www.youtube.com/watch?v=XagGJ4a2V5Y&list=PLz6cAheObZcjzqgQqfcvyRfPsfnGM06Cq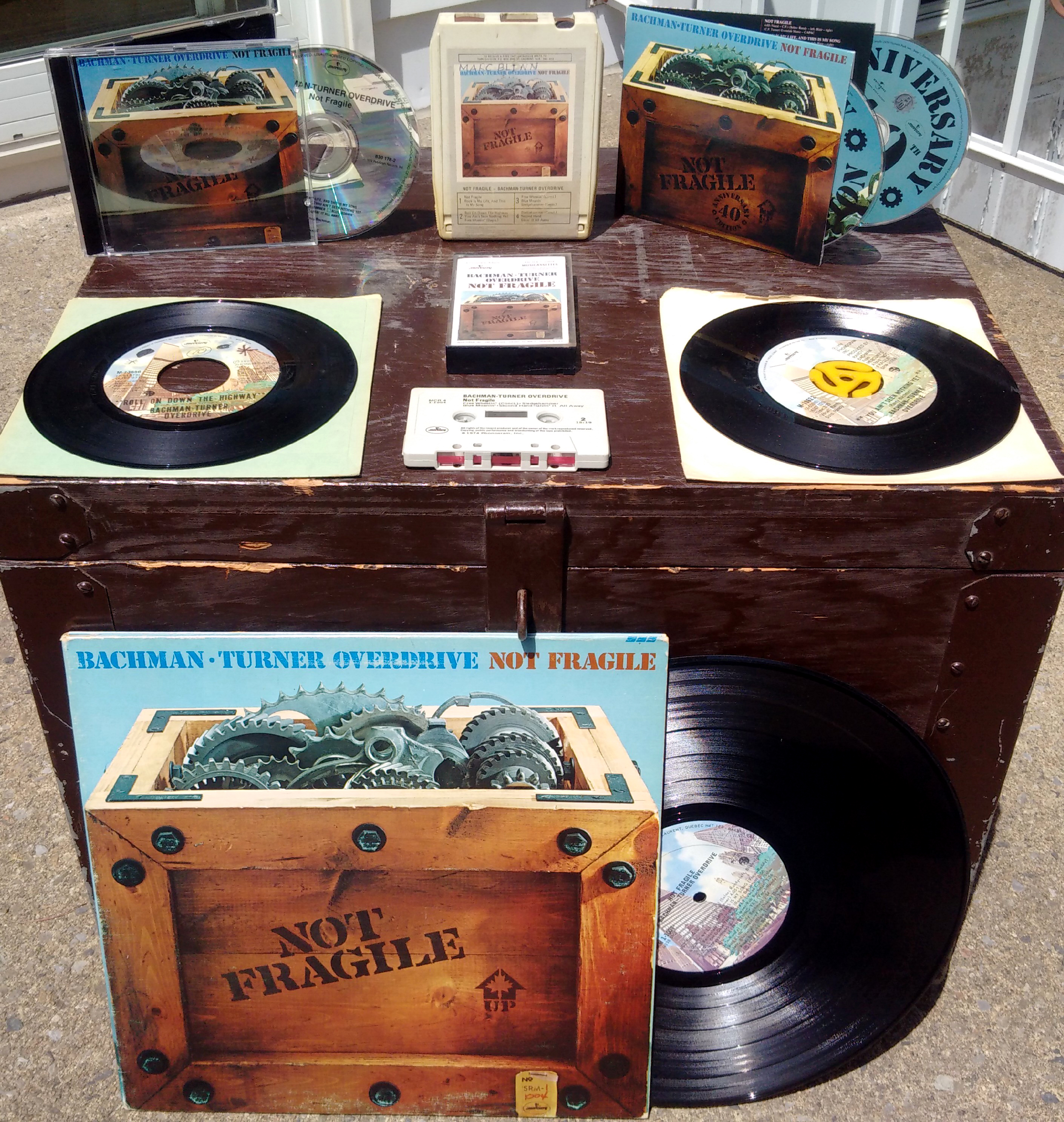 Harsh, loud and obnoxious raw-power: definitely not fragile ...you ain't seen nonononothing yet !!!

Three's a charm and Not Fragile is no exception. 1974's blue-collar RAM-style rocknroll shook the nation to it's very core: a heavier ZEP, a bluesier SABBATH, a crunchier PURPLE ...well how about all of the above. They took care of business, please give 'em your money !

The ass-kickin' begins with the hard-hittin' title track, proving with a single Titanic power-chord that BACHMAN-TURNER OVERDRIVE is the real deal. "Roll On Down The Highway" is a full-on 18-wheel-semi pushin' n' shovin' track. Raging through the T.C.H., this piece is the perfect ride-along song for those long hard graveyard-shifts, catchy heavyrock, nothing more nothing less.

The progressive instrumental "Free Wheelin" displays the band's musical prowess, as it includes a: guitar solo, bass solo and drum solo throughout the 3:46sec overdriven exhibition, instant magic ! "Sledgehammer" is a Mike Tyson-type punch-out, the jaw-breakin' power-chord rings aloud as C.F. Turner shouts: "You're like a sledgehammer baby - You've been hittin' on my mind", while the boogie-type "Blue Moanin" kept foot stompin' worldwide.

"You Ain't Seen Nothing Yet" is the boomer's best known track and the now universal FM-classicrock smash hit. From backyard BBQs to local bars, to rock-clubs to the Forums of the world, "You Ain't Seen Nothing Yet" is a hardrock anthem of the mid-70s …as it rubbed shoulders with other heavy-hitters like: "We're An American Band", "School's Out" and "La Grange". Some of us were probably conceived during that very song, ask yer mom !!! The song that almost wasn't, as Randy Bachman wrote it as a joke to taunt his brother's stuttering. Little did he know, history would elevate this track as one of Canada's most recognizable songs and a staple in the hardrock realm. Sometimes the easiest of formulas are the best: simple verse and a heavy chorus ...with a t-t-t-twist !

45 years later, the Gold-certified selling Not Fragile LP still pays the bills for Randy Bachman, not only an Officer of the Order Of Canada, Canada's Walk Of Fame inductee and Juno winner, but also rock-royalty to millions of fans, especially here in the Great White North. While RUSH took the torch, the fire was initially lit by Randy and BACHMAN-TURNER OVERDRIVE.

Hail Rock-n-Roll !
Happy Canada-day !

*
You Ain't Seen Nothing Yet = video
https://www.youtube.com/watch?v=cFRk0FfaQi0
Roll On Down The Highway = video
https://www.youtube.com/watch?v=uOZR3wCmZwo
Not Fragile = full LP
https://www.youtube.com/watch?v=FLL81HsytTk&list=PLz6cAheObZcj5hlX9tuOhMZd2PdhXf8HM
Live in Detroit in 1974
https://www.youtube.com/watch?v=__Vz4wYZI7k
Reunited: BACHMAN & TURNER live in 2010
https://www.youtube.com/watch?v=YukhsMPHvvo
Randy tells all in 2017
https://www.youtube.com/watch?v=ue4eas6z-bk
some guy
https://www.youtube.com/watch?v=x5UmPMdUr_0



INDEX
helterskelter.ca
(c) (p) 2017-2023 helterskelter.ca. All Rights Reserved. Tous Droits Réservés.