BLASPHEMY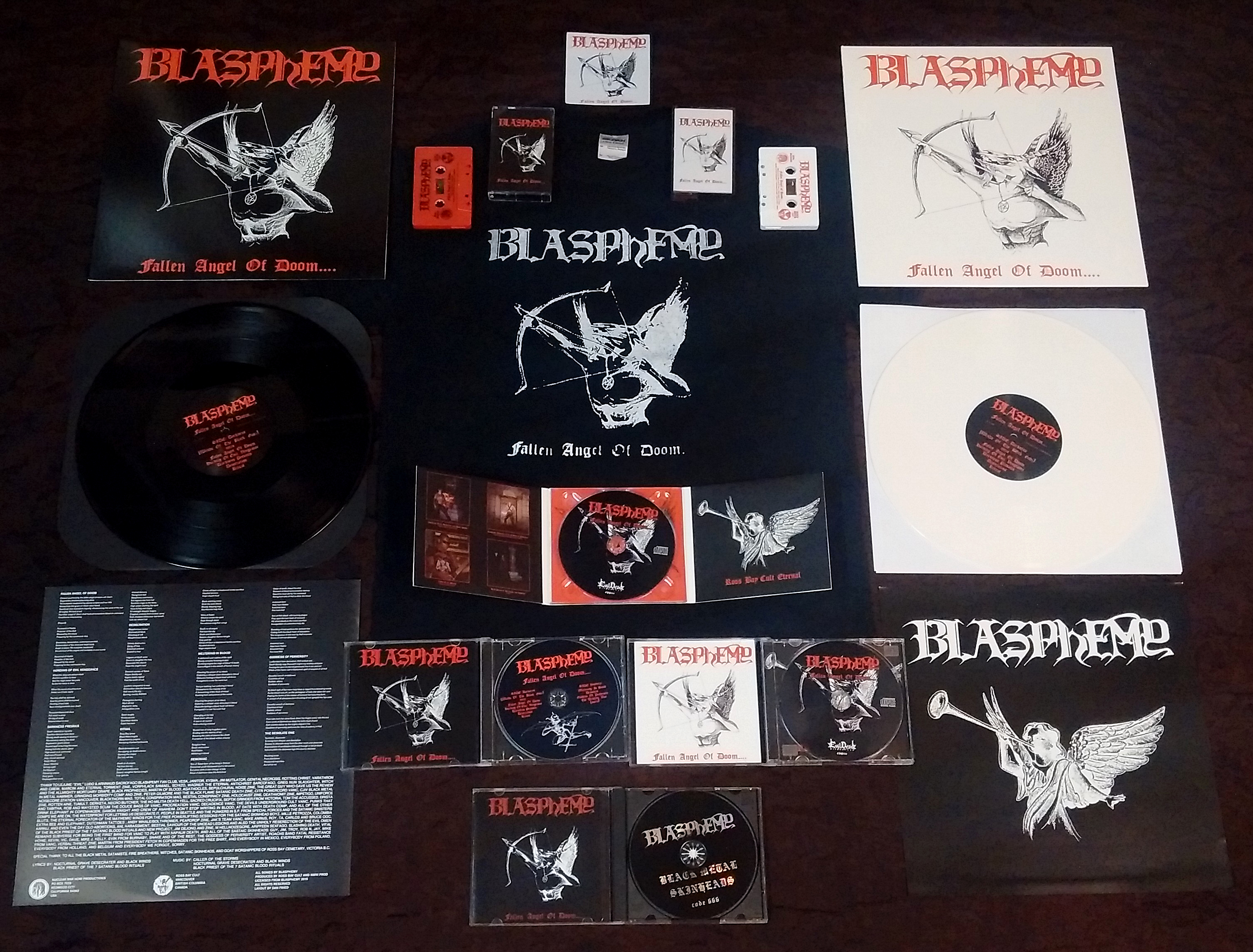 August 1990 - 2020: 30 years of: Fallen Angel Of Doom.

The blackest of the black.

Not from Oslo's Black-Metal Inner Circle ...but from Victoria's Ross Bay area ! Ugly men playing ugly blackmetal with ugly production, but the message is crystal clear: pure christian hatred. Barbaric from head to toe, BLASPHEMY is part of the second-wave of true blackmetal merchants. Following the untouchable BATHORY-legacy, along SARCOFAGO and BEHERIT, these crazy Canadians were now gathered for a sacred rite.

Underproduced and delayed recording due to some members having to do jail-time, the Fallen Angel Of Doom CD was released to an unexpected world in August 1990. While thrashmetal had slowed down and deathmetal was about how one body could rot, the blackmetal quartet had literally no competition in the realm of satanic bestial brutality.

The chilling "Winds Of The Black Gods" soundtrack-intro sets the eerie mood and the title-track explodes with full visceral hate in mind. Rapid drums and animalistic screams abound ...so chaotic it's hard to make up any of the actual guitar-riffs !

The reverse-chants opens up "Darkness Prevails", another aural massacre, while the cold congregation of "Ritual" are recollections of real-life grave-robbing at the Ross Bay cemetery. More black deathrash apocalypse are found on the primal "Weltering In Blood" and the sickening "Goddess Of Perversity".

Extra mention for their epic stage-names:
- On bass and vocals: Nocturnal Grave Desecrator And Black Winds
- On guitar: Traditional Sodomizer Of The Goddess Of Perversity
- On lead-guitar: Caller Of The Storms
- On drums: Black Hearts Of Damnation And Impurity
More then mere heavymetal-rebels: This is War-Metal !

Unlike polished late-90s blackmetal, these über raw recordings show the lackness of musical thightness and proper studio-production. Yet the christian-hostile hardcore assault is enough to send chills amongst the most elite fans.

During the last 15 years, an underground interest in BLASPHEMY has been blooming around the world, for these unlawful gods of war. Granted, old demos and vintage records do tend to gain high second-hand market value, yet no other release matches the cult following of BLASPHEMY's Fallen Angel Of Doom. One of the most bootlegged album in blackmetal-history, due to the very limited initial pressings of independent label Wild Rags Records. Even current various re-issues of the last decade fetch high prices.

Wear a hoodie, get a shovel and black candles ...and head to British-Columbia !

Ross Bay grave.
Black mass begins.
Blasphemous prayers.
Are being chanted backwards.

*
Fallen Angel Of Doom = full CD
https://www.youtube.com/watch?v=0--HlWrq7Ws&list=PLXMv3GotydkG40gmeak3SgaGMtbn-GYKa




Référence croisée Helter Skelter:


Black-Metal la naissance
&


Black-Metal l'expansion
INDEX
helterskelter.ca

(c) (p) 2021 helterskelter.ca. All Rights Reserved. Tous Droits Réservés.