DEAD BRAIN CELLS (D.B.C.)
1987 - Dead Brain Cells.
1989 - Universe.
more DEAD BRAIN CELLS (D.B.C.).
way more Helter Skelter.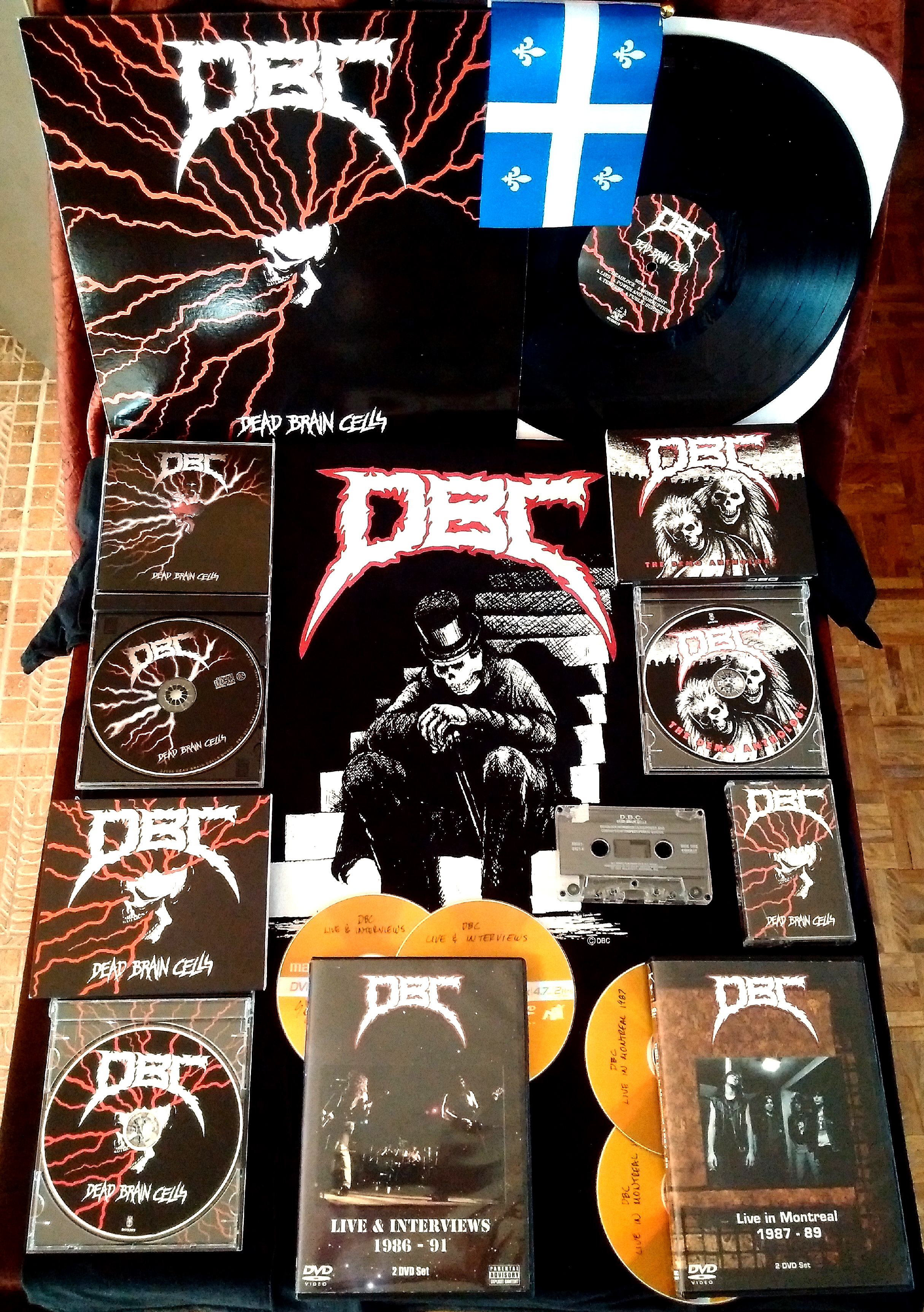 September 1987 - 2022: 35 years of: Dead Brain Cells.

A genesis explosion.

1986, at the height of the speedmetal movement, Canada was a diabolic force to reckon with. After the RAZOR, SACRIFICE and the monarchy of INFERNÄL MÄJESTY, a bunch of Québec punks took a shot. No not VOÏVOD ...but the Montréal birth of DEAD BRAIN CELLS.

The pit opens-up immediately with a "Deadlock" of rapid speedmetal hate, while more brass-knuckle action explodes on "Lies" and the pummeling submission of "M.I.A.". NYHC is fully alive on the 1:48sec "Power And Corruption" and the 1:43sec burst of "The Vice".

While the raw "Monument" should be in every headbanger's playlist, the mid-paced head-shot of "Trauma X", metal progression of "Public Suicide" and the elaborate closer "Final Act" would lead the way to imminent musical growth.

Formed in 1985 and signed to uprising label Combat Records, the boys were in good hands, for now. Playing locally with AGNOSTIC FRONT and CRUMBSUCKERS as well as sharing the stage on tour with DEATH, the cortex union of hardcorepunk and thrashmetal was the new-school.

The terrorist minds of DEAD BRAIN CELLS would rapidly mature and plan eons ahead with 1989's progressive thrashmetal tour-de-force rude awakening: the Universe LP.

RIP Gerry Ouellette (1964-1994)
RIP Jeff St-Louis (1958-2019)

*
Dead Brain Cells = full LP
https://www.youtube.com/watch?v=CIIHZX7ESso
Live in Montreal in 1987
https://www.youtube.com/watch?v=ps765P9znrQ





DBC
Universe
1989

*
Universe = full LP
https://www.youtube.com/watch?v=0fX4EAfzR1o&list=PLEZafYMWbXijg532NUgJ5fL3HkE9AnP7Q



more DEAD BRAIN CELLS (D.B.C.):


Québec Métal
INDEX
helterskelter.ca
(c) (p) 2017-2022 helterskelter.ca. All Rights Reserved. Tous Droits Réservés.