DIRTY ROTTEN IMBECILES (D.R.I.)
1983 - Dirty Rotten EP.
1985 - Dealing With It.
1988 - 4 Of A Kind.
1989 - Thrash Zone.
way more Helter Skelter.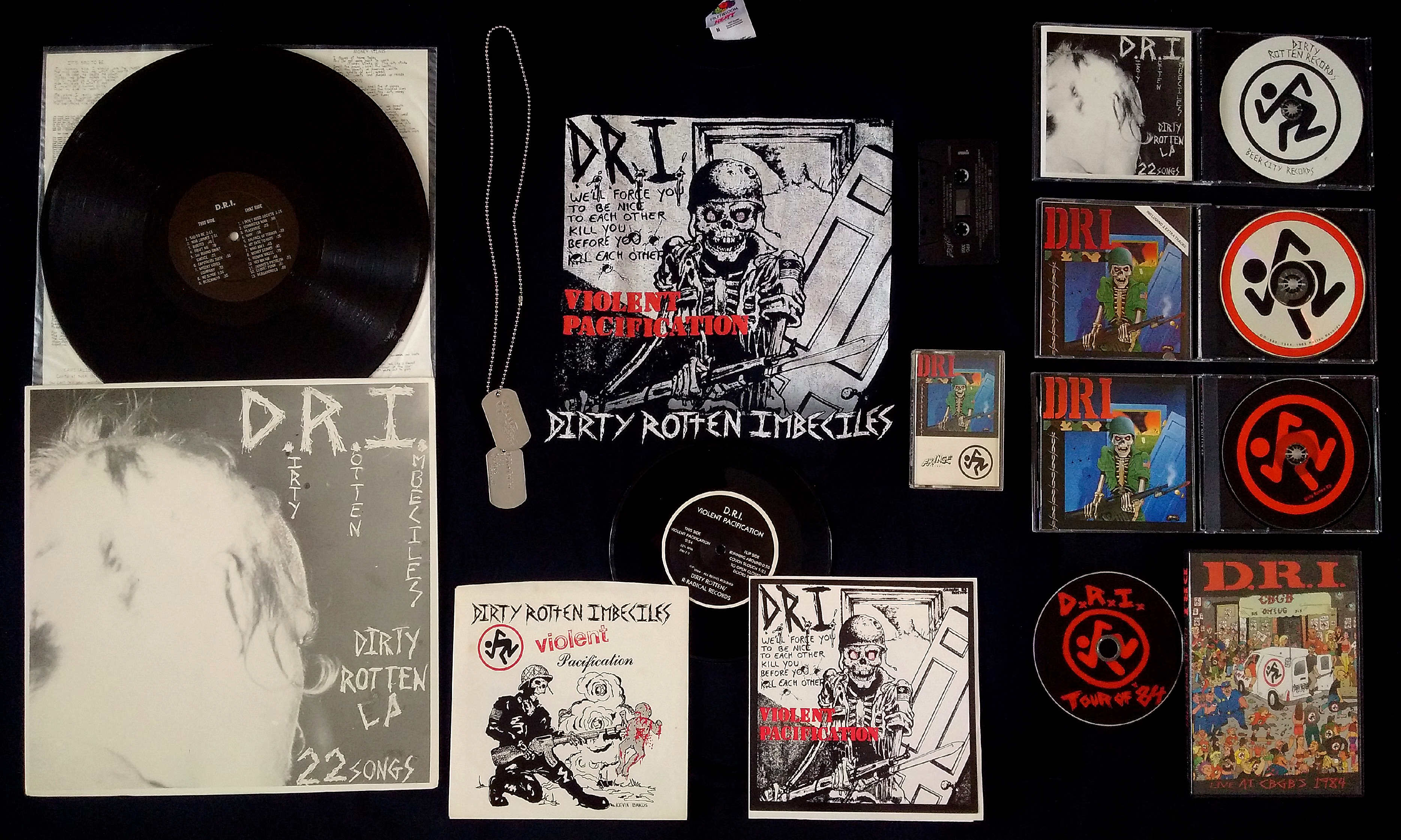 March 1983 - 2023: 40 years of: Dirty Rotten EP.

"Police drive by I hold by breath, I've got 10 warrants for my arrest, they stop at the light and whip it around, and 10 minutes later I'm heading downtown ...FREE RIDE !!!"

From Houston arises an evolution in the extremes ...the dirtiest of imbeciles. Caught between both East-Coast and West-Coast hardcore scenes, these young punks would rapidly leap-frog ahead, morphing into the fusion of mosh-thrashmetal. Deep from the underground, we celebrate: 40 years of the DIRTY ROTTEN IMBECILES.

The nervous breakdown starts with "Sad To Be", into the grungy "War Crimes". Noisy, yes, abrasive, hellyeah. Some UK vibe bursts into "Capitalist Suck", "My Fate To Hate" ...while the NY flair is apparent on "Commuter Man" and "Money Stinks".

More acid face-wash ravages ear-drums on "Dennis's Problem", "Human Waste" and the electrifying "Closet Punk". D.R.I. have not invented grindcore per say, but the 1:17sec "No Sense" is a grindcore piece, bar-none ...many years before NAPALM DEATH and REPULSION became the most extreme bands on Earth.

Please note, for extra sand-storm, two mixes exist: the original 1983 EP and later remixed and repackaged LP ...the apex of chaos: 22 tracks in 17mins !

The following 1984 Violent Pacification EP is another lesson in violence, the most angry 4 songs 5:47sec ever put on wax. Thrashcore was now a label and D.R.I. were waiving the flag sky-high on the pile of rubble below. This beautiful destruction shall continue in early 1985, with the cacophonous Dealing With It LP.

WHO AM I ?

40 years of the DIRTY ROTTEN IMBECILES, which also means 40 years of the iconic "skanker". This unique simple dancing stick-man is now used everywhere to represent the band, but also the movement of mosh-punk and eternal gutter rebellion. D.R.I. three simple letters that forever stands within the metal landscape, this writer is proud to be a dirty rotten imbecile.

*
Dirty Rotten EP = full EP
https://www.youtube.com/watch?v=BwRj6re-zME&list=OLAK5uy_k3eQoYxwdruWyO4gF2YsUNaiqwRpj3Qmo
Dirty Rotten LP = full LP
https://www.youtube.com/watch?v=OS5P7Mt76EA
Violent Pacification EP = full EP
https://www.youtube.com/watch?v=YRTvJCZjNFc
Live at CBGB's in 1984
https://www.youtube.com/watch?v=wlinaPYZovY





March 1985 - 2020: 35 years of: Dealing With It.

The birth of crossover: from hardcorepunk to full-on thrashmetal, D.R.I. is the band that went from one end of the spectrum to the other. All mosh, all fun ...deal with it !

Still hot from their 1984 Violent Pacification EP, enters Felix Griffin on drums. More focused yet still chaotic, our lovely imbeciles were on a quest to destroy and break stuff with the highest of stamina and DIY mindset.

Head-first stage-dive classics like "The Explorer", "Couch Slouch", "God Is Broke" and the economical "Reaganomics" are made of bruises, broken noses and suburb-punk attitude. The proto-grind effect is felt on "Stupid, Stupid War" and the 0:27sec tornado that is "Slit My Wrist".

Other thrashcore tracks like "Argument Then War", "Snap" and "Nursing Home Blues" shows more of an East-Coast metal signature-pattern ...while the immortal punk-anthem re-upped "I Don't Need Society" sums-up the skate-punk flair of the rebel hoods of the early-80s. Even Papa Brecht himself unwillingly gets featured on the classic-cut "Mad Man" ...a family-affair most metalheads can easily relate to. Bear in mind, the man came home to relax ...not gonna happen with D.R.I. jamming next room !

With it's in-your-face frenetic attack and 25 songs on a total running-time of 34 minutes, D.R.I. spared nothing. They would later take the thrashmetal route to expend into the metal-realm ...from Doc Martens to Converse on 1987's Crossover LP.

*
Dealing With It = full LP
https://www.youtube.com/watch?v=BUnTX12biUg&list=PLjHc3krBXgQ1-6QfagTt_uFtCn7ecQmZc
Live in Austin in 1985
https://www.youtube.com/watch?v=_tC4Fjhv16I





June 1, 1988 - 2023: 35 years of: 4 Of A Kind.

Ain't no funny business here.

Now fully migrated into the thrashmetal-format during the post-1987 Crossover LP era ...the cards are shuffled, the deck is set, the house draws, yet ...D.R.I. have a 4 of a kind !

Modern metal riffing sets the pace for the imminent explosion, as we go "All For Nothing" on "Manifest Destiny". West-Coast thrash performed by punks, as the fast jabs of "Gone Too Long" and the hip "Modern World" shoves mercilessly.

Deadly downstroke dominates on "Do The Dream" and some progressions appears on "Think For Yourself" and the LP's closer "Man Unkind". More new-school Bay Area Thrash is evident on the humor filled MTV-friendly "Suit And Tie Guy" feast, while some traces of NYHC are oozing on both "Slumlord" and "Dead In A Ditch".

So far, so good ...the Imbeciles are now respected players in this overcrowded late-80s thrashmetal brotherhood. The hybrid between local scums and arena head-bangers, D.R.I. are ones of a kind in this violent pacification !

Their five year plan is complete, the circle pit is alive where loose teeth's are flying. The boys would up the game with heavy-machinery on 1989's delightful deconstruction area: the Thrash Zone.

RIP Josh Pappe (1967-2020)

*
Suit And Tie Guy = video
https://www.youtube.com/watch?v=mid1LPj4Y9M
4 Of A Kind = full LP
https://www.youtube.com/watch?v=-AyAHUw73M8&list=OLAK5uy_nyScTdJ-_nl0w0OqNXjHebeMvmd9g1RQ8
Interview in Paris in 1988
https://www.youtube.com/watch?v=GPcY0ZdbNa8
Live in 1988
https://www.youtube.com/watch?v=m-RnIOSgM_g





D.R.I.
Thrash Zone
1989

*
Thrash Zone = full LP
https://www.youtube.com/watch?v=VirLJjG31kQ&list=PLWYWUjQTzpflryPGDvyiGKKVdkNV25dxS



INDEX
helterskelter.ca
(c) (p) 2017-2023 helterskelter.ca. All Rights Reserved. Tous Droits Réservés.