FEAR FACTORY
1992 - Soul Of A New Machine.
1995 - Demanufacture.
2001 - Digimortal.
way more Helter Skelter.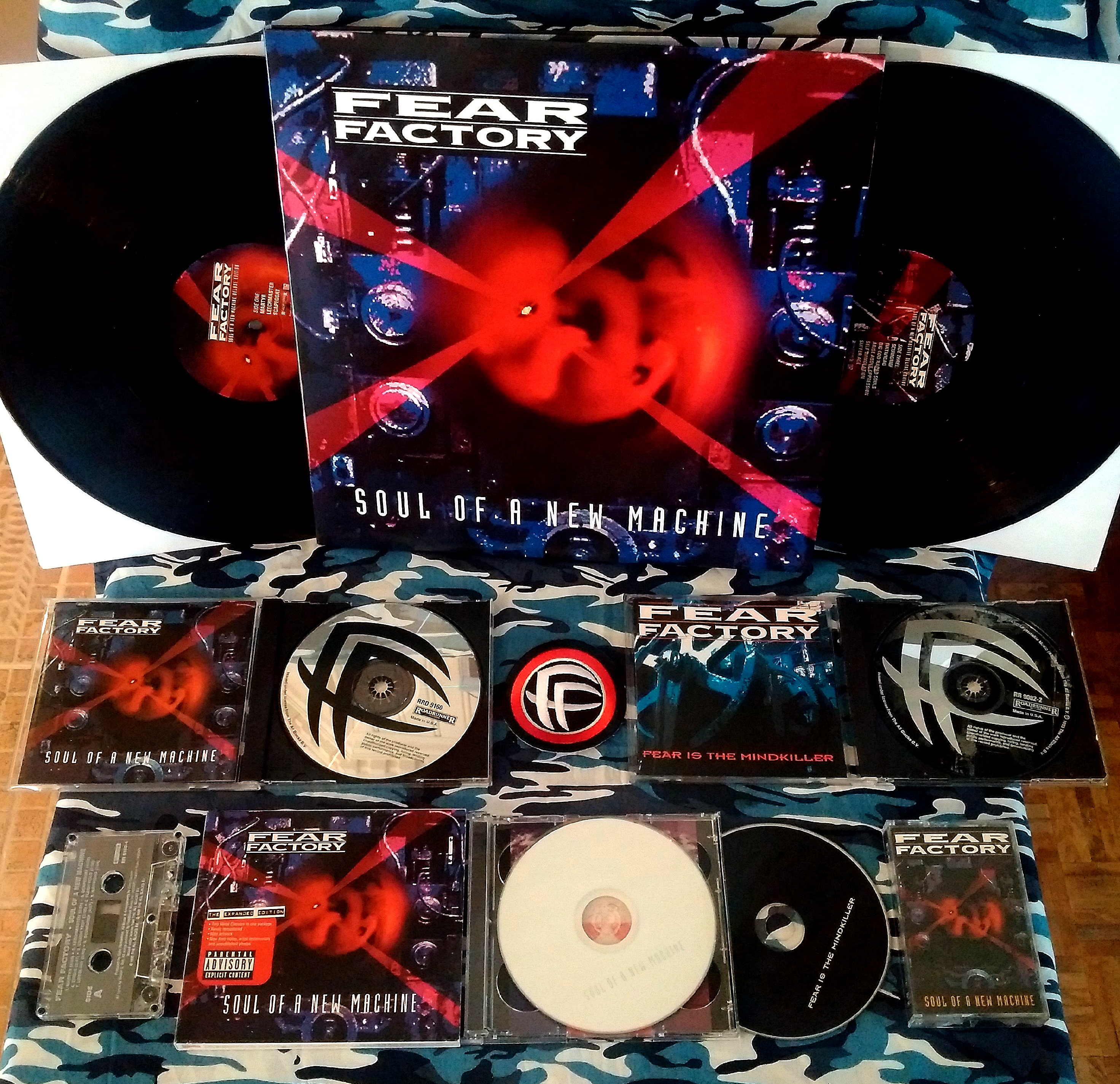 August 25, 1992 - 2022: 30 years of: Soul Of A New Machine.

"In America today, every 25 fucking seconds, someone is viciously raped, someone is brutally violated. 250 times a day, someone is murdered, someone's life is taken, in America. This is America, this is America and I love America, I LOVE AMERICA !"

In tormented post-1992 L.A. riots, when deathmetal was hot, industrialmetal had a vibe and thrashmetal was laying to rest, one band combined all of these forces into one cohesive massive transgression. Once in a blue-moon, a new band breaks the status-quo and remanufactures trends towards new horizons ...one of those industrialists is FEAR FACTORY.

A vulgar display of power.

The opening-track "Martyr" sets the bar sky-high. In 2:13sec the scene is in awe, from fans to performing artists. What is this that stands before us ? Alt-deathmetal, newmetal or futuristic-metal, regardless of the answer, the riffs keeps on pouring and the audio-violence keeps on bashing heads. Guitarist Dino Cazares instantly becomes the new riff-lord, the Asesino, as "Leechmaster", "W.O.E." and "Lifeblind" punches into motion. Drummer Raymond Herrera redefines the term double-bassdrums assault, a move that is firmly held by 1991-92's deathmetal percussionists.

Edgy is the game and Burton C. Bell is the name as he destroys with his opening pledge to the great US Of A in "Big God / Raped Souls". Muscular deathmetal vocals matched with silk FAITH NO MORE-like crescendos. His larynx is put to test on the impressive "Scapegoat" and the equally brutal "Crisis". Welcome to the 90s motherfuckers !

The companion 1993 Fear Is The Mindkiller EP, is another fact that this ain't no cookie-cutter unit. Remixed, sampled and looped, these modern menacing maniacals are crafted by FRONT LINE ASSEMBLY's Rhys Fulber.

Soul Of A New Machine was produced by visionary Colin Richardson, this mechanized metal-works shall beat the scene senseless once again, with 1995's tour de force Demanufacture CD.

*
Soul Of A New Machine = full CD
https://www.youtube.com/watch?v=ZQj5CIeNgeU&list=OLAK5uy_lzynU6Byq2Mz6nTKDthYN6NDU1mH29b0w
Interview at Dynamo in 1993
https://www.youtube.com/watch?v=i7HJ327xAxM
Live in L.A. in 1992
https://www.youtube.com/watch?v=f1NsAVa7gmk
25th Anniversary documentary
https://www.youtube.com/watch?v=vAB6nmvd4qA





June 13, 1995 - 2020: 25 years of: Demanufacture.

Pulverizing the scene with one single downstroke.

Los Angeles in the early-90s: the Gang Capital Of America, the living-ghosts of the crack-epidemic warfare and the 1992 Rodney King riots ...and the City Of Angels was the epicenter of it all. Troubled times requires troubled music and no band represent this more than future-deathrash demanufacturing trendsetters, L.A.'s own: FEAR FACTORY !

It's been awhile since METALLICA and MEGADETH abandoned their towering thrashmetal-titans status, fortunately PANTERA and SEPULTURA took over and kept the pit alive. Shed a layer and a little more underground is where you'll find the next big thing: FEAR FACTORY. After the critically acclaimed 1992 debut CD Soul Of A New Machine ...it was now time to enter the big leagues.

The new-school is here, fueled by adrenaline and loaded with street-attitude. ANTHRAX started the groove, PANTERA pushed-it harder and now FEAR MOTHERFUCKIN' FACTORY was in command.

The CD opens-up with a one-two jaw-punch. The title-track alone is enough to initiate a nuclear chain-reaction. The guitar-tone, the bass rumble, the mechanical drumming and the velvet / violent vocals is one unique recipe, often imitated, yet never matched, and this time this shit is real. The repetitive kickdrum of "Body Hammer" is a tidal-wave rhythm that swallows everything above sea-level. Brutality is set to "fuck it" on the fast and furious "Flashpoint", were hints of NYHC gets fully metallized in this new sick 90s-vibe.

Take note mofo: FEAR FACTORY are the "New Breed". Aggression, deathmetal-stamina and arcade-game overtones are injected on this particularly obnoxious and genetically-challenging track, while the mosh-pit favorite "Self Bias Resistor" cuts, scrapes and decapitate lovely ear-drums with incisive / decisive metal. The Terminator-type intro of "H-K (Hunter Killer)" sets the mood and when the guitar / bass / drums clashes, it sends your sorry ass to a one-way ticket to metal-mayhem.

One 90s metal-signature is forever encompassed on the clinically-precise "Replica". The bassdrum follows the guitar to a tee and submerge the competition, in one single downstroke. Boss-level palm-muting, this is 90s extreme-metal and FEAR FACTORY is the band.

The Demanufacture CD is a much needed breath of fresh-air. New-metal, not grunge, not alternative, but a clever fusion of deathmetal, thrashmetal and industrialmetal. Produced by tone-genius and Mr. 90s-sound Colin Richardson, Demanufacture was recorded with cutting-edge digital technology, especially in the high-mids guitar tone and drum-triggering department. A revolutionary trend that still today is widely used by numerous metal bands.

And just like Screaming For Vengeance, Master Of Puppets and Vulgar Display Of Power pushed the metal-boundaries to new extremes, Demanufacture pushes everything sideways into oblivion. Diametrically, the futuristic Remanufacture companion remix-CD is a different outlook on heavymetal-innards served inside an electro-techno clubmix shell.

The Demanufacture concept is about the modern dehumanization of humans, slowly reduced to nothingness, by it's very own technology ...and look at us now, guess they were right all along. On tour, with either OZZY OSBOURNE, IRON MAIDEN, SLAYER or SEPULTURA and participating at the inaugural Ozzfest 1996, the mighty FEAR FACTORY did leave a mark and left no-one indifferent. Now 25 years young and still adolescent, rejoice and relive the manufactured organized-chaos Demanufacture delightedly delivered.

*
Replica = video
https://www.youtube.com/watch?v=7RJsRQOneMY
Demanufacture = full CD
https://www.youtube.com/watch?v=H0Q7yaDqLqs&list=PL5UII_cD8JXIu71hmbPcXBLVTu_sa2BuQ
Remanufacture = full CD
https://www.youtube.com/watch?v=eSBOGqUg3Js&list=OLAK5uy_mqDjF7lrS_hQlattNCeLeeZ1l_GNa8h8A
The making of
https://www.youtube.com/watch?v=DYnfyaZBF44
Interview out in L.A. in 1995
https://www.youtube.com/watch?v=tYKepDZDyyU
Live and interview at MuchMusic in 1995
https://www.youtube.com/watch?v=AJuj-Jnvi84
Live at Dynamo 1995
https://www.youtube.com/watch?v=glzANybUrkQ
Streaming quarantine-jam featuring Dino
https://www.youtube.com/watch?v=gkRsrh5afoo





April 24, 2001 - 2021: 20 years of: Digimortal.

Welcome to digital immortality.

After 1995's gamechanging Demanufacture CD, the L.A. gang of cyber-thrashmetal posses got a taste of fame during the end of the decade, with 98's Obsolete CD and the many main-stage gigs that followed. And now fully loaded, they strike again along Rhys Fulber behind the desk with more cutting-edge maelstrom-metal and clinical mechanical rhythms.

The 90s, a warzone for hard-music: thrashmetal, deathmetal, blackmetal, industrialmetal, groovemetal, nümetal, rapmetal and everything else under the sun. Please do yourself a favor and don't lump them into the new flavor of the month metal, as FEAR FACTORY have been dropping deadly bombs since 1992, from a top quality arsenal.

Press Play on your CD-player and the opening track "What Will Become ?" will slash thru the speakers and chokes you into submission. Your rib-cage will be "Damaged" with more bass-drums sub-sonic kicks, while "Acres Of Sin" is a demanufacturing steam-hammer with deadly consequences.

The groove and hooks of "Linchpin" breathes widely, not a hit but a serious punch, while the razor-sharp down-strokes of "No One" redefines the staccato-vocabulary. The title-track crushes all none-believer with it's piledriving riff and the closing epic "(Memory Imprints) Never Ends" is a journey into the binary world of the CPU.

Caught red-handed, the Digital Connectivity DVD is a glimpse inside this twisted crew's mind. The unique balance between heaven and hell, melody and brutality, real and digital ...and man and machine: pure millennium-metal !

In the sea of 7-stringers of the nümetal expansion, there is only one tone that matters. His name is Dino Cazares, a warrior from the Ibanez Guitars laboratory and proud reversed-headstock RG-shaped 7-string user. Fear him !

FEAR FACTORY, a band that defined the mid-90s US-metal exploration, they were the future of metal, a perfect metallic hybrid and Digimortal is another thick brick to add to the wall. Sadly the Digimortal-era is the last straw before the band's decade-long disintegration, numerous lineup changes and legal trademark issues.

Can't take us apart !

*
Linchpin = video
https://www.youtube.com/watch?v=MuDxo-fbW9c
Digimortal = full CD
https://www.youtube.com/watch?v=pdVpPzdsLyo&list=PLWS0IOdj_h6PFdaMLrollur5u-EKSyB_r
Digital Connectivity = full DVD
https://www.youtube.com/watch?v=ko2n8VrkXH4
In the studio
https://www.youtube.com/watch?v=cl6BGjx5Kzg
Interview in 2001
https://www.youtube.com/watch?v=2OmvNoejBPg
Live in Germany in 2001
https://www.youtube.com/watch?v=MopKIaDJo34



INDEX
helterskelter.ca
(c) (p) 2017-2021 helterskelter.ca. All Rights Reserved. Tous Droits Réservés.