IRON MAIDEN
1980 - Iron Maiden.
1981 - Killers.
1982 - The Number Of The Beast.
1983 - Piece Of Mind.
1986 - Somewhere In Time.
1988 - Seventh Son Of A Seventh Son.
more IRON MAIDEN.
way more Helter Skelter.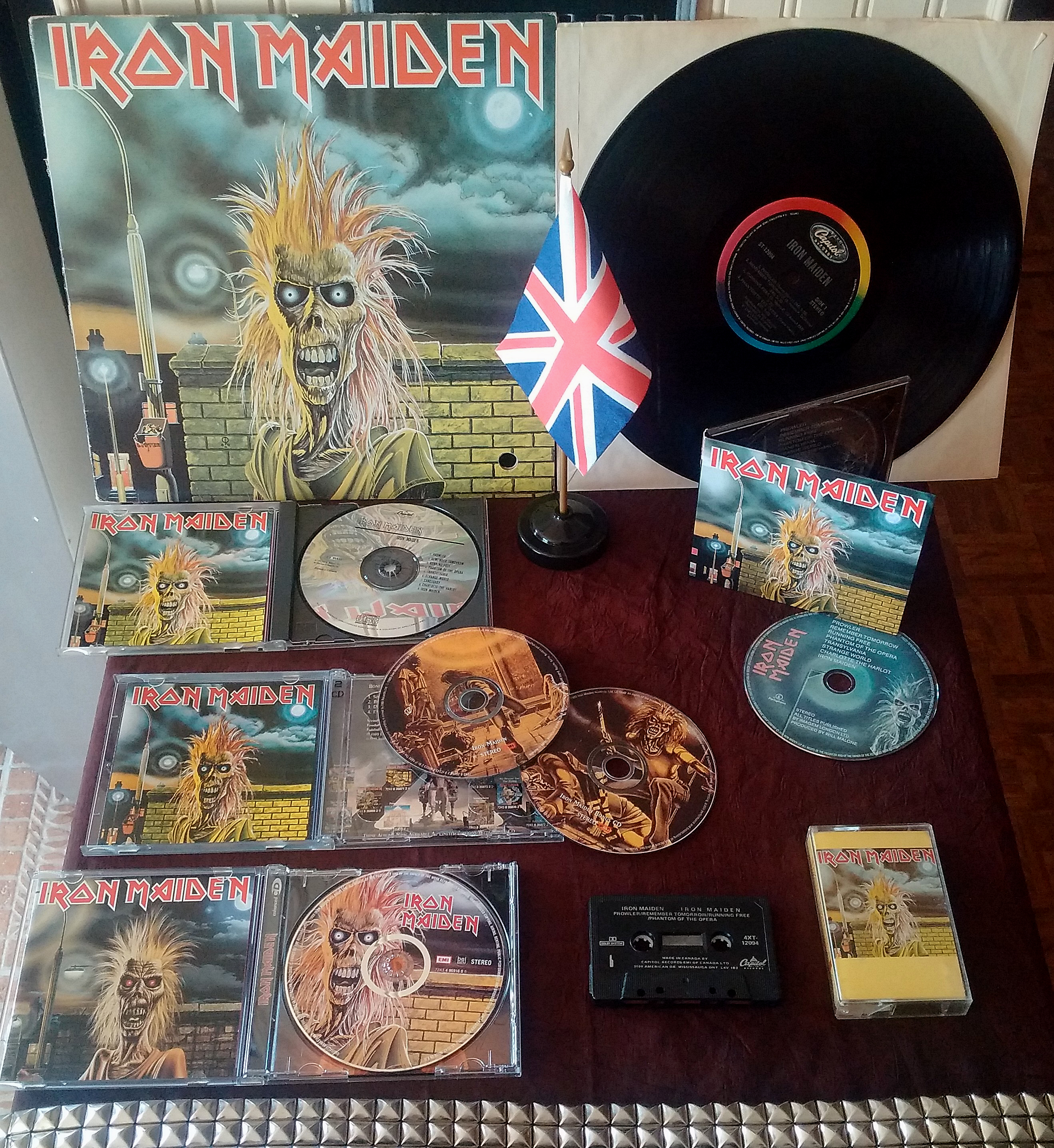 April 14, 1980 - 2020: 40 years of: Iron Maiden.

Album number one, singer number one = one single head-shot kill !

1980 is Year-One for heavymetal as we know it. In one calendar-year, a 40 year + legacy was set with the following Stonehenge-rocks: MOTÖRHEAD's Ace Of Spades, OZZY OSBOURNE's Blizzard Of Ozz, JUDAS PRIEST's British Steel, BLACK SABBATH's Heaven And Hell ...and IRON MAIDEN's first full-length ...all British bands, let that sink in.

Harder then DEF LEPPARD (their early metal beginnings), angrier then WHITESNAKE, had more riffs then DIAMOND HEAD, had more grit then TYGERS OF PAN TANG and were the anti-QUEEN ...all British bands, let that sink in. The metallic IRON MAIDEN where the non-punk punks you didn't want to mess with ...but they did mess-up a piece of your mind with this killer debut LP !

"Prowler" knocks-off a few teeth in a flash with it's metal-riff and accompanying galloping-bass, a now MAIDEN-signature Steve Harris move. The rocknrolling "Running Free" is still a high-stamina show high-point, while the thrashy "Sanctuary" is a dark back-alley bloody brawl. The mojo is strong here. "Remember Tomorrow" the first of many MAIDEN "powerballads" starts quietly and suddenly explodes 360° and escalades into a Mach IV electric guitar-massacre. Boldly brutal and beautiful !

The instrumental "Transylvania" is 2112-era RUSH on PCP. Prog and punk defining the same song, yes IRON MAIDEN made that happen in 1980. The London blokes resonate loudly with the incendiary title-track and shows a soft-spot for a very special lady, the side-walk-not-so-girl-next-door "Charlotte The Harlot"

And now, progressive-metal's very first track:

Some still argue that current singer Bruce Dickinson is the man, and they are right, but take a bite out of this stellar Paul Di'Anno performance. "Phantom Of The Opera" is the epic melodicmetal-piece most epic melodicmetal-pieces are benchmarked against. Intro and epic-verse, chorus, off-set bridge, melodic lead-section, harmonized-unisons, build-up, strong mid-part, second lead-section and epic-verse ...this is classical-music made into hardrock. A full 7:22sec of climaxing burning fret-work and over-lapping melodies. Main-writer Steve Harris is a born genius and MAIDEN are definitely not your average local punks.

Now officially 40 years young, IRON MAIDEN shows no signs of stopping or no signs of shortage of heavy and metal. This celebration also means that heavymetal's favorite murderer-mascot Eddie has now been part of the rocknroll landscape for 4 full decades ...let that sink in. In space, in hell, in a land of ice, as a pharaoh, as a trooper, somewhere in time and even at the tail of a real-life Boeing 757 ...the illustrious live after death Eddie is the bad-ass of all bad-asses. Hail Derek Riggs !

While recent MAIDEN-records feature longer tracks and elaborate stage-sets, there is still a define dry-cut amongst fans. The initial Di'Anno-led band, the raw street-attitude of 1980's Iron Maiden LP and the following muscle-flex in 1981's Killers LP are forever cemented as heavymetal milestones. And the second chapter, 1982 and on, the Dickinson-led band features more theatrical elements and also dystopian futuristic ensemble, all exploited in their late-80s material.

Ladies and Gentlemen, would you please welcome:

The immortal Iron Maiden by the immortal IRON MAIDEN, England's premier metal-machine's first offering !!!

*
Women In Uniform = video
https://www.youtube.com/watch?v=3jkREP29170
Iron Maiden = full LP
https://www.youtube.com/watch?v=Klwbz6aXY6U&list=PLPf69IGxwfBGe1KrczrDG4PBHdC-RigPg
Top Of The Pops in 1980
https://www.youtube.com/watch?v=S6Ol-_nEEAQ
Documentary in 1980
https://www.youtube.com/watch?v=rBRjjGis4j0
some guy
https://www.youtube.com/watch?v=8e_4LWRrb3k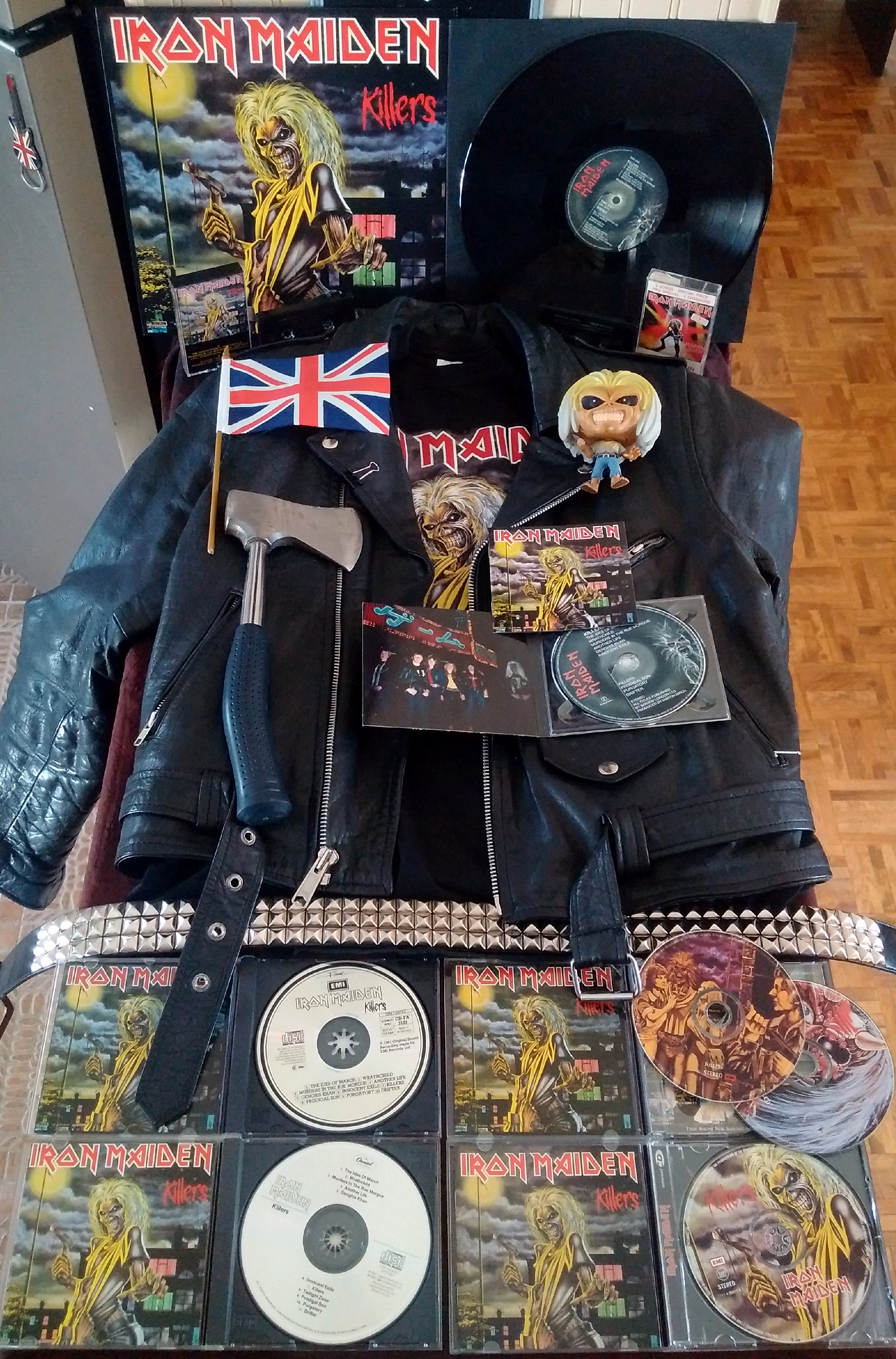 February 2, 1981 - 2021: 40 years of: Killers.

Hail Paul Di'Anno !

The dreaded second record, will it float, will it tank ...well 40 long epic years later, it is as strong as ever. IRON MAIDEN, the exciting new band terrorizing the UK-scene in 1980-81, in the now famous: New Wave Of British Heavy-Metal movement.

The Killers LP introduces new guitar-player Adrian Smith and would also be the last IRON MAIDEN record featuring the punked madmen Paul Di'Anno, the end of the bloody MAIDEN 1.0-era.

One of heavymetal's greatest intro-track, the majestic instru-metal "The Ides Of March" shines the studs and hand-deliver us to "Wrathchild", one of the strongest MAIDEN-track ever, one of the strongest heavymetal-track ever. The progressive dreamy elements of "Remember Tomorrow" are present on the ultra-classic intro of "Murders In The Rue Morgue" and then in a sudden crescendo: everybody dies in a street metal onslaught !

The high-octane hardrock rampages on "Another Life" and gets ablaze on the quick jabs of "Purgatory". Another epic build-up explodes into back-alley metal on the title-track, were Di'Anno makes it clear that once again: no one gets outta here alive !

Killers also features the band's "sixth member" with the debut of long-term producer Martin Birch behind the desk ...a hell bent match made in hell.

Metal-heads unite and show forever gratitude to Mister Di'Anno, for steering heavymetal's illustrious trajectory into this new timeless rock-sanctuary. A burst, a flash, a rapid fire and then he was gone.

The hardcore rocknroll lifestyle of the early 80s, pushed the frontmen and the band, into making the toughest decision of their then short career. By autumn 1981, Di'Anno was out and the stage was set for the young ex-SAMSON singer Bruce Dickinson to rage and change heavymetal-history with 1982's iconic RIAA-certified Platinum The Number Of The Beast LP.

Hail Paul Di'Anno !

*
Killers = full LP
https://www.youtube.com/watch?v=rGJnjSATu50&list=PLIKpCFu8FpmmW_Mq7zFEdMxA8MHHtQs3h
Live at the Beat Club in 1981
https://www.youtube.com/watch?v=a4JmrUPTTWI





March 22, 1982 - 2022: 40 years of: The Number Of The Beast.

He's here !

Almost impossible to change a flamboyant frontmen, yet by late-1981 the wrathchild Paul Di'Anno was out and then unknown SAMSON singer Bruce Dickinson arose ...let's shake history, again. The fresh, deadly and evoluting British heavymetal scene was Ground Zero for extremes and the young maidens were now ready to step in the big boys leagues.

Imminent power in the opening-track "Invaders" blasts out in an unadulterated rage. Not far from the Rue Morgue, the street address is: "22 Acacia Avenue" where the thrashmetal-signature makes a welcomed appearance. The new trooper is instantly at home, where the powerballad "Children Of The Damned" firmly sets the band on top of the hardrock mountain.

His number is: 6 - 6 - 6

The metal-song of all metal-songs from the helpless intro-scream to the battering-ram, one of the genre's most blunt display of everything-ness. "The Number Of The Beast" was now officiallized, and the metal-mainstream finally got a taste of grandiose numeral-heavymetal.

The final cut, the 7:11sec epic doomness of "Hallowed Be Thy Name" is an integral part of Heavy-Metal's Mount Rushmore. The bells, the eeriness, the buildup and the decibel-decimation. More raw power and impressive vocal delivery from the young duelist. Their new super-charged version of "Phantom Of The Opera", just like their now life-size mascot, the towering: Eddie !

The Beast eventually became big in numbers. Now an essential mile-stone, the LP eventually reached the RIAA-certified Platinum plateau, step one for world-domination. The Second British Invasion, led by leather-men JUDAS PRIEST were now closely followed by MOTÖRHEAD, SAXON and IRON MAIDEN. The year is 1982, the music is heavymetal.

The MAIDENs would repeat and conquer new grounds: your soul ...with 1983's Piece Of Mind LP.

RIP Clive Burr (1957-2013)

*
The Number Of The Beast = video
https://www.youtube.com/watch?v=WxnN05vOuSM
Run To The Hills = video
https://www.youtube.com/watch?v=86URGgqONvA
The Number Of The Beast = full LP
https://www.youtube.com/watch?v=iQ5JAxPqum0&list=OLAK5uy_kJWCqs9IWd6VTIMEipf_f3rI0q289WDKY
Interview in 1982
https://www.youtube.com/watch?v=XcpPhAwaihk
In store in 1982
https://www.youtube.com/watch?v=R4KTn3oVQxI
Live at Hammersmith in 1982
https://www.youtube.com/watch?v=EgdFkqg6AAM





May 13, 1983 - 2023: 40 years of: Piece Of Mind.

The last Euro run a lap.

IRON MAIDEN was now standing tall, following Bruce Dickinson's debut in 1982's The Number Of The Beast LP. Round Two would solidify the band's stature as heavymetal contender against / with other European elders: BLACK SABBATH, JUDAS PRIEST, SCORPIONS and ACCEPT. Better be loud and ready, because the metal-stamina was soon about to get hijacked by America's thrashmetal burst of rage of ...METALLICA.

The drums blasts-out as walls crumble down on the initial notes of "Where Eagles Dare". The mid-part pseudo prog-metal displays more cleverness, as Dickinson then pumps more air into the stratosphere on "Flight Of Icarus". Historian-metal ? Yes please !

More riff-o-rama defies logic on the dire "Die With Your Boots On", while the forward / reverse arenarock-vibe of "Still Life" is the very foundation of this Stonehenge solid British band.

Another immortal signature-track gets on wax, with the fast two-minutes to midnight strikeforce of "The Trooper". War-metal ? Yes please ! This crowd-chanting metal rollercoaster would be a template for future MAIDEN classic-cuts.

Euro-metal was running it's final lap. After a good decade of domination, the game was about to shift across the Atlantic, landing in sunny California ...oh and in the meantime, welcome aboard ex-TRUST drummer Nicko McBrain.

As far as IRON MAIDEN were concerned, no need to worry about the competition, as clearly proven by their 1984 pharaoh-esque stature in ...the Powerslave LP.

*
Flight Of Icarus = video
https://www.youtube.com/watch?v=p4w2BZXL6Ss
The Trooper = video
https://www.youtube.com/watch?v=X4bgXH3sJ2Q
Piece Of Mind = full LP
https://www.youtube.com/watch?v=I5Baui7IQ_E&list=PLuIHxlI11V5kzjjs6WFioInW6f8o9NLDt
Interview in 1983
https://www.youtube.com/watch?v=vq0pODL9geM
Live in Dortmund in 1983
https://www.youtube.com/watch?v=N-rh0DE8yuM





September 29, 1986 - 2021: 35 years of: Somewhere In Time.

A mature Maiden.

After destroying everything in their path, how could they be more metal than 1983 and 1984's back-to-back pile-driving Piece Of Mind and Powerslave puissant LPs ?

Progression, fusion and in-touch with the current newwave element, yet still bloody heavymetal. Welcome the x-factor, metal's sworn enemy: the synth-effects, digitally performed with guitar-synthesizers.

This technology is immediately felt as it opens-up the 7:26sec title-track. Strong galloping rhythms, courtesy of, once again mastermind Steve Harris, makes a deadly statement. The hit and closest to single-format, the ultra catchy "Wasted Years" is all hooks, while even more hooks in you captures the crowd with the sing-along anthem "Heaven Can Wait".

But fear not, as mean metal is laid out on two Adrian Smith heavies: "Sea Of Madness" and the military-pace of "Stranger In A Strange Land". Gigantic and audacious, "Alexander The Great" is one of the many to come, homage to historic figures. And just like the great Greek Commander himself, the track is filled with raw-metal and matched by off-set breakdowns in this 8:37sec monstrous Macedonian metal-massacre.

Even more gigantic and even more audacious is the elaborate Derek Riggs artwork. The now futuristic Eddie, gets a facelift, directly influenced by the current wave of sci-fi 80s trendsetters: Blade Runner, Terminator, Tron and Aliens. The futureal mascot and the band are literally somewhere in time, in a strange land, surrounded by numerous past key MAIDEN-artefacts and other cultural-references.

Not as pop as JUDAS PRIEST's 1986 cheese-fest Turbo LP, yet MAIDEN's fan-base now dug into America's mainstream rock-market and found a million new homes in the US. A revelation, while new rising players, the rabid thrashmetal of METALLICA and SLAYER, were producing the most dangerous music on Earth.

The Brits will take another shot and extend the electronic-exploration further with their 1988 tour-de-force, the iconic icy-cold incarnation of the Seventh Son Of A Seventh Son LP.

Not wasted years ...but formative years.

*
Wasted Years = video
https://www.youtube.com/watch?v=Ij99dud8-0A
Stranger In A Strange Land = video
https://www.youtube.com/watch?v=UJsl-bB7lmk
Somewhere In Time = full LP
https://www.youtube.com/watch?v=sc70OdrHqL8&list=PL4YsnucVIwWptFN0ep2gpRzMNJ_JGj7dA
Interview in 1986-87
https://www.youtube.com/watch?v=lO6GpDBQclA
Live in Paris in 1986
https://www.youtube.com/watch?v=-AchE4Ua4zE
some guy
https://www.youtube.com/watch?v=BjuPGM7doP8





April 6, 1988 - 2023: 35 years of: Seventh Son Of A Seventh Son.

Can we play with madness ?
...the last true MAIDEN album.

The Seventh Son mythology dates way back in mid-evil times, when a legacy of 7 subsequent male-only children be born. In return, the last boy would then father 7 subsequent male-only children and his final son would possess divine-powers ...and then come heavymetal giants IRON MAIDEN.

The British quintet were on top of the world and could do no wrong, filling arenas and providing anthems to the masses ...yet it is in 1988, that their special divine-powers where really put to the test. Classic-metal was starting to dwingle and veterans like DIO, BLACK SABBATH and MOTÖRHEAD were challenged against the new wave of American kids in the likes of the Big 4 and the radio-hit machines of MÖTLEY CRÜE and BON JOVI.

Not to be outdone, what started on 1986's Somewhere In Time LP was now bloomed to it's deadly potential. Their seventh record (obviously) cleverly incorporates keyboard undertones, state-of-the-art digital production and full progressive song-structures ...uncharted territories for a band of their stature.

Flamenco-guitar strums as "Moonchild" opens The Gates. Keyboards and powerchords builds the foundation into a rock-hard heavymetal ride. The possession continues on the fast-paced "The Evil That Men Do" were Dickinson's best asset are exposed while the slick Harris bass-line of "The Clairvoyant" propels us into beautiful beyond, beyond. The LP's closer, "Only The Good Die Young" rolls between the fine line of hellish-metal and futuristic fusion-metal.

The 9:54sec tour-de-force title-track "Seventh Son Of A Seventh Son" is centerpiece of the decade for progressive-metal. Heavenly keyboard chants, heavenly melody chants and heavenly guitar-unisons. The breakdown dream-part elevates the game deep into mid-70s prog territory, while landing back on jaw-breaking metal-chug. Perfect heavenly made heavymetal architecture with adventurous sequences.

The lead-single "Can I Play With Madness" thrusted the band back into the pole-position with it's defiant punch. Stronger than ever, face-to-face with the trends and ready for a fight, Eddie is back in current times.

Hot on tape and hot in the live environment, the Seventh Tour Of A Seventh Tour was a phenomenal worldwide success, featuring their biggest stage-set to date and even taking soon-to-become the world's biggest band with them: GUNS 'N ROSES. Unfortunately, this would also be guitarist Adrian Smith's last appearance with the band ...until 1999.

The Seventh Son Of A Seventh Son LP still stands tall among IRON MAIDEN's impressive catalog. A unique period in time where genres were clashing, when the band was at it's creative peak, as it would be the last true MAIDEN album, ever. Some critics would argue that it is bloated and over-produced, yet in retrospect it clearly showcases the band's musical genius and it's will to get out of the comfort-zone by releasing a concept-album. The Seventh Son LP crystallized IRON MAIDEN's career as true pioneer in the genre.

The nineties would be another wild ride, filled with turmoil and sharp left-turns, starting with 1990's bare-bones rock No Prayer For The Dying CD.

Madness ensued !

*
Can I Play With Madness = video
https://www.youtube.com/watch?v=Kvqr366Op3k
Seventh Son Of A Seventh Son = full LP
https://www.youtube.com/watch?v=kvh-aU7KCFY&list=OLAK5uy_lV__j36LdAy7n29IAopF2A8F_-TKYAiQM
MuchMusic interview in 1988
https://www.youtube.com/watch?v=fnsyNvETmYY
Maiden England 88 = full VHS
https://www.youtube.com/watch?v=ICcOXJAIsfM&list=PL6kF5KkWPkPagaUOy1nkOPa-Z6mCBYENW
some guys
https://www.youtube.com/watch?v=AqelDw_Zoaw



more IRON MAIDEN:


DICKINSON, Bruce
INDEX
helterskelter.ca
(c) (p) 2017-2023 helterskelter.ca. All Rights Reserved. Tous Droits Réservés.