MALMSTEEN, Yngwie J.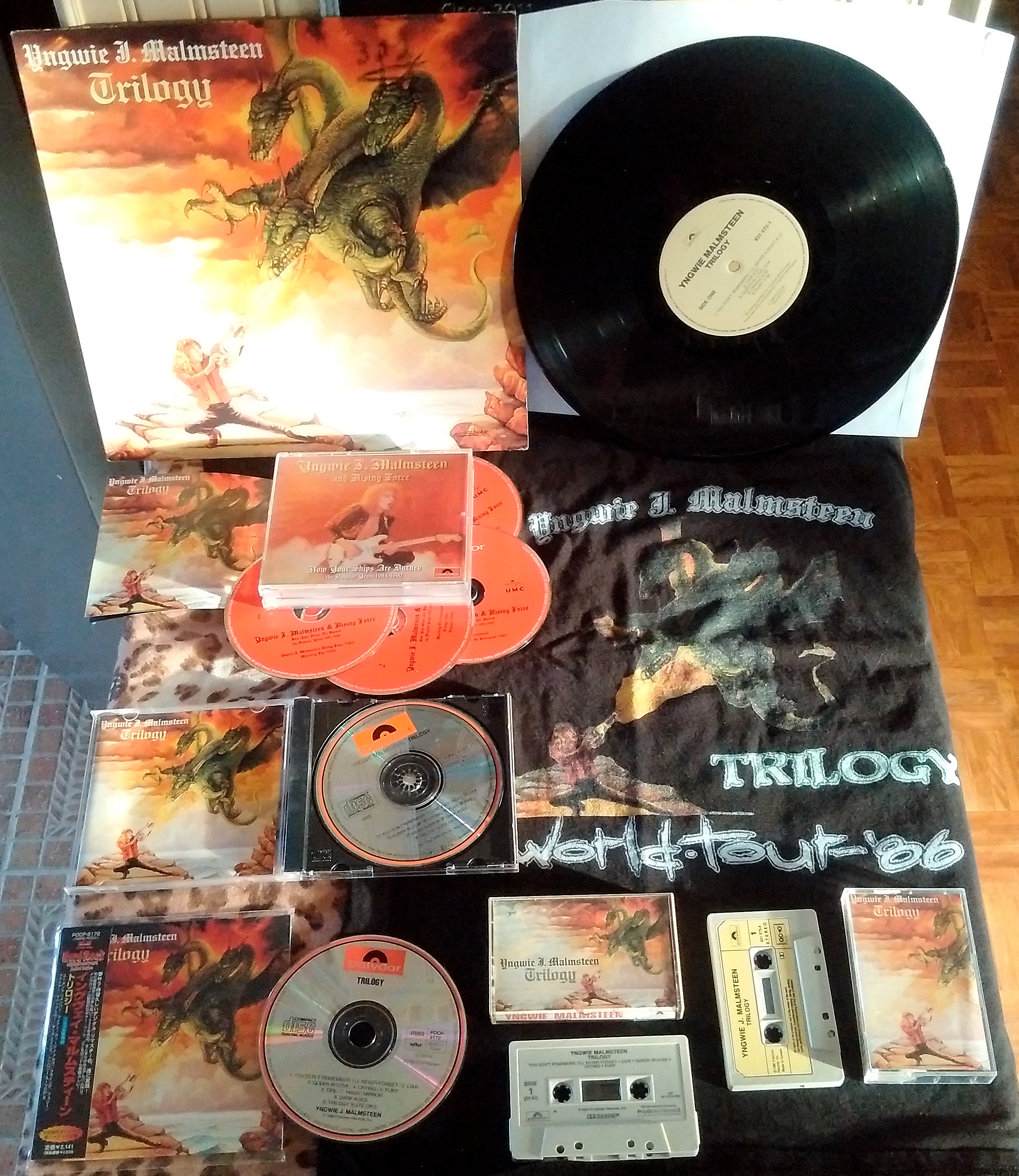 A Swede virtuoso, an oversized ego and a loaded Stratocaster ...you know this will be a good match !

Better than good, simply heavenly. Out of STEELER and follow-up ALCATRAZZ and now solo, Yngwie Johan Malmsteen was/is/will always be the guitar-shredder's shredder. The madness started with 1984's iconic Rising Force LP ...and still today, Yngwie remains on top of the lead-guitar food-chain, has no-one has yet to touch his achievements.

Three's a charm and 1986's Trilogy is pure magic-in-a-box. 41minutes of unstoppable hardrock, packaged with some of the crunchiest guitar riffs and wildest leads, ever put to tape. To the untrained-ear a million-notes-per-minutes is just a million-notes-per-minutes, but when done the Yngwie-way ...it turns fret-burnin' into a stringed orchestrated nirvana !

Let's jump right into the heavyrock opener, the classic "You Don't Remember, I'll Never Forget". A beautiful keyboard-supported riff that drives the LP into full motion. "Liar" while it's tame title is just that, rips through the skin and explodes open-wide at the lead-breakpoint: unparalleled musicianship !

The royal "Queen In Love", the burning "Fire" and the possessed "Magic Mirror" are grade-A fist-pumping tracks, while "Crying" displays soft and emotional flamenco-guitar, a pattern that is still present today on current Malmsteen recordings. The closing-track, the majestic instrumental "Trilogy Suite Op:5" is an ethereal tour-de-force. The neo-classical offering is all riffs, lead trade-offs, keyboard ambiences and double-bassdrum back-bone rhythms. BACH gone bad: an hybrid of progressive, classical and heavy electric-guitar, all delivered in the name of rock !

Six-string wise, after Van Halen and Rhoads, before Gilbert and Bettencourt ...there was the Hendrix-influenced, PURPLE-fueled and Ferrari-drivin' Yngwie J. motherfukkin' Malmsteen !!!

In 1986, when hardrock and thrashmetal was the norm, there was little to no place for axe-shredder records, yet Yngwie made room and paved the way for the upcoming wave of shredder-albums of the late-80s-to-early-90s, gigantic LPs like: Joe Satriani's Surfing With The Alien, Steve Vai's Passion And Warfare and Vinnie Moore's Meltdown.

Be warned: the fury has been released !

*
You Don't Remember, I'll Never Forget - video
https://www.youtube.com/watch?v=UGre5aaa9SI
LP
https://www.youtube.com/watch?v=35D4XfpBpS8&list=PLNc-FFHqewsNh-qUDTTXQ--YLJn9k4p8o
Interview in 1986
https://www.youtube.com/watch?v=a3Wupm1GwHQ
Live in Toronto in 1986
https://www.youtube.com/watch?v=wmEvPSuQql4






INDEX
helterskelter.ca







(c) (p) 2021 helterskelter.ca. All Rights Reserved. Tous Droits Réservés.