PANTERA


The most defining 90° turn in heavymetal history !!!

Throughout a career, most bands tone down, incorporate new elements and even venture into new directions ...sometime not even within the same genre said band initially started in ...and then comes PANTERA !

Hot on the glamrock glitz of the 80s, from 1983's sleazy "Ride My Rocket" to 84's Zippo-blazing-hold-me-tight-power-ballad "Only A Heartbeat Away" ...it wasn't until the arrival of new singer Phil Anselmo on 1988's Power Metal that a change was in the air. Yet, Power Metal is still a tried and true hardrock LP, standing side-to-side with the MALMSTEENs and STRYPERs of the moment, yet something ugly was on the horizon. The full make-over came to fruition in 1990: gone was the spray-net, gone was the spandex and gone was the lipstick-attitude ...here comes REAL trouble !

Personally approved by JUDAS PRIEST's Metal God Rob Halford, PANTERA's major-label debut Cowboys From Hell instantly changed the face of heavymetal, forever. Within the first 25 fuckin' seconds of the album, the game changed, for the better, or worse if you happened to be a glamrock fan of their previous work.

12 bloody-tracks of a new powerful music that could simply be labeled as: groove-thrashmetal. Now sporting a war-like mohawk, Anselmo, along bassist Rex Brown and brothers Dimebag Darrell et Vinnie Paul where the new kids on the block, in a heavymetal way ...a modern heavymetal way.

No sword-yielding, dragon-killing and full-moon reincarnations here, no, this is NEW metal for a NEW generation. Nineties heavymetal, with strength, brute force and none of it's past clichés. Gutsy freestyle vocals, volcanic guitar riffs that puts ANTHRAX to shame along with BLACK SABBATH-style bass lines and monstrous drum beats that keeps it all in check. All this chaos under Terry Date's genius production, Cowboys From Hell is the full package.

From the high-pitched hooks of "Clash With Reality", to the machine-gun riff of "Primal Concrete Sledge", to the head-banging fiesta of "Domination", to the slick built-up of " The Art Of Shredding" all the way to the epic powermetal ballad of "Cemetery Gates" ...CFH is 1 full-hour filled with heavy grooves, sick licks and stealthy solos, never a dull moment. This is required listening !

Word on the streets rings on: Who are these guys ?
Well how about: The strongest "debut" album by a "new" band, ever !

In fact, PANTERA would go on to dominate the decadent decade and save heavymetal as a whole, not only sales-wise but sure enough in the "heavy" department as most of the 80s thrashmetal bands abandoned the style, yes we are looking at you METALLICA, and as the scene was now, by 1993, all absorbed by alternative and grunge acts.

Everything's bigger in Texas !!!

*
VID
https://www.youtube.com/watch?v=i97OkCXwotE
CD
https://www.youtube.com/watch?v=QzHe9NpYbQw
PEPSI POWER HOUR
https://www.youtube.com/watch?v=kY-SyresPiI
LIVE MOSCOW '91
https://www.youtube.com/watch?v=aDACorIaxNw&list=PLTpspaXcSuln7z85P-XcI0Ro0mQ57_US1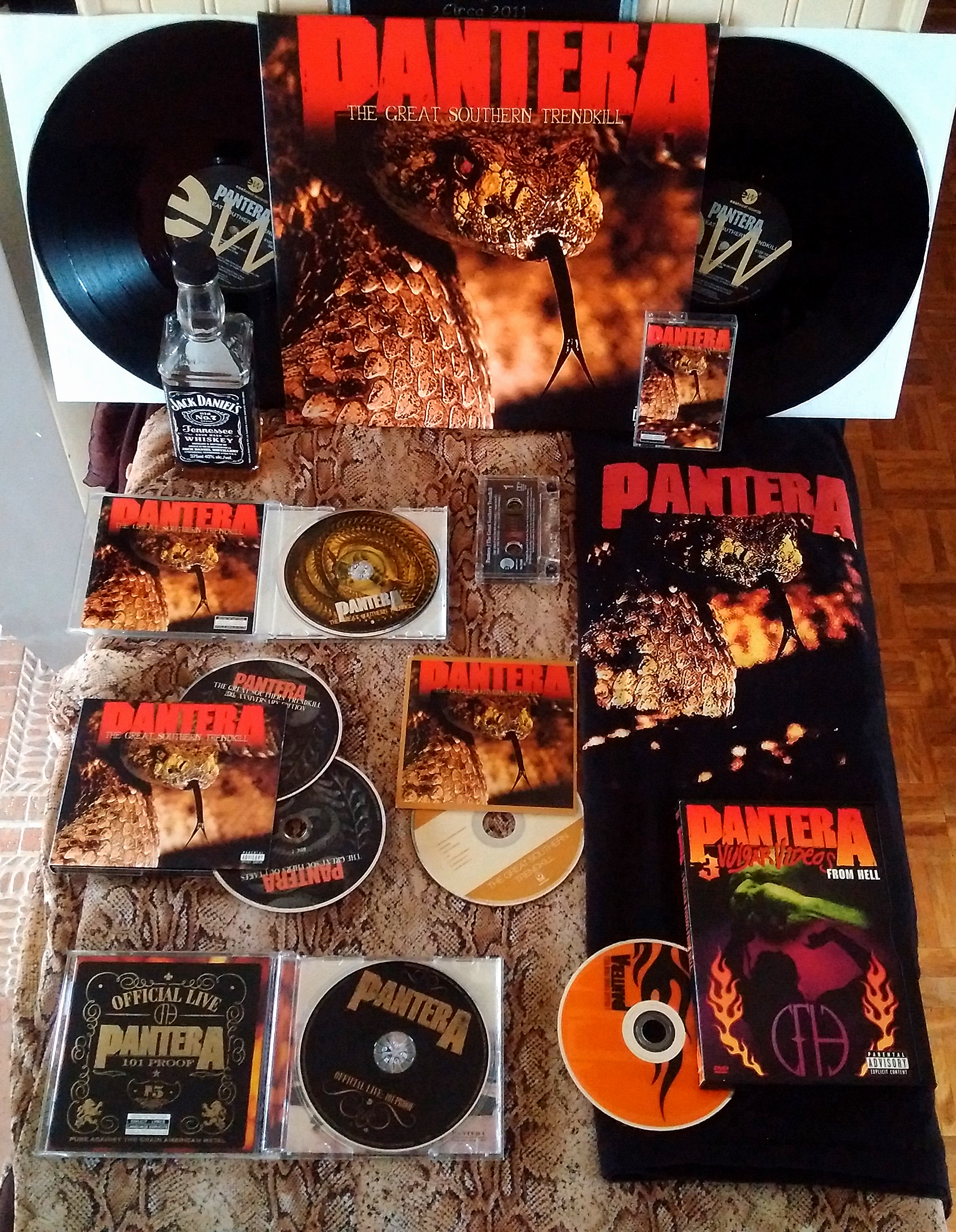 May 7, 1996 - 2021: 25 years of: The Great Southern Trendkill.

The sickest release on a major-label in 1996.

Wiping off the post-grunge and alternative scene in one single riff. Aggressive and abrasive in it's truest and purest form, time for the great reset: your trend is dead ! "Fuck your magazine and fuck the long dead plastic scene" ...sums up this entire experience in this sterile mid-90s music-industry.

The dirty title-track blasts-off with some sick vibe and indie-like production. More hate and more street-creds as the band destroys in a full 360° attack. "War Nerve" doesn't disappoint, "Drag The Waters" doesn't disappoint and more metal is brought to the table as "Living Through Me (Hell's Wrath)" doesn't fuckin' disappoint !

The dark moody Bayou acoustics of "Suicide Note, Pt. I" fills the room with intricate sadness and the brawl bursts in an instant speedmetal attack on "Suicide Note. Pt. II". Some notion of the current stale-state of the great Red, White & Blue is pinned on "The Underground In America" and some deep hardcore exterminates everything with lethal-metal on the corrosive on contact "(Reprise) Sandblasted Skin"

Still riding high from 1994's Billboard #1 chart-topping Far Beyond Driven CD, PANTERA were the heaviest American band on the metal-landscape. In 1996, thrashmetal was in deep limbo and deathmetal was thrown under the bus by some of it's iconic leaders ...the next heaviest band under the sun was the almighty 101 proof Texan rattlesnakes of PANTERA !

*
Drag The Waters = video
https://www.youtube.com/watch?v=4hx8TW6sYys
The Great Southern Trendkill = Full CD
https://www.youtube.com/watch?v=Y4pOIndfTzI&list=PL1EUuvlGHZVWIxc_wrZwrFsiN8AZeivHG
MTV interview in 1996
https://www.youtube.com/watch?v=JPwr7kChYw0
MusiquePlus interview in 1997
https://www.youtube.com/watch?v=-0v3UvKbCWc
Live in Kansas City in 1996
https://www.youtube.com/watch?v=Y31EUktTdoA





March 21, 2000 - 2020: 20 years of: Reinventing The Steel.

Hey modern-punk wannabes and nümetal posers ...Texas says: FUCK YOU !!!
Your decade of bullshit is over ...YOUR TREND IS DEAD !!!

The rebirth of heavymetal is right here, right now with this new millennium. The year 2000, a glorious return to form from IRON MAIDEN, HALFORD, ANNIHILATOR and ENTOMBED ...and then, a tsunami of good 'ol stinky air was headed yer way motherfucker !

After the über abrasive Great Southern Trendkill CD of 1996, all bets were off. Still loud, still obnoxious and still ugly, the Arlington badasses were back ...time for revengeance !

The boys were "Hellbound" in Fort Worth. Thru fire and brimstone, thrashmetal aggression and grit is all here and this is just the opening-track. They also brings us this fine metal-PSA to: "Put you trust in Whiskey, weed and BLACK SABBATH" ...as this lifestyle is "Goddamn Electric" !

The autobiographical "Revolution Is My Name" and the accompanying video is a metal-school 101, while the violent grooves of "Yesterday Don't Mean Shit" kindly reminds-us that the past is the past, albeit the undisputed fact that PANTERA is one of the world's meanest primal metal-band. Brutality steps-up to new heights on the track "You've Got Belong To It" featuring the behemoth riff with those classics low-high notes duality. The lethal "Death Rattle" stands as one of their most blunt track, ever, throughout their entire catalog.

Thrashmetal is alive, it never went away, it just went a little deeper underground during this last decade. A fucking massive "Hell Yeah !" goes out to PANTERA, as they are the SOLE BAND that waved the flag high among the grunge, alternative, neo-punk and nümetal fashions of this turbulent heavymetal fucking-hostile era.

The far beyond driven cowboys of power started the 90s with a serious kick in the ass and they weren't going out without a fight. Reinventing The Steel did become RIAA-certified Platinum, but sadly, this would be the last PANTERA record ever, as internal turmoil, band breakup and bloody-tragedy would forever dissolve this amazing unit.

RIP Dimebag (1966-2004)
RIP Vinnie Paul (1964-2018)

*
Revolution Is My Name - video
https://www.youtube.com/watch?v=_XI1DD_vJuY
Full CD
https://www.youtube.com/watch?v=_NI4KHtnfSM&list=PLfUV806q_Ri7Kt0JNhQzyT8g2P-H-oCs8
Interview in 2000
https://www.youtube.com/watch?v=GCRtGslIxAc
Live in 2001
https://www.youtube.com/watch?v=yXvFO5Cn5-c
Dimebag jammin'
https://www.youtube.com/watch?v=5xDfOa7paAU




Référence croisée Helter Skelter:


PANTERA
INDEX
helterskelter.ca

(c) (p) 2021 helterskelter.ca. All Rights Reserved. Tous Droits Réservés.