QUEENSRŸCHE
1983 - Queensr˙che EP.
1986 - Rage For Order.
1988 - Operation: Mindcrime.
1990 - Empire.
way more Helter Skelter.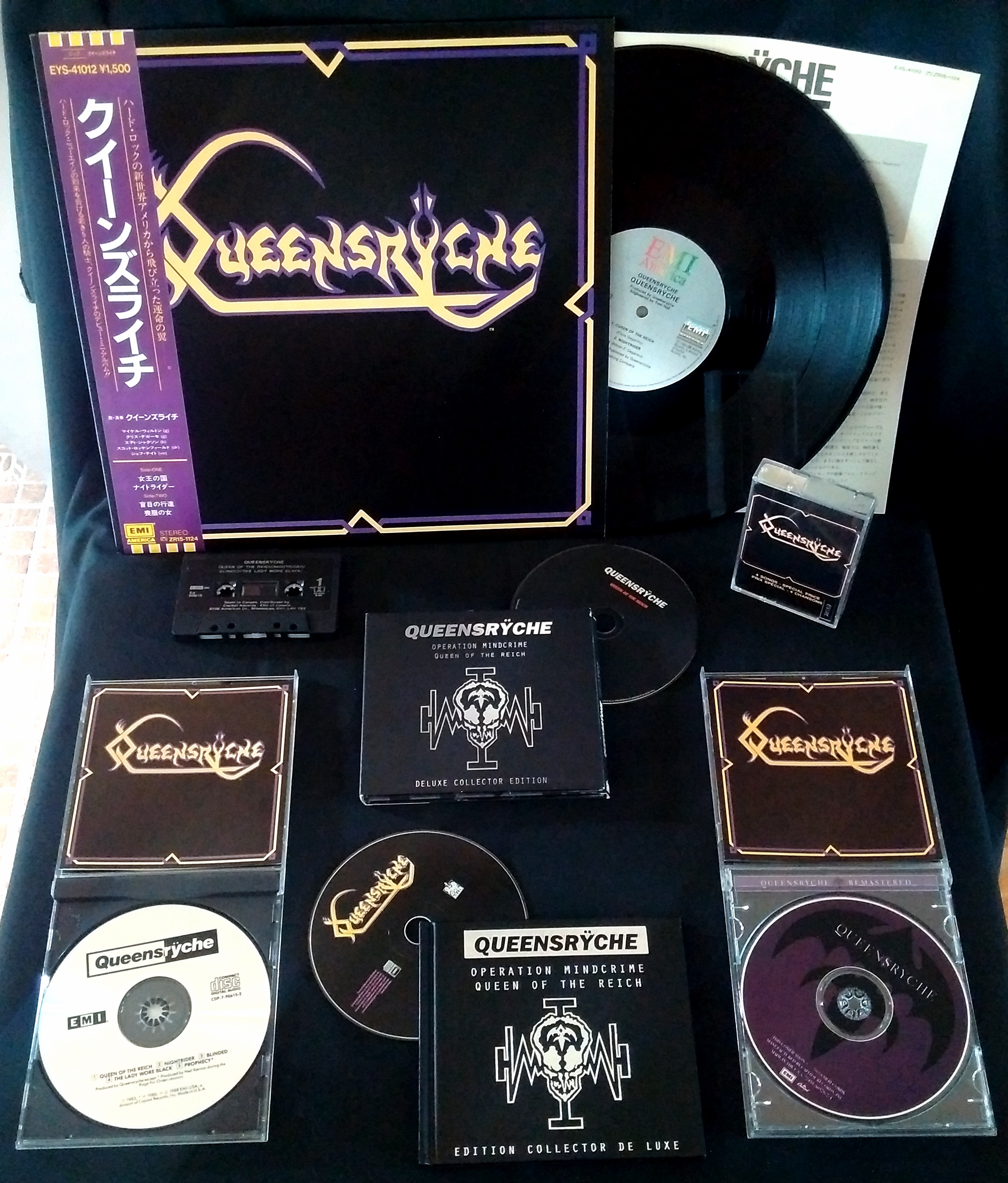 August 12, 1983 - 2023: 40 years of: Queensr˙che EP.

Perfection is brewing.

1983: forever synonymous with Europe's heavymetal wall-to-wall domination. From BLACK SABBATH, to RAVEN, to IRON MAIDEN, to ACCEPT ...the blunt power is fucking lethal. America's dormant empire struck back with Florida's SAVATAGE, and now, Washington's QUEENSRŸCHE were part of this mindcrime.

Sky-high screams as Geoff Tate breaks the sound-barrier on "Queen Of The Reich". Powermetal with extra vocal-muscles. The NWOBHM vibe is electrified to dangerously hazardous limits on "Nightrider" while the vicious crunch of "Blinded" is all the elements of the finest German metal engineering.

The stunning 6min+ evoluting powerballad for "The Lady Wore Black" is a different view inside the genius from the Wilton + DeGarmo + Tate creative trio. American-made heavymetal's fate was secured.

After THE MOB's cross-firing into QUEENSRŸCHE, in 1982 they independently released the EP on the band's homemade 206 Records. Instant positive reviews from the medias and the underground, Tate officially joined the fold and the boys rapidly got a major-label deal, in rage for order ...to further spread the disease.

Now signed to EMI worldwide and RIAA-certified Gold, dedicated to chaos, the band would perfect the operation, starting with 1984's The Warning LP.

*
Queen Of The Reich = video
https://www.youtube.com/watch?v=i0_THrxYs1w
Nightrider = video
https://www.youtube.com/watch?v=vFVFzUJ10oQ
Queensr˙che = full EP
https://www.youtube.com/watch?v=_aYPQBNk8I8
Interview in Japan in 1983
https://www.youtube.com/watch?v=wVCNs_n5F7c






June 27, 1986 - 2021: 35 years of: Rage For Order.

The mob is fully raging.

Without any warning, QUEENSRŸCHE went from being another Euro-influenced generic heavymetal band, to one of the genre's most respected powerhouse. It all starts here, on album #2, the incendiary Rage For Order LP.

1986, in a sea of hairspray and spandex, the loud guitar unisons along Geoff Tate's gigantic screams from this unique unit, makes this one a must-hear-attraction in this new genre: the developing progressive side of traditional heavymetal.

The opening track "Walk In The Shadows" sets the pace with an upbeat pattern. The classy production courtesy of Neil Kernon is instant. The following melancholic and operatic dark-ballad "I Dream In Infrared" is a Titanic-template that will be used and re-used on future records.

The perfect incision of "Surgical Strike" is a mature metal-monster most bands only dream of. Another punch on "Chemical Youth (We Are Rebellion)" and the thunderous melodies of "London" and "Screaming In Digital" solidifies this band in a very, very select club. Although an odd choice, the haunting Lisa Dal Bello "Gonna Get Close To You" newwave single-cover, is an audacious way to promote the band and infiltrate the saturated MTV.

Although still struggling to find a definitive identity, the boys would even try the goth image to match the album's ensemble. Don't let their dark looks fool you, as this is clever epic-rock. Tate + Wilton + DeGarmo, a trio that would soon change the game.

After the touring cycle, Tate would stay in Montreal, and on one cold winter evening he would meet a mysterious nameless men that would inspire him, change the face of the band and eventually the face of hardrock-music, forever. Stand by for nirvana, the RŸCHE is now set for 1988's stellar tour de force, the impeccable pristine perfection of: Operation: Mindcrime.

*
Gonna Get Close To You = video
https://www.youtube.com/watch?v=qWjSfNHjIuI
Rage For Order = full LP
https://www.youtube.com/watch?v=bdhb2oG-d3A
Interview MTV in 1987
https://www.youtube.com/watch?v=9XceTvGJl3Q
EPK
https://www.youtube.com/watch?v=HXxnqzdu_-U
Live in Montreal in 1986
https://www.youtube.com/watch?v=Cka97STYcZA






April 27, 1988 - 2023: 35 years of: Operation: Mindcrime.

The landmark in hardrock concept-albums.

Still red hot on the heels of 1986's Rage For Order LP, the RŸCHE-tribe were in the zone to be the next big thing in the hard-department. Walking in the shadows beyond the call of duty, 1988's gigantic rock-mission, their third full-length, would set a new standard in the then niche progressive-hardrock format.

The game was about to change, forever.

Crafted during some snowy Montreal evenings in late-1987, those nightly meetings would bloom with Geoff Tate's encounter of an impressive man with the vile mind of future Dr. X ...the architect genesis of Operation: Mindcrime.

"REVOLUTION CALLING YOU !!!"

The military assault-beat intro of "Anarchy-X" digs the trenches for 60 raw minutes of epic epicness and glides right into "Revolution Calling". From hard to arena-hard, this banger is THE SINGLE MOST POWERFUL TRACK OF THE 80s. It's significance cannot be overlooked, especially it's gut-wrenching realistic lyric-set. While America was knee-deep into Reaganomics, some started to question the real motives of this generated superflux. Politics, greed, power, Cold War-izm, religion, murder, censorship, control ...when did QUEENSRŸCHE became a political band ? Concious now in 2023, these spine-chilling lyrics are indeed facts, facts that have been shun for decades has these crimes have still yet not been punished.

"Gotta make a million doesn't matter who dies !"

Meet Nikki.

The loud jack-hammering title-track "Operation Mindcrime" gets the ball rolling for this rock-adventure. Thick bass and superb drumming, this is some of the band's most memorable exhibition. A young man from the streets lobotomized via drugs to become a killing-machine ...the program is set ...listen to him. Fast-metal cuts to the bone on the systemic "Speak" while the contract goes nefarious on the addictive "The Needle Lies" and the heart-splitting ear-splicing re-questioning of "I Don't Believe In Love".

"I'm the new Messiah ...Death Angel with a gun."

The Everest-like 10min+ "Suite Sister Mary" opens with a chilling order from the Doctor. Hardcore Nikki and street-girl Mary eventually meets downtown while the prog-rock crescendo builds-up. Crushing overdriven DeGarmo + Wilton guitars attack every nerve and pumps the blood to the boiling-point. Background-vocals support Tate, while guest-singer Pamela Moore is the angelic voice from above. Label it "dream-rock", this is a fine fusion of the senses and this heavenly cut puts QUEENSRŸCHE above the competition and ahead of the pack. A wild trek into hardrock and human emotions at it's finest, yet the question remains: will Nikki and Mary end up making love ...or end up dead ?

"I've had enough and I want out !" - Nikki
"You can't walk away now." - Dr. X

The molten-metal "Spreading The Disease" and "Breaking The Silence" are sure to please raging headbangers, while the leading posh MTV-single for "Eyes Of A Stranger" broke the band aside from the saturated Sunset Strip. Featuring stealth keyboards sub-melodies and Tate's muscular delivery, this is one of the band's best track.

...and the game changed.

Hardrock now had a full-blown masterpiece concept-album at it's door-step. The glorious 1988 era, an interesting place in time, were some acts broke free from the heavymetal status-quo. Think METALICA's And Justice For All, KING DIAMOND's Them and IRON MAIDEN's Seventh Son Of A Seven Son LP. Intricate concepts and deep story-lines, far away from the cock-rock clichés of the excessive decade ...Operation: Mindcrime is the full 360ş premium-package.

On tour with METALLICA in '88-89, this unlikely union would preach new sounds and new esthetics to the metal-masses. Intelligent-metal was now a signature and witnessing this unique mix live, this iconic event forever changed this writer's view of hard-music and rock-evolution as a whole. Thank you Gentlemen.

RIAA-certified Platinum and still on top of every lists, the Operation: Mindcrime LP is the landmark in hardrock concept-albums. Pure perfection by design, but also by it's pristine production and delightful execution. In the global heavymetal timeline, there's an important cut-off: the pre Mindcrime-era ...and the post Mindcrime-era.

"I remember now."

QUEENSRŸCHE was now a sophisticated force to reckon with. Riding high in a branch of their own, the band would leave the story-telling aside and polish their sound with 1990's top-shelf Empire CD.

RIP Bar Le St-Sulpice (1980-2023)

*
Revolution Calling = video
https://www.youtube.com/watch?v=aq9gVp-Wk7I
I Don't Believe In Love = video
https://www.youtube.com/watch?v=2c3g6tTYoxM
Eyes Of A Stranger = video
https://www.youtube.com/watch?v=A4duZjxusGM
Operation: Mindcrime = full LP
https://www.youtube.com/watch?v=4zLo_pYAEoI&list=OLAK5uy_lmyODiaRA3soJR_SxCZIOnhyd4hyk9aqo
Video: Mindcrime = full VHS
https://www.youtube.com/watch?v=ilNOTmGWqDs
Interview in Japan in 1988
https://www.youtube.com/watch?v=MZtbasmAmrQ
Live in Cologne in 1988
https://www.youtube.com/watch?v=wfvE41k4Dgk
some band
https://www.youtube.com/watch?v=9ScrbYbNRMc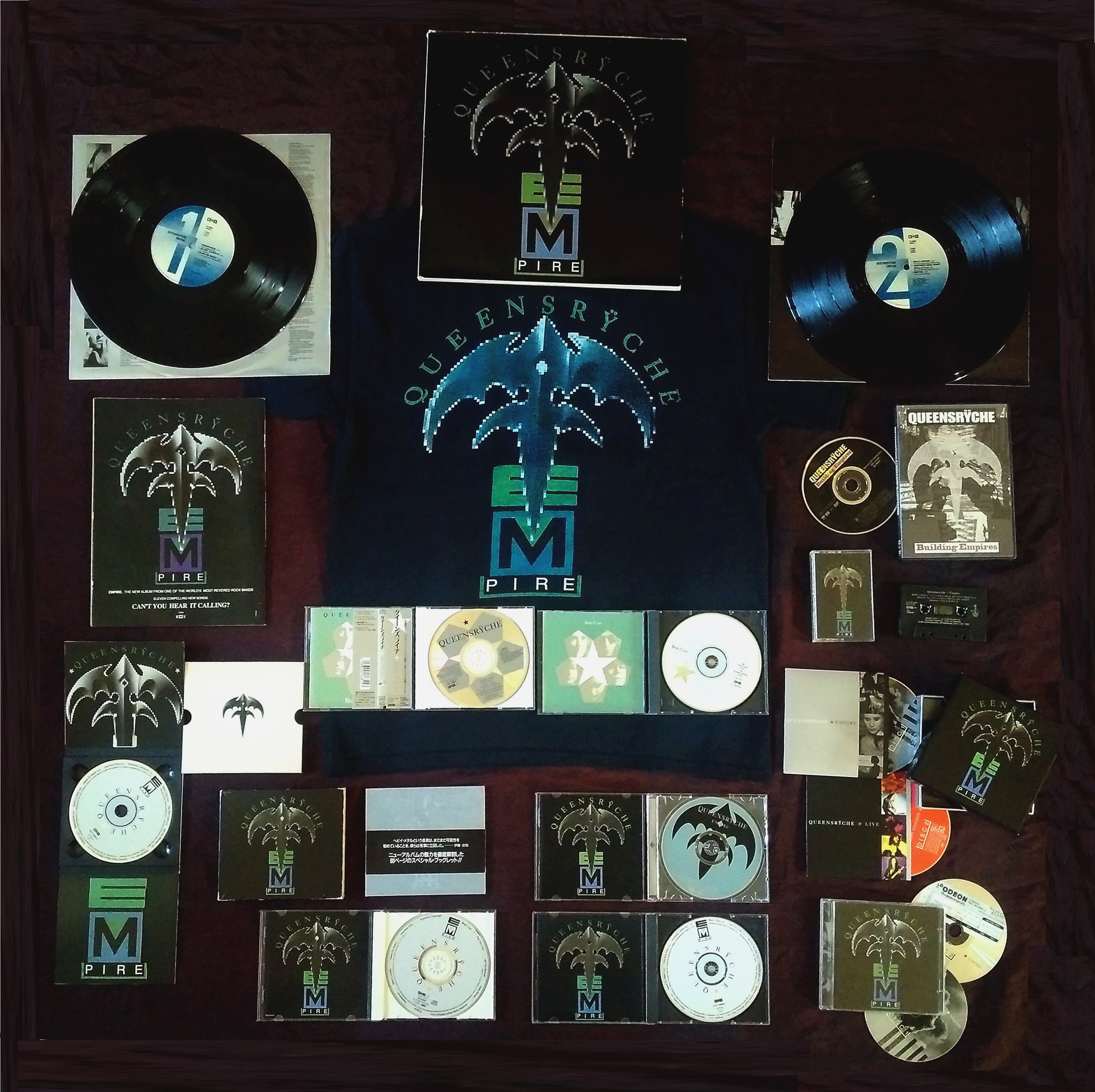 August 20, 1990 - 2020: 30 years of: Empire.

"You have no new messages in your mailbox."

Some metal bands are lucky to have sustained success in their career. In QUEENSRŸCHE's case, lightning stroke not once, not twice, but on three separate occasion. From Bellevue, a borough of Seattle, yes THE Seattle, comes the progressive-rock giants, the band that would forever push the idea of concept-albums into hardrock's glossary. Heavymetal-perfection arrived with 1986's Rage For Order LP and then exploring the full story-concept album with 1988's tour-de-force LP, the immortal: Operation: Mindcrime.

Now smarter and wiser, the quintet would deliver another metal-perfect album. Tempted by the powerballad idea, this cut would pump this release and would eventually reach the RIAA-certified Platinum plateau 3 times. Keep in mind that back in the 1989-90 era, only arenarock and hardrock acts were part of this exclusive-club ...make way Sunset-boys, the Queen Of The Reich is here !

The ravaging opening in "Best I Can" is a strong statement, musically and vocally, courtesy of frontman Geoff Tate. The attack is imminent and the crystal-clear production elevate the experience into sonic boom. More loud rock is found on "The Thin Line", "Another Rainy Night (Without You)" and the MTV-favorite sing-along, the punchy "Jet City Woman". QUEENSRŸCHE are in the zone. The powerful title-track, a heavy-stamina cut, displays solid rhythms and serious social views. Political-rock, could they be ? What started on Mindcrime was now fully matured to a tee. "Resistance" hooks you and doesn't let go, while "Hand On Heart" is another slick heavyrock number featuring the explosions of jazz-influenced drummer Scott Rockenfield.

And now, it's night-time.

The #1 symphonic-powerballad of 1990, one of the band's crowning achievement and one of hardrock's most beloved, both musically and surely commercially. The gentle 5:48sec flamenco-guitar driven melody finally brings the progressive-rock element into the then generic cheesy ballad-clichés. Miles away from the latter, the melodramatic "Silent Lucidity" is supported by a full blown orchestra with both violin and cello under-tones. Soft to the ear yet incisive spiritually, "Lucidity" would open a door for QUEENSRŸCHE into the mainstream audience and break-away from the heavymetal stigmata.

QUEENSRŸCHE are a musician's band, the high quality musicianship found within is next to none. The Wilton + DeGarmo lead-guitar duo is worthy of the Downing + Tipton and the Smith + Murray legendary line of melodic powermetal-duos. In the 1989-90 era, top melodicrock bands like QUEENSRŸCHE and SAVATAGE kept the spirit pure and the flame alive, far away from the spandex of L.A.

Boys listen to cockrock, men listen to QUEENSRŸCHE.

The successful Building Empire world-tour featured an Act II: the full Operation: Mindcrime album in it's entirety. Ear-candy that would become a staple in the band's live legacy. The Mob got a taste of the mainstream, cherish it coz a flannel tidal-wave is commin' your way. Sadly Empire would also be the last mammoth release from them, as lineup changes and creative-direction would erode the fabric of this unique band.

Rock fans unite and celebrate when QUEENSŸCHE were one of the greats: East-Side meets West-Side, downtown !

*
Best I Can = video
https://www.youtube.com/watch?v=PTD6773wA58
Empire = video
https://www.youtube.com/watch?v=NSTct2FFamw
Jet City Woman = video
https://www.youtube.com/watch?v=EHapAsmvGEU
Silent Lucidity = video
https://www.youtube.com/watch?v=jhat-xUQ6dw
Empire = full CD
https://www.youtube.com/watch?v=VlmeBbz1ljw&list=PLflrhEBouxHP33uCjfM3d_Zfme0s4iM-s
MTV UK interview in 1990
https://www.youtube.com/watch?v=cza1zE7UmrE
Live at Rock In Rio II in 1991
https://www.youtube.com/watch?v=EYfchDqBs9Q
Live at the MTV Awards in 1991
https://www.youtube.com/watch?v=I0VpjS3yx0s
some girls
https://www.youtube.com/watch?v=JFm5y5aQ_tk




INDEX
helterskelter.ca
(c) (p) 2017-2023 helterskelter.ca. All Rights Reserved. Tous Droits Réservés.