RUNNING WILD
1987 - Under Jolly Roger.
1988 - Port Royal.
way more Helter Skelter.


April 1987 - 2022: 35 years of: Under Jolly Roger.

All aboard ...they are running wild !

Now knots away from their mean-metal origins, Captain Rolf Kasparek and the crew re-branded and exiled into other destinations. In a 1987 scene of thrashmetal and glamrock, the German loud-boys of RUNNING WILD would bring forth: pirate-metal !

The opening title-track "Under Jolly Roger" blasts-out with black powder-cannons power. Metal-riffing in a metal-assault. The battle rages on "Raw Ride" and the speed-pickings of "Merciless Game". The appropriately titled "Diamonds Of The Black Chest" fumes with classic Eurometal-chords and sing-along arena-rock.

Named after a JUDAS PRIEST song, here's the other German metal-scene. A crude new take on powermetal with actual power. Far from the romantic-rock themes of SCORPIONS ...bloody, smelly and rowdy pirate-metal is here.

WARNING: loud sound effects !!!

*
Under Jolly Roger = full LP
https://www.youtube.com/watch?v=ncHEGQvcW74&list=OLAK5uy_kIaSC9yPLBMtEfEJMTnJgNupWH_iyTyRE
Live in Vienna in 1987
https://www.youtube.com/watch?v=d0RwF91EA0Y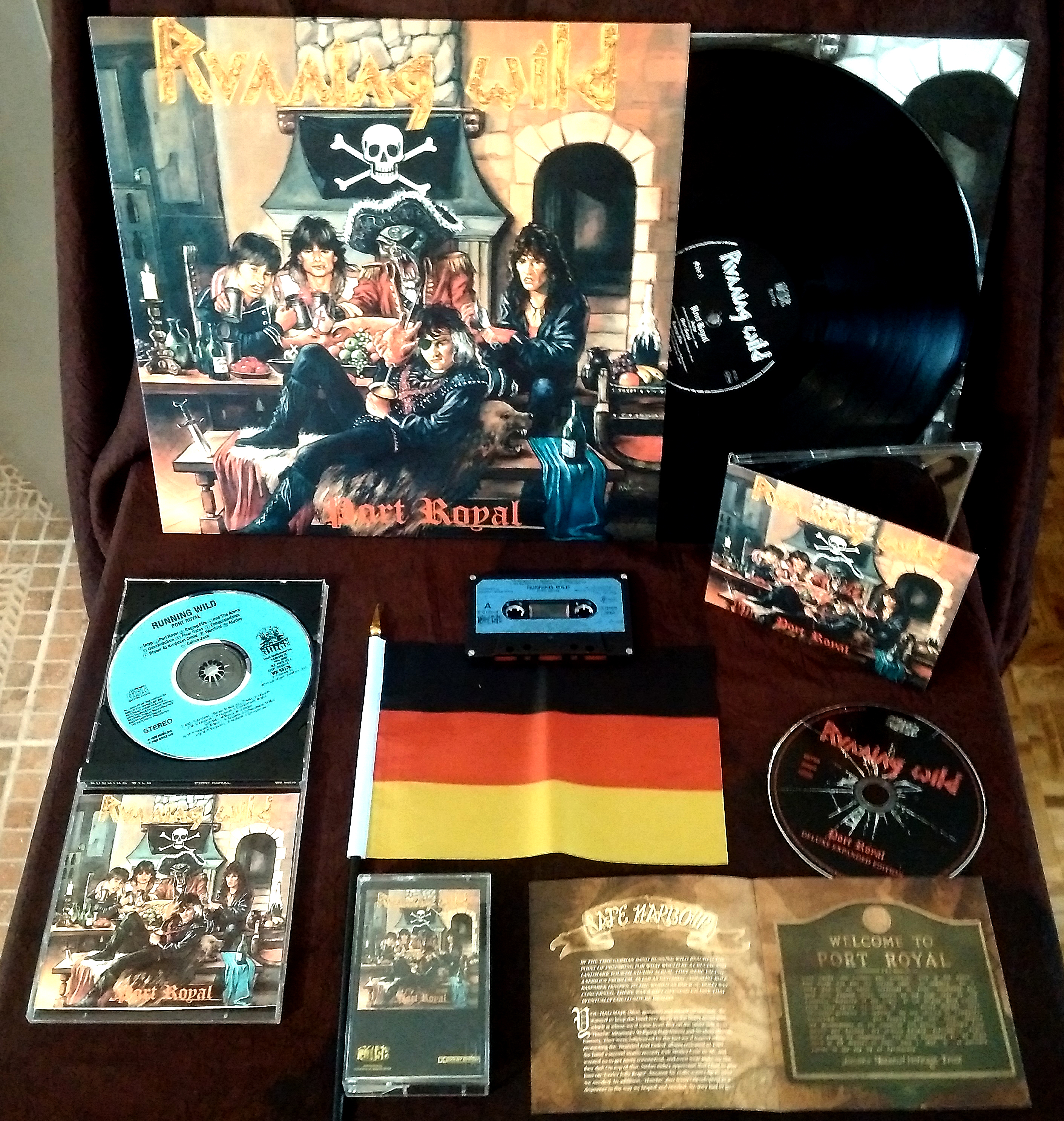 September 26, 1988 - 2023: 35 years of: Port Royal.

Time to feast.

An adventurous mutation from the traditional Eurometal signature. In a thrashmetal-led era, Europe's proud metal-sailors do not take any prisoners. Armed to the teeth ...they are RUNING WILD, target: Port Royal !

"Hey where am I ?"
The guitar-crunch and gnarly vocals says it out loud: "Port Royal". The riffs intertwine with mean melodies, as the flames burns bright on "Raging Fire" and the rock-revolt of "Mutiny" drives this metal-mission out of it's original intended trajectory.

The high efficiency vigor decimates eardrums on "Blown To Kingdom Come", while the fast-metal stabbings of "Warchild" brings speedmetal credits to the table. Always hunting for new lands, the cool bass-intro and subsequent assault of the "Conquistadores" is another strong statement of classic unshakable German-metal roots, while the impressive 8:17sec progressive-trek "Calico Jack", displays even more creative prowess.

Now fully docked at Port Royal, the band feasts and parties on until the crack of dawn. Our lovely powermetal pirates would set sights on more silver and gold, with 1989's Death Or Glory LP.

*
Conquistadores = video
https://www.youtube.com/watch?v=5RhJ2hBNerc
Port Royal = full LP
https://www.youtube.com/watch?v=F4Owfikv-BI&list=OLAK5uy_mev0LYKrk5cFos6fPfJcWWPvXx8XaAiXk
some guy
https://www.youtube.com/watch?v=A-zTrbuMWwY




INDEX
helterskelter.ca
(c) (p) 2017-2023 helterskelter.ca. All Rights Reserved. Tous Droits Réservés.