SACRED REICH
1987 - Ignorance.
1988 - Surf Nicaragua.
1990 - The American Way.
1993 - Independent.
way more Helter Skelter.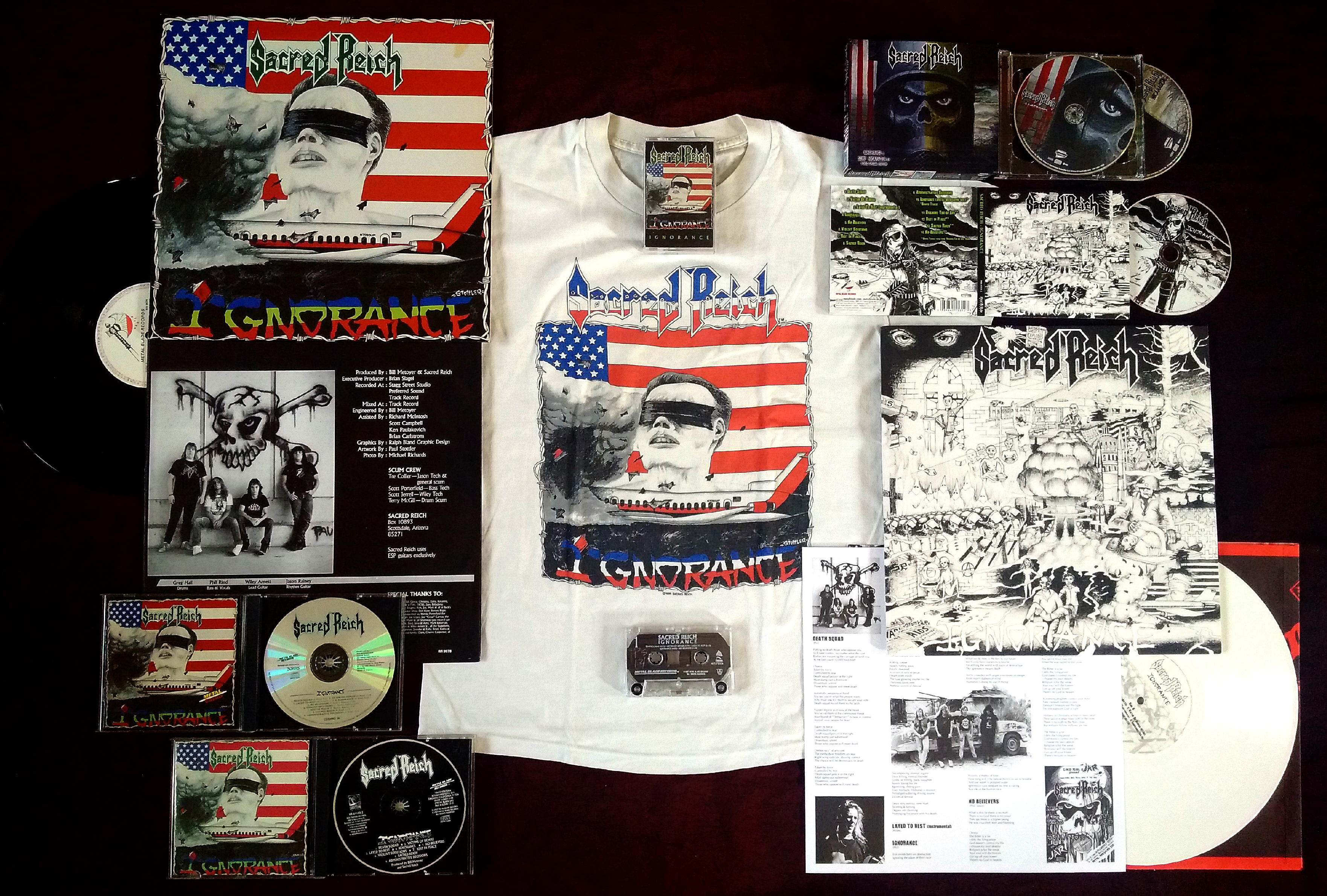 October 13, 1987 - 2022: 35 years of: Ignorance.

Arizona's finest.

Part of the Second Wave of American thrashmetal bands, a massive movement from the mid-80s, SACRED REICH stands out as a political opinioned band that raises serious issues. Part METALLICA and part SLAYER, this debut LP is their first step into the ring, so listen, read and mosh ...and get out of this global social ignorance.

The sleek riff breaks-in as the SWAT destroys the front-door and puts the competition away. Fear them, the Police Of The Right, the "Death Squad" is here. Clever build-up and speedmetal explosion, this thrash is lethal metal: "Those who oppose will meet death.". More vileness grips and rips apart on "Violent Solutions" and "Victims Of Demise".

Religion is turned upside down on "No Believers" as well as the scholar veto of "Administrative Decisions". The Germanic WWII depicting "Sacred Reich" is a history course in itself while our general purposeful unawareness is what will eventually lead us to our common end, as displayed on the "Ignorance" fast thrash title-track.

High quality thrashmetal from these happy new-comers. Although the speedmetal crunch is serious, this gang possesses a dark humor and openness that would fully bloom on later releases.

The future is ready, the scene is morphing and SACRED REICH are part of this welcomed mutation. Dive into the world of progressive thrash. An interesting sample would arise with 1988's explosive thrash-rock Surf Nicaragua EP.

*
Ignorance = full LP
https://www.youtube.com/watch?v=hnsFDKYWF2g&list=OLAK5uy_mFqs3kqoLp5cEEYKDhmfJ5-UayjJfgFLI
Interview in 1987
https://www.youtube.com/watch?v=FON4imIrbuk
Live in Detroit in 1988
https://www.youtube.com/watch?v=14jHDFshxxs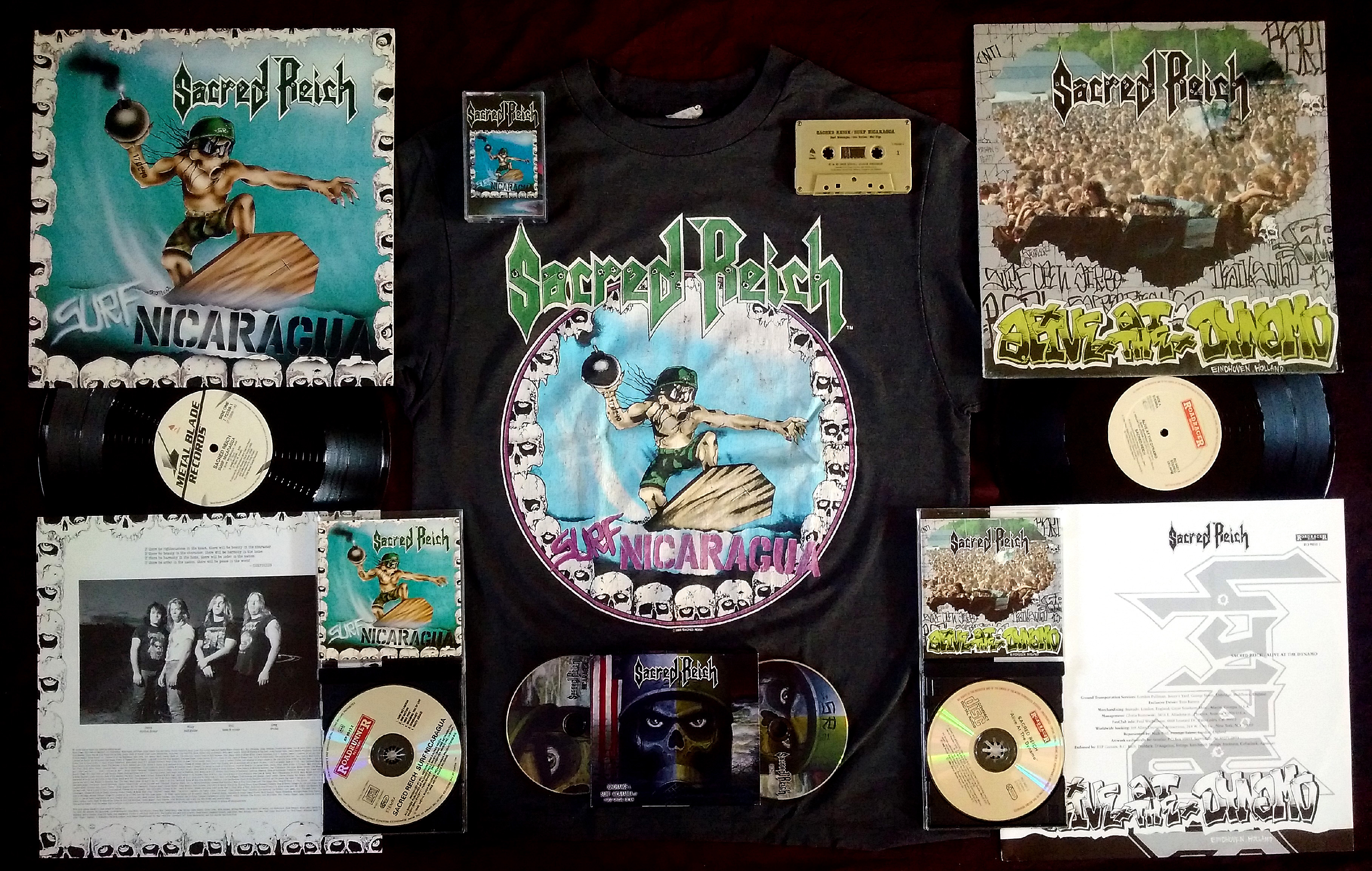 October 4, 1988 - 2023: 35 years of: Surf Nicaragua.

SURF'S UP !

Forever breaking away from the hateful metal stigmata, SACRED REICH was about to bend the scene into a defined tangent of their own.

Political-speedmetal's prime anthem, the wave is here, hop in and "Surf Nicaragua". Mean mosh mixed with an off-set breakdown featuring a full-blown incorporation of THE SURFARIS's "Wipe Out". Drummer Greg Hall is the shit. The track "One Nation" finally lays to rest any accusation toward the band's racial beliefs as it pushes global unity, while the iconic BLACK SABBATH-reprise for "War Pigs" is an obvious logical addition.

Enter Managua !

Thrashmetal with groove and street-flair. The 1988 mutation had already begun with DEATH ANGEL, SUICIDAL TENDENCIES and the colorful ANTHRAX ...we can now add SACRED REICH to this very, very cool list. Their next statement would be a stepping-stone in smart thrashmetal: 1990's The American Way CD.

"If there is righteousness in the heart, there will be beauty in the character.
If there is beauty in the character, there will be harmony in the home.
If there is harmony in the home, there will be order in the nations.
When there is order in the nations, there will peace in the world." - Confucius

*
Surf Nicaragua = full EP
https://www.youtube.com/watch?v=K1s9xwTfXD0&list=OLAK5uy_lkGXM2n-aTrFcg9e-Bi8cHU-p8W-4SFdM
Live in Eindhoven in 1989
https://www.youtube.com/watch?v=L53HjUf3Za4
Live at Dynamo in 1989
https://www.youtube.com/watch?v=tFpWSrf4Sho
Surf with Wiley
https://www.youtube.com/watch?v=6E8nn36dlYs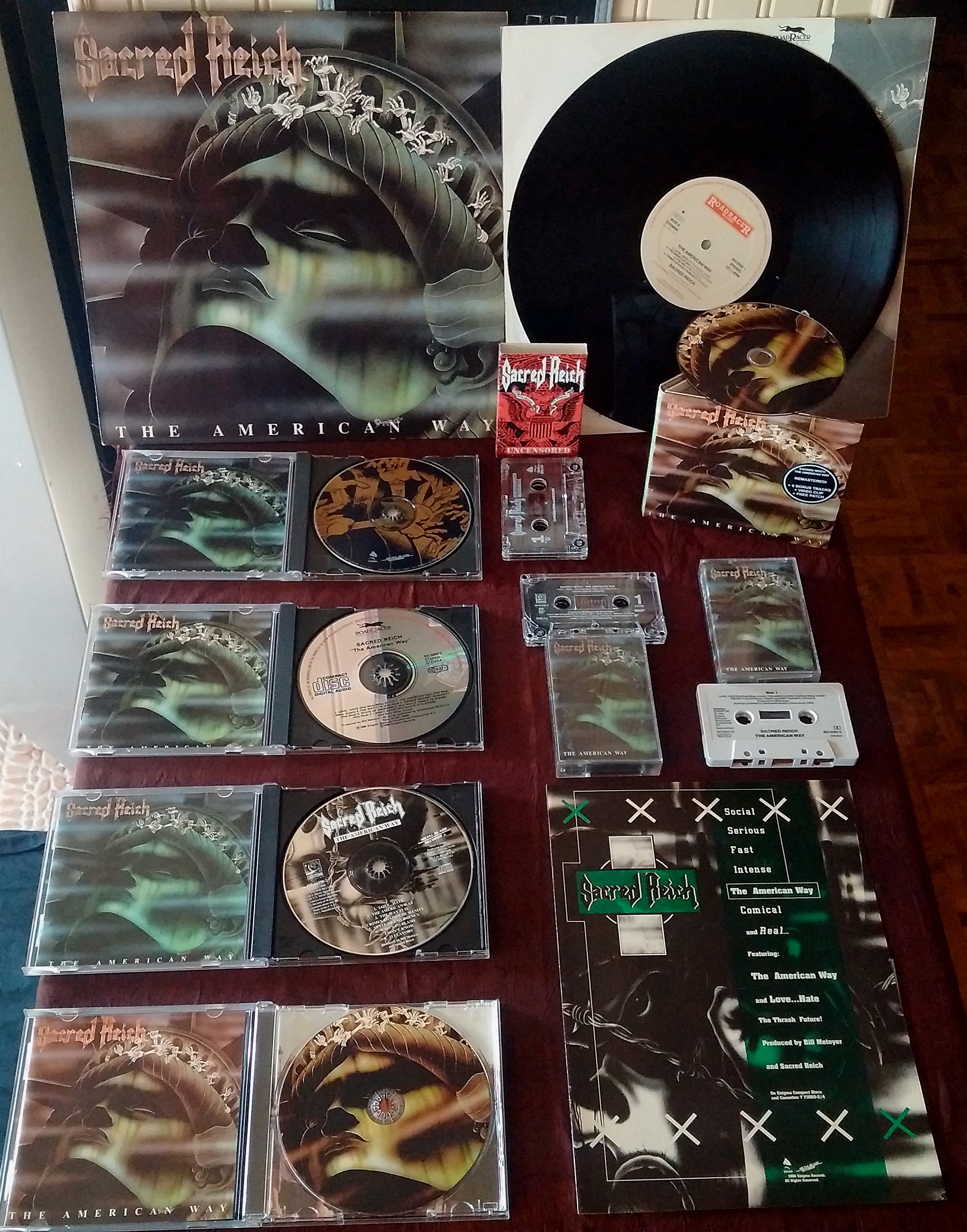 May 15, 1990 - 2020: 30 years of: The American Way.

1990 again, the pinnacle year for intelligent thrashmetal ...and nothing reeks more intelligent thrashmetal than SACRED REICH !

The new breed of thrashmetal was in-vogue, talented bands like XENTRIX, PRONG, FLOATSAM & JETSAM and local buddies SACRED REICH were changing the sound and feel of traditional thrash. And with the digital-technology at their door-step, these young bands never sounded more clean and clinically precise.

The onslaught started with 1987's Ignorance LP, then grew with 1988's Surf Nicaragua EP which included the famous title-track featuring THE SURFARIS's iconic "Wipe Out" mid-part drum-segment. This release also displayed the epic "One Nation", a song that forever puts to rest, some ambiguities concerning the band and their moniker being related to any fascist-ideology. Now fully matured, let them show us the way ...the American way !

Alive, stage-dive, into the pit, get bruised ...that's one fact you'll learn to "Love... Hate". This intense circle-moshpit opens-up the celebration with a punch and leaves us with the colossal title-track. Simplicity and heaviness at it's best. "The American Way" grinds at 149bpm. If AC/DC were a thrash band, this would've been one of their songs. Highlighting the cold selfish truth about the American-dream ...after all is said and done, one question still remain: "How did we come to be so fucked ?"

The eco-friendly "Crimes Against Humanity" and oppression-hostile "State Of Emergency" exposes the heart of the problem. Acid rains, nuclear waste, dictatorial regimes and Apartheid aren't typical thrashmetal subjects, but SACRED REICH aren't a typical thrashmetal band. If you don't follow the 6 O'clock news, that's fine don't ...but please do yourself a favor and read the included lyric-sheet.

http://www.darklyrics.com/lyrics/sacredreich/americanway.html

Some global political topics are being displayed on "The Way It Is". A fine fast thrash-tune in a Reaganomic-ridden decade of mass inflated consumption. The serious "Who's To Blame" covers the 80s trend of heavymetal-bands being scrutinized under the distinctive conservative eye. Law-suits and media-lynching against JUDAS PRIEST and Ozzy Osbourne where heavily debated, while never focusing on the real initial problem: chaotic family home.

And now, time for some fun with the ultimate hybrid. Mix some folked guitars with a funk bass-line, reggae-drums and funny themed lyrics, open wide and taste: "31 Flavors". This one could have fitted right between MORDRED and LIVING COLOUR ...and it even features an accompanying horn-section. Total left-field, coming from a thrash band, no other band from this scene has ever put out an experimental track like this one, no band. On this unique cut, SACRED REICH are the FAITH NO MORE of thrashmetal.

Lyrics-wise, if it needs to be discussed, main-lyricist vocalist Phil Rind will cover it. Racism, economy, religion, politics and war ...total punk attitude, just another day at the office for these metal-men. The now less ignorant surfers were at their creative peak and so did this exciting new hip thrash-movement. The American Way CD forever now remain one of the top album from the 1989-90 thrashmetal food-chain, where sounds and styles were head-butting and trailblazing through deadly decibels.

Following the success of The American Way record and touring-cycle, SACRED REICH finally got their big-break, a major-label deal with Hollywood Records. Sadly 1993's Independent CD didn't prove worthy enough for a long-term deal. Once again, we could blame the Seattle-effect for the label's sudden lack of interest.

RIP Jason Rainey (1967-2020)

*
The American Way = video
https://www.youtube.com/watch?v=lOg4bDlZyAA
The American Way = full CD
https://www.youtube.com/watch?v=R_cCccoFAXU&list=PL58946CF0EE0D82FB
Interview in 1990
https://www.youtube.com/watch?v=u7eFDOJU2LY
Live in Detroit in 1991
https://www.youtube.com/watch?v=c4p-sixRj-s
The American Way covered by KATAKLYSM
https://www.youtube.com/watch?v=TKcjYXORKAM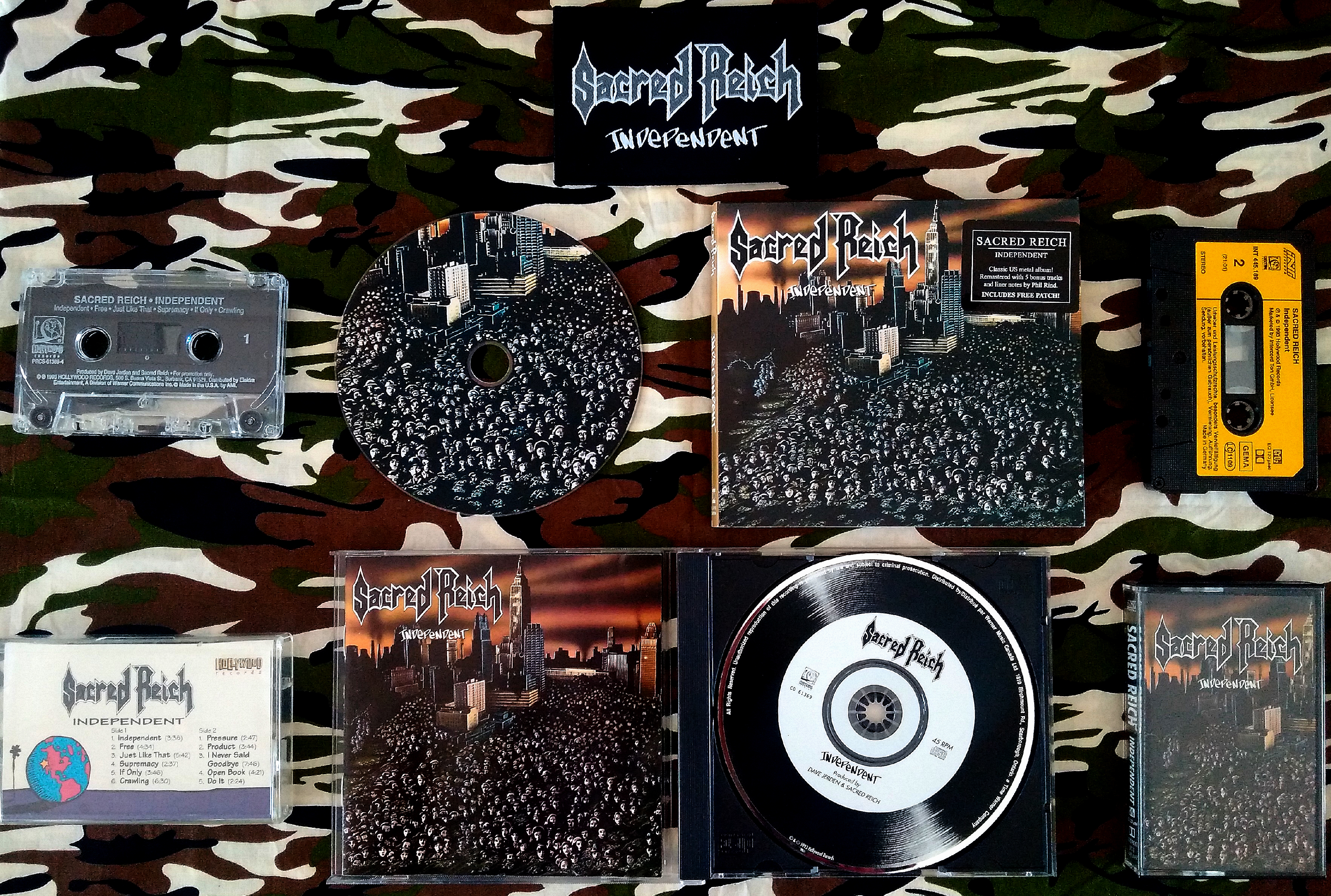 February 23, 1993 - 2023: 30 years of: Independent.

Make America great again ...be independent !

A thrash re-revolution during the Seattle tide. Left alone in the rear-view mirror of the American way, while most 80s bands reformatted and adapted to the genre. Straight-shooting metal in a post Black Album-era ...for SACRED REICH, no pressure, simple is the key.

The E-riff is strong here, as the ass-kicker title-track "Independent" yells out the truth. Drenched in fuck you punk-attitude, the crowd screams out: "Let me be I live by my own rules, independent, independent !" ...see hyperactive video below. The calculated grooves of "Crawling" and the SABBATH-y "Just Like That" are beautiful bare-knuckles bare-bones bastards.

The dirt lifts up inside the circle-pit, as dopamine is fueled through "Pressure" with authoritarian "Supremacy". This stripped-down version of the band never sounded livelier and rowdier. Shades of modern MINISTRY appear on the mechanical "Product", this is one purchase no one would want to return back.

Signing with major-label Hollywood Records, SACRED REICH were now the independent black sheep inside the wild Disney circus ...and welcome aboard on sticks: Dave McLain. Sorrowfully the scene was now lukewarm to thrashmetal and the Dave Jerden produced SACRED REICH, amongst almost all of the then thrash-bands, was left by the side against the alternative / newmetal hip signatures and the extremes of deathmetal.

Yet these lovely Nicaraguan surfers would repeat the formula, with their last opus before an almost quarter-century long hiatus ...the 1996 open-wound Heal CD.

*
Independent = video
https://www.youtube.com/watch?v=iEU04Gp_p1A
Crawling = video
https://www.youtube.com/watch?v=6_LYDjKz9tw
Independent = full CD
https://www.youtube.com/watch?v=MdwhdXi835M&list=OLAK5uy_nMVH6IhwSHvstlye3MJ6tPt9W3ZofYl_c
EPK
https://www.youtube.com/watch?v=pMLU13OkEWU
Live in Montreal in 1993
https://www.youtube.com/watch?v=XPXVpmyCMx4



INDEX
helterskelter.ca
(c) (p) 2017-2023 helterskelter.ca. All Rights Reserved. Tous Droits Réservés.