VOÏVOD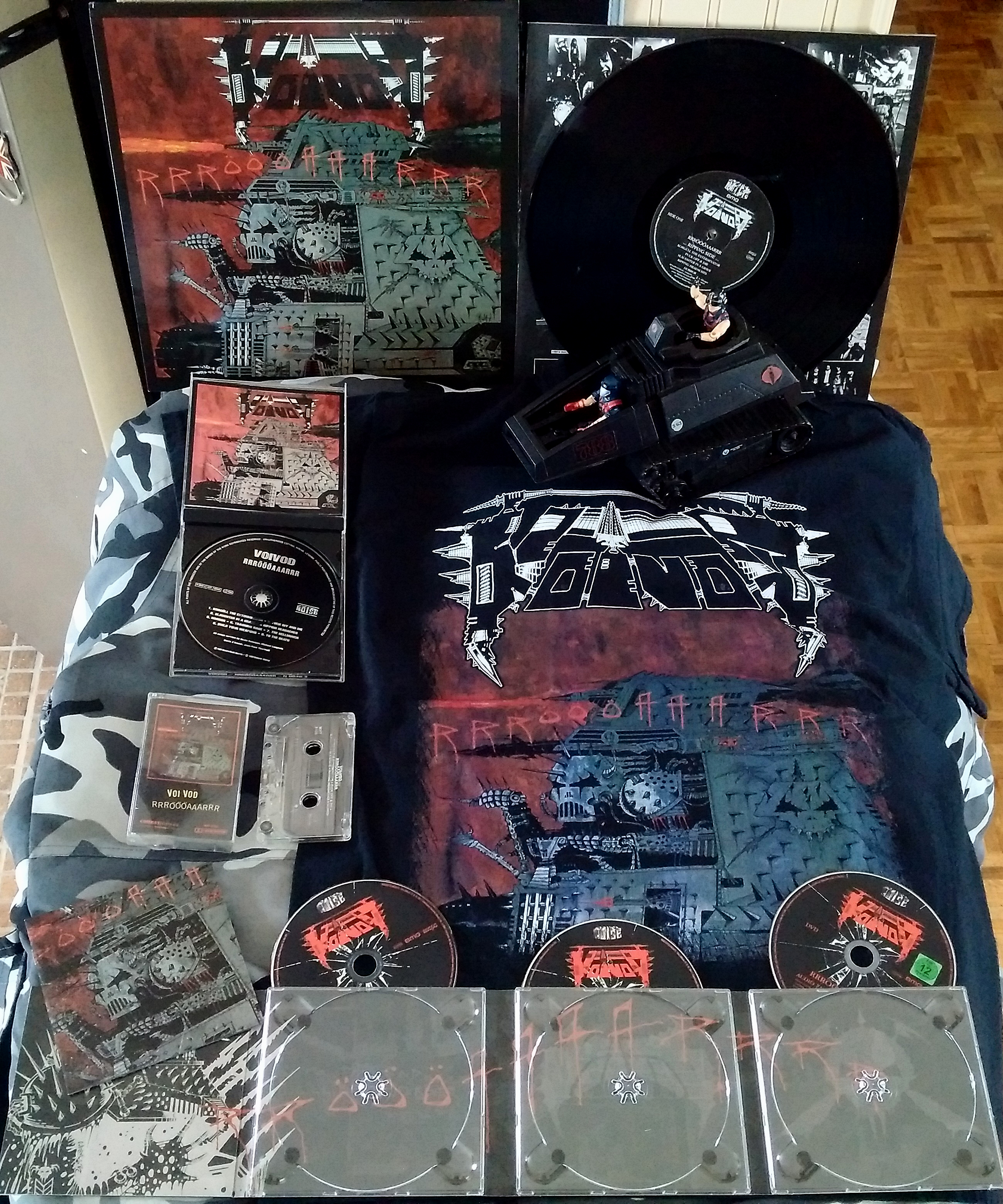 March 14, 1986 - 2021: 35 years of: Rrröööaaarrr.

Make way for the Jonquiere steamroller.

1986, one of the most violent era in heavymetal's illustrious history. Barely out of the drawing-board, thrashmetal was sweeping the underground and rapidly had to make way for speedmetal. CELTIC FROST, EXODUS, NUCLEAR ASSAULT and from way up north, from the deepest part of Canada, from the town that hosted the biggest aluminum manufactories worldwide, arises the iron gang of VOÏVOD.

Freshly signed to prominent German label Noise Records, this second installment of aural brutality would become a corner-stone not only for Canadian-metal, but for the speedmetal movement as a whole.

Running at you at 666MPH is "Korgüll The Exterminator", an ugly and smelly oiled-up machiavellian metal-machine. Built to destroy, this device is the perfect antidote to the current hardrock buzz from the black City Of Angels.

Mosh like a maniac on the bombastic "Thrashing Rage" and get a full toxic migraine from the fast and furious "Ripping Headaches". The nuclear explosion that is the "Helldriver" is a another friendly reminder that this devastating material is not to be taken light heartily.

Now as a G.I.Joe fan from the early-80s, hearing the scrap yard tank-intro of "Korgüll" made me instantly think of the evil Cobra H.I.S.S ...how can this go wrong ?

Chaotic to some, lovable to most, the raspy and raw metal included within solidified Canada as a deadly war-zone to be reckoned with, along other demented bastards: SACRIFICE, RAZOR and the soon to become none shall defy royalty of INFERNÄL MÄJESTY. Not condemned to the gallows, our World War III survivors would bloom into a full legacy of beautiful brutality, continuing with 1987's cutting edge Killing Technology LP

Fuck off and thrash !

*
Ripping Headaches = video
https://www.youtube.com/watch?v=7D2uyJI-D2s
Rrröööaaarrr = full LP
https://www.youtube.com/watch?v=gtK4T7sjda4&list=PLqytfNFx9GhxiKBJ-PFPl4GJqwgDcxzKQ
Interview avec Géo en 1986
https://www.youtube.com/watch?v=oPlsrM94OH4
Live in Long Beach in 1986
https://www.youtube.com/watch?v=o9REQzprxhM





Le summum du heavymetal, made in Québec !

Né à Jonquière, le droïde-destructeur qu'est VOÏVOD régurgite du heavymetal depuis 1984. Leur premier long-jeux War And Pain ne passe pas inaperçu malgré leur adresse Québécoise, mais ç'est avec leur 2ième contrat de disque sur l'étiquette Allemande Noise Records que la réelle aventure commence.

Rrrröööaaarrr de 1986 est une explosion métallique des plus brutale, tellement que les autres métalleux-extreme de l'époque, les SLAYER, CELTIC FROST et EXODUS, sentent tous la soupe chaude et accueille VOÏVOD à bras ouvert dans leur club. La technicité augmente avec Dimension Hatröss de 1988, un mix entre le thrashmetal-furieux et l'avancement technologique disponible à ce point.

1988-89 sont des années-pivot dans le mouvement thrashmetal, alors que plusieurs groupes aiguise leur guitares et optent pour une sonorité plus mature et une créativité accrue, en voici quelques exemples: KREATOR avec Extreme Aggresion, SLAYER avec South Of Heaven, TESTAMENT avec Practice What You Preach et le And Justice For All de METALLICA.

Sortit en 1989, cette année nous célébrons 30 ans de Nothingface, le top album de VOÏVOD et aussi un des top albums heavymetal des plus musicalement avancé, au monde. Rien ne pouvait laisser croire que le groupe ralentirait ses ardeurs, ni nettoierait son image, mais le 13 Octobre 1989 ...nos attentes furent joyeusement déroutées. Nothingface est l'hybride parfait entre le thrashmetal-intelligent actuel, le progrock du passé et les saveurs metals et alternatives du futur !

Enregistré au célèbre Studio Victor avec le tout aussi célèbre Glen Robinson, la production de Nothingface est parfaite, le mix est parfait, chaque instrument isolé est soutenu d'une parfaite égalisation, la basse, la guitare, l'acoustique de la batterie et la voix ...ceci est un album parfait, c'est un chef-d'œuvre futuro-métallique !

La cage brasse avec "The Unknown Knows", une rapide qui ouvre l'abum avec un tempo-frénétique, une pièce qui satisfera les anciens fans, le tout continue avec la pièce-titre qui croît et explose sous les projecteurs comme de la lave-fumante. L'incision clinique de "X-Ray Mirror" dépèce l'ouï avec une précision digne d'une horloge-atomique, les jeux de batteries de Michel Langevin sont tout simplement i-rré-pro-chable.

Les 2 intros de basse de Jean-Yves Thériault sur "Missing Sequences" et la mélo-dramatique "Into My Hypercube" prouve qu'il fait partie d'une classe à part dans le monde des bassistes heavymetal. Un des premiers utilisateurs d'une basse 5-cordes dans la scène, une monnaie-courante maintenant suite a l'ère nümetal de la fin de la décénnie-90. "Pre-Ignition" empoisonne et enflamme sur tous les niveaux, tandis que la heavy "Inner Combustion" exploite la voix de Denis Bélanger qui rumine la rage dans un rayonnement royal. La pièce-finale, la percutante "Sub-Effect" galope et démontre le génie créatif d'une guitare-électrique lorsque sous le contrôle des mains-magique de Denis D'Amour.

L'album contient aussi la reprise de PINK FLOYD, l'universelle "Astronomy Domine". Métallisée à souhait, cette nouvelle version nous éclaire sur une passion jadis cachée du groupe: le rock-proggressif. Un vidéoclip fut filmé et se tailla, pour un certain temps, une place parmi les grands joueurs Américains du heavymetal du jour.

En spectacle, un autre utopique plateau est atteint, lorsqu'ils jouent en première partie du groupe RUSH pendant leur tournée Presto, pour les 4 dates de l'Est du Canada. RUSH et VOÏVOD: une sublime équation que personne n'aurait pu imaginer 2 années plus tôt.

La pérennité de VOÏVOD semblait coulée dans le ciment, mais malheureusement, le départ du bassiste Blacky avant la sortie de l'album-rock Angel Rat jumelé avec l'arrivé du mouvement grunge en fin-1991 et l'échec commercial de The Outer Limits de 1993 ont fait que leur étiquette de disque, le major MCA, ont abandonné le groupe dans les abîmes de l'underground.

Mais n'ayez crainte ...comme tout bon monstre, le VOÏVOD reviendra à la vie en format trio avec un nouveau chanteur/bassiste en 1995, avec un CD abrasif digne de Rrrröööaaarrr, le retour au source avec le nucléaire Negatron. Malgré que VOÏVOD possède une renommée-internationale de 35 riche années, ils n'ont jamais connu de succès commercial, mais diamétralement, ils ont toujours tracé leur propre chemin laissant la compétition loin derrière, toujours ébahie de leur abondante créativité. Nothingface demeure le joyau de cet accomplissement, made in Québec !

Vive VOÏVOD !
Bonne St-Jean !

*
Astronomy Domine - video
https://www.youtube.com/watch?v=rvVJCaQcTUY
LP
https://www.youtube.com/watch?v=nYMJSC10-QA&list=OLAK5uy_m-vDVX_YP3aMTRVOGxCaTNsCY6gAhCAOU
En studio en 1989
https://www.youtube.com/watch?v=BR5wZ-Y7j5E
Interview à Much Music en 1989
https://www.youtube.com/watch?v=-LEgyQ6XdKI
Live à Musique Plus en 1989
https://www.youtube.com/watch?v=NH8uh4_PspQ
un gars pis sa guit
https://www.youtube.com/watch?v=U3R-YJoj8-4





November 21, 1995 - 2020: 25 years of: Negatron.

...and then they were three.

After the incredible progressive exhibition of 1989's tour-de-force Nothingface LP, into the family-friendly verse-chorus-verse of 1991's Angel Rat CD ...the limbo of 1993's The Outer Limits CD did take a toll on the technology-killers.

In the post-grunge era of 1995, being a thrashmetal-band was not the flavor of the month, where to go but deep underground. From major-label to DIY-mindset, the boys were back to basics. Losing frontmen Snake, was in retrospect, a blessing. Enter Torontonian Eric Forrest on vocals and bass-guitar. And just like their childhood heroes RUSH and VENOM, this trio-formation was now set to rrröööaaarrr-mode !

It's crawling all round you, on you and eventually within you, masses of "Insects". One of the heaviest track of the decade, done by the boys that created these goods a decade ago. Loud and abrasive, this new formula is set to kill.

The tribal conviction intro of "Nanoman" is a modern take on VENOM's "In League With Satan", while the speedmetal fury of "Meteor" will trust you into oblivion. Stompers like the piledriving "Project X" and the mammoth-like title-track "Negatron" will please old-fans on cue.

The closing-track "D.N.A. (Don't No Anything)" includes a certain James George Thirlwell of underground industrial beast FOETUS, on guest-vocals.

After all is said and done, the war and pain of VOÏVOD was back. Negatron did get some respect and praise in the scene, but like any of their releases, it would take some time for the world to truely grasp the vibe and agenda of this album. It also saved the band, when serious doubts concerning their very future were at stake in late 1994.

Mechanic and menacing from head-to-toe, the new reborn VOÏVOD stuck around, released the Phobos CD in 1997 ...and eventually, the Snake came back into the fold, while the bass-duties were now handled by a certain Jason Newsted.

Enter the dimension hatröss of Negatron !

RIP Denis D'Amour (1959-2005)

*
Insect - video
https://www.youtube.com/watch?v=6zB0AnMcQZQ
Negatron - full CD
https://www.youtube.com/watch?v=1QcqBU9riA8
Interview a Solidrok en 1995
https://www.youtube.com/watch?v=JZUxzQQ6W2s
Live in Germany in 1995
https://www.youtube.com/watch?v=7OymjZDCWMI




Référence croisée Helter Skelter: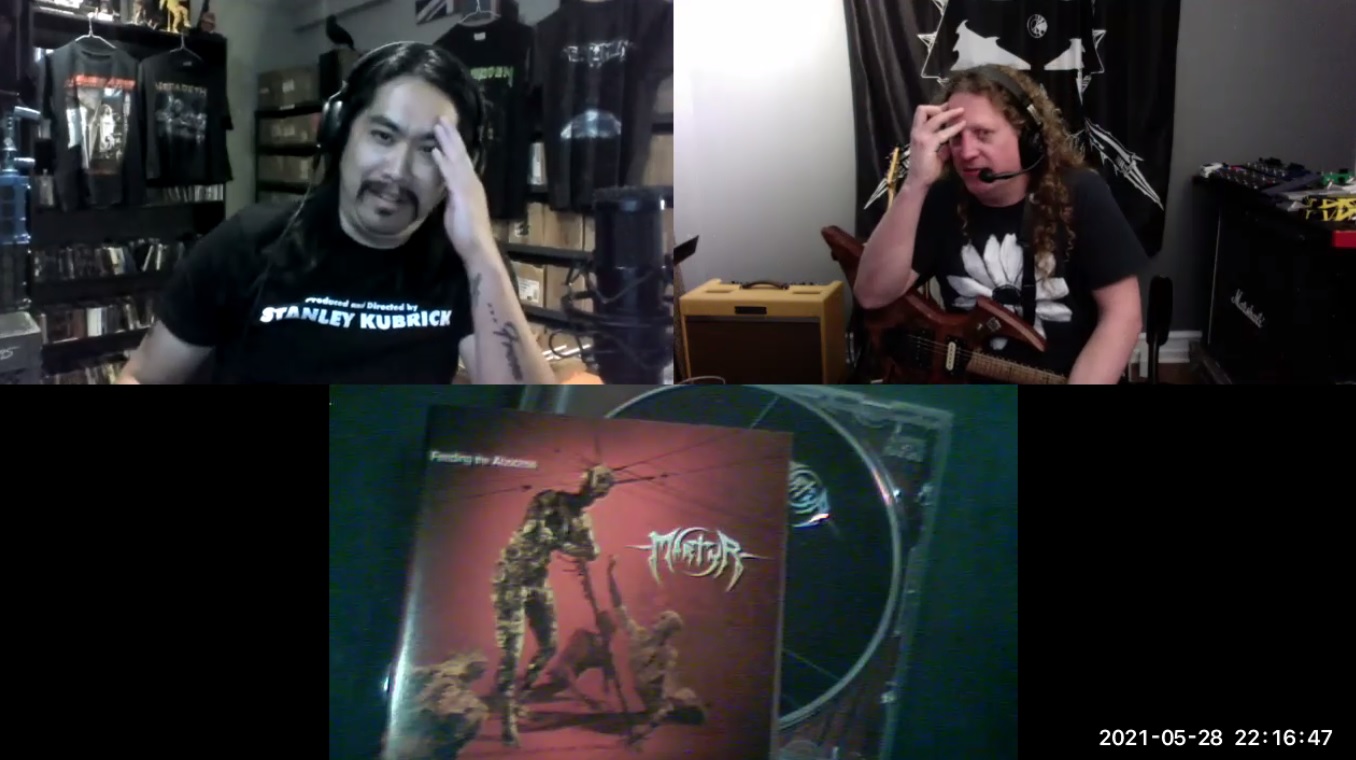 VOÏVOD
INDEX
helterskelter.ca

(c) (p) 2021 helterskelter.ca. All Rights Reserved. Tous Droits Réservés.