CELTIC FROST
1984 - Morbid Tales.
1985 - To Mega Therion.
1987 - Into The Pandemonium.
1988 - Cold Lake.
1990 - Vanity / Nemesis.
2006 - Monotheist.
way more Helter Skelter.


CELTIC FROST
Morbid Tales
1984

*
Morbid Tales = full LP
https://www.youtube.com/watch?v=DhDD00ym8jA&list=OLAK5uy_lGdSHHL025alivIJupFxQEbJg79iWslTk






October 27, 1985 - 2020: 35 years of: To Mega Therion.

HEY !

The Fathers of extrememetal brings you: Extreme-Metal. Thrashmetal, speedmetal and the seed for deathmetal and even some symphonicmetal. To Mega Therion is everything heavy under the sun.

This deadly trio is, like their close predecessor in VENOM, the ultimate statement for dark musical explorations into the macabre.

UGH !

*
Circle Of The Tyrants = video
https://www.youtube.com/watch?v=41PxFzoqULU
To Mega Therion = full LP
https://www.youtube.com/watch?v=vFT9gwocT_o&list=PLUr55OCtC9grhl_bSVaM4fFxbFpOSnJpd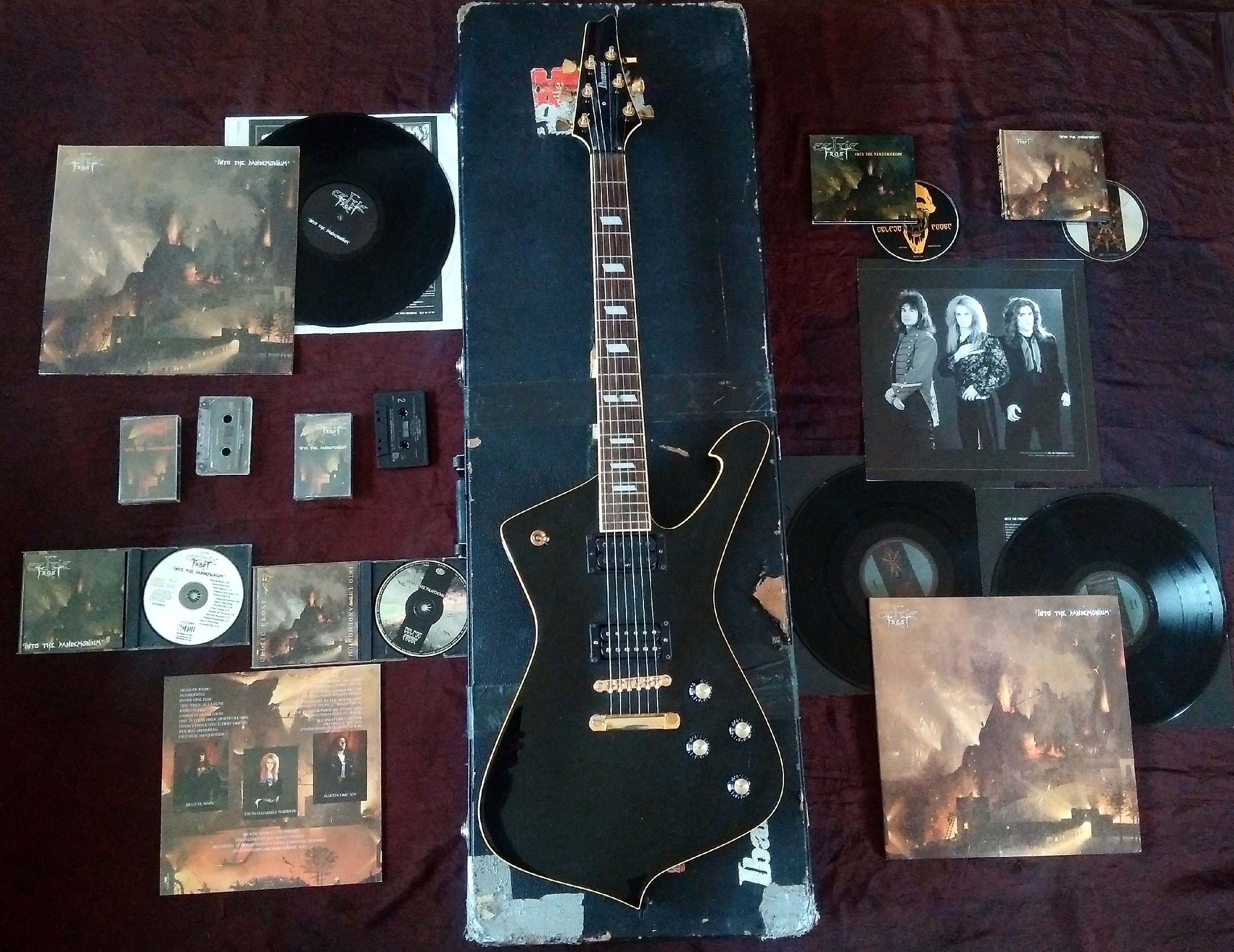 June 1, 1987 - 2022: 35 years of: Into The Pandemonium.

This won't air on any Mexican radio !

After the WW3 conquer of the infecting 1984 Morbid Tales LP and the genre-defining 1985 To Mega Therion LP, it was time to shuffle the cards. Welcome back the Lord Of Darkness: Martin Eric Ain.

From speedmetal to goth-thrash, the tragic serenades of CELTIC FROST have always been on top of the extreme-metal food-chain. And now, an epic 90° shapeshift is at our doorstep ...before the other latter 90° shapeshift.

The simple power-chord thrash of "Mesmerized" is a fine cut, followed by the faster pace of the dark "Inner Sanctum" where Tom G. Warrior kindly reminds us that he is the inventor of the infamous: "Ugh!". The mid-tempo "Caress Into Oblivion (Jade Serpent II)" featuring tambourines is a melodramatic adventure, that sets the mood for the inevitable "Tristesse De La Lune". A full blown brass-horns and cello 3:00sec opus with female vocals sung in French. Non-metal, this is a classical segment, written by misanthropic headbangers.

But the exploration doesn't stop here.

The highly audacious "Rex Irae (Requiem)" is a stellar epicmetal / classical masterpiece. Doomy metal with orchestrated backups and more female vocals chants for that extra eerie mood. Horror-metal or avantgarde-metal, FROST are now in a league of their own. The symphony ends with a 1:15sec Wagner-influenced divinity in "Oriental Masquerade".

But no the exploration doesn't stop here.

While most of this material so far is too much to swallow for the casual metalheads, this next cut will send all veterans running out for their beloved HELLHAMMER demos. At that point in time, in the frenetic 1987-era, where speedmetal and hardrock where the benchmarks to reckon with, none of them had released a disco-track, yet. The electro piece "One In Their Pride (Porthole Mix)" is a drum-n-bass industrial cut, before industrial was industrial. No guitars, no vocal-lines, just a montage of actual samples from NASA radio-transmissions, leads this intricate soundtrack.

Tour-de-force, as there is only one CELTIC FROST.
Tour-de-force, as there is only one Into The Pandemonium LP.

While the now current popular symphonicmetal branch is strong and viable, nothing in 1987 could've prepared the scene for this pandemonium, and still 35 years later, nothing could be such far far far left-field as the visionary Into The Pandemonium LP.

Confortable on their jewel throne, in a twist of fate, their next step would become one of hardrock's / heavymetal's most infamous miss-step in recorded history: 1988's Sunset Strip glamrock hairsprayed Cold Lake LP.

*
Into The Pandemonium = full LP
https://www.youtube.com/watch?v=rKvPgw1ZH5U&list=PLUr55OCtC9go_UoZdZY4I5but_5ZvQySv
Interview with Tom in 1986
https://www.youtube.com/watch?v=eUB5jCI_0HQ
Interview with Martin and Reed in 1987
https://www.youtube.com/watch?v=0CTChfjFYAg
Live in Detroit in 1987
https://www.youtube.com/watch?v=QI5FAqZ6q8I
The full cover painting: The Garden Of Earthly Delights
https://upload.wikimedia.org/wikipedia/commons/9/96/The_Garden_of_earthly_delights.jpg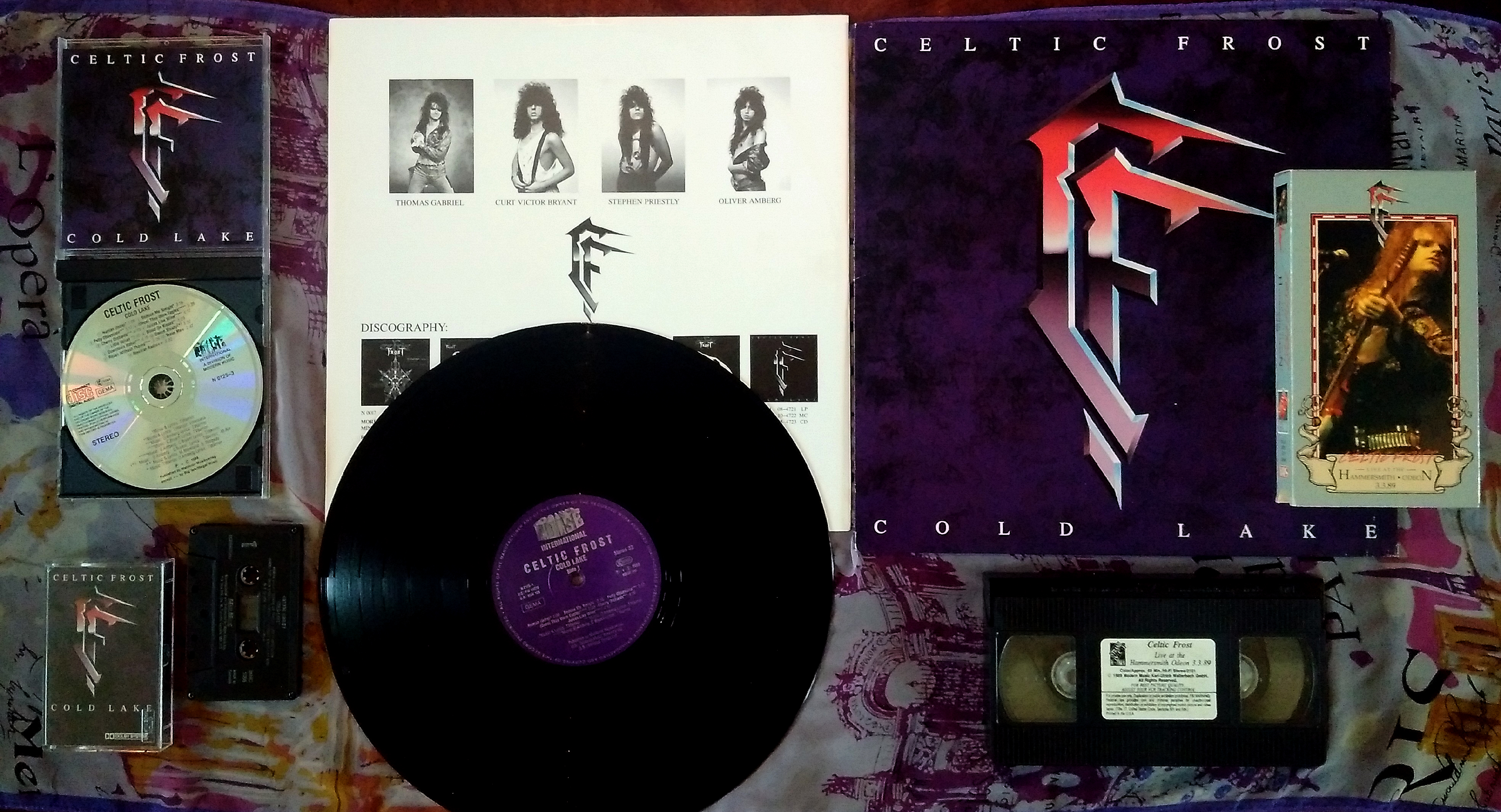 September 1, 1988 - 2023: 35 years of: Cold Lake.

Dark progressive thrashmetal, out the door ! ...this is now a West-Hollywood band.

Following a string of speedmetal killings and 1987's futuristic metal tour-de-force Into The Pandemonium LP, a vision of mortality would make them take an artistically abrupt 90º turn into the ...pandemonium of glamrock !

1988, the epitome for hardrock with cock-rock attitude and unimaginably CELTIC FROST were now dancing on Sunset Strip. Look what the cat dragged in...

The cool sleaze intro of "Seduce Me Tonight" features a lukewarm "Ugh", but also a none so convincing "Check this out" from Warrior, it's all downhill from there on. The title alone should make headbangers tremble in pain and ...make young ladies take notice. More lite-hardrock dazzles on "Juices Like Wine" and the late-night horny pickup of "Little Velvet". From jewel throne to jewelry, the rocknroll circus goes on with arena-rockers "Blood On Kisses" and the sensitive riff-o-rama of "Roses Without Thorns". The cheese-factor is strong here.

Embracing the video-format, the single for "Cherry Orchards" now shows the world this new colorful celtic adventure. All smiles and party-rockin', the track is now synonymous with this twisted era, from a band that was either under the power of it's record-label ...or simply just wanted to completely break-away from it's morbid past. It's all open to interpretation, but make no mistake about it, these songs are written and fully performed by this motley crew with all of their fluffy hair and suggestive mid-80s androgynous attire.

Development ...or disgrace ?
It all depends on your roots.

A thrashmetal fan wouldn't normally accept hardrock in their diet and diametrically, a hardrock fan wouldn't naturally be perceptive to thrashmetal. But the case here is were do YOU stand on CELTIC FROST's timeline. If Cold Lake is your first listen, then all is good and judge the material for what it is. On the other hand, if you're a HELLHAMMER veteran, then this new exposé shouldn't last long on your turn-table. From sold-out to silly, this event broke CELTIC FROST's perfect thrash-legacy and to this day remains a thorns in their side. Rapidly and sadly for mainman Thomas Gabriel, the global consent is as follow: in heavymetal's history, Cold Lake is the apex of mockery.

Touring and teasing the MTV hardrock-crowd, this version of FROST would disintegrate and rebrand itself into more familiar territory. Their strong modern-metal comeback would arise in 1990, a reincarnation featuring returning usurper Martin Eric Ain on bass-guitar: Vanity / Nemesis CD ...but it was too late, the damage was irreparable and the game had already changed ...and would change again in Summer 1991.

"It's probably the worst album ever created in heavy music." - Tom G. Warrior in 2010.

*
Cherry Orchards = video
https://www.youtube.com/watch?v=RN8N_5vQUpc
Cold Lake = full LP
https://www.youtube.com/watch?v=GlWnF-1-PNQ&list=PLUr55OCtC9gq0_ReJ7h54mtfDHwl5y9nb
MTV interview in 1989
https://www.youtube.com/watch?v=hCtBdoE6Qjs
Live at Hammersmith in 1989
https://www.youtube.com/watch?v=9bul5LSBkeE






April 11, 1990 - 2020: 30 years of: Vanity / Nemesis.

A fully modernized FROST. The only band in history that not only created thrashmetal, but pushed speedmetal, spearheaded avantgardemetal and even tried the hardrock format, were now ready for a new challenge. Yet this new decade had a very different flair.

Vanity / Nemesis crawls back into the thrashmetal realm with that everlasting dark cloud overhead that has kept the Swiss-machine and underground cult favorite since 1984. Bare-bones heavy heavy heavy heavymetal, Vanity / Nemesis plays safe and comforts with eerie melodies and massive E-string rhythms.

This would be the band's final offering before the grandiose return with 2006's monolithic masterpiece: Monotheist ...FOREVER FROST !!!

*
Wine In My Hand (Third From The Sun) = video
https://www.youtube.com/watch?v=avTaTXL58EM
vanity / Nemesis = full CD
https://www.youtube.com/watch?v=lqMx3h_zKyg&list=PL060B08F74EC77C4B






CELTIC FROST
Monotheist
2006

RIP Martin Eric Ain (1967-2017)

*
A Dying God Coming Into Human Flesh = video
https://www.youtube.com/watch?v=dW6RXTjm4iA
Monotheist = full CD
https://www.youtube.com/watch?v=_SHq-da0vYY&list=PLUr55OCtC9goP1nSkyb9UOCVtdx5mCJ5-




INDEX
helterskelter.ca
(c) (p) 2017-2023 helterskelter.ca. All Rights Reserved. Tous Droits Réservés.