DIMMU BORGIR
1997 - Enthrone Darkness Triumphant.
1999 - Spiritual Black Dimensions.
more DIMMU BORGIR.
way more Helter Skelter.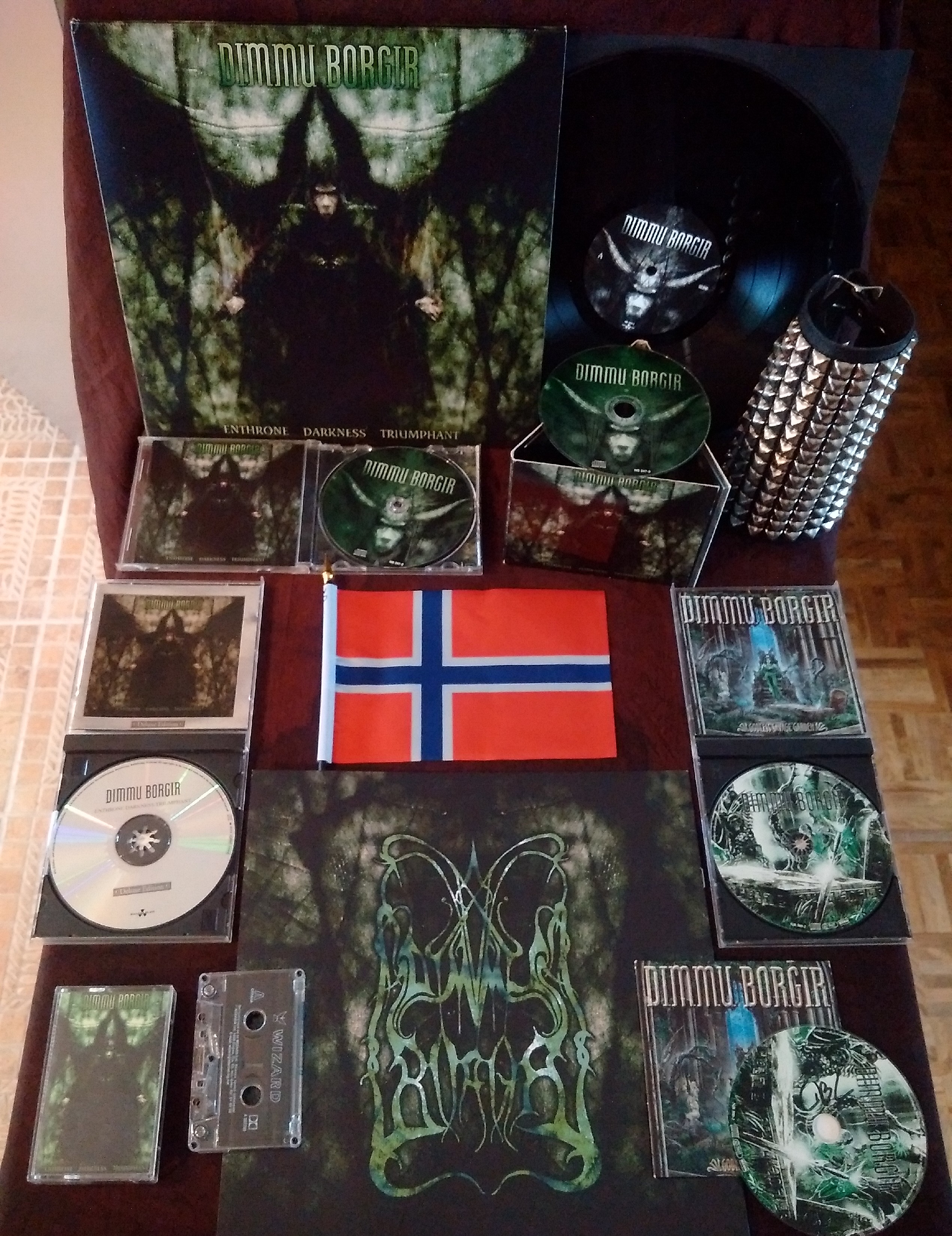 May 30, 1997 - 2022: 25 years of: Enthrone Darkness Triumphant.

The gateway for blackmetal's new millennium.

From the not too far boroughs of Oslo, a dark castle stands tall. It's inhabitants, Norway's now superstar blackmetallers DIMMU BORGIR. Following their 1995 For All Tid and '96 Stormblåst CD, its was now time to step to the next level: the main-stage. This 2.0 version now includes a worldwide Nuclear Blast Records deal and the controversial and highly creative multi-instrument / singer Nagash, leader of the all-star super project COVENANT / THE KOVENANT.

The intro and opening-cut of "Mourning Palace" ablaze on cue with it's ultra modern-tones and heavy mid-paced moody riffing. Keyboards also opens the following track, the thrashy "Spellbound (By The Devil)" ...and just like that, DIMMU BORGIR have spear-headed a new late-90s signature vibe.

More beautiful murderous melodies appear on "Relinquishment Of Spirit And Flesh", the sick blast of "Tormentor Of Christian Souls" and the deadly delightful dramatic endings of "A Succubus In Rapture".

With HYPOCRISY's Peter Tägtgren at the production-control, Enthrone Darkness Triumphant is the Stonehenge fortress for this new upcoming era in blackmetal sorcery. Leaders of the Second Wave, or Third Wave depending on who you ask, a new epoch in heavymetal's time-line where DIMMU BORGIR's morbid art and sound would be the template for other acts to follow, around the globe.

1998's Godless Savage Garden MCD kept the formula intact, preparing for the ultimate take-over: 1999's trend-pushing symphonic blackness, the Spiritual Black Dimensions monument.

*
Mourning Palace = video
https://www.youtube.com/watch?v=7vcTRWE2_u8
Enthrone Darkness Triumphant = full CD
https://www.youtube.com/watch?v=U9pLV9kG3-s&list=OLAK5uy_nzZinZwxNo6wnB1q9m9HIhBdOZO6kiJP8
Interview in 1997
https://www.youtube.com/watch?v=ngu7uv7k_ao
Live in Germany in 1997
https://www.youtube.com/watch?v=MuYaQLQJ1gQ
some band
https://www.youtube.com/watch?v=6Cm_JqMH8po
some girl
https://www.youtube.com/watch?v=dLFaM0_q9_Q





Darkness will always rule !!!

Just before the turn of the millennium, the Third Wave of blackmetal bands from the 1996-99 era was led by Norway's DIMMU BORGIR. Other runners in this dark race included DARK FUNERAL, MARDUK and the fashionable CRADLE OF FILTH. Yet some of them were finally breaking away from the crust, the grime and the straight-up shitty production of the genre's early recordings, acts such has EMPEROR, SATYRICON, IMMORTAL and the aforementioned DIMMU BORGIR wanted a bigger piece of the pie, left vacant from the deathmetal drought of the mid-90s.

Still hot from the success of 1997's Enthrone Darkness Triumphant CD, 1999's Spiritual Black Dimensions is a major step-up: a trendsetting blackmetal offering, filled with classical overtone and plenty of aggression to match. Although, Spiritual Black's pristine production, courtesy of scene-savior Peter Tägtgren, was criticized for been too polished, too clean, too "white" ...diametrically, this openness gave room for the darkness to shine throughout this grandiose 54min opus.

"Reptile" breaks The Gates Of Hell wide open into the hellish oblivion that is the spiritual black dimensions, the opening track that features new-comer Vortex's majestic clean-vocals, an asset that brought the band to new heights. The dream continues on "Dreamside Dominions" while "The Promised Future Aeons" drives into high gear with the keyboard rhythms and some impressive lead-guitar works.

The intensity intensifies in every department on "The Blazing Monoliths Of Defiance" a wicked heavy-pounding number. At that point in time, the term epic-blackmetal had not yet been labeled but is clearly displayed on "The Insight And The Catharsis" where the piano elevates this fast-paced Armageddon into a powerful symphonic spine-chillin' blackmetal monolith.

Thru time, DIMMU BORGIR would go on to conquer more territories with their subsequent releases. Simultaneously the Norwegian steam-roller also managed to become a breeding-ground for some of BM's biggest artists: Nagash, Snowy Shaw, Galder, Nick Barker and Hellhammer. Still today, the 1996-99 era is a sweet-spot for most of the key-players in this genre and DIMMU's 4th CD is one that left no stones unturned.

*
Arcane Liveforce Mysteria = video
https://www.youtube.com/watch?v=u6dkGX6O9cA
Spiritual Black Dimensions = full CD
https://www.youtube.com/watch?v=1AvepWnWR7U&list=OLAK5uy_lS31PLhI8aZrbLufB6jPsVEpxn4fRdv0I
Live in New Jersey in 1999
https://www.youtube.com/watch?v= iAwje3HmyIE
some girl
https://www.youtube.com/watch?v=H7hMfX6fQkc



more DIMMU BORGIR: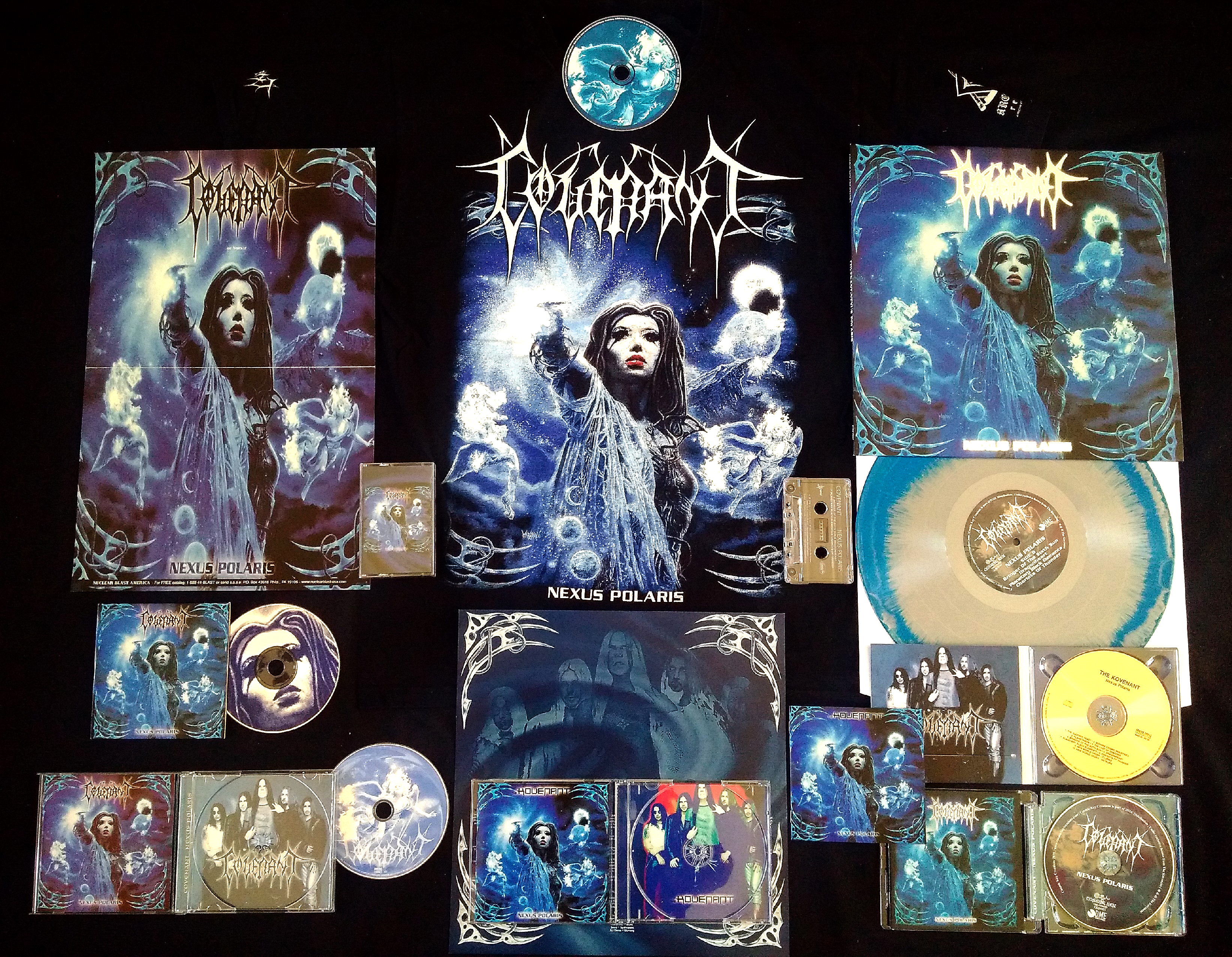 THE KOVENANT
INDEX
helterskelter.ca
(c) (p) 2017-2023 helterskelter.ca. All Rights Reserved. Tous Droits Réservés.