EXTREME
more EXTREME.
way more Helter Skelter.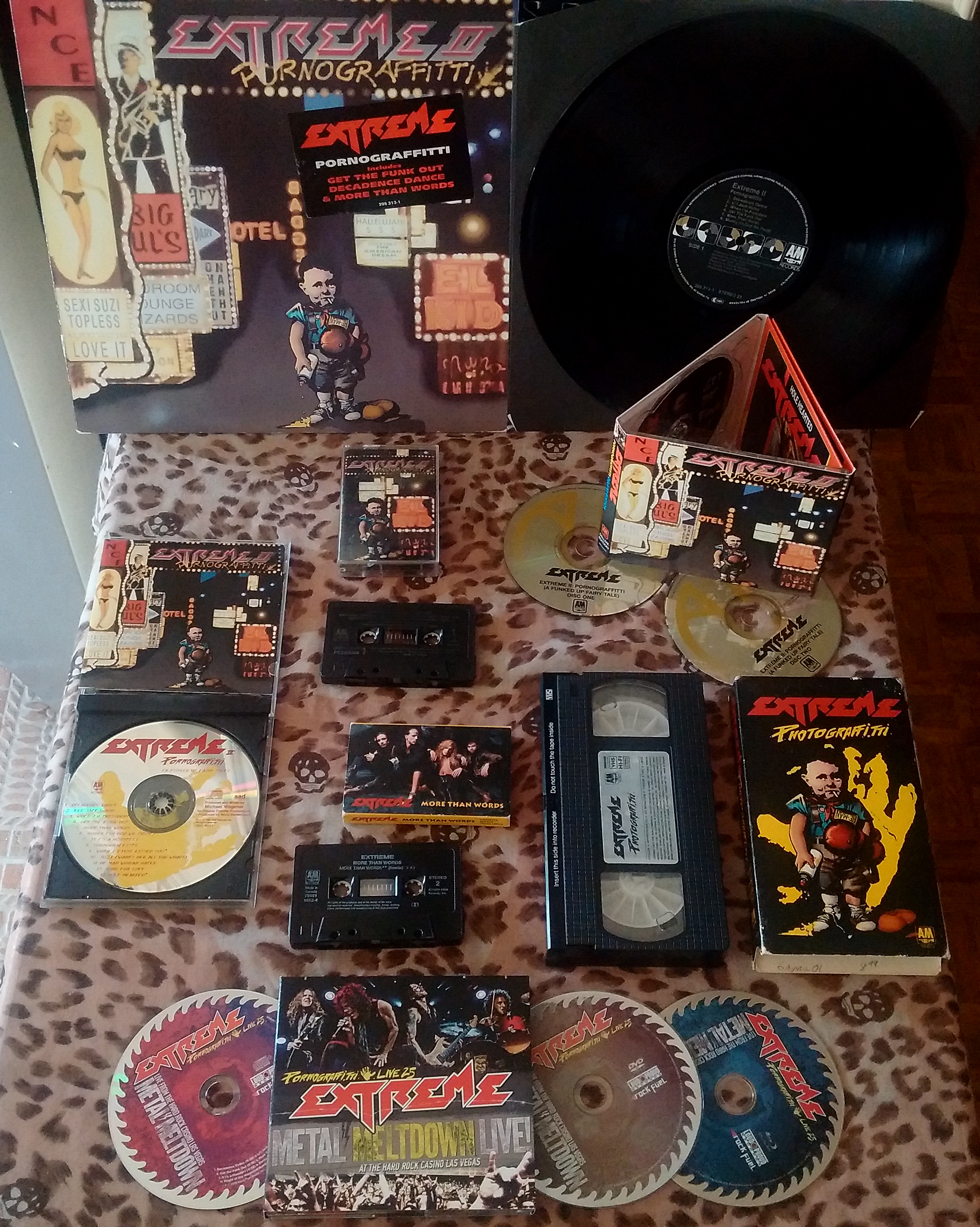 August 7, 1990 - 2020: 30 years of: Pornograffitti.

Not bad, for some pasty-faced white boys !

Boston's bold bandit bohemian bad-asses are back for another bombastic bare-bones brawl. After the well received 1989 explosive self-titled debut LP, the boys were now aiming for the Big One. Recorded by studio-genius Michael Wagener for A&M Records, 1990's Pornograffiti CD is one of the last shelf-topper of this generation. High-gain guitars, rumbling low-end bass, headroom-filled drums and arena-rock sing-along vocals ...this win-win package has it all.

One of the last "shredder's band" to kick major grade-A asses. Not a glam-band, but a solid hardrock-band with quality musicians and memorable-melodies to match. EXTREME is a full talented band, even if the media-attention is all eyes on guitarist extraordinaire Nuno Bettencourt.

Kick ass with the immediate hit "Decadence Dance", driven by a dirty lick and Gary Cherone's high-stretch vocals, it's all fun 'n games from this point on. The dirty video was obviously censored, but nevertheless, let the boys push this one into new extremes. Shades of heavymetal are present on the heavy "Li'l Jack Horny" and the take-no-prisoner "Money (In God We Trust)" while the riff-o-rama title-track takes the cake for reaching very high on the Richter Scale. Sex left, sex right, sex on the TV, sex on the telephone, "Pornograffiti" is a snapshot of what was out there in 1990, now 30 years later it is so desensitized, being boring is viewed as being deviant !

Nuno the born virtuoso exhibits his finger's flexibility and elite guitar-knowledge on his rock-version of Nikolai Rimsky-Korsakov's beyond-epic composition "Flight Of The Bumblebee" and brings us home with more crunch hardrock on the sing-along "He-Man Woman Hater". Full acoustic ballads were not the norm in the rocknroll halls, but did find a warm niche in the 1988-89-90 era, with mega-hits like "Every Rose Has It's Thorn" and "Patience". Now "More Than Words" is more then a one-hit-wonder, it is THE one-hit-wonder that closes the book on the 80s decade. Close your eyes, let yourself go and remember that less is more.

And now, one of the grooviest hardrock cut of this era is right here, right now, like it or not and "Get The Funk Out". Remember during the mid-80s, censorship in America was under attack full 360° and to make a statement, EXTREME pushed just a little bit south. Shout it out loud and listen to it, I'm pretty sure the F-word is on the final mix would you agree ?

EXTREME along SLAUGHTER, RATT, FIREHOUSE and the reborn STRYPER, were all part of the glorious Class Of 1990, the last wave of hardrock bands that featured state-of-the-art loud-rock, the last-call before the party faded-out and abruptly ended in September 1991.

Sex sells and Pornograffiti did sell, RIAA-certified 2x Platinum and secured EXTREME as a real genuine hardrock band in the history-books. We also all have to admit that the kinky portmanteau word Pornograffitti is one clever trick. However, the band is principally remembered for three things: "More Than Word", Mr. Bettencourt's six-string prowess and for Mr. Cherone's brief apparition as the third singer for the big ones, the great ones, the holy ones: VAN HALEN in 1998

If you don't like what you see here, get the fu_k out !

*
Decadence Dance = video
https://www.youtube.com/watch?v=OoKJpcROgJk
Get The Funk Out = video
https://www.youtube.com/watch?v=IqP76XWHQI0
More Than Words = video
https://www.youtube.com/watch?v=UrIiLvg58SY
Pornograffiti = full CD
https://www.youtube.com/watch?v=Q0kePKUfq4M&list=PL8Lpw39GxwbN_jTuB5RH8nGn3-sHpZVrK
Nuno guitar-clinic in 1991
https://www.youtube.com/watch?v=6nitRM-e7mo
Interview and live in 1991
https://www.youtube.com/watch?v=bpELj51jsbE
Live at the Freddie Mercury tribute in 1992
https://www.youtube.com/watch?v=CiudFj8YJks
More Than Words by Jimmy Fallon and Jack Black in 2015
https://www.youtube.com/watch?v=1ISYT6EeUM0
Pornograffiti Live 25
https://www.youtube.com/watch?v=DMva40jEuxA&list=PLZbHXlvhNWte1FQc82XoTdmqcfmFOCvSC
Some guy
https://www.youtube.com/watch?v=inFCw9Gd7Ws




more EXTREME: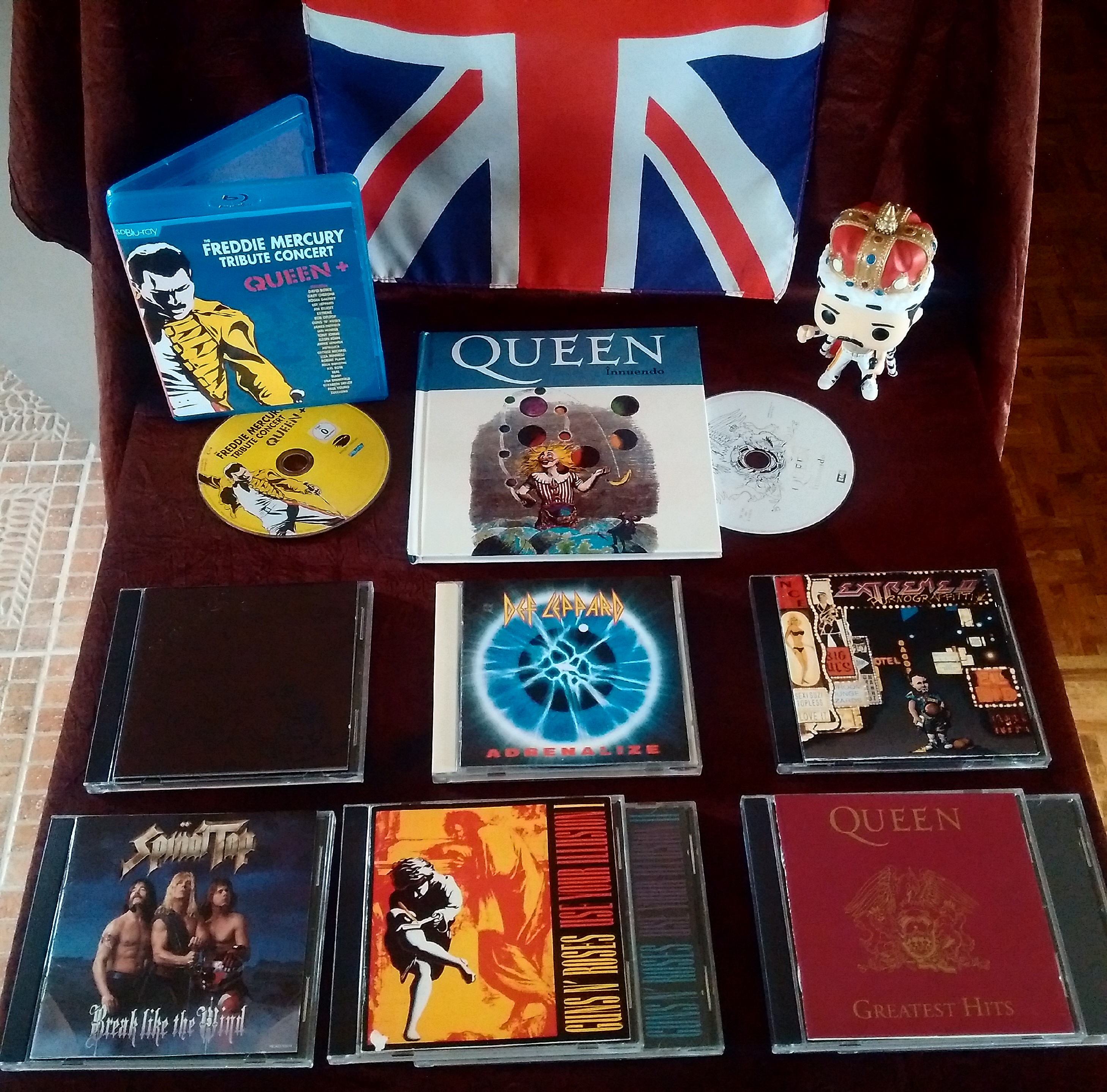 Freddie Mercury Tribute
INDEX
helterskelter.ca
(c) (p) 2017-2022 helterskelter.ca. All Rights Reserved. Tous Droits Réservés.