GUNS N' ROSES
1987 - Appetite For Destruction.
1988 - Lies.
1991 - Use Your Illusion I + Use Your Illusion II.
more GUNS N' ROSES.
way more Helter Skelter.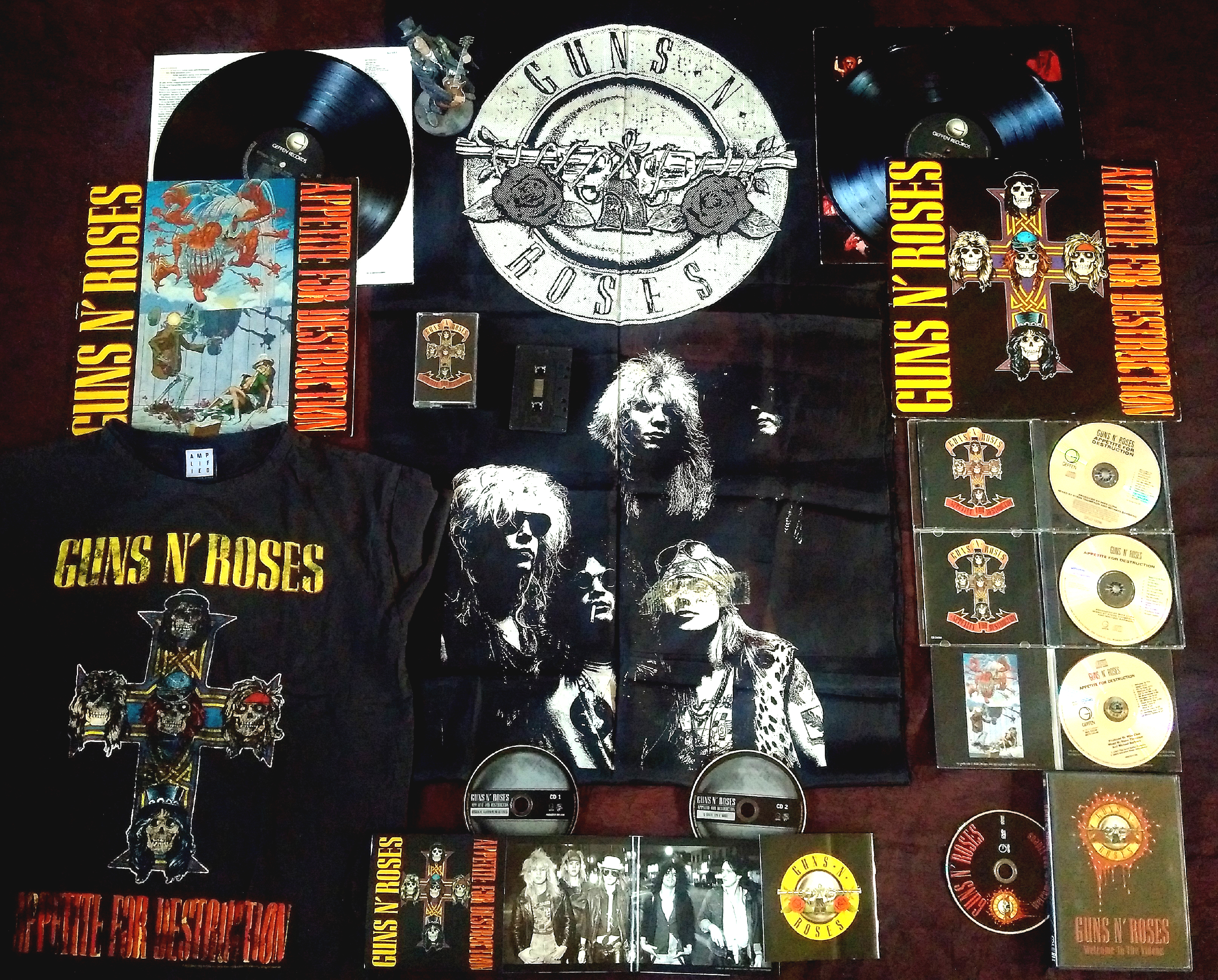 July 21, 1987 - 2022: 35 years of: Appetite For Destruction.

Hardrock's crowning masterpiece.

Sunset Strip got it's ass seriously kicked, Clockwork Orange-style. Now comfortable, deep within the Second Wave of glam-rockers of the mid-80s, some sons of bitches were about to change the fuckin' game. Smelly, cocky and über bad-ass, these hoodlums are from the AEROSMITH dirty school of rock, not the glamorous NEW-YORK DOLLS's type. Torned jeans, leather jackets, snake-skin boots, bandana, top-hat and the lizard-dance: this is the new-school, this is blunt attitude and this is relentless hard-hitting rocknroll ...and they are about to become the world's biggest band.

The golden epitome of hard-rocknroll: MÖTLEY CRÜE's Girls Girls Girls, WHITESNAKE's 1987, ALICE COOPER's Raise Your Fist And Yell, DEF LEPPARD's Hysteria, KISS's Crazy Nights, THE CULT's Electric and AEROSMITH's Permanent Vacation.

The year is 1987 and this new band is: GUNS N' ROSES ! ...the unique volatile union of:
Axl Rose - vocals
Steven Adler - drums
Slash - lead guitar
Izzy Stradlin - rhythm guitar
Duff McKagan - bass guitar

"Oh my God !"

The opening-cut, "Welcome To The Jungle" is the gasoline, spark and matching molotov-cocktail that not only spearheaded the LP and the band, but also gave hardrock a new meaning. Raw and obnoxious, within seconds the slums becomes the stage and GNR becomes the hosts of this hardcore party. Power and blood is given on "It's So Easy, the law-breakin' "Out Ta Get Me" and the rebellious speed-freak of "You're Crazy".

The heavy fix of "Mr. Brownstone" is one shot no one's ever about to forget, while the highly ravaging "Nightrain" pushes the badassery to eleven. Extra kinkiness is exxxposed on the album's closer "Rocket Queen" featuring a horny groupie doing the deeds with Axl. Let's hope you're ain't easily offended 'coz fuck the P.M.R.C. !

The FM immortal powerballad "Sweet Child O' Mine" has become an MTV-favorite, essential 80s and synonymous with L.A. hardrock, while the gigantic metalized blood-pumping "Paradise City" is the anthem of anthems with the coolest chorus ever. GUNS N' ROSES were now on top of the hardrock food-chain.

In an instant, we the audience know that this gang ain't the product of a cookie-cutter record-label custom made act. They're the real deal, filled with low-life backgrounds and sky-high sex, drugs and rocknroll dreams. Jack-knives and Jack Daniels, these bums brought a punk vibe to the over glamorous mid-80s West-Hollywood. It was now dangerous to go out at night. In a short-line of hailed rebel-rockers from California, three historic institutions stands in line: 1978's VAN HALEN, 1983's MÖTLEY CRÜE and it was now GNR-time.

The iconic Appetite For Destruction magnum-opus LP has rapidly become Ground Zero for extreme attitude hardrock. Currently RIAA-certified Diamond, the mind-blowing 18x Platinum plateau, no one could've envisioned passing the million-mark back in '87. GNR's sounds and shenanigans gave rocknroll a well deserved ass-kicking, in an era where hardrock were filling arenas and thrashmetal was the heaviest music under the sun.

To add more fuel to the fire, Geffen Records would release 1988's Lies LP. A montage featuring half-live and half-acoustic songs. The upcoming 1991's Chart-bending Use Your Illusion I CD and Use Your Illusion II CD duo-supernova would again break the bank ...and eventually break the band.

"I see ya standin' there, you think you're so cool, why don't you just: FUCK OFF !!!"

*
Welcome To The Jungle = video
https://www.youtube.com/watch?v=o1tj2zJ2Wvg
Sweet Child O' Mine = video
https://www.youtube.com/watch?v=HlEuo9aR7Qo
Paradise City = video
https://www.youtube.com/watch?v=Rbm6GXllBiw
Appetite For Destruction = full LP
https://www.youtube.com/watch?v=0CNPR2qNzxk&list=OLAK5uy_kYJ1rvKQ7y9BE0bahsT-8ru9EhB7s7Byc
Interview in 1988
https://www.youtube.com/watch?v=MQMi7fx55J0
Live in New-York in 1988
https://www.youtube.com/watch?v=kEaDly4DIOI






November 30, 1988 - 2023: 35 years of: Lies.

Now they were the hottest band in the world.

Destroying glamrock, burning the Charts and ruling the Strip ...GUNS 'N ROSES have the appetite for destruction. Fully capitalizing on the current hot Californian hardrock tidalwave, the gunners displays a different side to their rocknroll domination.

A-Side:
1986's independent Live ?!*@ Like A Suicide EP finally gets a worldwide release. The 14min fake-concert carnage shows that GNR is hungry for rock. The hip shakin' and bottle crashin' takes a stand on both ROSE TATTOO and AEROSMITH reprises.

B-Side:
Turning the amps off and slowing down, the lovely MTV-hit "Patience" rapidly became a companion to 1987's "Sweet Child O' Mine". Fully acoustic with a bohemian vibe, the four-songs are a different view on the usual expected chaos. The new version of "You're Crazy" is another twist in this hellraising story, while the controversy of "One In A Million" is a song that still today cannot receive proper airplay. This one sent the P.M.R.C. into overdrive.

A reckless life, yet RIAA-certified 5x Platinum, the boys could do no wrong. On top of the world, the party would get even bigger and wilder. The band would present September 1991's double tour-de-force Use Your Illusion I & II extravaganza.

*
Patience = video
https://www.youtube.com/watch?v=ErvgV4P6Fzc
Lies = full LP
https://www.youtube.com/watch?v=G4CfGsBz9aY&list=OLAK5uy_klUCaUP3m1Rg7pcY8wTYxcjPlxQ40FIjw
Interview in Japan in 1989
https://www.youtube.com/watch?v=R0B2qrIhPEI
MTV Awards live in 1989
https://www.youtube.com/watch?v=-p-13BHtfHA






September 17, 1991 - 2021: 30 years of: Use Your Illusion I + Use Your Illusion II.

Hardrock's last massive footprint.

Still under the haze of 1987's all-killers no-fillers extravaganza Appetite For Destruction LP, the wild West-Hollywood bad boys were about to make the jump into mainstream rock-stardom. Some lineup changes: out original drummer Steven Adler, in Matt Sorum from THE CULT and in keyboardist Dizzy Reed ...yet behind the desk, the magic of Mike Clink remains. Eventually GNR co-creator Izzy Stradlin would leave later on tour, his spot would be filled by Gilby Clarke.

Hard act to follow: Multi Platinum-sellers, street-fighters, riot-starters and trend-survivors ...they are one in a million: GUNS N' ROSES doesn't play rocknroll - rocknroll plays GUNS N' ROSES ...get in the ring !!!

Illusion I.
The bloody bold opener mutherfokkin' "Right Next Door To Hell" is the gateway into rocknroll-Armageddon ...a fast-cut for the moshpit aficionados. More clinched fists are flying on "Perfect Crime", the louder "Back Off Bitch" and the 2:42sec NYHC-burst of "Garden Of Eden".

Rhythm 'n blues is present on "Bad Obsession" and actual blues makes a welcomed appearance on the earthy "You Ain't The First" and "Dust N' Bones". The audacious QUEEN-like "November Rain" powerballad is a now arenarock staple. A posh 8:57sec epic piano-led trip into rocknroll, while the beefed-up 1973 WINGS reprise "Live And Let Die" is another worthy bonus.

Illusion II.
The cold and calculated "Civil War" sets the mood into a dark and somber mid-tempo heavyrock cut. Diametrically, the lighter rockers "Yesterday" and "Breakdown" resets the pace, while the high-grade name-dropping, fuck-givin' and teeth-knockin' "Get In The Ring" is were Axl sets the record straight with some media-rats.

All-time classic Bob Dylan "Knockin' On Heaven's Door" gets Sunset Stripped. A fine reprise that has since found a permanent place in the band's setlist. The driving-single, the massive size 11.5 ass-kicking muscle-machine "You Could Be Mine" was released in conjunction with 1991's Summer Schwarzenegger blockbuster Terminator II ...another from beyond match made in hell.

An unlikely industry-event, as two full-length records were simultaneously released on the same day. 30 songs in a jam-packed 2 and a half hour's worth of rawknroll. Expectations were sky-high, as the Appetite For Destruction LP had already surpassed the 8 million units sold in the USA. Thru time, both Use Your Illusion CDs ended up RIAA-certified 7x Platinum, each. At press-time, Appetite stands above the staggering 18 million US threshold. Million dollars worth of promo-videos and day-time press-coverage resulted in strong sales-figure, but little did they knew, the entire hardrock-scene was about to get thrown under the bus in a couple of weeks time.

Worshipped by the bikers and hated by the authorities, wanted dead or alive in 1992, GUNS N' ROSES were the world's biggest and most dangerous rock band. Sex, drugs and hard-rocknroll to the fullest extend, which includes riots and plenty of property-damage were part of the daily job. Tagging along the other biggest now rock band in the world METALLICA, the Summer 1992 US / CAN Stadium-Tour is a lesson in extreme cock-size and attitude.

Sadly, the Illusion-era would also mark the end of the classic GNR-signature as egos, trademarks and a decade-and-a-half long fiasco would decimate the world's greatest hardrock band into almost oblivion. Changes, many, many, many, many, many changes would occur before the next Slash-less and Duff-less studio full-length offering ...the all too millennium-esque: 2008's Chinese Democracy CD.

"Hasta La Vista, baby !"

*
You Could Be Mine = video
https://www.youtube.com/watch?v=6j0HfZCP-og
Garden Of Eden = video
https://www.youtube.com/watch?v=LuhLVl5qf2A
November Rain = video
https://www.youtube.com/watch?v=8SbUC-UaAxE
Estranged = video
https://www.youtube.com/watch?v=dpmAY059TTY
Live And Let Die = video
https://www.youtube.com/watch?v=6D9vAItORgE
Use Your Illusion I = full CD
https://www.youtube.com/watch?v=Zqo7j2yFoFs&list=PL4J5vKEAoxN01Z3E7gztv6CNvSLALN_cA
Use Your Illusion II = full CD
https://www.youtube.com/watch?v=isCh4kCeNYU&list=PL4J5vKEAoxN14WAHr_kIcpVBcsn24oa3m
Interview in 1991
https://www.youtube.com/watch?v=FIAtKwEg-sw
Live and riot in St-Louis in 1991
https://www.youtube.com/watch?v=X4DTySCgKCo
Stories about the Stadium Tour 1992
https://www.youtube.com/watch?v=QuClf4LA-gE




more GUNS N' ROSES: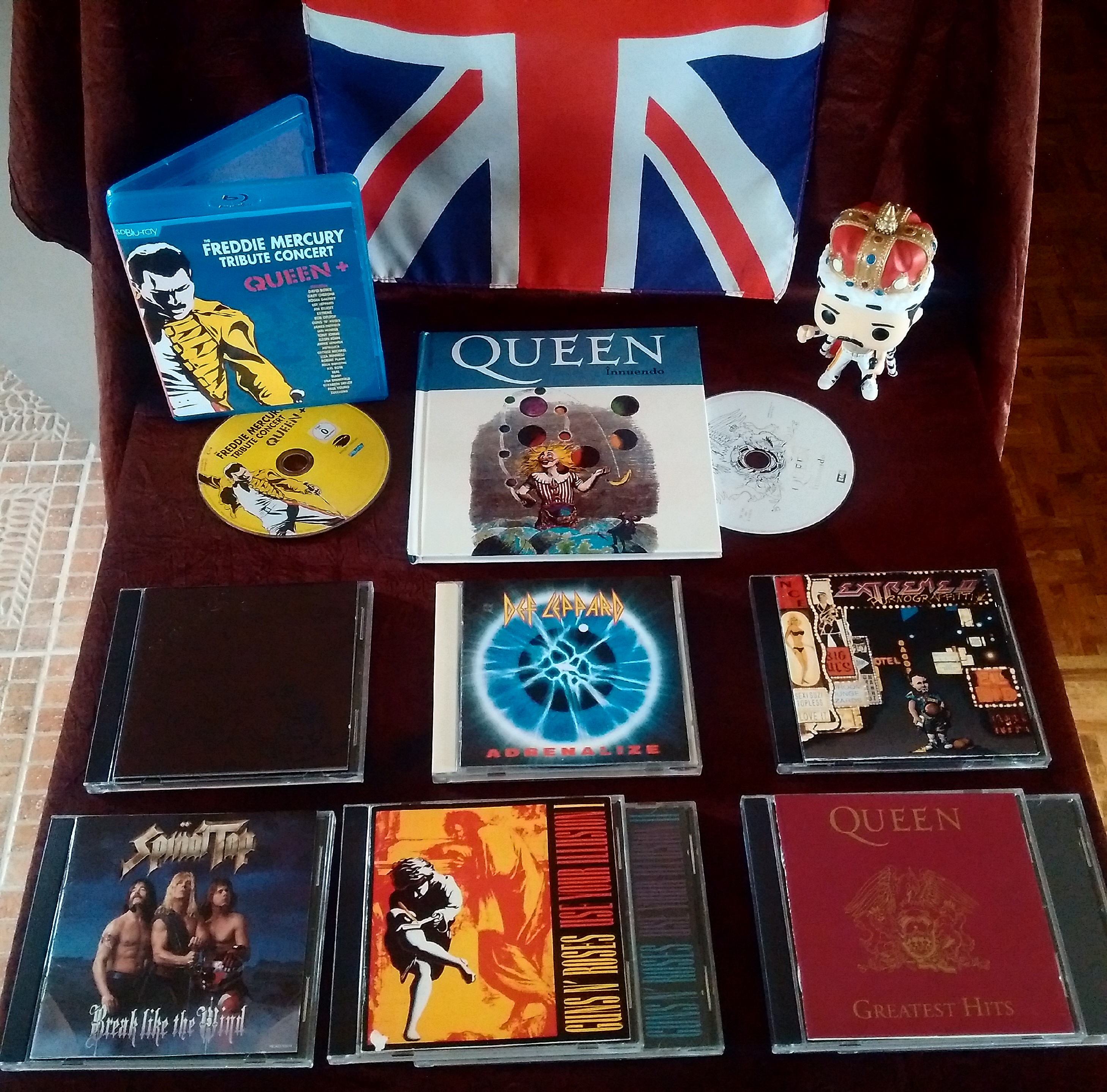 Freddie Mercury Tribute
INDEX
helterskelter.ca
(c) (p) 2017-2023 helterskelter.ca. All Rights Reserved. Tous Droits Réservés.