HOUSE OF PAIN
1992 - House Of Pain.
more HOUSE OF PAIN.
way more Helter Skelter.


July 28, 1992 - 2022: 30 years of: House Of Pain.

A one-hit-wonder to some, a trendsetter to others.

In the melting-pot that is 1992, a new breed of hiphop was in full effect in America, bringing all nations together. Along with CYPRESS HILL and FUNKDOOBIEST ...the HOUSE OF PAIN are not yer typical West-Coast posses.

The drum-beat of "Put Your Head Out" makes room for Everlast and Danny Boy to take over the dance-floor, featuring special collaboration from CYPRESS HILL's B-Real for extra mojo. The Irish vibe goes to eleven on the shorties "Life Goes On" and 1:54sec "Danny Boy, Danny Boy".

More hardcore beats locks up the grooves with the sing-along "Put On Your Shit Kickers", while the hardrock back-bone of "Shamrocks And Shenanigans" became a fan-favorite in both rap and rock scenes. The single-only track "Shamrocks" was remixed by alternative-rock guru Butch Vig, presents heavymetal guitars and arenarock drums ...the perfect 90s hybrid.

And now, the track that shook the Earth. The immortal hardcore vibe of "Jump Around" rings loudly and gathers punks, DJs and freestylers from across the board. Sick rhymes delivery and upbeat downtown stamina, this is the cream of the crop. This unique shot of real street-level hiphop still matters today.

After the gangsta-rap craze of the late-80s-to-early-90s, a fresh movement was taking place. Less violent and gun less, but still with plenty of hooks to kill. Some of these acts even teamed-up with metal-bands on the audacious project for the 1993 Judgment Night movie-soundtrack. Another rocknroll milestone that no-one though could've been possible a couple of years earlier ...thank you ANTHRAX & PUBLIC ENEMY !

RIAA-certified Platinum, the HOUSE OF PAIN trio would return one more time to slap and shout on 1994's Same As It Ever Was CD.

"Fuck the Dukes 'coz I like Boss Hogg !"

*
Jump Around = video
https://www.youtube.com/watch?v=XhzpxjuwZy0
Shamrocks And Shenanigans = video
https://www.youtube.com/watch?v=-TZhJtgcNEI
Shamrocks And Shenanigans (Butch Vig mix) = video
https://www.youtube.com/watch?v=pwcHpL3iQg4
House Of Pain = full CD
https://www.youtube.com/watch?v=77qWA2DSqWM&list=PLK9R8P1ev0VL7VkZ6nxzomu9rpsW67gDY
Promo video
https://www.youtube.com/watch?v=OgwrWPwnnQM
Interview on MuchMusic in 1992
https://www.youtube.com/watch?v=3bX7ZETkAnA
Yo MTV Raps
https://www.youtube.com/watch?v=ed-Vym1LLrM
Line in Philadelphia in 1992
https://www.youtube.com/watch?v=8RM0ESUMp6o




more HOUSE OF PAIN:


Alternative-Metal 1992
&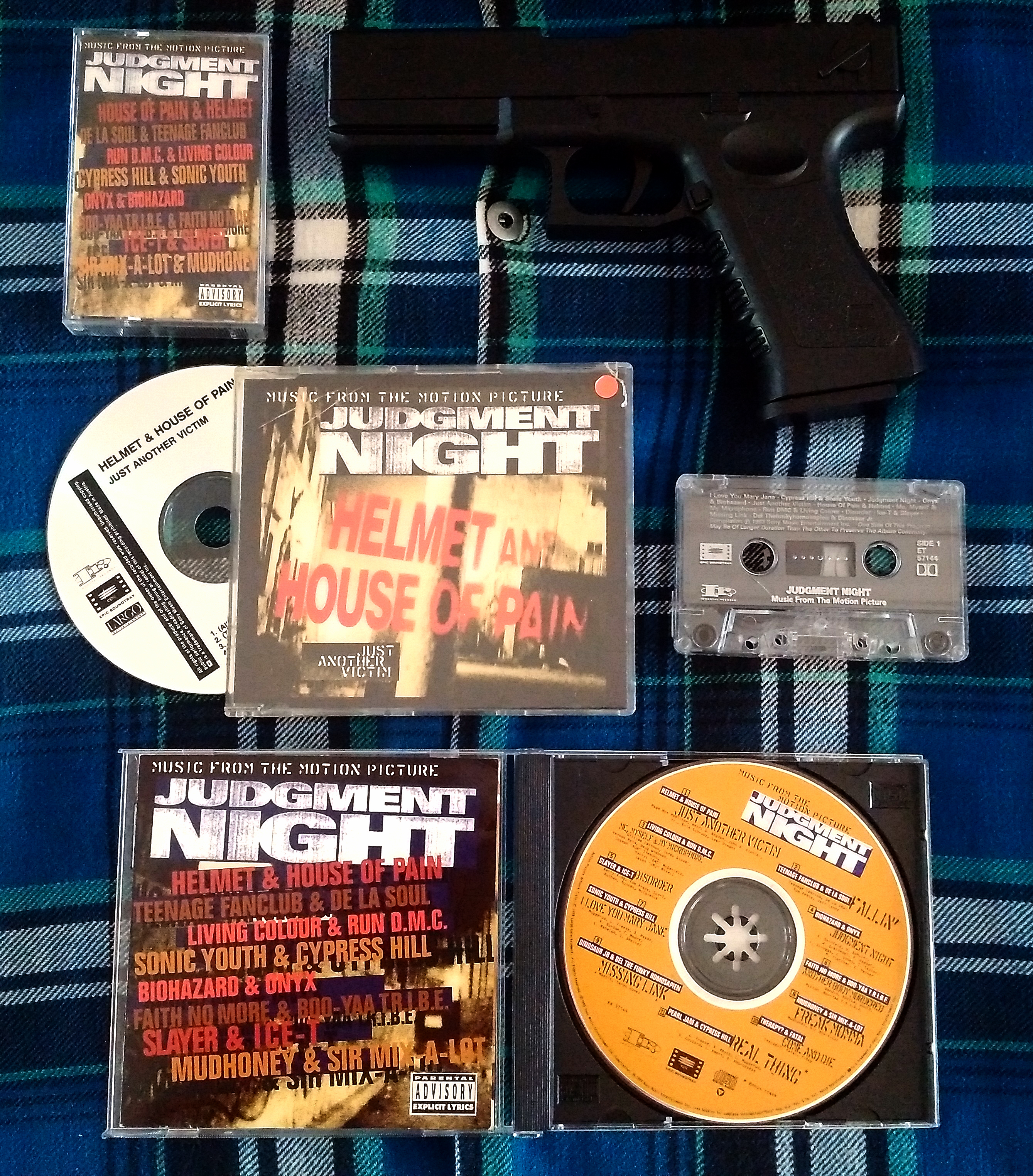 Judgment Night
INDEX
helterskelter.ca
(c) (p) 2017-2022 helterskelter.ca. All Rights Reserved. Tous Droits Réservés.