METALLICA
1982 - No Life 'Til Leather.
1983 - Kill 'Em All.
1984 - Ride The Lightning.
1986 - Master Of Puppets.
1987 - The $5.98 EP Garage Days Re-Revisited.
1988 - And Justice For All.
1991 - Metallica.
1996 - Load.
2003 - St.Anger.
more METALLICA.
way more Helter Skelter.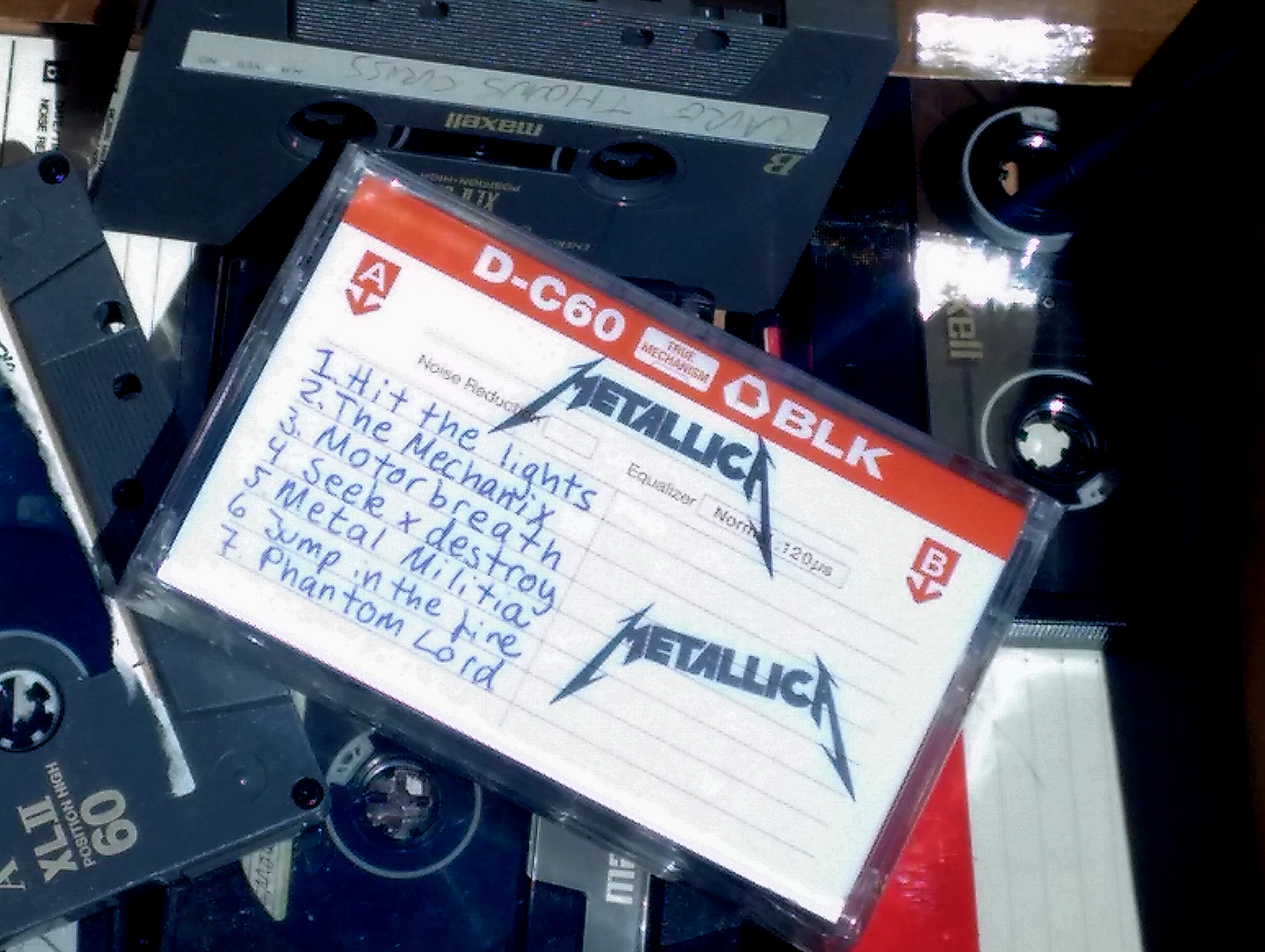 July 6, 1982 - 2022: 40 years of: No Life 'Til Leather.

The birth of Thrash-Metal.

Jammed, recorded and released in true DIY-fashion, this is METALLICA's forth demo-tape and the most widely traded. At that point in time, before the introduction of mass-consumption dual cassette-decks, home-made Xeroxed copies were created with hard-core means and a lot of love. The rough recording made it's way across the globe via the rabid Eurometal fan-base, in search for new extremes.

The seven-tracks of aggressive metal features songs that would be later professionally recorded for the July 1983 Kill 'Em All LP.
- James Hetfield on vocals and guitars,
- Lars Ulrich on drums,
- Ron McGovney on bass
- and a very creative Dave Mustaine on guitars.
The über raw energy is there, the attitude, as well as the destroy-factor. Looking to burn their idols, the SoCal teens wanted no part of the Los Angeles glam-scene. These tracks are a direct influence from actual rage against the machine.

Soon after, the addition of bassist-mutant Cliff Burton and migration to the San Francisco Bay-Area, a scene widely opened to hardcore-heavymetal, would bloom the rocknroll-dream and eventual American heavymetal take-over.

With the No Life 'Til Leather demo-tape, a genre was hatched. Powerful heavymetal: faster then JUDAS PRIEST, more raging then IRON MAIDEN, more crushing then DIAMOND HEAD, all under the godly attitude of MOTÖRHEAD. This new powerful heavymetal would be universally known as: Thrash-Metal.

*
No Life 'Til Leather = full tape
https://www.youtube.com/watch?v=PieALIuzqlo&list=PLdjNPtWsfxyr4C9Y08JTdxVygvWI6CBM5
Interview in 1982
https://www.youtube.com/watch?v=SMa-iSu8cFs
Live in San Francisco in 1982
https://www.youtube.com/watch?v=tpznYFcxylQ






July 25, 1983 - 2023: 40 years of: Kill 'Em All.

Thrash-Metal's Ground Zero.

From L.A. to The Bay ...from demo-tapes to NYC ...Kill 'Em All is the genesis of this new hardcore school. Highly influenced by electric NWOBHM bands, METALLICA was already the hottest crew in the underground, but Kill 'Em All just made it easier for more headbangers to make the switch from heavymetal to this new brutal genre: Thrash-Metal.

Impact is imminent, as "Hit The Lights" breaks your stereo in half. Fast right-wrist action on the E-string, heavymetal shall never be the same, ever again. The juvenile rage bursts on "Jump In The Fire" and the riffology of "No Remorse". The highly Lemmy-toned "(Anesthesia) Pulling Teeth" is an hypnotic 4:15sec Cliff Burton extravaganza, while the 7:13sec power-perfection of "The Four Horsemen" even includes a blues-influenced mid break-part.

The punk-pit gets metalized on "Motorbreath", as well as on the insane speed killings of "Metal Militia". Yet the centerpiece of the LP remains the arenarock gathering of "Seek & Destroy". Still present in today's setlist, the Euro crunchy-cut is not only the band's first signature-track, but one that receives the most live-crowd response.

Although, crafted by Ulrich + Hetfield + Burton + Mustaine ...once on site in the bowels of the Big Apple, Dave Mustaine was let go, for his own good ...and the remaining three welcomed EXODUS's Kirk Hammett on lead-guitar. This unannounced line-up change would initiate the creation of Mustaine's MEGADETH and propel one of the greatest rivalries in metal, since the BLACK SABBATH / Ozzy Osbourne tirade.

Metal up your ass !

Released to little expectations, by record-store turned label Megaforce Records, to a crowd of teens looking for more extremes, the Kill 'Em All LP was an instant success and spearheaded the movement for thrashmetal in America ...and later: Earth !

Currently RIAA-certified 3x Platinum, the rabid record would set the table for the upcoming thrash-trifecta perfection of: 1984's Ride The Lightning, 86's Master Of Puppets and 88's And Justice For All progressive LP. These successes to worldwide acclaim would also generate the speedmetal race of the mid-80s and numerous thrashy competition from this new abrasive scene.

Thrashmetal is now an official genre of music. The band shall expand their influence and dictate the pace with 1984's overcharged Ride The Lightning LP.

RIP Marsha Zazula (1952-2021)
RIP Jon Zazula (1952-2022)

*
Kill 'Em All = full LP
https://www.youtube.com/watch?v=1bW2DMOeDEM&list=OLAK5uy_ldzMFmDA1sFzoH15lmeU29A5DVgi9RAM8
Interview in 1983 with Mustaine
https://www.youtube.com/watch?v=ZO0UE4t4Ovg
Live in Chicago in 1983 with Hammett
https://www.youtube.com/watch?v=abDLUhw-53w






July 27, 1984 - 2019: 35 years of: Ride The Lightning.

"Take a look to the sky just before you die..."

1984-85-86 is speedmetal's peek time: EXODUS, SLAYER, SODOM, POSSESSED along Swiss extremist CELTIC FROST ...and METALLICA's 1984 Ride The Lightning opus is no different, with all of it's aggression and viciousness !

Second album in a mere year and last LP for Megaforce Records, the label that discovered them and pushed the band into 1983's summer Kill 'Em All debut LP ...the world was not ready for this. The California boys were now locked and loaded, leading a changing of the guards in heavymetal's landscape. While NWOBHM was strumming it's last few chords, thrashmetal was now the heaviest thing under the sun.

Trailblazing the way with a "metal up your ass" attitude, METALLICA were the first to bring thrashmetal out to the masses while still being and "underground act" ...for the time being. Remember that the European mammoths of heavymetal: the PRIESTs, the SCORPIONSs and the MAIDENs were still on top of the game and while the sleaze of L.A. badboys, the WASPs, the RATTs and MÖTLEYs were conquering the arenas and television-sets of the world ...the thrashmetal movement was setting in, with power and hate in mind !

That power and hate in mind burns to a melting-point on "Fight Fire With Fire" one of the band's fastest track ever. Attacking with blunt force, this track sums-up the raw power and the METALLICA rage-filled mindset in a blazing 4:45sec face-melting exhibition. The onslaught continues with the stunning title-track. More melodies are included in the bridge / lead section, a full 120seconds of sheer thrashmetal-unison. A piece featuring left-over parts co-written by Dave Mustaine.

The eerie and melodramatic "Fade To Black" is the first of many METALLICA "powerballads". The progressive clean-guitars builds-up to the monumental mid-part Euro-powermetal climax. Pure magic ...a song still present in today's setlist.

The neck-breaking wrist-warming fiesta continues on Side B with the madness of "Trapped Under Ice" and the driving anthemic "Creeping Death". If there would be such thing has a "thrashmetal-anthem", an explosive army-motivating fist-pumping crowd-cheering opus, "Creeping Death" is it !

"The Call Of Ktulu" is a RUSH-like tour-de-force. Classical-guitars intro, heavy-riff mid-parts and intricate leads, "Ktulu" is a well appreciated heavymetal curve-ball. The 8:55sec instrumental melodic madness is a collection of hooks and riffs, has it ascends to a Titanic-finale !

Hard to choose between so many classics, but the universally recognized METALLICA signature-track comes alive in "For Whom The Bell Tolls". The Cliff Burton bass-intro remains one of the most cherished moments of his legacy. The following riff is one of heavymetal's heaviest ever, NOT written by Tony Iommi. The laidback heavy-chord sing-along track is epic epicness of God-like status.

Ride The Lightning is a firm and massive statement and a now heavymetal-milestone. The rebellion and rage, as well as, the clever execution on all 8 tracks, makes this not only a fan-favorite but a required-listening in the genre. Unfortunately no official video exists, as this medium was still un-common in 1984's metal. Like a wild-fire, Lightning achieved Platinum-status without the help of any singles or air-play ...old-school all the way. It currently stands in the 6 million+ units sold in the USA alone.

This release was also the beginning of the METALLICA-pattern: the thrash-trilogy of 1984's Ride The Lightning, 86's Master Of Puppets and ending with 88's And Justice For All LP.

Please consider the following facts:
- All 3 albums have been produced by Flemming Rasmussen
- All #1 songs have an intro: either a classical-guitar intro while "Blackened" has the reversed-riff intro
- All 3 albums opens-up with a speedmetal track
- All #2 songs are the title-tracks
- On both Lightning and Puppets, #3 songs are mid-paced songs
- All #4 songs are "powerballads"
- On both Lightning and Puppets, the first track on Side B is a speedmetal track
- All 3 albums feature a long epic instrumental song, all sequenced before the last track, except on Lightning
- On Master and Justice, the album closes with a speedmetal track, some of the fastest ever
- On Master and Justice, the first tracks are titled with a "B" and the last tracks are titled with a "D"
- All 3 albums feature strong progressive-elements, not present before or after these 3 specific releases
- ALL TRUE CLASSICS !!!

On a personal-note: the Gibson 67' Flying V is a direct Kirk influence. Before I deeply got into Hendrix, Downing and Azagthoth ...Kirk-motherfucking-Hammett was the man with the almighty V. I've been a V-player since.

"...it's the last time you will !"

*
Ride The Lightning = full LP
https://www.youtube.com/watch?v=OhT0g9jULpw
Live in Oakland in 1985 (Day On The Green)
https://www.youtube.com/watch?v=8Z04FtRzgJc
Live in Germany in 1985 (Metal Hammer)
https://www.youtube.com/watch?v=LNLm2Tq_Lds
some guy
https://www.youtube.com/watch?v=1aOYOo6xgRA






March 3, 1986 - 2021: 35 years of: Master Of Puppets.

Thrashmetal, Inc.

1986, the year for speedmetal and heavymetal-violence. Less rabid then other contemporaries DARK ANGEL, KREATOR and RAZOR, yet METALLICA are still leaders of the pack. After the electrifying high-voltage of 1984's Ride The Lightning LP, album #3 would cement the band into timeless immortal heights, while sadly loosing bassist Cliff Burton in the process.

1986, a crossroad for hardrock and thrashmetal. For every action, there's a reaction ...and Master Of Puppets is that very reaction. Labeled the Big Four of the thrash-movement, METALLICA, along ANTHRAX, MEGADETH and the unholy SLAYER, were the horror MTV wasn't ready for. They all managed to gather a die-hard fan-base and massive sales, all without the support of traditional medias.

Don't let the flamenco-guitar intro of "Battery" fool you, as hell implodes at 0:38sec. The ultimate E-riff drives the crowd mad as the speed-factor hits like an H-bomb. Still a live-favorite, this cut is now a mosh-pit must. Right into the title-track were "Taste me you will see, more is all you need, dedicated to, how I'm killing you" is about addictions. The punches for "Master ! Master !" cuts like a knife and the mid-breakdown is a sure sign that Hetfield and the gang are above metal-musicians.

A few eye-brows lifted for "Fade To Black", well here they do it again with another now signature-track in "Welcome Home (Sanitarium)". Progressive-metal intertwined with mosh-music and the ending screams aloud "Just leave me alone !" while lead-guitar player Kirk Hammett flys away in a speedmetal organized cacophony.

Now "Orion" might very well be the all-time best track ever by METALLICA. Following the foot-steps of "The Call Of Ktulu" this fresh epic 8:27sec journey is a metal-rollercoaster from top to bottom. Mid-paced, the tempo breaks down for a Burton-apparition at 3:49sec, then supported by tearful twin-guitar harmonies, a clear Eurometal influence. The cadence picks-up at 6:55sec and turns into a gargantuous fire-storm. The album's closing track "Damage, Inc." hits Mach IV at 1:20sec, the speediest of speedmetals. Raw, crude and fuck it all and fuckin' no regrets !

Currently RIAA-certified 6x Platinum, the counter keeps-on running. Still the biggest achievement is that this record is in the middle of a classic metal-trilogy. An evolution in the extremes, from Ride The Lightning to Master Of Puppets and ending with 1988's And Justice For All LP, these masterpieces are the quintessential part of the ultimate thrashmetal-trifecta.

On tour with the madman, Mr. Osbourne, the excesses were the norm, yet the wake-up call would be the utmost brutal. On an ice-cold Swedish road, the tourbus side-swiped and ended in a deadly accident. In the early hours of the mourning, everyone was screaming and pulling out of the ditch, except for Cliff. Thrown-out still asleep, the 13-ton vehicle landed on him, killing him instantly.

The band would regroup and hire Jason Newsted from FLOATSAM & JETSAM to finish the tour, and later create the And Justice For All tour-de-force ...and later conquer the world !

1986's Master Of Puppets: a genre stepping-stone and a perfect heavymetal album.

RIP Cliff Burton (1962-1986)

*
Master Of Puppets = full LP
https://www.youtube.com/watch?v=jMOFeo9ebkQ&list=PLvyFvczmiBrunjTBsQ5jypBacIcCMDw6P
Interview in 1986
https://www.youtube.com/watch?v=jvDA11C6Zjs
Live in Detroit in 1986
https://www.youtube.com/watch?v=aIapbGZgCwE
Documentary
https://www.youtube.com/watch?v=XQ-XIOUe0jI
Cliff' Em All = VHS video
https://www.youtube.com/watch?v=FLezYQWwqdE






August 17, 1987 - 2022: 35 years of: The $5.98 E.P. - Garage Days Re-Revisited.

Thrashmetal's biggest band goes back into the garage.

On a personal note, in February / March of good ol' 1989, I purchased the tape below left. Though I really, really, really wanted the And Justice For All LP featuring the hot video-single for "One", my poor teenage self didn't have enough on-hand cash for it ...so the specially-priced Garage EP became Plan B.

A happy discovery. Indeed a different METALLICA that pays tribute to NWOBHM and punk, back when my poor teenage self didn't had a clue about NWOBHM or any heavymetal sub-genres for that matter. This now favorite EP of mine helped me bring to light, new bands with new sounds of an alternative heavy-signature.

Released after the massive 1986 Master Of Puppets LP success and equally massive devastating Cliff Burton tragedy, the lively Garage Days Re-Revisited EP is a rock-bottom simple band, jamming to simple songs. Getting back together and enjoying the moment, while paying tribute to their heavyrock roots. The virgin raw energy is naive and true, just four musicians dusting off the amps ...and welcome aboard ex-FLOATSAM & JETSAM bassist Jason Newsted.

Thrashmetal's biggest band would conquer new grounds and push conventional metal boundaries with 1988's monumental progressive-thrash supernova ...the And Justice For All LP.

*
"Hepless"
by DIAMOND HEAD https://www.youtube.com/watch?v=u5ljesWiiiE
by METALLICA https://www.youtube.com/watch?v=-GKqvKFFemA
"The Small Hours"
by HOLOCAUST https://www.youtube.com/watch?v=eoY1ALB37NQ
by METALLICA https://www.youtube.com/watch?v=3x0ffZWuNwM
"The Wait"
by KILLING JOKE https://www.youtube.com/watch?v=f42MLoLbnnQ
by METALLICA https://www.youtube.com/watch?v=x8bzzdijOrM
"Crash Course In Brain Surgery"
by BUDGIE https://www.youtube.com/watch?v=KuBNoTKM3u0
by METALLICA https://www.youtube.com/watch?v=BENaRU-bNT8
"Last Caress + Green Hell"
by MISFITS https://www.youtube.com/watch?v=YrUhcdu-vgc + https://www.youtube.com/watch?v=xkgss3gaG54
by METALLICA https://www.youtube.com/watch?v=48FBR5GYe6o






August 25, 1988 - 2023: 35 years of: ...And Justice For All.

Progressive thrashmetal is here.

They leaped ahead with 1983's Kill 'Em All LP and now, this cold 65min+ opus is the new leap ahead thrashmetal needed to break into new territories. The biggest band in the genre was musically dominating the extremes. Managing both 1986's Master Of Puppets high-event LP ...and Cliff Burton's low-event tragic death, their next offering would change the game, once again. 1988's metal-scene was bound for a new modus-operandi: METALLICA brings the cure.

Blasting off with "Blackened", a fast killer with a killer mid-breakdown ...one of the band's all-time best. The attitude is here, the attack is here, METALLICA are here. More grit destroys the opposition with the cut-throat "The Shortest Straw" and the the Mach IV speedmetal slaughter of "Dyers Eve".

Keeping with the long title-track tradition, the evoluting riff-o-rama of "And Justice For All" opens up and brings the band to new levels of musicianship, that would further bloom into progressive avenues as proudly displayed on the 9:48sec metal monolith of "To Live Is To Die".

And now, the One: thrashmetal's anti-single, single.

War has always been an open subject with this band, but now "One" takes the game to another level. A feast of dynamics that responds from powerballad to C-4 detonations and climaxes with an army of Panzers rolling into town. In a leap of faith, this epic track would also be used for their very first official music-video. Obviously, the 1988 glamrock-dominated MTV wasn't ready for a 7:26sec dramatic black and white war horror-show. The cold suffering and despair scenes are courtesy of Dalton Trumblo's 1971 Johnny Got His Gun anti-war movie. The trendbending "One" has since been synonymous with the late-80s thrashmetal post-speed evolution.

Justice into thrash, this is pure metal-art.

And Justice For All ...a perfect exhibition, from a band that were at their creative pinnacle. Thrashmetal's crowning achievement and immortal statement in the extremes. James Hetfield's thought provocative vocal-delivery and right-wrist superiority, Lars Ulrich's mind-boggling time-signature patterns and Kirk Hammett's explosive, yet, controlled demolition.

A perfect exhibition, still throughout the fan-base, concerns about the final-mix abounded. The evident lack of bass-frequencies from new-kid Jason Newsted, splitted the scene in half. In recent times, truth be told by mixing-engineers, that the low-ends were intentionally kept ...low. Ironically, his attributes were massively present on 1987's Garage Days EP ...we wonder: why hire him in the first place ?

RIAA-certified 8x Platinum ...and failed Grammy winner, the And Justice For All LP would be the iconic cut-off point between: the aggressive METALLICA and the arena-filling METALLICA. On tour with VAN HALEN and later THE CULT and QUEENSRŸCHE, the stages were set for their global assault. And Justice For All and Operation: Mindcrime together on tour, the supernova of metal concept-albums. Witnessing the April 12, 1989 Damaged Justice Montreal Forum gig, this writer was now bound as a lifetime long certified in-awe fan.

Their next move would purposely extract themselves from the edgy thrashmetal realm, to the hip mainstream-rock masses. During the historical tide-changing Summer 1991, METALLICA would change the face of rock / hardrock / heavymetal and thrashmetal, forever.

"When a man lies he murders some part of the world.
These are the pale deaths which men miscall their lives.
All this I cannot bear to witness any longer.
Cannot the kingdom of salvation take me home." - Cliff Burton.

RIP Doris (1988-1989)

*
One = video
https://www.youtube.com/watch?v=WM8bTdBs-cw
...And Justice For All = full LP
https://www.youtube.com/watch?v=nUZVXtDVrc0&list=OLAK5uy_kwDDSWKgSgMcCmR7XGOZ7KTyxK-XJO-fo
Interview and on the road in 1989
https://www.youtube.com/watch?v=n6Cx1lkvGvY
Grammy Awards performance in 1989
https://www.youtube.com/watch?v=7tLadO2CHZs
Live in Mountain View in 1989
https://www.youtube.com/watch?v=o2EmWosdtuE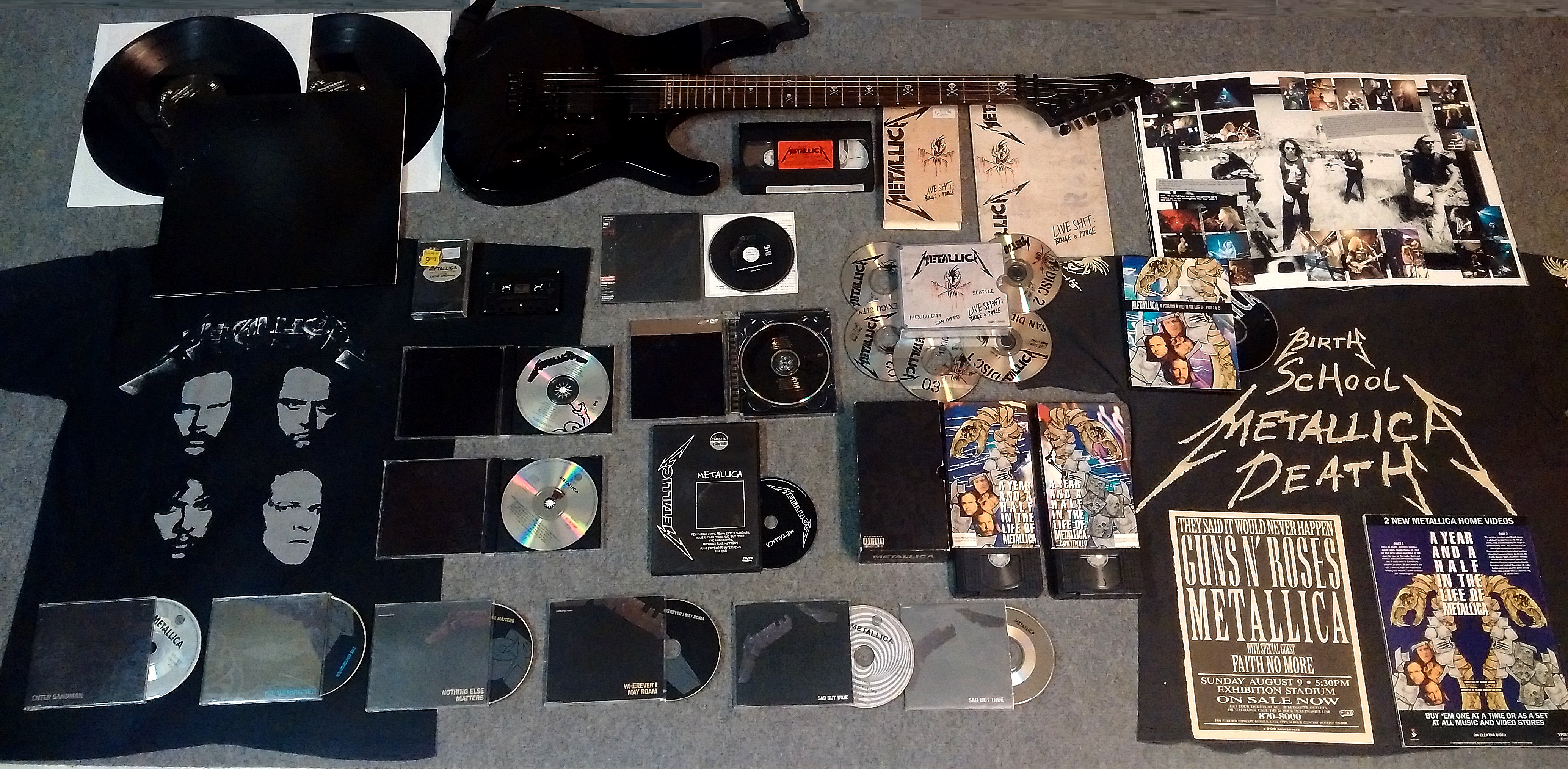 August 12, 1991 - 2021: 30 years of: Metallica AKA The Black Album.

Love it or hate it: this is the biggest metal album of all time.

Maybe not metal-wise, but definitely sales-wise. A fuckin' staggering 25 million+ sold worldwide that includes the RIAA-certified 16x Platinum plateau. That's 16 million records sold in the USA alone ...mind you there's currently 330 million Americans in the land of the Red, White & Blue: that's 1 album per 20 human ! Other artists in this sales-metric includes: Shania Twain, Garth Brooks, Alanis Morissette and Bruce Springsteen ...let that sink in for a second.

After the perfect thrash-trifecta of Lightning, Puppets and Justice ...something had to give. The lengthy 8min progressive adventures had taken it's toll on the Four Horsemen. After an intense 6 year thrashmetal-facewash, it was time to clean things up. Enter producer perfectionist Bob Rock and his earthy philosophy. Start over, strip everything down to the bone and rebuild from the ground up on a solid standard rock-foundation. Remember that Mr. Rock is from the CULT + CRÜE school of thought. Hetfield wasn't initially into it, but Ulrich loved the idea.

After AC/DC's successful 1980 Back In Black black-cover LP and the way, way, way less successful SPINAL TAP 1984 Smell The Glove black-cover LP ...three's a crowd ...and it was now 'TALLICA time !

"Enter Sandman" ...you know the song, your Mom knows the song, your grumpy Uncle knows the song as it's been played a million times at your favorite topless-club and it's been played a gazillion times at your local rock-bar. Edgier hardrock, not plagued by the 80s cliché, opened to the future with a simpler vibe with a fatter tone. Yes, light-thrashmetal was now a reality and METALLICA made it happen ...the same METALLICA that gave us the "To Live Is To Die" juggernaut of 1988.

"Sandman" became the catalyst for this heavyrock rebirth and new-metal for the 90s.
"Sandman" prepared the masses for the upcoming hard-music takedown from Seattle.
"Sandman" sat the pace as the band would become one of the biggest acts in rock. A position they still firmly hold today.
"Sandman" changed the game not only for METALLICA, but for the thrashmetal sub-genre, as this underground phenomenon was now accepted and embraced by the widespread FM-audience.

Massive promo was done to push "Enter Sandman" deep into the mainstream and these fruits were now ready to be harvest. The once rebel-against-radio headbangers where now the poster-boys for muscle-music. A complete 90° that would repel many hardcore fans from the 80s, but diametrically welcome millions of new faces into the rock / metal arena. "Enter Sandman" and the Metallica full-length CD are a major turning-point in rocknroll's history. Ironically Mr. Rock had foreseen "Holier Than Thou" as the lead-single, but Ulrich pulled him back.

"Do you want heavy ? METALLICA gives you heavy babey !"

...a live Hetfield statement heard around the globe as the monolith of "Sad But True" rips away. Tuned to D, a first, mid-tempo, not a first, as this military rhythm breaks down walls with it's monstrous down-picking submission. Now one of the ultimate crowd-gathering song, this piece almost didn't make the final track-listing. It was Bob Rock's idea to downtune and slow the pace, for that xtra mojo of heaviness.

More kick-ass metal-singles in "Wherever I May Roam" and the melodic MTV-powerballad "The Unforgiven". And speaking of powerballads, this time, they went all the way. "Nothing Else Matters" is an actual full-blown all acoustic made-for-radio ballad. Not NELSON-like or WARRANT-like, but they were in that zone. Where did this command came from ? Elektra Records ? Bob Rock ? industry-pressure ? ...none of the above, as this lovely emotive ballad is fully signed and heartfelt by the Hetfield + Ulrich creative duo. For most metal-heads, this was the ultimate desecration, the no-no, the fine line that defines one act as a metal-band ...versus a rock-band. METALLICA gambled alot for this, losing metal-respect in the process from it's very conservative-brotherhood ...yet on the other hand, see opening paragraph for it's gain counterpart.

Finally heard on the mix, Jason Newsted gets justice with two intro-basslines to color things up on the gigantic "The God That Failed" and the darker "My Friend Of Misery" ...the album's longest song, clocking at 6:50sec.

But do no fear metal-fans, some shades of actual thrash are found on the killer "Through The Never", the redneck "Don't Tread On Me" and the final-cut on the record, another E-riff staccato, the hidden power-punch of "The Struggle Within", who happens to includes one of Kirk Hammett's best lead-work to date. The bonus ANTI-NOWHERE LEAGUE track "So What ?" and "Killing Time" by SWEET SAVAGE reprise are signs the crew still has a grasp on their punk and NWOBHM roots.

Recorded in L.A. during the international-tensions of the Persian Gulf War, this hasn't stopped the fun and goofiness of the band in and out of the studio. The massive sound, the lively vibe, the guitar-tone, the bass-ring, the large headroom drums ...all Bob Rock tricks that were previously used on the Dr. Feelgood sessions. On the road for a full 3 years, the pillage included a stop at Moscow's Monsters Of Rock, Wembley's Freddie Mercury tribute, a 5-night stay in Mexico City, immortalized on 1993's Live Shit: Binge & Purge CD + VHS Boxset and the gigantic quarter-century Woodstock '94 celebrations. Later in 1995, they'll even play in the northernmost village on Earth: Canada's Tuktoyaktuk.

Being 16 and seeing their November 17, 1991 gig in Montreal, I can tell you that the arenarock-vibe was alive and well in the Forum that evening, and that many, many female-fans were now proudly showing their 'TALLICA appreciation in person. The impressive multi-function diamond-shaped center-stage was very fresh for 1991 ...a page straight out of the LEPPARD handbook.

Another hardrock milestone was reached as they said it would never happen: the matching US / CAN Stadium-Tour with none other than the other biggest band in the world: GUNS N' ROSES. An army on the road as the Summer '92 adventure was almost lethal for Hetfield at the now infamous Montreal explosive carnage. Plagued with mishaps and at 40000 people average per night, the trek clearly showed that METALLICA still had a street-level attitude against the flamboyant hardrock excesses of the Sunset Strip badasses. The companion home-video A Year And A Half In The Life Of METALLICA double-VHS documentary, displays the boys at the top of rocknroll-stardom, befriend with numerous rock-peers and wrecking stuff with their rabid fans.

Forever breaking away from the Big Four and the mean-metal stigmata, the Black Album cemented the end of an era and closed the lid on the late-80s thrashmetal expansion. Rapidly, many, many bands would change their sound and signature to try to capture a portion of said 16mill record-buying public. This new-found fame and metal-revival also diluted and destroyed a once underground cult-like following and changed the mainstream perception of 80s-heavymetal. And just like the Back In Black LP did eleven years earlier, the Metallica CD did not only changed the band and it's acceptation, but changed the entire perception of rock / metal in this ever changing industry. 1992 would finally present a worthy Grammy to METALLICA, to commemorate said album ...thankfully JETHRO TULL hadn't release a disc that year.

With an all black artwork, AC/DC changed the game of hardrock, forever !
With an all black artwork, METALLICA changed the game of heavymetal, forever !
And Seattle was a couple of weeks away of, once again, changing the game, forever !
Welcome to the 90s, turbulent times filled with new vibes and new attitudes ...sad but true.

The Black Album: simple, beautiful, classic.

*
Enter Sandman = video
https://www.youtube.com/watch?v=CD-E-LDc384
The Unforgiven = video
https://www.youtube.com/watch?v=DDGhKS6bSAE
Nothing Else Matter = video
https://www.youtube.com/watch?v=tAGnKpE4NCI
Sad But True = video
https://www.youtube.com/watch?v=A8MO7fkZc5o
Metallica = full CD
https://www.youtube.com/watch?v=DtJzRErAJ3Q&list=PLokAorcvoBv9LAxeK6xwqn3rSEEMhGfGr
Interview and MSG listening-party
https://www.youtube.com/watch?v=Khl9YYXU-70
Live MTV Award in 1991
https://www.youtube.com/watch?v=hFq0hgptcAI
Live Grammy in 1992
https://www.youtube.com/watch?v=C6mkwKK06Do
Life backstage in 1992
https://www.youtube.com/watch?v=soikN4KRLCE
Stadium Tour with GNR in 1992
https://www.youtube.com/watch?v=tYVnJy2xugg
A year and a half in the life of
https://www.youtube.com/watch?v=42_ZT-xx9vQ
Live Shit in San Diego VHS
https://www.youtube.com/watch?v=5dDFy0Goc6E






June 4, 1996 - 2021: 25 years of: Load.

Get a load of this ...do you remember these classic albums ?
- Soft 'Em All
- Ride The QG-cover
- Master Of Videos
- ...And Haircuts For All

The year was 1996, the band was METALLICA. Yes the same METALLICA that created thrashmetal and gave a F.U. to videos, to fashion-standards and to many mainstream trends of the moment ...they were now embracing them fully. Talk about a full 90° !

What to do after releasing the Black Album, the 20 million+ selling metal karaoke-machine ? simple: you slow down and go hardrock-blues. They were at the top of the heavymetal Charts, globally, so insight, the band was in competition with themselves, changing and challenging everything they stood up against in the process.

Bold move and commercial-suicide, but they didn't care and it was the mid-90s, a time when everything remotely heavy (beside deathmetal and blackmetal) went either: alternative-rock, grunge, nümetal, industrial, neo-punk, streetmetal and eventually rapmetal. Musically Load is a statement that METALLICA can write many types of music and rock hard, even with country overtones, stuck to their metal-roots, but the damage was done.

Load was the beginning of a decade-long downward spiral, that followed with the copy-paste filler Re-Load in 1997, a metal-orchestra album in 1999, the 2000 Napster fiasco, the exit of bassist Jason Newsted in 2001 and alcohol-abuse rehab of James Hetfield in 2002.

The band did eventually won it's crowd back, very slowly with 2003's St.Anger and eventually with 2008's Death Magnetic, but it took a full 12 years for the Titanic-thrashers to rise again ...a true testament to the Hetfield + Ulrich dedication to music.

In retrospect, Load is a very-very-very different album, with windows wide-open, which hasn't been done at that point, and has never been re-done since, by a "thrashmetal band".

*
Until It Sleeps = video
https://www.youtube.com/watch?v=eRV9uPr4Dz4
Load = full CD
https://www.youtube.com/watch?v=WE0ReQJ-Kfk&list=OLAK5uy_n-mEUSh6MZyPh940SH5_xbrbbARqMlwH0
Live MTV 1996
https://www.youtube.com/watch?v=VzphWm8pUwI






June 5, 2003 - 2023: 20 years of: St. Anger.

The most controversial metal-release of all time ?
Yes.

After a decade of post-Black Album debacles and for most rockers, an agonizing string of shameful rocknroll-failures which includes: 1996's haircut attack, Load CD and Lollapalooza tour, 1997's Reload CD, 1999's pointless orchestra, 2000's Napster lawsuit and 2001's Jason Newsted exit from the band ...needless to say ...METALLICA wasn't on the thrashmetal-radar at that point.

In this post-grunge, post-newpunk, post-Britpop and post-Woodstock 99 era, the heavymetal drought was real. Other once top-players like MEGADETH, ANTHRAX, SEPULTURA and even the now-industrial DANZIG, were all searching for new avenues. Yet after a year of rehab for James Hetfield and solo soul searching for both Kirk Hammett and Lars Ulrich, the initial lightning riding thrashmetal puppet masters would against all odds, break the bank one more time.

The most sick metal-release of all time issued on a major-label to a mainstream crowd ?
Yes.

The machine-gun fires away on the opening "Frantic". What is this new extreme-metal, a garagier-version of MOTÖRHEAD ? ...this is the new METALLICA ! The pummeling is real, the power is raw and the aggression is at an all-time high. Pushing more extreme sounds into oblivion, they facewash-us good with "Dirty Window" and the fat metal-stomp of "Invisible Kid". A track that wipes the floor with some healthy Hetfield-riffing.

Welcome Home...
to San Quentin State Prison. Filmed in the most extreme setting, were the wild things are. The death-row jail was the stage for the innovative hardcore video for the fast title-track "St.Anger". Some more thrashy speed appear on "Purify", while the 8:48sec closing cut "All Within My Hands" would be another one of those f-up rides. Now both down-tuned mid-paced submissions of "Some Kind Of Monster" and "The Unnamed Feeling" are new paths, never before explored by the Great Ones.

On bass...
on the record, long-time friend and power-producer Bob Rock and on tour and official new-guy, the addition in one of the top bass-player on Earth, please welcome the skater-motherfucker ex-SUICIDAL TENDENCIES, ex-INFECTIOUS GROOVES, ex-Ozzy and ex-BLACK LABEL SOCIETY: Mister Robert Trujillo.

Corrosive and desensitized from head to toe.
Sick and defiant from top to bottom.
Heavy and twisted from North to South and
smelly and ugly from East to West.
This new heavymetal offering from the Kings Of Thrash-Metal is an out of the box sonic-adventure. And like any METALLICA release, the backlash and criticism was also very ...heavy. From the absent Hammett guitar-solos, to the Hetfield lyric-vomit, to the Ulrich snare-drum cacophony and the lack of separation and definition in the final-mix, needless to say that St. Anger is an experience no one is yet about to forget.

So busy and so dark under the hood, that a movie was even shot to display all the inside drama: Some Kind Of Monster. Presented nationwide on the silver-screen, the men are stripped down to the bone, during this 2hrs + long psychological bench-press.

St. Anger is...
the epitome of anti-album, the long awaited comeback, willingly or not, a crude and arrogant anti-commercial major-label release. One of those albums that triggers all hard-music enthusiast, METALLICA fan or not. Yet it doesn't follow the 90º-sharp turn Cold Lake, Blackacidevil and Generation Swine pattern. It is a very different animal, as the migration away from street-thrash had been explored and abused since the "Enter Sandman" single release.

Controversy sells ...but who's buying ?

Delivered during the high-speed internet revolution to sky-high expectations, the CD became a #1 global phenomenon, in this new post 9/11 millennium. Different times then Summer 1991, RIAA-certifed 2x Platinum, Summer 2003 was the return of the Metal Militia ...it was once again 'TALLICA time !

Since the Seattle tide, the metal-scene had been under shaky waters. The mid-to-late 90s had been metal hostile in numerous media forms. METALLICA's return to heaviness was a welcomed event that sprung other acts, to review their agenda. Marketing-wise, for extra muscle, the old dirt and grime is back: artist Pushead is back on the cover-artwork.

Refocusing and digging into their late-80s progressive past, the metal-giant would once again reinvent itself, with 2008's more traditional, less dirty CD ...the loudest metal-release of all time issued on a major-label to a mainstream crowd ...Death Magnetic !

"The State has a no-hostage policy. In the unlikely event that you're taken hostage ...the State will not negotiate your release, in exchange of the release of an inmate. D'you agree with that ?" - cop at San Quentin

*
Frantic = video
https://www.youtube.com/watch?v=QcHvzNBtlOw
St. Anger = video
https://www.youtube.com/watch?v=6ajl1ABdD8A
The Unnamed Feeling = video
https://www.youtube.com/watch?v=NTU6NLovI_Q
Some Kind Of Monster = video
https://www.youtube.com/watch?v=qUezq1TF4jk
St. Anger = full CD
https://www.youtube.com/watch?v=FwpgFip3KAE&list=OLAK5uy_nvaYLo9AG_rZyqkXzYlkJfLjBuZS84bIU
St. Anger = live in the studio
https://www.youtube.com/watch?v=YQDxCl44I84&list=PL6pAyFjSXs2aBfTvdVzL5qNhGI0EBT_6f
Fuse interview in 2003
https://www.youtube.com/watch?v=2qYbBRDnT5o
Live at Rock Am Ring in 2003
https://www.youtube.com/watch?v=rPBNeJL_8HY
Some Kind Of Monster = movie
https://www.youtube.com/watch?v=gsqU09rkRDY
some band from Tokyo
https://www.youtube.com/watch?v=-J1vXCTLAxA




more METALLICA: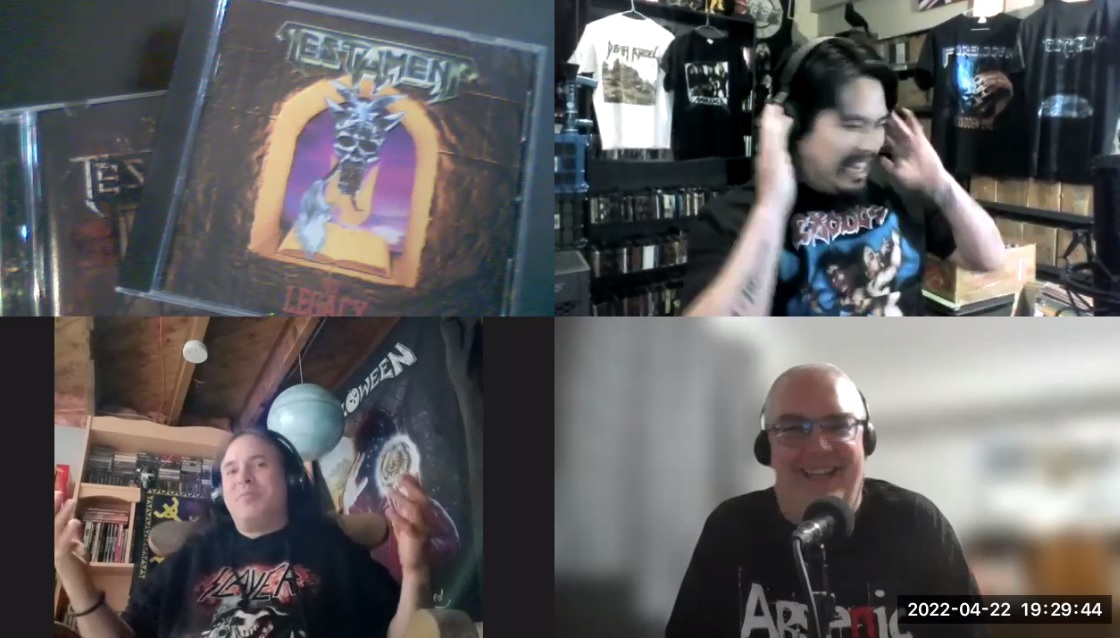 Bay-Area 87-88
&


Big Four 88-92
&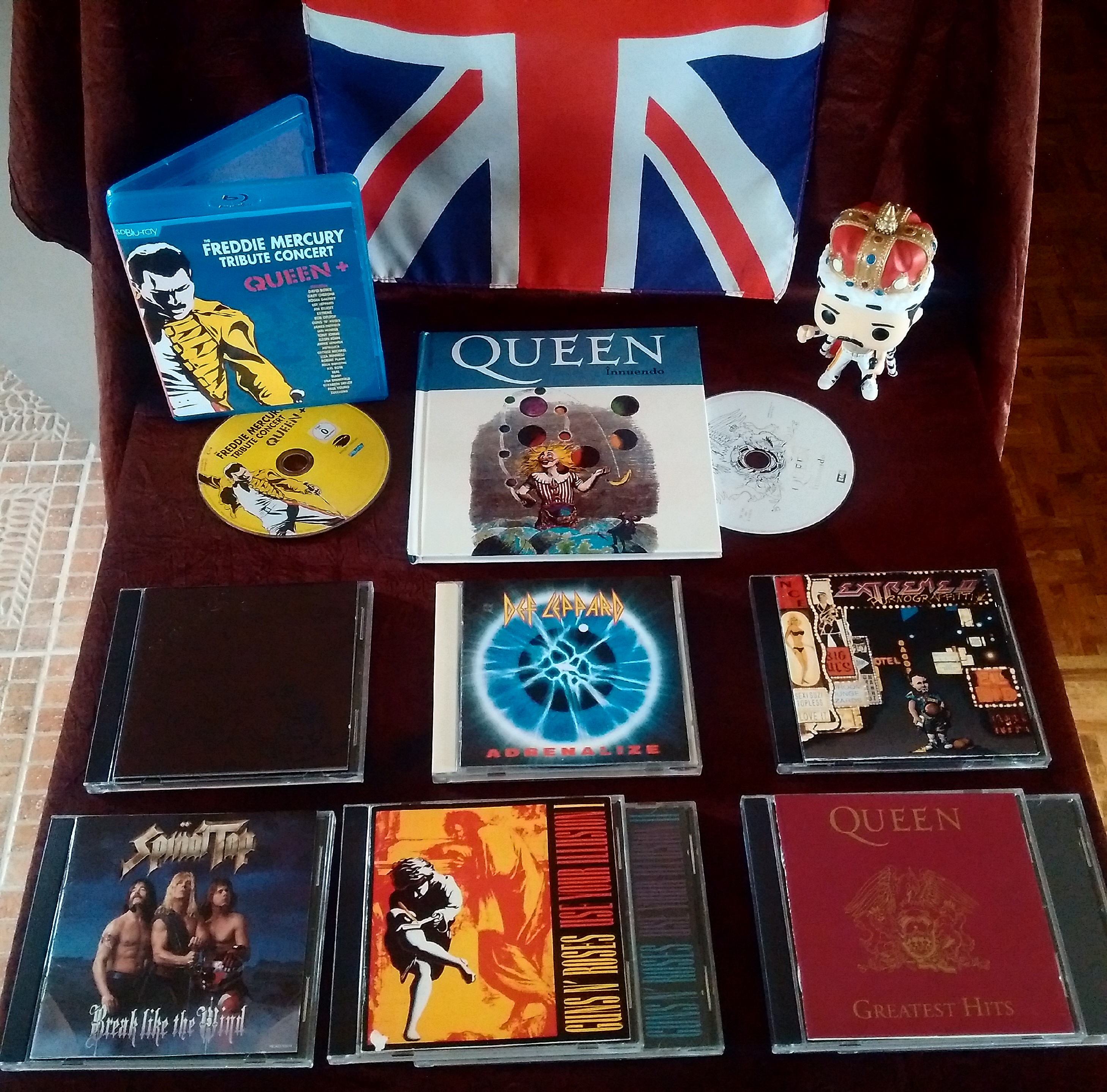 Freddie Mercury Tribute
&


L'ère post-Black Album
INDEX
helterskelter.ca
(c) (p) 2017-2023 helterskelter.ca. All Rights Reserved. Tous Droits Réservés.