MORGOTH
1991 - Cursed.
1993 - Odium.
more MORGOTH.
way more Helter Skelter.


April 24, 1991 - 2021: 30 years of: Cursed.

Deathmetal not from the USA, not from the UK, not from Holland and not from Sweden ...where could they be from ?

1991, the epitome of the deathmetal movement. Just like 1982 was THE year for heavymetal, 1986 was THE year for thrashmetal, 1991 was THE year for the world's most extreme music genre: Death-Metal (with a capital D and M)

Hold your last breath for these immortal 1991 classicks: Clandestine, From Beyond, Blessed Are The Sick, Effigy Of The Forgotten, Human, Where No Life Dwells and Testimony Of The Ancients ...to name a few. And just like any expansion of styles and genres, deathmetal is no exception: some were good, some were fucking good and some were fillers ...and then comes the rare breed, the exception: Germany's own MORGOTH.

Thru their career, from 1988 to 1996, MORGOTH managed to produced two EPs and three CDs, spanning from sick brutal deathmetal to alternative heavyrock, yes you read that right, not a common trajectory for a DM-band, especially one coming from the homeland of powermetal. The stand-out album is 1991's Cursed. A dark and intricate record that breaks away from the US satanic and gore-metal, as well as from the UK grindcore scene ...while still keeping roots with the aforementioned styles.

The "Cursed" intro set the mood into a Clive Barker-type atmosphere and the onslaught finally opens-up with "Body Count" an up-tempo track that takes no prisoners. "Exist To Temptation" slowly snakes itself into heavyness while the lead mid-part goes into total eeriness.

On the flipside, "Sold Baptism" punches away hard with it's off-set rhythm pattern, while the thrasher "Suffer Life" displays screamer Marc Grewe's strongest asset. The record ends magnificently with the mesmerizing morbid cover of WARNING's Darkness.

The focal-point of the album is the "single" and brutally progressive "Isolated". The intro set-ups ala RUSH's 2112 and then the main riff is lifted straight from FORBIDDEN's Twisted Into Form, while the vocals are reminiscent of DEATH's Leprosy ...talk about a deadly mix !

Sadly MORGOTH never really took-off and were never part of the deathmetal expansion per say. The limelight had already been captured by MORBID ANGEL, OBITUARY and DEICIDE. Four main factors played against the quintet: they were signed to then unknown Century Media Records, they were German, the 1991 DM-scene was already at mid-point in it's expansion and last but not least, two daggers: 1993's industrial flavored Odium and 1996's alternative Feel Sorry For The Fanatic CD. Caught between both extremities of the spectrum: evolution and on the other commercial-suicide.

Although thru time, they managed to keep an underground niche fan-base and did reunite in 2011 for shows and eventual new album in 2015.

Thank you Uncle Norm for putting "Isolated" on heavy rotation in 1991.

*
Isolated = video
https://www.youtube.com/watch?v=OTb9HFabDrI
Sold Baptism = video
https://www.youtube.com/watch?v=f6U3bqRUY0I
Cursed = full CD
https://www.youtube.com/watch?v=hl9pHHC_T5c
Interview in 1991
https://www.youtube.com/watch?v=kXJdiTPtvo4
Live in 1991
https://www.youtube.com/watch?v=T2SEr21c9AY





May 25, 1993 - 2023: 30 years of: Odium.

A different side of deathmetal.

Following the deadly darkness of 1991's Cursed CD, the return of MORGOTH would be a sharp turn into the left hand path. Breaking the trends, one riff at a time, this mid-90s version would incorporate new textures, never heard before in the extreme field of deathmetal. A scene-challenging signature.

The quick crunch is imminent on "Resistance". Hammering percussions and perfect 4/4 riffing ...with a mechanical vibe. Embedded in gloom, the killings continues on "Submission", where a menacing mood creates a unique commanding mix. More visions of morbidity appears on "The Art Of Sinking", while the cosmic cacophony of the "Odium" instrumental title-track is a posh 6:16sec progressive metal build-up, from a now mature band.

Ripping death-grunt and low-ends blast mid-paced deathmetal on "Drowning Sun", while "Under The Surface" provides the goods ...with a modern twist. Shades of industrial-character and samples, support these tracks, in order to provide a fresh new outlook on the stagnant genre.

In 1993 the scene was morphing, bands like CARCASS were rocking on a major-label, PESTILENCE was pushing technical prowess and ENTOMBED were incorporating garage-punk. In this swing of metal-exploration, MORGOTH really exited to temptation. A lethal fusion of aggression and like alchemists, they delivered with an opened mid-range production and dynamic cutting-edge tones.

During their last call and last laugh, more trends would be broken into oblivion with 1996's alt metal / rock Feel Sorry For The Fanatic CD.

*
Under The Surface = video
https://www.youtube.com/watch?v=jj4wcIP4Hy4
Odium = full CD
https://www.youtube.com/watch?v=af5PZUQF1VQ&list=PLiLDkNTiyE1xloVa79mXNeLQYb8rYIkE-
Interview in 1993
https://www.youtube.com/watch?v=VqBgn3YZBoQ



more MORGOTH:


Death-Metal 1988-92
&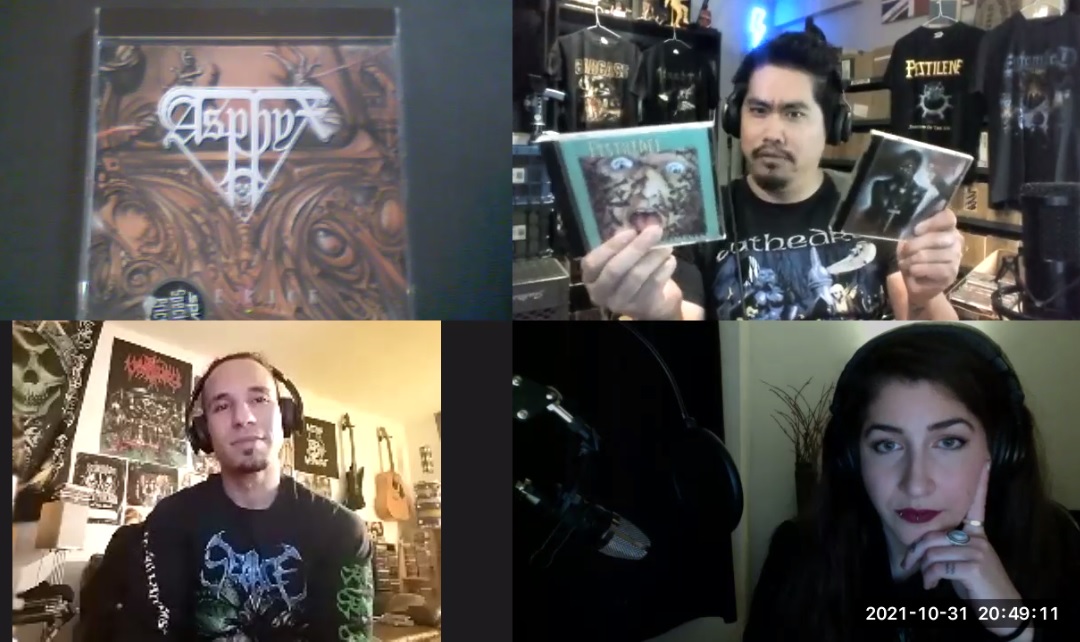 Death-Metal EU 1991
INDEX
helterskelter.ca
(c) (p) 2017-2023 helterskelter.ca. All Rights Reserved. Tous Droits Réservés.