NIRVANA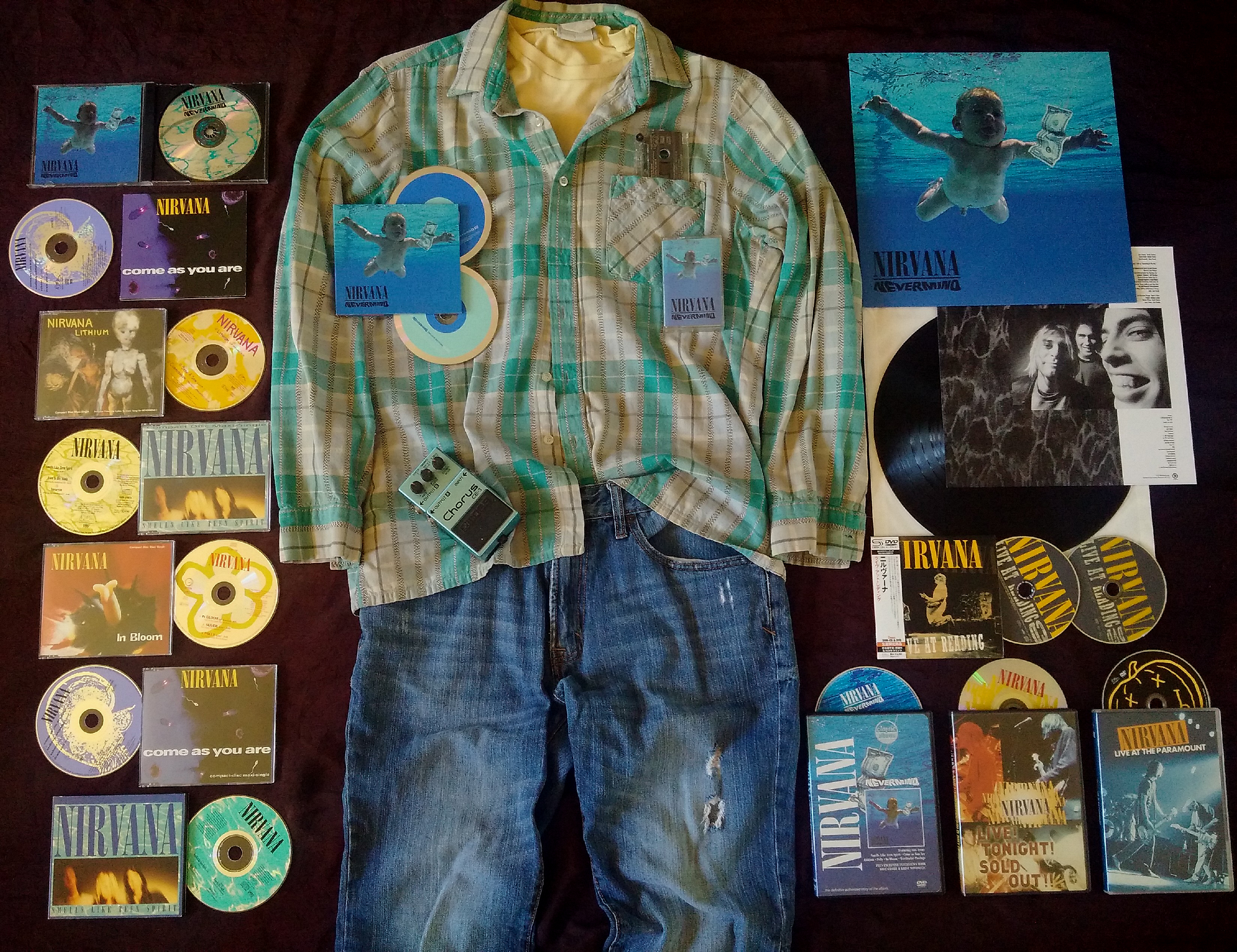 September 24, 1991 - 2021: 30 years of: Nevermind.

Trend-setting, historic and generation-steering ...yet fully unexpected.

Never on the rocknroll-radar, Seattle is just another normal city on the US West-Coast. So far away from the Los Angeles limelights and Beverly Hills stardom, this then peace would rapidly turn the NoCal nobodies into the global epicenter of early 90s alternative-rock ...the grunge movement.

After the cool local impact of their 1989 Bleach debut-LP released on indie-label Sub Pop Records, the foursome, became a threesome and also welcomed aboard new drummer Dave Grohl. Signing with major-label Geffen Records, they hoped for better distribution and more exposure ...little did we all knew, within weeks the entire music-landscape would be turned inside-out ...from BON JOVI to MC HAMMER to MEGADETH to PAULA ABDUL ...they all felt the grunge tidal-wave.

The intro-riff, the destruction, the chorused notes, the anthem:
"With the lights out it's less dangerous, here we are now, entertain us, I feel stupid and contagious, here we are now, entertain us ". The single-song that started it all and in a single 5:02sec, a new genre and a new sound was born. "Smells Like Teen Spirit" is the battle-cry of a generation, raw and loud, for a raw and loud crowd. The "God Save The Queen" of this new era.

Louder, this band is fully "In Bloom", exploding on all cylinders, moshing to a tee with "Stay Away" and exposing true punk-flair with the abrasive "Breed" and the decibel-decadent "Territorial Pissings". From lumberjack to actual heavy-rock, the warm melodies of "Drain You" and the dark moody "Lithium" are clear signs of musical growth.

More melancholy is set to high with the beautiful "Come As You Are", a now iconic mid-paced track that does not fit in the powerballad-format, yet exhibits all the pieces of the aforementioned. Total darkness is reached on the acoustic "Polly" and depressive-mood of the cello-supported "Something In The Way". A full rollercoaster of emotions.

Nevermind is more than a rock-record, it's a changing of the guards.
NIRVANA are more than a rock-band, they are poster-boys for a new generation.

Just like rocknroll was derailed by disco, punk and then newwave, the later was pushed out by heavymetal and after a decade-long reign ...it was now time. Anti-leather, anti-spandex, anti-hairspray, anti-lead solos, anti-concept album, anti-Satan, anti-violence, anti-spotlight, anti-big stages, anti-limos, anti-babes, anti-mansions, anti-rockstars ...all soaked in total punk-attitude !

Yet the anti-rockstars were now ...rockstars, dealing with massive media attention and worshipping at the altar. Very mindfucking for a tiny rock-trio that just wanted to keep being a tiny rock-trio. As displayed in this simple lyric-line: "Our little group has always been and always will until the end"

Instant icons for Generation X, NIRVANA in a simple three-chord-garage-band encapsulated all the boredom and disgust of 80s superflux and overhyped lifestyle and mindset. The medias rapidly highjacked the band and made them, along other freshly new Seattle powerhouses PEARL JAM, ALICE IN CHAINS and SOUNDGARDEN, scapegoats for the extinction of hardrock, heavymetal and other numerous generic 80s FM and MTV pop-acts. Deep down the boys didn't really care, but this industry is bigger then it's combined players, as they will either make you ...or break you.

Throughout the history of music, many cities have been blessed with a sound and a signature that matches it's bands and specific esthetics: Liverpool, Birmingham, London, New-York, Tampa, Memphis, Detroit, Chicago, Los Angeles ...and now Seattle was part of the club-house.

Released to no expectation, in a sea of GUNS N' ROSES, METALLICA, OZZY OSBOURNE, SKID ROW, and VAN HALEN, the people at Geffen Records were hoping for a respectable 500000x units to-be shifted. Currently RIAA-certified 10x Platinum, the Butch Vig produced Nevermind CD stands in the very, very, very, very selective club of the Diamond-Award: the 10 million+ US threshold ...a titanic grand total of more than 30 million+ units sold wordwide to date.

On tour they destroyed everything, including themselves, literally Kamikaze-style, again with total punk-attitude. Everybody wanted to be part of it, this new breed of aggressive rock and everybody changed and adapted, from fans to fashion to bands to labels to the entire modus-operandi of the music-business, everybody. Grunge plowed away almost instantly all of the 80s-heroes aside to the curb.

Their third and last record, the anti-commercial über-abrasive masterpiece In Utero CD, shall arrive upon 1993, with a very different mindset, in a different culture but with sky-high industry expectations. Nevermind the trends, be yourself and eventually people will listen.

Hi Axl, hi Axl, where's Axl ? ...hi Axl ! hi Axl ! HI AXL !

RIP Kurt Cobain (1967-1994)

*
Smells Like Teen Spirit = video
https://www.youtube.com/watch?v=hTWKbfoikeg
In Bloom = video
https://www.youtube.com/watch?v=PbgKEjNBHqM
Come As You Are = video
https://www.youtube.com/watch?v=vabnZ9-ex7o
Lithium = video
https://www.youtube.com/watch?v=pkcJEvMcnEg
Nevermind = full CD
https://www.youtube.com/watch?v=7TDeBi34OtE&list=PLMxy067kbpQjRXmNGao7pvVoFaCTIZRze
Interview MusiquePlus in 1991
https://www.youtube.com/watch?v=knb7ICiQUbI
Live in-store in 1991
https://www.youtube.com/watch?v=hSElFkC_9PU
Live at Foufounes Electriques in 1991
https://www.youtube.com/watch?v=xto5gNmd9tI
Somewhat live at Top Of The Pops
https://www.youtube.com/watch?v=DzRAZ1uS-Ao
Live destroying a UK TV-show in 1991
https://www.youtube.com/watch?v=N49kYRC_EhQ
Live destroying the MTV Awards in 1992
https://www.youtube.com/watch?v=XUM_DWobimA
some guy
https://www.youtube.com/watch?v=LRQ7C0N-SgA





September 21, 1993 - 2018: 25 years of In Utero.

1993: the epitome of a style, a scene, a movement, a decade, a generation !

More then just garage-bands, the sounds of Seattle changed the face of rocknroll no less and NIRVANA were the leaders of the pack.

The trio's 1991 second album Nevermind still stands tall and still remains untouched with it's 30 million+ sold ...but the gestation really came in utero. It would've been far too easy to make a Nevermind #2: simple grungy songs, generic verse-chorus-verse pattern all cleaned and polished for MTV's youth ...it would've went multi-Platinum in no time.

But no, the band went full 90° and released one of the most un-commercial CD ever on a major label, with dirty under-produced tracks, acid-tone guitars, signal-noise, guitar feedbacks, harsh abrasive vocals ...all coated with punk attitude, DIY-vibe and looks to match. The raw chaos within reeks of angst and deep introversive lyrics and destructive guitars by Cobain, the loud rhythmic bass of Novoselic and the ear-splitting drum acrobatics of Grohl, makes In Utero a tormented, yet appreciable, voyage inside the hearts and minds of three enraged isolated young adults.

Deemed "unreleasable" by their very record-label, In Utero is a major "F.U we're gonna do this our way" to the very same industry that pushed them above and beyond. In so many ways, In Utero is a commercial-suicide, as none of the tracks have real radio appeal ...yet 15 million+ copies did find a home.

Ain't a mere radio-friendly unit shifter: In Utero is the voice of Generation X !

*
VIDEO
https://www.youtube.com/watch?v=UThKn_TmfmM
CD
https://www.youtube.com/watch?v=4LNg59wa88I&list=PLvH83oe-JSRuKtKgb74kn0friBlGQxx7bjAJMSmUidzB
REAL PEOPLE
https://www.youtube.com/watch?v=fiwhwy7S4qA
DOC
https://www.youtube.com/watch?v=Ud5mQvcr8s0
LIVE & LOUD
https://www.youtube.com/watch?v=zagAeZ5eH94&list=PL8J6g3mQaLOf2ZRJ3z2YXF




Référence croisée Helter Skelter:


Grunge
INDEX
helterskelter.ca

(c) (p) 2021 helterskelter.ca. All Rights Reserved. Tous Droits Réservés.