BIOHAZARD
1994 - State Of The World Address.
1996 - Mata Leão.
more BIOHAZARD.
way more Helter Skelter.


May 24, 1994 - 2019: 25 years of: State Of The World Address.

The Surgeon General sez: new-school NYHC is biohazard !

While ICE-T's 1992 BODY COUNT was labeled gangsta-metal, New-York's own thugz BIOHAZARD was to some degree, their East-Coast counterpart. And unlike the real-life West-Coast / East-Coast hiphop rivalry and killings, heavymetal's take on the matter was a more brotherly one. While the seed was planted with ANTHRAX 1987's trailblazing rapmetal track "I'm The Man" ...the fruits of this crossover were fully matured by 1994.

Having shaken the scene with 1992's Urban Discipline CD, album #3 State Of The World Address was the make-or-break release for the quartet. Now signed to major-label Warner Brothers, the boys were set to dominate the decade. Street-hustlers turned rock-musicians, BIOHAZARD is the adrenaline that made the nineties different, mixed with experimentations and trend-changing: some DIY hardcore, some thrashmetal and a heavy dose of new-style hiphop, all genre clashed in a hybrid metal-core fusion, fueled by: pride, respect and attitude !

The mosh-pit opens up with the title-track, a fast-paced piece that will leave you with a few loose teeth. "Down For Life" steps-up and kicks matter into high-gear. The tracks "Cornered" and "Tales From The Hard Side" gives the new term streetmetal it's full credentials, pure raw-power possemetal with rhymes trade-off: "Pissin' down your leg, you're a victim of carjack - Feel the cold steel as I pull the hammer back - Bang! You're fuckin' dead 'cause it's like that" ...words not from Compton, words from Brooklyn !

Sen Dog from CYPRESS HILL make an impressive guest on "How It Is", a full-on rap / metal union that is so synonymous with the 90s. On the punchy "Five Blocks To The Subway" both Seinfeld and Graziadei trades lyrics like pro MCs, this is where Fred Durst got his grooves from, while the track "Remember" pays respect to the Nam-veterans. "Each Day" spits out pure venom outta the loud-speakers and the beautiful flamenco-guitar and piano into of "Failed Territory" shows another side to the band.

BIOHAZARD were the new-metal of the 90s: cooperation with ONYX on the trendsetting Judgment Night soundtrack, touring and performing live with HOUSE OF PAIN on their hit Shamrocks & Shenanigans and paying tribute to the Gods on the stellar BLACK SABBATH homage Nativity In Black ...you just couldn't look away.

The slogan "Tour until they notice you" was applied by the BIO-guys from Day One as they shared tour-buses with HELMET, MACHINE HEAD, KREATOR, SICK OF IT ALL, FISHBONE and SLAYER to name a few. MTV did the rest, injecting their videos into the post-grunge era, with ringmasters Beavis & Butt-Head keeping everything under control.

D.F.L. !!!

*
Tales From The Hard Side = video
https://www.youtube.com/watch?v=0nfoMPldPU4
How It Is = video featuring Sen Dog
https://www.youtube.com/watch?v=gFvr0sU46C8
Judgment Night = ONYX video featuring BIOHAZARD
https://www.youtube.com/watch?v=IoNJhv4M13U
After Forever = tribute to BLACK SABBATH video
https://www.youtube.com/watch?v=Sawa9-MSEzI
State Of The World Address = full CD
https://www.youtube.com/watch?v=wLKrz1tqJww&list=PLJOdTCnuji5B0PhNvgKKx8ZqPsYjhgGPT
Live stage-dive in Germany in 1994
https://www.youtube.com/watch?v=k6XoHlUOr0Y






June 25, 1996 - 2021: 25 years of: Mata Leão.

MMMM-NYHC !

A Mean Modern Muscular Metal take of the classic New-York Hard-Core sound and esthetics. This time it's louder and uglier than ever ...and it's on a major-label. Marshalls and Dickie's, this is the new way.

After the hot success of 1994's State Of The World Address CD, touring with SLAYER and being broadcasted on Beavis & Butt-Head, the quartet became a trio and dug deep into the underground.

The moshpit hits hard with "Authority", where the popular "Fuck the rules !" slogan rings aloud. A knee to the face will not get you "Stigmatized", while "A Way" peels away the grime from the walls of the CBGBs. True red-blooded hardcore-punk is exposed on "Competition", "Better Days" and the new fan-favorite "A Lot To Learn".

Caught in a mosh between two extremities, the Brooklyn-boys had to work around the clock to keep the momentum above water. In the mid-90s, a new modern hardcore-punk signature was settling in the rock-scene and for a while, BIOHAZARD had a firm chokehold on the pulse.

*
A Lot To Learn = video
https://www.youtube.com/watch?v=_4gNGAWwzPc
Authority = video
https://www.youtube.com/watch?v=Hu3a2zQhLp4
Mata Leão = full CD
https://www.youtube.com/watch?v=qa8UDIxURtU&list=OLAK5uy_kOiEBHGpUdhI7abwFhKlwgQX3mXDndlzA
Interview MTV in 1996
https://www.youtube.com/watch?v=OOi3k5eLE0E
Live in Germany in 1997
https://www.youtube.com/watch?v=GGcKp5ur8Bg




more BIOHAZARD:


Alternative-Metal 1992
&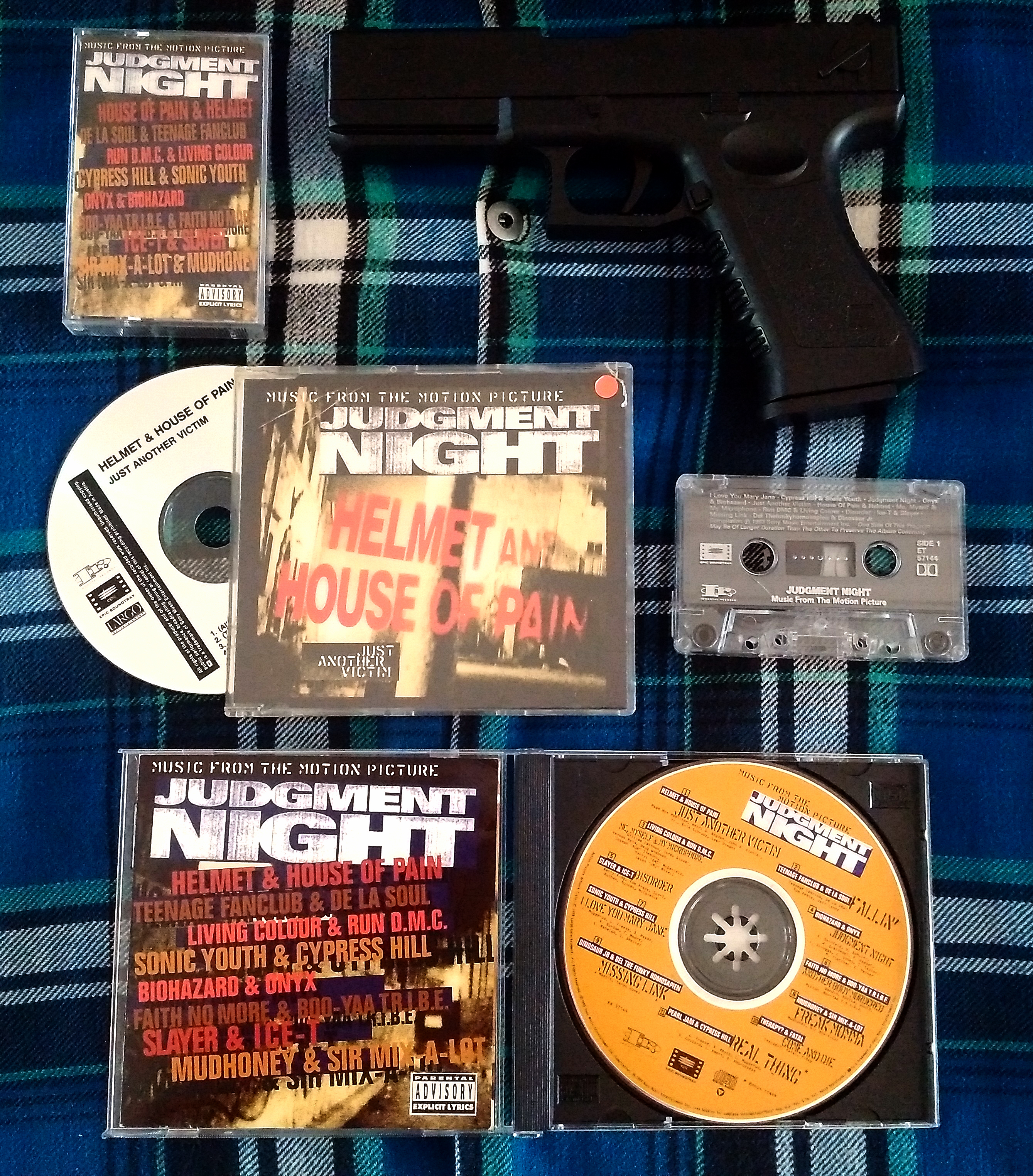 Judgment Night
INDEX
helterskelter.ca
(c) (p) 2017-2023 helterskelter.ca. All Rights Reserved. Tous Droits Réservés.