COOPER, Alice
1973 - Billion Dollar Babies.
1975 - Welcome To My Nightmare.
1986 - Constrictor.
1987 - Raise Your Fist And Yell.
1989 - Trash.
more COOPER, Alice
way more Helter Skelter.


January 17, 1973 - 2023: 50 years of: Billion Dollar Babies.

Time to cash in.

Got no time for recess, still riding high on 1972's iconic School's Out LP, this was the nightmare before THE nightmare and diametrically ...the last effort from the classic Alice Cooper band lineup.

The build-up of Rolf Kempf's "Hello Hooray" is a fine 70s prog / epicrock number, that slides into the red-hot cool "Raped And Freezin". Slick rock takes over on "Unfinished Sweet" and on the ultimate money-shot of the "Billion Dollar Babies" title-track. This is a band at their finest moment.

Dirty punkrock, before punkrock was punkrock, arises from the gutter, with the riff-raff rage of "Elected" and the overdrive of everybody's favorite cool-kid ..."No More Mr. Nice Guy". The unconventional 2:22sec piano jazz of "Mary Ann" takes a right turn, while dark left turns experimentations appear on the morbid fantasies of the album's final cut: "I Love The Dead".

On tour, mannequins and baby dolls were destroyed beyond recognition and more blood was spilled from the stage than an actual slaughter. A horror-show you could ear and watch as America was fully hypnotized by this lovely killing machine.

RIAA-certified Platinum and overall hardrock staple, the Billion Dollar Babies era is the final celebration for hard evolutive rock, in an era where actual hardrock wasn't even on the map, yet. The last call for the Ouija-players would occur with Autumn '73s Muscle Of Love LP.

No more mister nice guys !

RIP Glen Buxton (1947-1997)

*
Elected = video
https://www.youtube.com/watch?v=LiQW1TlDZMU
Billion Dollar Babies = video
https://www.youtube.com/watch?v=FAWYVmLHFbg
Billion Dollar Babies = full LP
https://www.youtube.com/watch?v=K0k93GRFeS4&list=OLAK5uy_m0XSzIovn11k53wRD4E289tamolg4HbdQ
Live at MSG in 1973
https://www.youtube.com/watch?v=xOalM7m7x7o
Interview in 1974
https://www.youtube.com/watch?v=E90jokEn8M4






March 11, 1975 - 2020: 45 years of: Welcome To My Nightmare.

No more Mister nice guy, The King goes solo ...no not Presley, but The Coop AKA the King of shock-rock: Alice Cooper !!!

Detroit's most destructive delinquent breaks away: before the "Poison", before the "Teenage Frankenstein", before the newwave-flair of DaDa and before the experimentation of From The Inside ...there was the rocknroll roller-coaster that is the 1975 tour-de-force Welcome To My Nightmare LP.

While AEROSMITH was ruling the arenas and new-comers KISS where still struggling behind their dollar-store make-up, Mr. show-business himself was set on some more billion dollar babies.

Welcome ...to his nightmare.
Welcome ...to the show.
Mr. Cooper and producer Bob Ezrin makes magic.

The opening title-track sleazes its way slowly but surely into a fusionrock climax, between clarinet interventions. The always tempting "Devil's Food" will make you have your cake and eat it too, while it's outro / intro presents us Alice's favorite play-along pet: "The Black Widow". A piece featuring one of Hollywood's greatest voice: Vincent Price.

The jazzy "Some Folks" keeps the pace in check and morphs into the hemophilic "Only Women Bleed" ...a simple yet pure and posh, classic-rock ballad anthem. Don't worry headbangers, hardrock-cuts includes the rebellious "Department Of Youth" and the heavy-guitar driven "Cold Ethyl".

The center-point of this concept-album is the epic "Steven". The childhood horror becomes alive on the 5:46sec progressive rock adventure, including full-on synths and string orchestration. Grandiose-rock !

The nightmare was actually really starting, creatively and commercially speaking. The LP and following elaborate theatrical touring-cycle did really good, but the following set of records throughout the mid-80s had lost it's rocknroll touch. But fear not, like any good monster, the hardrock element would finally snake back into place on the venomous 1986 reptilian return of Constrictor.

School was definitely out !

*
Department Of Youth = video
https://www.youtube.com/watch?v=_DtSfryfeWI
Only Women Bleed = video
https://www.youtube.com/watch?v=ZfZyxu5UMCU
Welcome To My Nightmare = full LP
https://www.youtube.com/watch?v=6ZeaCohfWsY&list=PLA2K7Uhu9TwAQR9V97hu5gbvegLWO2nR-
Live in 1975
https://www.youtube.com/watch?v=N2wZMNPUTvg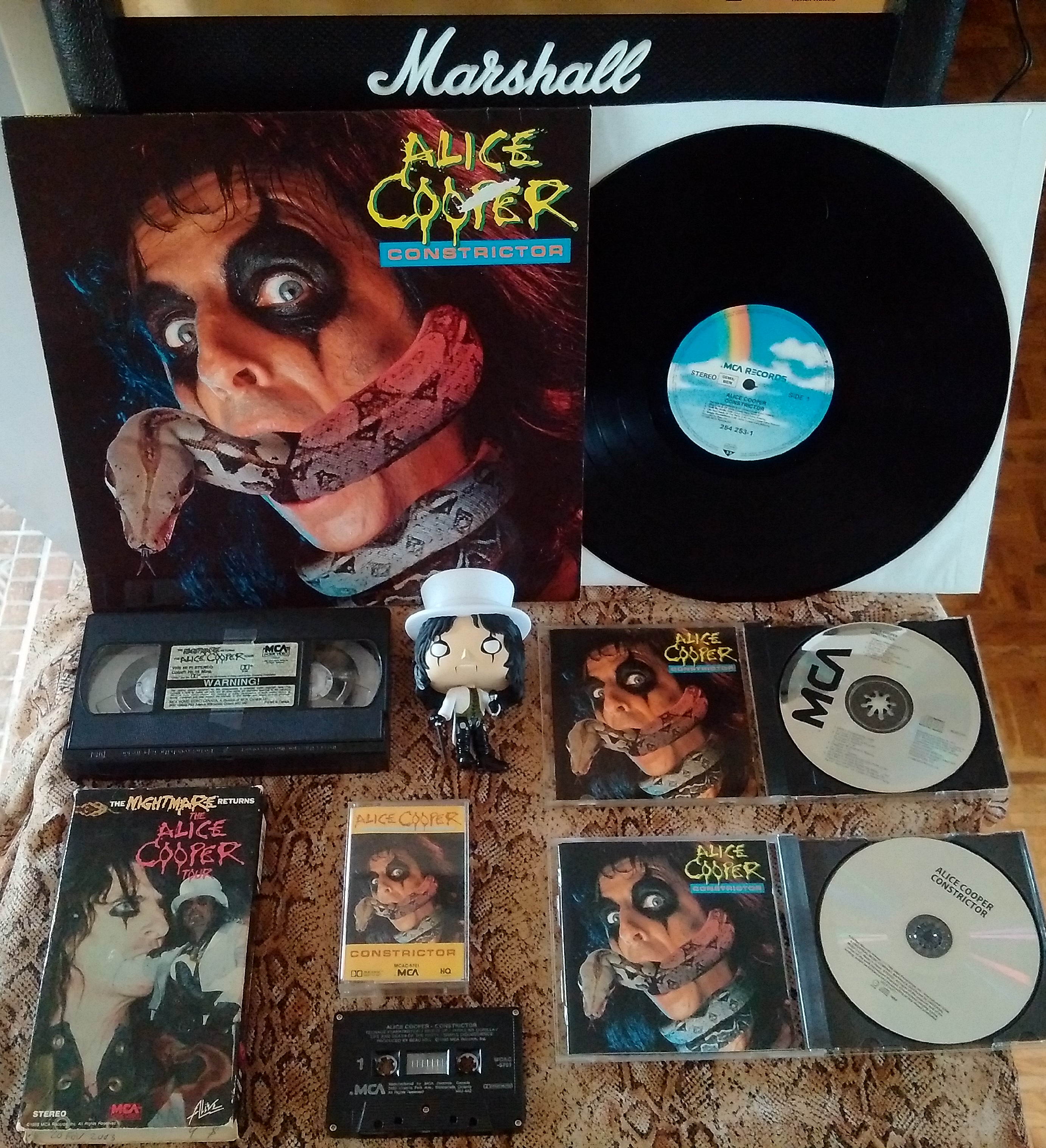 September 22, 1986 - 2021: 35 years of: Constrictor.

The rebellious reptilian returns.

Vile and horrorfull since Day One, yet utterly lovable and articulate, the desperado is biting back. After the hazy hardcore 70s, the early 80s saw the king of shock-rock flushing his fashion with newwave-flair and post-punk prototypes. Yet in mid-decade, the reigning Sunset Strip bad boys were about to get schooled out by the ultimate black widow rock-maestro.

Introducing the Special Forces:
For xtra-muscle, enter new heavyweight on guitars: Kane Roberts.
And in the low-end department, future rock-icon: Kip Winger.

Impact is imminent as the awaken monster, this "Teenage Frankenstein" arises. Loud metal-guitars and throat-chocking attitude, Cooper is back. The punches keeps commin' never gonna "Give It Up", these hardrockin' men are just a case of "Simple Disobedience".

More hardrock explode on the edgy "The Great American Success Story" and the bloody "The World Needs Guts", while shades of pop is felt on "Trick Bag". The throwback 80s synth-track "He's Back (The Man Behind The Mask)" eventually found fame on the slasher / massacre Friday The 13th Part VI Jason Lives movie.

Out of Wonderland, Alice goes to West-Hollywood, headbutting with the current new kids on the block GUNS N' ROSES, W.A.S.P. and the MÖTLEY veterans. Like a shot of cold ethyl, his comeback would solidify with the matching louder than loud 1987 Raise Your Fist And Yell LP.

Welcome back to his nightmare.

*
He's Back (The Man Behind The Mask) = video
https://www.youtube.com/watch?v=K-XAjEyrqOs
Constrictor = full LP
https://www.youtube.com/watch?v=6hxshQZcly8&list=OLAK5uy_md-HYI3jE0DncgPMVebBz7-5I2cCNrU3c
Interview in 1986
https://www.youtube.com/watch?v=lrzhgjh0cyI
The Nightmare Returns: live in 1986
https://www.youtube.com/watch?v=PzW1kFN-KwU&list=PLhkcPgNyqpi1dB_xwDzb6wWdz_YuR1fOa






September 5, 1987 - 2022: 35 years of: Raise Your Fist And Yell.

It's gonna be loud ...head to the gallows !

After 1986's cryptic cyanide chaos of the Constrictor LP, the rebelrock return was in full motion. Appearing in front of 93000+ rabid rowdy-fans along Jake The Snake at WrestleMania III in March 1987, as well as, an appearrance in John Carpenter's Prince Of Darkness ...Alice was once again at the pole-position. Prepare the guillotine.

Drums devastates, guitars devastates and Alice devastates with an iron hand as the patriotic hard edged anthem "Freedom" rings aloud. Step aside Sunset boys, Daddy is back at the barn. More venom is sprayed on "Not That Kind Of Love", while "Prince Of Darkness" brushes any doubts ...Alice is the undisputed Prince Of Darkness, sorry Ozzy.

Steel-pumping axemen Kane Roberts flexes his muscle of love on "Step On You" and the closer, the morbidly / lovely "Roses On White Lace". The other king of horrors make a cameo on the metal-monster "Lock Me Up", a terrifying union made in the abyss, please welcome to this nightmare: Freddy Krueger.

America yelled loudly as the RIAA-certified Gold status was reached. In this later half of the colorful 80s, the bloody Cooper easily stomped through the current trends finding a renewed rock revival. This current lineup also contains half of the to-be WINGER band. At press-time, the machine-gunner is back, Mr. Roberts is officially working with the band, after walking separate ways 34year ago.

The head-chief of hellion shall be strike again, with one of hardrock's reigning crown, the nails filled bed: 1989's Trash LP.

*
Freedom = video
https://www.youtube.com/watch?v=mL1kQQbhmY8
Raise Your Fist And Yell = full LP
https://www.youtube.com/watch?v=u-juA-R_rKw&list=OLAK5uy_lP8u8NT9ROkwdZ5A0Za3JF_65lLF_vZw0
Interview with Jake The Snake in 1987
https://www.youtube.com/watch?v=y88y2XYVGBM
Interview at MuchMusic in 1987
https://www.youtube.com/watch?v=0-3FvjbNFSE
Live in Toronto in 1988
https://www.youtube.com/watch?v=lzk0gqyZfxU






COOPER, Alice
Trash
1989

*
Poison = video
https://www.youtube.com/watch?v=Qq4j1LtCdww
Trash = full LP
https://www.youtube.com/watch?v=XUhjIoDC7Pg&list=OLAK5uy_mnLUm_QECbT1__2hhXBD_fZZxfkytfY6k




more COOPER, Alice:


The Decline Of Western Civilization, Part II: The Metal Years
&


WINGER
INDEX
helterskelter.ca
(c) (p) 2017-2023 helterskelter.ca. All Rights Reserved. Tous Droits Réservés.