MEGADETH


June 12, 1985 - 2020: 35 years of: Killing Is My Business …And Business Is Good.

$10000 up-front...

All it took was the firing of one angry young man, to generate one of the most documented heavymetal-rivalries. On one end, ready to take on the unexpected world by storm, the thrashmetal four horsemen METALLICA ...and on the other, the former-horsemen set on revenge-mode.

MEGADETH is Dave Mustaine and Dave Mustaine is MEGADETH, and MEGADETH is one of the most respected thrashmetal bands in history. None only by their 35+ years of successes and Platinum-selling status or for being architects of aggression, but for primarily pushing the newly created thrashmetal-genre into overdrive. What METALLICA started, Dave Mustaine perfected it. And by perfected, we fully include METALLICA within this madness, as a massive dosage of riffs and melodies found on the first two METALLICA LPs includes Mustaine-penned guitar-riffs.

Like AC/DC would say: Who Made who ?

The brawl was full-on and Mustaine along with is new sidekick and long-time writing-partner bassist David Ellefson, were on a mission to reclaim the thrashmetal-throne.

The piano-intro "Last Rites" is a heavymetal-version of J.S. Bach's "Toccata And Fugue In D" and sets an eerie mood and then the shotgun-blast of "Loved To Deth" makes the first head-shot kill. Bloody mess and palm-muting, this is the beginning of a new revolution.

The title-track features an off-set drum-beat filled with jazzy-overtones, but make no mistake about it as the fast-verse slays all in sight. A supporting fact to this album's strength is Ellefson's rock-solid bass-lines. The rabid-like "Rattlehead" is pure speedmetal in all of it's rage and wrath. Count it along with EXODUS's A Lesson In Violence, SLAYER's Kill Again and POSSESSED's Burning In Hell as one of the kvlt-classicks of the Class Of '85 in a long line of speedmetal immortals.

Rattle your god dam head !!!

The hard-kickin' cover of "These Boots Are Made For Walkin'", the classic 1966 Americana written by Lee Hazelwood and personified by sex-symbol Nancy Sinatra, is a fine electrified rendition. This reprise is the first of many that would end up being Mustained in the impressive MEGADETH catalog.

The closer is the interesting "Mechanix". Interesting as this cut is the original skeleton for METALLICA's "The Four Horsemen" initially co-written by ...Dave Mustaine. This MEGA-version is faster, angrier and rawer than it's counterpart ...definitely all Mustaine !

The MEGADETH-legacy starts here, this is Day One for thrashmetal/speedmetal music. Granted Mustaine is one tough character and did went thru a phone-book of musicians throughout his career, but the fact that the man still stands tall and strong and still releasing quality material, is a testament to his iron will and genuine beliefs.

This also means that the 35year old Vic Rattlehead, the original thrash-scot has been kicking ass since Day One too, and has graced almost every 'DETH album-cover since, along tshirts and numerous related merchandise. See no evil, hear no evil, speak no evil: a true metal icon !

Signed to independent-label Combat Records, also home of EXODUS, POSSESSED and eventually FORBIDDEN and NUCLEAR ASSAULT, this rugged camaraderie was meant for MEGADETH. The initial acceptation by the scene was an instant success, top selling to a hungry crowd, raging and wanting more. The band soon signed with major-label Capitol Records and worldwide recognition applaused each and every release and managed to upped themselves, starting first with 1986's mega-monster-metal-massacre Peace Sells ...But Who's Buying LP

...$10000 when I'm through.

RIP Gar Samuelson (1958-1999)

*
Full LP
https://www.youtube.com/watch?v=qy_PbXI48hc&list=PLPf69IGxwfBEJKHPSYytYcO2NcrudsShO
Interview in 1985
https://www.youtube.com/watch?v=tD93VhYyc6w
Live in San Diego in 1985
https://www.youtube.com/watch?v=EkWFHXuCv2w
Some guy
https://www.youtube.com/watch?v=kaN656ctn3A
Dave Ellefson live in 2018
https://www.youtube.com/watch?v=oMb--u-1yBg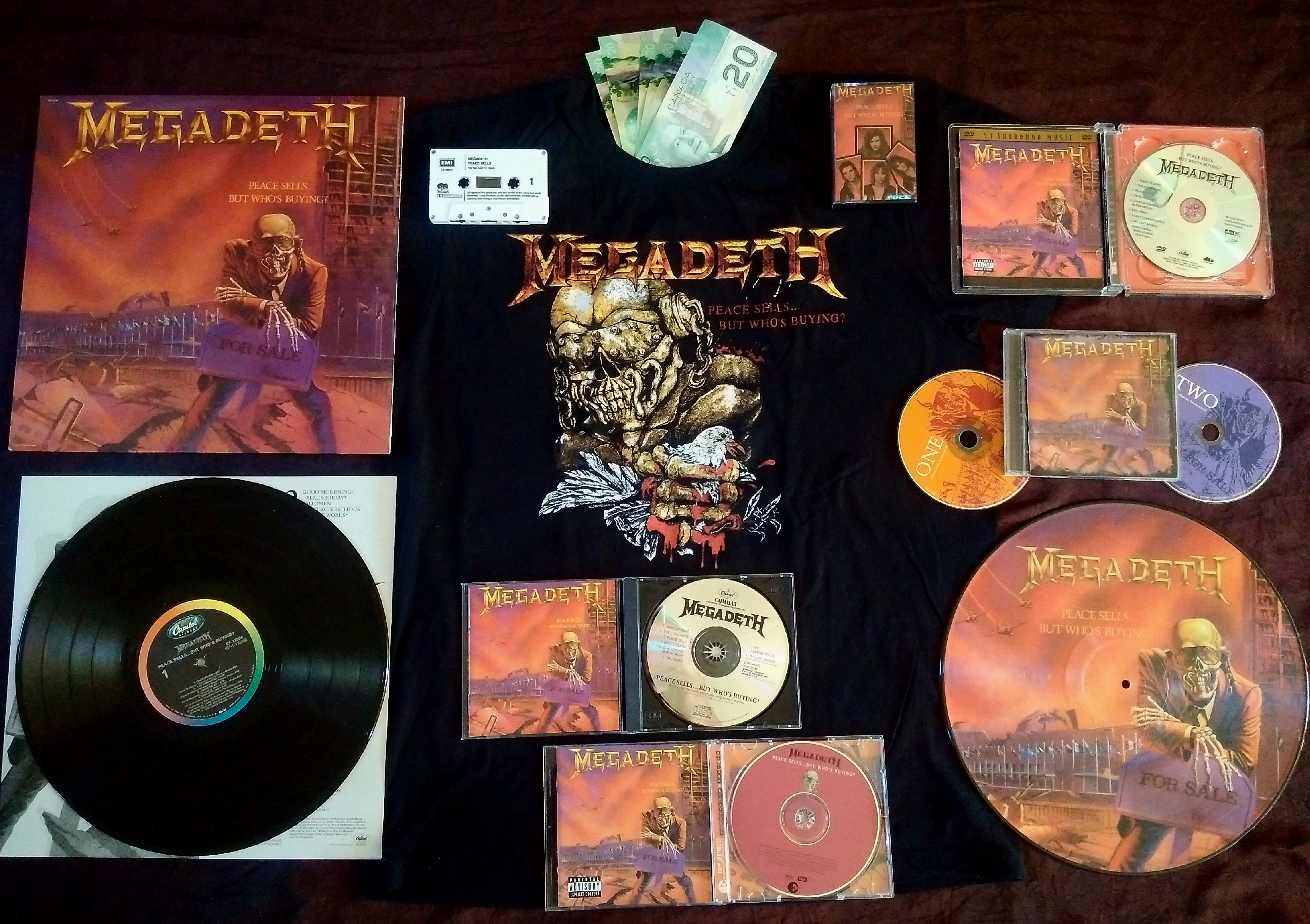 September 19, 1986 - 2021: 35 years of: Peace Sells... But Who's Buying ?

Nobody's buying ...yet business was good.

After the rattle-headbanging fist-pumping fiesta of 1985's Killing Is My Business LP, the wait wasn't too long, yet the stakes where commercially-crucial. The direct competition to the other big thrashmetal band that starts with the letter "M", it is now 1986, drugs are rampant, speedmetal is on high and the race is on.

Keep quiet or you'll "Wake Up Dead". A now trademark, mid-part mosh breakdown that keeps the beat in check. Faster, rawer and moshier, the celebration continues with a late-night gathering of "The Conjuring". The occult makes a dark apparition in this speedmetal riff-o-rama.

The progressive element makes a strong statement in the adventurous "Good Morning / Black Friday" where eventually body-parts starts flying at the 2:23sec mark. The game-changing title-track is an Ace Of Spades in the thrashmetal realm. The bass-line, the kick-drums and accompany rhythm guitar. Mustaine may not be a Preacher, but 4mins of eye-opening facts are cleverly summoned.

The rough Willie Dixon blues-cut "I Ain't Superstitious" gets overdriven to the breaking-point and the hidden gem, the last track in "My Last Words" is another wild wrist-warmer.

The architects of aggression at peak performance:
Peace Sells is a milestone in the thrashmetal genre and an intrinsic part of it's rich history.
Peace Sells solidifies the band as a progressive geopolitical-voice in heavymetal.
Peace Sells is the first installment in the MEGADETH-trifecta of picture-perfect releases.

Fear them as they will be back, in the fast revolving metal-landscape, with 1988's thrash-tornado of So Far, So Good ...So What ! LP. In the then world and in the now world, if peace sold ...sadly no-one would even fuckin' buy.

*
Wake Up Dead = video
https://www.youtube.com/watch?v=4kSvN1dQjxc
Peace Sells = video
https://www.youtube.com/watch?v=rdEupVsL07E
Peace Sells... But Who's Buying ? = full LP
https://www.youtube.com/watch?v=Fas1dkyd-5w&list=OLAK5uy_nHGTpSJUV5qxEhNAfZOBZmEUXOf3EA6ow
Interview in 1987
https://www.youtube.com/watch?v=J4drUtfYPRY
Live in Detroit in 1986
https://www.youtube.com/watch?v=Q1dK8nBLfvU
some guy
https://www.youtube.com/watch?v=ufdv40SZ7oo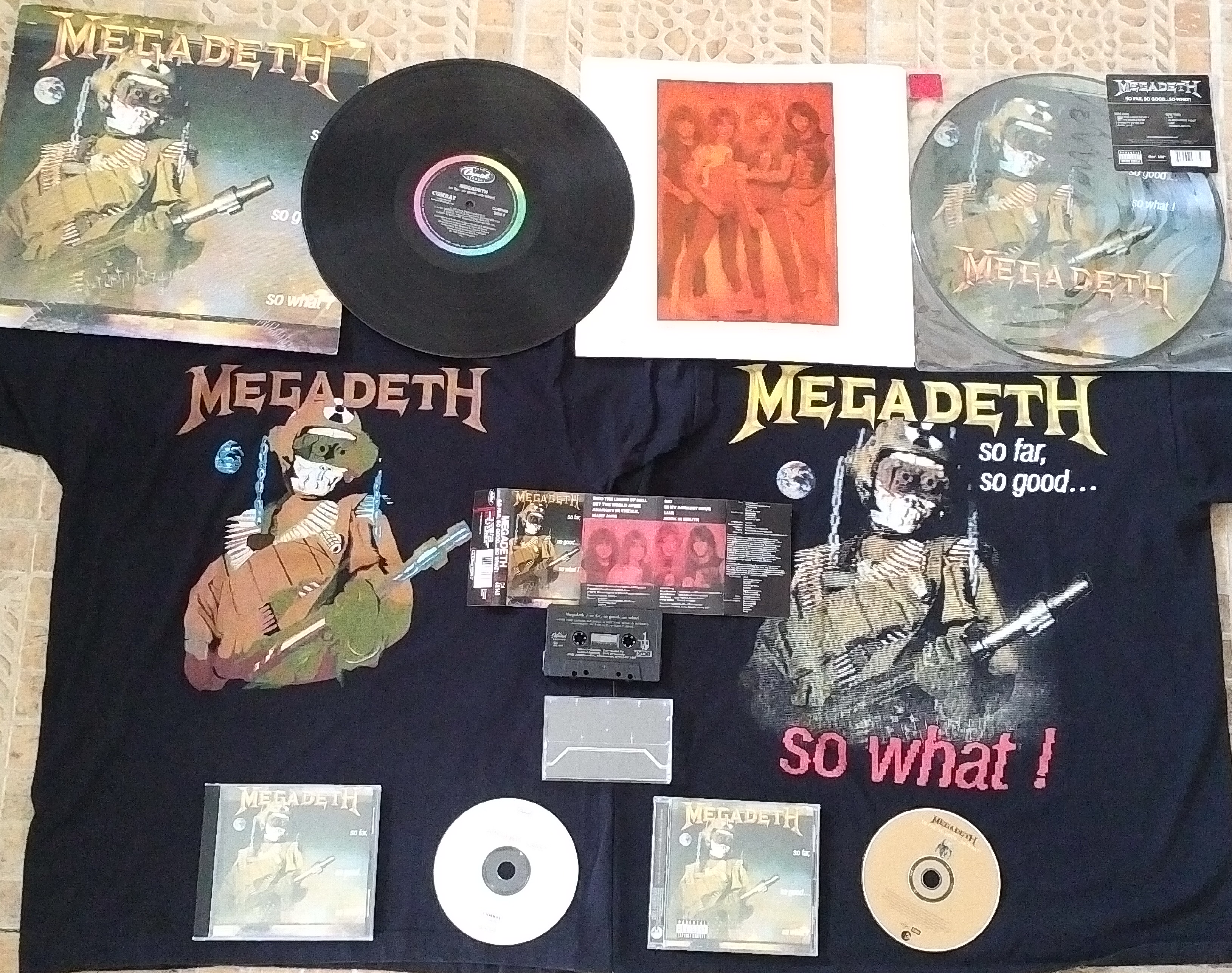 MEGADETH
So Far, So Good ...So What !
1988

*
https://www.youtube.com/watch?v=J87B6icfOtY&list=PLxzSZG7g8c8xHpqDEDG2hZFEyrpB6wJRU





September 24, 1990 - 2020: 30 years of: Rust In Peace.

Peace for sale ? so what ! ...let it rust.

One of thrashmetal's finest hour, and once again, another alumni of the pristine Class Of 1990. Following smart thrashmetal contemporaries like FORBIDDEN, SACRED REICH and DEATH ANGEL, the Dave Inc. band was about to out-thrash 'em all.

Ex-METALLICA Dave Mustaine was still angry, even after successes from 1986's Peace Sells ...But Who's Buying ? LP and 1988's So Far, So Good ...So What ! LP, it was time once again, to reprogram some new phone-numbers on the speed-dial. In full SPINAL TAP fashion, enter ex-drum-tech Nick Menza, who ironically replaced Chuck Behler who himself was drum-tech for the band's first drummer Gar Samuelson. Yep. And on lead-guitar, having a couple of indie-releases under his belt, Marty Friedman was given an audition because in Mustaine's words: "I wanted to know how a guy with orange hair sounded like". The thrashmetal rebirth was complete and metal was about to get some.

1990 the Persian Gulf War, where brothers killed brothers and spilled blood across the land. One of the genre's best ever, the holy grail of thrashmetal. Aggressive to melodic to aggressive and with the current political-tensions, this guitar "Holy Wars" is a game-changer in the genre. Intricate riffs and hooks and then Friedman takes us into a pinnacle-lead that eventually explodes into a ...speedmetal cacophony !

The short drum and bass-driven "Dawn Patrol" is the perfect prequel to the epic beyond epic title-track "Rust In Peace ...Polaris". A riffraff tidalwave that focuses on one single thing: the dreaded Polaris. Even after the collapse of the Iron Curtain, these nuclear ICBMs were still locked and loaded, target: the Eastern Bloc ...just in case.

Mosh fans will feel at home on the neck-breakers "Take No Prisoners" and "Tornado Of Souls", were all 20 fingers of both Mustaine + Friedman combined, provide thrashmetal heaven.

Roswell 1947 finally explained ?

Welcome to the "Hangar 18", cameras and recording-devices strictly forbidden, under Military Law. One of thrashmetal's top songs and one of heavymetal's top songs. Brutal melody, the exquisite musicianship within is next to none. The bass-guitar rings, the rhythm-guitars cut like a laser, the lead-guitars shine and the drums devastate. On the other hand, the lyric-set and matching video deal with a possible secret UFO landing-pad and related extra-terrestrial evidence keepings, all theories that have been part of America's culture since the late-40s. The track's Titanic final-lap: five full hyper-speed guitar-solos, where once again Mustaine and Friedman out-do each other ala Downing + Tipton or Murray + Smith shred-dual. Rapidly, this cut has become MEGADETH's ultimate signature.

Trend-setting and format defying, one of the most lavish mini-movie metal-videos ever:
https://www.youtube.com/watch?v=rUGIocJK9Tc

Seeing MEGADETH live in 1990, watching Dave behind the mic saying: "We've got a new record out called Rust In Peace, this is Hangar 18" ...still gives me chills today, I know, I was there.

The hypothetic/realistic classic artwork of painter Ed Repka, the gathering of Vic Rattlehead and his very, very formal guests. From left to right: the UK Prime Minister, the Japanese Prime Minister, the West-German President, the USSR President and the US President, all surrounding a cryogenically preserved alien life form. Could this be what's hidden deep inside the Hangar ?

Produced by Mike Clink, known for his magic with GUNS N ROSES and WHITESNAKE, the Rust In Peace CD, just like visionaries South Of Heaven, And Justice For All, Practice What You Preach and Extreme Aggression, are part of the 1988-90 thrash movement that exhibits superior musicianship and unparalleled metal.

On tour, perfection hit twice. In the first segment, opening for the almighty Metal Gods JUDAS PRIEST and later tagging-along in the Summer of 1991 with thrash-buddies SLAYER and ANTHRAX on the legendary Clash Of The Titans tour. The epitome for this type of music, this tour would not only gather fan-appreciation worldwide, but also, close the lid on the 80s thrashmetal expansion time-frame.

Now 30 years later, peace has been rust-covered a few times, yet the shiny MEGADETH produced metal still continues to dazzle fans and critics alike. Rust In Peace, a true immortal metal classic.

Hangar 18, we now know too much !

RIP Nick Menza (1964-2016)

*
Holy Wars ...The Punishment Due = video
https://www.youtube.com/watch?v=9d4ui9q7eDM
Hangar 18 = video
https://www.youtube.com/watch?v=rUGIocJK9Tc
Full CD
https://www.youtube.com/watch?v=FiFIGN5084Y&list=PLLHyHi7NUwSY4RMEFG9CDMrPcr-EbSDLH
Interview in 1990
https://www.youtube.com/watch?v=A2bxtH3PZew
Live in Toronto in 1990
https://www.youtube.com/watch?v=wX96M8VN9Io
Clash Of The Titans documentary in 1991
https://www.youtube.com/watch?v=bxZorqqEMQs
Live in Rock In Rio in 1991
https://www.youtube.com/watch?v=GmXLNqzleUU
Nick Menza on drums
https://www.youtube.com/watch?v=KPV9sVau6T4
Jam-ready drums and bass tracks
https://www.youtube.com/watch?v=EMWd8JC_lrs&list=PLyQo3i7V1nL-JEGomI_dPEzjLESLlWKIc





May 15, 2001 - 2021: 20 years of: The World Needs A Hero.

The world needs MEGADETH: the rebirth of an icon !

Vic check, angry Mustaine check, bloody artwork check ...now return to the hangar. Following a cryptic decade, the architects of aggression were biting back. No more Mr. Nice guy, no more risks, time to go to hell: business is good, as this is MEGADETH selling mature-thrashmetal.

"Disconnect" the hook off the mouth and let the metal flow. "The World Needs A Hero" is a dark tongue-in-cheek view of the current political-scene, while the video-single for "Moto Psycho" is a fine mix of metal/rock ready for MTV. Palm-muting action is found on "1000 Times Goodbye" and the slick "Losing My Senses" solidifies Mustaine as a ring-leader in metal craftsmanship.

The mosh-pit starts on the fast cut "Dread And The Fugitive Mind" a bit that could've been issued under the Countdown To Exctinction CD of 1992. Pallets of more lethal metal are to be unloaded when we "Return To Hangar". Following the footsteps of the immortal "Hangar 18", this time we get another view from inside this fortress tall. Metal perfection, more fast riffs and more lead-guitar duels ...the real MEGADETH is alive and well.

The epic NWOBHM finale of "When" is a direct inspiration from DIAMOND HEAD's classic "Am I Evil ?". The riff, THE riff, your know THE RIFF that inspired so many bands and that eventually ended up fully reprised on some other band's debut LP back in 1983 !

Pristine digital-production and exquisite leads from Al Pitrelli of COOPER, SAVATAGE and T.S.O. fame, made The World Needs A Hero CD an integral stepping-stone in the metal-revival of the new millennium and a statement in MEGADETH's return to form, as one of the premier thrashmetal bands and member of the iconic Big Four.

On tour, the MEGA metal-machine was running on full-steam and made heads rattle, as displayed on the Rude Awakening CD/DVD package, until 9/11 stopped the party.

*
Moto Psycho = video
https://www.youtube.com/watch?v=8KVj2SF5CxU
The World Needs A Hero = full CD
https://www.youtube.com/watch?v=OSr6j0ve2JE&list=OLAK5uy_mZ7gWdoWYTcJS89QePcka9ckxfanKyfTM
Rude Awakening = full DVD
https://www.youtube.com/watch?v=LOdCITWkbq0&list=PL46A480204EEC988C
Interview et unplugged à MusiquePlus en 2001
https://www.youtube.com/watch?v=zD_BD9cQ85M
Live in Indonesia in 2001
https://www.youtube.com/watch?v=GSbjOsRzRPg




Référence croisée Helter Skelter:


the Big Four
INDEX
helterskelter.ca

(c) (p) 2021 helterskelter.ca. All Rights Reserved. Tous Droits Réservés.