PESTILENCE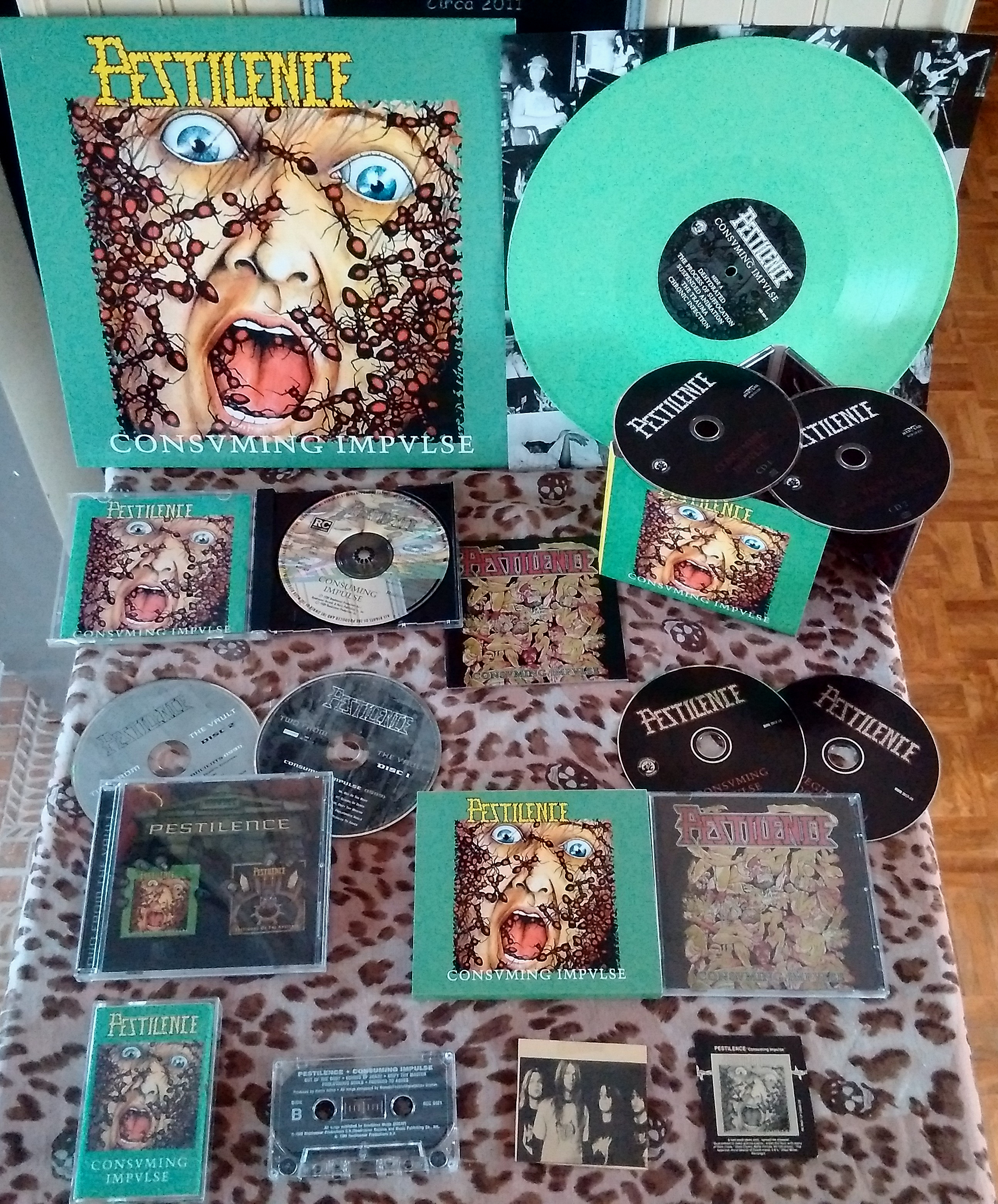 December 25, 1989 - 2019: 30 years of: Consuming Impulse.

Ultra brutal from head-to-toe, this is one of deathmetal's rawest exhibition of pure blunt force !

1989's Consuming Impulse is part of a deadly wave of brutal-deathmetal monoliths that paved the way for the early 90s deathmetal-scene and beyond. Other sick classics includes: Severed Survival, Realm Of Chaos, Purity Dilution and the insalubrious putrefying artwork of CARCASS's Symphonies Of Sickness.

When thrashmetal fails, look no further then deathmetal for a dose of dazzling brutality !

After 1988's aggressive speedmetal offering Malleus Maleficarum LP, Holland's best strikes again with one of deathmetal most genre-defining record. Brutal riffs, brutal drums and one of the scene's most recognizable set of vocal growls in Martin Van Drunen.

The onslaught kick's in with "Dehydrated" were body-parts fly-off in a mosh-pit frenzy ..."water" is your last word, die ! The body-count continues on "The Process Of Suffocation". The sickening stench reeks on another level on "The Trauma" where speed and brutality collides head first. Another steam-roller is "Deify Thy Master", a track that puts the emphasis on Van Drunen's unique trend-setting vokills. Last cut, the pounding laid-back intro of "Reduced To Ashes" sets the pace for Armageddon, a full bestial 3:35sec of aural desecration.

On a musical-scale, a new level is unlocked on the melodic-interlude "Proliferous Souls", a taste of what would become the norm on their 1991 masterpiece Testimony Of The Ancients and 1993's sophisticated Spheres.

While RAZOR has "Evil Invaders" and SLAYER has "Altar Of Sacrifice", PESTILENCE has "Out Of The Body" ...the band's and one of deathmetal's most legendary tracks. The driving opening-riff sweeps everything on sight and let's the drum roll over the tombstones like a Tazmanian-devil. This out of body experience reaches beyond metallic proportions as the song describes inner cells taking control of one's mind. Repulsive and effective !

30 years later, Consuming Impulse still remains one of these albums featured on every deathmetal-charts. One of the sickest and most vicious ever released. All brutal, all in your face, all deathmetal ...except for the tame inexcusable cheesy-artwork, courtesy of Roadrunner Records. Sadly this would also be the last association with singer Van Drunen, has he would soon after join dark doom-deathmetal Dutch unit ASPHYX ...diametrically this would spear PESTILENCE 2.0, a new deathmetal venture that would continue and explore more musical horizons.

*
Out Of The Body - video
https://www.youtube.com/watch?v=c4zxrYUOXLo
Full LP
https://www.youtube.com/watch?v=Mj5Ajt3r5xA&list=PL46964DA8FBF7603A
Interview in 1990
https://www.youtube.com/watch?v=cMp97zFn_tM
Live in Oakland in 1990
https://www.youtube.com/watch?v=s7kW1ZNHBsw





September 6, 1991 - 2021: 30 years of: Testimony Of The Ancients.

Deathmetal's godly supreme testimony.

Suave, sick and sophisticated to the highest level, this is the perfect mix, this is the perfect deathmetal record. 1991, again, the Year Zero that gave us all of the immortal classicks this new breed had to offer: Human, From Beyond, Clandestine, Effigy Of The Forgotten, Blessed Are The Sick and the bloody British Necroticism: Descanting The Insalubrious.

After 1989's maniacal Consuming Impulse LP, the onslaught would take a turn on the left hand path. Growler Martin Van Drunen is out into ASPHYX, as guitarist Patrick Mameli now steps in as new frontmen. From out of all places, The Netherlands, this unit in beautiful brutality would now bring forth: deathmetal's ultimate progression.

Where no life dwells from "The Secrecies Of Horror", a fast opener with a maelstrom breakdown mid-part. The out of body destruction continues on "Lost Souls" along the masterful metal of the incisive "Prophetic Revelations". Note that all songs are intertwined by an mini soundtrack-interlude. A clever story-telling adventure that elevates Testimony Of The Ancients on top of the creative food-chain.

The title-track showcases the superior drumming of Marco Foddis, while "Presence Of The Dead" is another monstrous display of higher-quality deathmetal. More metallic melodies clashes on the eerie "Land Of Tears", were the Mameli + Uterwijk lead trade-off is reminiscent of the untouchable Euro-metal Painkiller CD. More heavenly guitar-unison wars explode on the closing muscle masterpiece "Stigmatized".

The pinnacle in the genre, brutal metal with darken vibes and unparalleled musicianship: Testimony Of The Ancients is deathmetal's finest body of work.

Recorded at the deathmetal mecca AKA Tampa's Morrisound Studios with a very busy Scott Burns, the added keyboard atmospheres of Ken Smith are a welcomed bonus. On bass Floridian local Tony Choy of ATHEIST and CYNIC, made sure the low-ends were on top of the mix.

When thrashmetal fails in the brutal-department, look no further than deathmetal.
When deathmetal lacks melody and finesse, look no further than Testimony Of The Ancients.

This über classic deathmetal human waste stench would soon evaporate, clean up and expend to come back in another in-human form: 1993's fusion extreme-metal turning-point Spheres.

*
Land Of Tears = video
https://www.youtube.com/watch?v=hejOszaWZMQ
Testimony Of The Ancients = full CD
https://www.youtube.com/watch?v=NEpIktvzupw&list=OLAK5uy_mFQWh-p0ev4Q5xJRH5syKPs86eiuDlU5I
Interview in 1991
https://www.youtube.com/watch?v=BHbw_0GsWfw
Live in London in 1991
https://www.youtube.com/watch?v=einl1yd1Gjs
some guy
https://www.youtube.com/watch?v=cX8GJjS7rw0




Référence croisée Helter Skelter: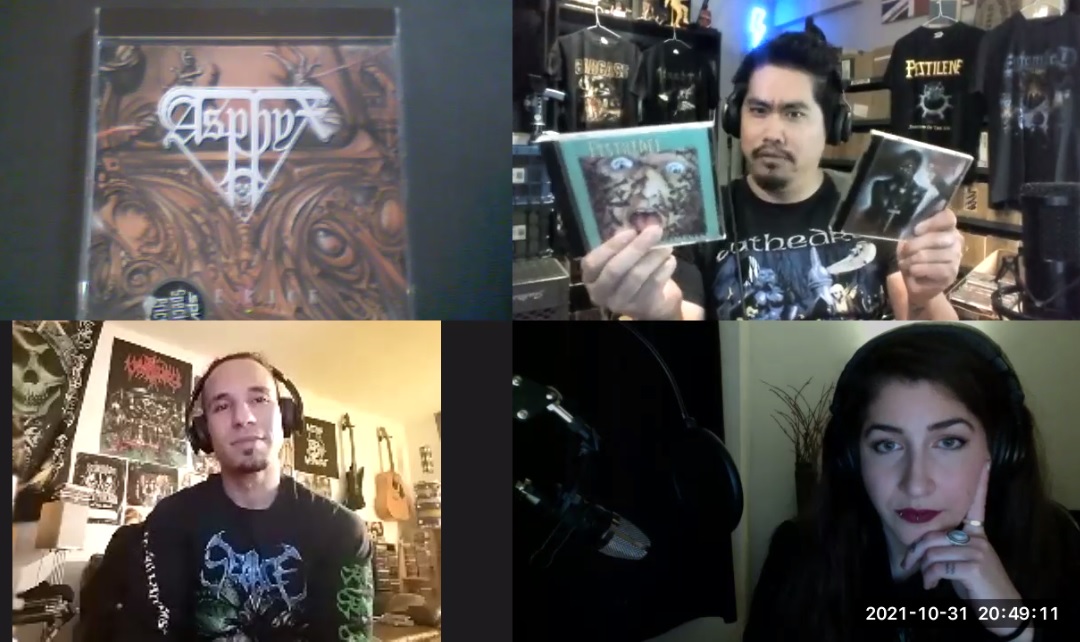 Death-Metal EU 1991
INDEX
helterskelter.ca

(c) (p) 2021 helterskelter.ca. All Rights Reserved. Tous Droits Réservés.