BLACK SABBATH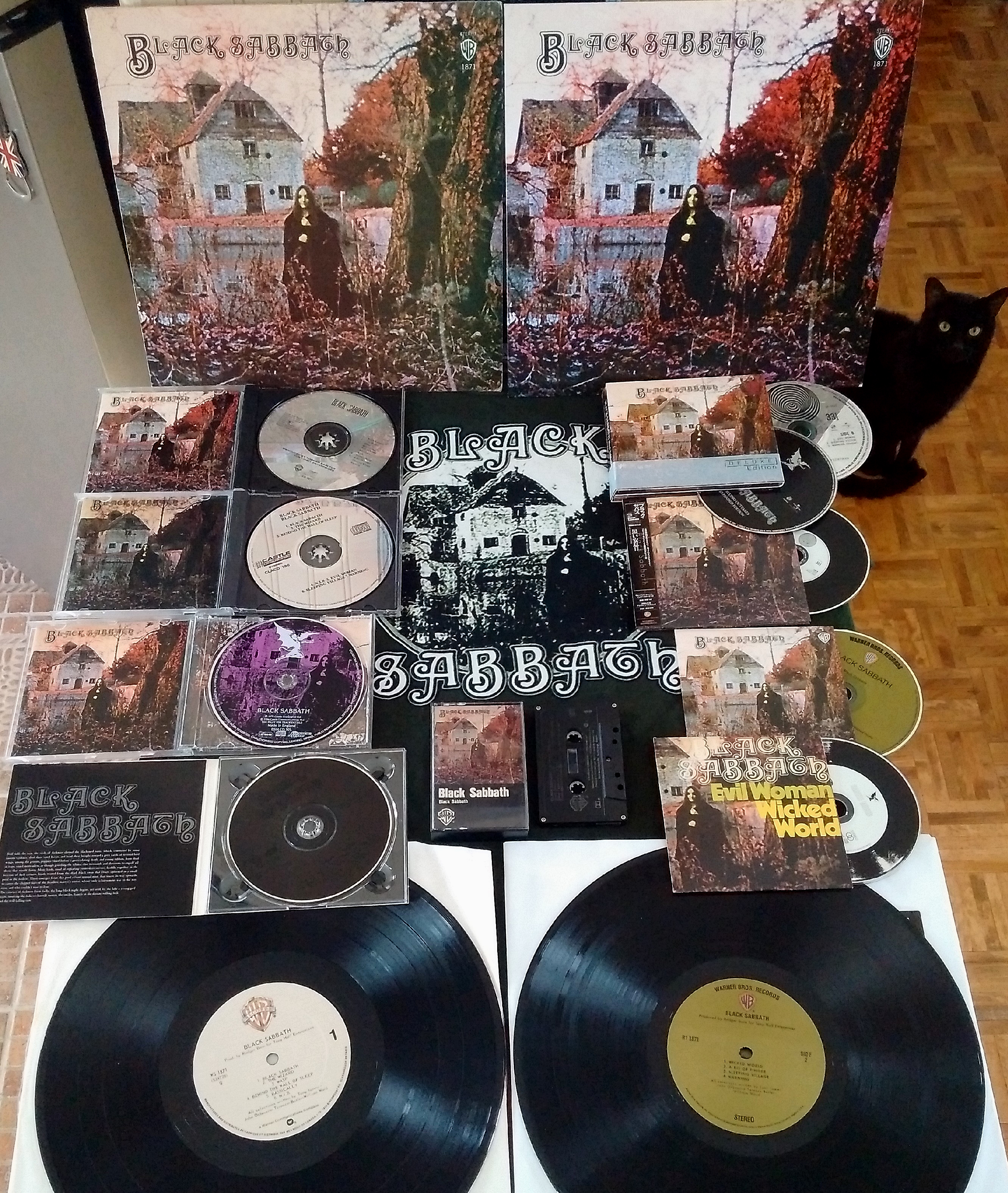 February 13, 1970 - 2020: 50 years of: Black Sabbath.

It is now official: HEAVY-METAL IS FIFTY YEARS OLD !!!

Friday the 13th, 1970: Day One for Heavy-Metal music.

HAIL ENGLAND !

While the 1960s counter-culture adventurous revolution escalated from rocknroll to psychedelic with THE ANIMALS and THE BEATLES, from attitude to heavyrock with THE ROLLING STONES and THE YARDBIRDS ...and it got louder to wilder with CREAM and LED ZEPPELIN.

Yet we've seen nothing yet !

The attack of THE KINKS's "You Really Got Me" was about to get overdriven with some of DEEP PURPLE's elaborate production and grit. Sorry America, even though you had giants like BLUE CHEER and IRON BUTTERFLY ...this heavyrock-race is a British affair !

From the suburbs of Birmingham, from the ashes of MYTHOLOGY, a bluesy-rock act featuring Tony Iommi and Bill Ward and RARE BREED featuring Geezer Butler, the new-found trio replied to an ad in a local music-store, the now famous: "Ozzy-Zig needs gig". In some weird twist of faith, Osbourne and Iommi already knew each other, as Ozzy was picked on at school by the guitar-player at a younger age.

As a teen, having the tip of 2 fingers cut-off in a factory-related accident didn't stop Iommi from learning the instrument. He overcame this matter and became revitalized when hearing of jazz guitar-player Django Reinhardt. Decades before, Reinhardt had being in a life-threatening fire that burned half of his body and had been amputated on 2 fingers on his left hand. Iommi did however left the band in favor of JETHRO TULL, for a very short while and eventually came back to earth. After rebranding themselves from POLKA TULK to EARTH to BLACK SABBATH, a name borrowed from the 1963 Italian horror-movie of the same name, the boys were angry, focused and ready to play.

The stage is set:

Distant church-bells rings aloud, pouring rain and hovering thunder as the cranium-splitting dissonant G-chord of "Black Sabbath" opens the gate of heaviness wide-open, never to be closed again. The massive chord and drums down-beat is as heavy, as heavy can be heavy. The thick tritone guitar pattern, Catholically known has the "devil's tone" dominates with it's eerie three-note monolith. Lyrics wise, ultimate evilness is included within: the description of a Satanic black-mass, inspired by an apparition experienced by Butler, nothing more, nothing less. If there was any doubts that this cut was heavymetal's very first official song ever, all suspicions were now evaporated. At the 4:34sec mark, all hells break loose as the pace jumps into a speedmetal galloping-riff and collapses into an apocalyptic crescendo. Power-chords surrounds all 4-corners while Iommi burst a high-gain hard-blues lead climax into the epic finale.

The song "Black Sabbath" from the album "Black Sabbath" by the band BLACK SABBATH.

If this track would have been their only one ever put to tape, it would still had secure them as creators of the genre. Chilling and horrific, just like the classic movie "The Exorcist", injected into the devil's music AKA blues. No song by ANY other band, ever, has had the haunting power and indelible statement that "Black Sabbath" had. At that very point in time, music took a turn on the left hand path ...and never looked back !

Make way as "The Wizard" walks by. A lively upbeat Chicago-blues inspired track shining with some of Osbourne's lesser known talent: the harmonica. Supporting him is Ward's pristine jazz-feel freestyle maelstrom drumming. Pure magic !

More raw-power is injected "Behind The Wall Of Sleep". The echoed-vocals gives an uneasy feeling while the massive Iommi pentatonic guitar-structure makes this hardrock cut a staple in the mighty SABBATH-catalog.

...enters Geezer Butler on the ethereal interlude of "Bassically", a full-on 4-string solo played thru a wah-pedal and overdriven amp, were he roller-coasters us into the next exhibition.

"N.I.B" were the guitars cut like a knife and Ward's drum's overhead is an earthquake by itself. Legend has it that "N.I.B" is the acronym to "Nativity In Black" ...referring about "the Devil becoming good" according to Butler himself, the band's primary lyricist.

Side B creeps-in with the acoustics of "A Bit Of Finger / Sleeping Village" and quickly turns into a tornado of hot licks and jazz-theme time-signatures. It also features, another future Iommi-trademark, the duo reverbed-solos. Yes, two different guitar-solos played at the same time, done in multi-track studio. Take into consideration that full stereo-recordings were still the "new thing" in that era.

The deep bass-line carries on into the AYNSLEY DUNBAR RETALIATION-cover in "Warning". The skeleton of this piece is intertwined with each instrument answering each other in free-form solos, a full 10mins of pure heavy-blues improvisation. Exquisite exploration and exceptional showmanship !

The final track is "Wicked World", a title that reflects England's "Clockwork Orange" rotten distopia. A hidden rock gem, as this is the LP's heaviest and most heavymetallesque-track. Dirty guitar-tone, upbeat E-string palm-muting, screaming lead-work, energetic drums and bass, commanding high-pitched vocals and dark introspective societal lyrics: this is the genesis of heavymetal !

The bonus-track on some pressings includes the fine CROW-cover in "Evil Woman". A boogie-vibed tune that reeks rockabilly taken from the great American acid-rock repertoire.

The original packaging, courtesy of Vertigo Records, features an immense inverted cross inside the jacket-sleeve. So much subtleties, that the band would caught the interest and invitation of a High Priest of some dark underground cult ...they declined. After this incident, the band ALWAYS wore their now-famous crosses around their necks, for protection. From fiction to reality, just another page in rocknroll's book.

Musically, hints of "Heavy-Metal" were apparent on THE BEATLES's 1968 vicious onslaught of "Helter Skelter" and then the mighty LED ZEPPELIN officialzed down-stroke palm-muting on 1969's "Communication Breakdown" ...yet the "heavy" part had not been apparent enough to qualify. Overall the Black Sabbath LP is more of a darkrock / heavyblues record, yet the following opus, the iconic Paranoid LP released a mere 7 months later, will forever encompass BLACK SABBATH as the heaviest band on the planet.

While BLACK SABBATH at that point never was a "Heavy-Metal" band and never, ever, labeled themselves as a "Heavy-Metal" band, their massive sound, doomy vibe and occult-related themes put them at the pole-position as THE key component in creating the genre. The remaining elements of the formula were supplied by fellow Birmingham quintet: the black-leather, the spikes, the dual lead-guitar solos and the biker-attitude frontman of JUDAS PRIEST.

The influence of BLACK SABBATH is a full 360° osmosis. From the MISFITS to MOTÖRHEAD to MÖTLEY CRÜE to CELTIC FROST to METALLICA to OBITUARY to SOUNDGARDEN to PANTERA to SLEEP to TYPE O NEGATIVE to NINE INCH NAILS to GREEN DAY to WHITE ZOMBIE to SLIPKNOT to THE WHITE STRIPES and beyond ...the SABBATH-influence of all things heavy is tangible everywhere.

Quite simply: if you play hard-music, you are influenced by BLACK SABBATH ...either you are willingly doing so or not !

Now 50 years young, the colossal force of BLACK SABBATH would go on to create, shape and perform, collectively or individually, decades of ear-shattering music all around the globe, for generations of fans.

And now, Ladies and Gentlemen:
From Birmingham England, please welcome, Rock-N-roll Hall Of Famers, multi-Platinum selling recording artist and genre spearheading band:

- Mister Tony Iommi on guitars,
- Mister Bill Ward on drums,
- Mister Geezer Butler on bass,
- Mister Ozzy Osbourne on vocals

...the one and only
...the classic
...the immortal:
BLACK SABBATH !!!

Friday the 13th 1970: Day One for Heavy-Metal music.

*
Black Sabbath - video
https://www.youtube.com/watch?v=0lVdMbUx1_k
Full LP
https://www.youtube.com/watch?v=MTHBEbivfZI&list=PL5lmIbuJ_sMdsearaCl31bkW9ajZwl5wJ
Icon: Tony Iommi
https://www.youtube.com/watch?v=LN2FYIhGwaA





September 18, 1970 - 2020: 50 years of: Paranoid.

"Immortal" = the ability to be eternal, exempt of death.
"Monolith" = a geological feature of a single massive rock.

BLACK SABBATH's Paranoid LP, the heavy-rock magnum-opus is now 50 years young, let that sink in. Mere months after the release of their self-titled debut LP in February, the Birmingham-bums were back, with more punch and more classic cuts. Having sank their teeth into the wicked world, the band was now ready for the big leagues. Not to be relegated as another ZEPPELIN-clone or a keyboard-less PURPLE ...SABBATH had a different goal in mind: heaviness !

And with heaviness in mind, 8 new tracks were crafted and recorded, again with producer Rodger Bain and added help from future wizard engineer Tom Allom. 8 new tracks that would go on to cement and spearhead the basis of heavymetal. 8 new tracks of high-gain guitars, loud thumping bass, headroom-filled drums and maniacal vocals ...Paranoid is the blue-print for everything heavy under the sun.

During the turbulent mid-60s to mid-70s, the rocknroll element, fueled by the counterculture of both sides of the Atlantic hit hard, very hard, but never quite as hard as BLACK SABBATH.

The second edition of the British Invasion is here.
The spiral architects are here.
Paranoid: the immortal monolith in heavyrock !

1970, the Viet-Nam war runs at full swing, yet it's time for Walpurgis season (https://en.wikipedia.org/wiki/Walpurgis_Night). The original title and lyric-set, Walpurgis then became "War Pigs", the now iconic anti-war masterpiece. The opening E-riff seems to ring for days as the drums slowly kicks-back, setting the pace for the main strike. World War II air-raid sirens fills the air with incoming death and then, Ozzy lurks from the underground. At that very point in time, rock took a turn on the left hand path into heavyrock. The main riff hammers and creates the roots of thrashmetal. Iommi is on fire as not one but TWO solos are played in overdub, while Butler and Ward keeps the beat on a military-pace. If the Paranoid LP was only comprised of this single-track, it would still qualify as heavyrock-creators, as "War Pigs" contains all the needed key-elements heavyrock and heavymetal fed upon, all in a single 7:57sec song.

The title-track, the freight-train composed in mere minutes under the gun. The producer said they needed another song, the band delivered. And by delivered, we mean exploded in a Tazmanian-rage of heavyrock. A 2:53sec burst of distorted guitars that once again, sets the pace for classic-thrashmetal and more precisely speedmetal. The rabid downstroke is precise, raw and merciless. The overfuzzed guitar solo raises the stakes into overdrive. The album was intended to be titled War Pigs, yet to prevent possible controversy, this title was put away by their record-label. And just like that, the proposed War Pigs LP became the Paranoid LP. This also explains the warrior-figure on the album-jacket.

Let's slow down for a bit, get underwater, look up to the sun and let yourself go. The eerie, folk-vibed "Planet Caravan" is a trip far into the subconscious. The clean-guitar, the soft-bass, the tambourines and Osbourne's whispers, slowly rocks you as the listener travels thru the universe. The jazz-based Iommi lead is one of his best - cut - ever.

On to the enigmatic monster / machine "Iron Man". The robotic intro-call "I AM IRON MAN" sends instant chills down your spine and the mammoth-like power-chord riff crystallize BLACK SABBATH as creators of "heavy" in heavymetal. There's loud, there's louder and then there's Iron Man-loud. The drums crashes with every words, the electric-guitars move walls and the bass rattles the ground on every note. The gigantic monster / machine is angry and wants it's revenge. A mere image or metaphor for the band, this particular track rates very, very, very high on the Richter-scale.

The mechanical "Electric Funeral" feels like a thousand ton. The 2 riff-track crunches and deconstructs faith, hope and life itself. Apocalypse-themed, no-one survives this atomic revelation. The break-down mid-part takes the cake as an attempt at the unborn genre of speedmetal.

Quietly, Mister Geezer Butler sneaks in on "Hand Of Doom", another monster / machine, that just want's to "push the needle in". Doom and gloom, just like on the band's first record "Black Sabbath" but this time, the mid-part, once again, ignites all cylinders at full throttle.

On drums, Mister William Ward: The 2:31sec instrumental "Rat Salad" is drums, drums and more drums. From free-style jazz to pounding unto concrete, this interlude elevates the man as an immediate contender to the divine Bonzo-throne.

The album's closer, the amusedly titled "Fairies Wear Boots" opens with a prog-like echoed-intro and then scrapes the floor with one of the band's crunchiest riff ever. Probably the sliciest-riff since THE KINKS's "You Really Got Me". A deadly groove supplied by superior horse-power, the full swing, the unmatched rhythms of the Butler + Ward duo dictates with an "iron hand".

This is Paranoid.
Unsettling, yet define. Paranoid, a abstract theme that main-writer bassist Geezer Butler said that: "It doesn't mean anything"

From the grungy garage-rock of the MC5, to the glass-shattering loudness of BLUE CHEER, to the out-of-body experiences of IRON BUTTERFLY, to the rock-royalty of CREAM ...BLACK SABBATH are the full heavyrock package. Do yourself a favor and if you haven't done so, listen to the special quadraphonic-mix of the record. Remember that a quadra-mix is 2 different stereo-mixes at the same time: front and rear, 4-speakers required for full-stomp effect. You have been warned !

Having paved the way for true heavymetal and all the subsequent following genres, Paranoid is Day One for heavyrock that includes darkness. Although the menacing dark-element was already imminent on the bluesy first album, album #2 is that extra push over the cliff they needed to draw that definitive line into the sand, the point-of-no-return. No BLACK SABBATH album in history has the pivotal time-stamp effect Paranoid has, the next logical step would be to go darker, doomier and heavier: 1971's Master Of Reality LP.

From Birmingham, England, to your preferred audio-system, let's now celebrate.
Ladies and Gentlemen, please welcome, the united forces of:
Sir Tony Iommi,
Sir Bill Ward,
Sir Geezer Butler
and
Sir Ozzy Osbourne
...the unstoppable continuum known as: the real BLACK SABBATH !!!

They bring you:
- 50 years of perfection !
- 50 years of heavyrock !
- 50 years of continued influence !
and
- 50 years of being the one and only !
...Great-Britain's National Treasure: 50 years of Paranoid !!!

*
Paranoid = video
https://www.youtube.com/watch?v=0qanF-91aJo
Paranoid = video Beat-Club
https://www.youtube.com/watch?v=ti36edmfaZk
Iron Man = video Beat-Club
https://www.youtube.com/watch?v=qRcYjJQ0JHg
Full LP
https://www.youtube.com/watch?v=bYgpv5clf3Y&list=PL5lmIbuJ_sMcVx523KtRHUDCOhtYXZDgn
War Pigs in quadraphonic mix, in stereo
https://www.youtube.com/watch?v=8yuHoNDUNCs
Paranoid in quadraphonic mix, in stereo
https://www.youtube.com/watch?v=_Zzb_IqTX2M
Planet Caravan in quadraphonic mix, in stereo
https://www.youtube.com/watch?v=86tBJPlG2gk
Iron Man in quadraphonic mix, in stereo
https://www.youtube.com/watch?v=CoQLf44Rnao
*
Blue Suede Shoes covered by BLACK SABBATH
https://www.youtube.com/watch?v=NItPCaI0OP8
Live in Brussels in 1970
https://www.youtube.com/watch?v=elOp6Edu-t8
Fingers Bloody Fingers
https://www.youtube.com/watch?v=APTjx79WgcE
Classic Albums DVD
https://www.youtube.com/watch?v=wyl1BpYYdfU





July 27, 1971 - 2021: 50 years of: Master Of Reality.

Heavier than heavy.

After the BLUE CHEER eruption of 1968, we though we've heard it all. But Birmingham's bastards BLACK SABBATH crafted heavy-blues and proto-metal with both of their 1970 Black Sabbath LP and commercial-hit Paranoid LP. Now with this third installement on hand, the juices flow and the mood gets even more tense.

Downtuned to Db on some songs, this release rapidly became the ultimate classic BLACK SABBATH signature LP. Dark, heavy and dangerously addictive, this single record is the blue-print for: heavymetal, stonermetal and doommetal.

Cough it out !

Inhale the fumes of the "Sweet Leaf", inhale the fat-tone of Tony Iommi's guitar and let rocknroll take a turn into the unknown, again. Simple riff, simple groove, yet one of the deadliest. Track two in "After Forever", a new plateau in rawness and relentlessness is reached. High stamina and blunt new found power. Nota: Geezer Butler is god !

The birth of thrashmetal, the riff, the tuned to Db E-riff that became the formula for many generations to come, the devastating drive of "Children Of The Grave" sets the pace. The overlapping, double-tracked Bill Ward percussions, ads an odd time-signature feel. Decisive groove and a mid-part breakdown of haunting biblical proportions. This classic-track now stands tall with the other heavymetal giants of the prolific 70s-era.

Now bow to you new savior: the "Lord Of This World" ...your heavymetal confessor. More dry-cut riffing and metal punch. Both "Embryo" and "Orchid" clean-guitar interlude are other key-point for Iommi's still blooming musical-overture.

The sadly beautiful "Solitude" follows the "Planet Caravan" track of eerie ballads. Under a moon-lit autumn night, Ozzy Osbourne whispers throughout, knee deep in a cold streaming tears-filled river.

And now the center-piece of the record and the center-piece of the entire thrashmetal-genre, the closing track, the final voyage of "Into The Void". Way beyond beyond, this exploration is both doom and heavyrock, all in the opening 1:13sec opening. And then the riff, another blues-based palm-muted E downstroke Armageddon. Killer and calculated, this is another key-element of actual thrashmetal-music. Lyric-wise, this also is Armageddon, where the Earth is left to Satan and his Slaves. Essential !

With the Master Of Reality LP, BLACK SABBATH became an immovable force to reckon with. 50 years later, it remains the heaviest of metals, the loudest of rocknroll and one of the darkest. Only one other band would dare to push the boundaries of heaviness further, set the bar higher and produce a doomier death-tone: BLACK SABBATH ! ...with their upcoming 1972 Vol. 4 LP.

Would you like to see the Pope on the end of a rope, do you think he's a fool ?

*
Master Of Reality = full LP
https://www.youtube.com/watch?v=pZcMp40ZMwc&list=OLAK5uy_kMMzX_9vTtzEq2NhqWwziqvb2RxurNVmE&index=1
Live in Long Beach in 1971
https://www.youtube.com/watch?v=LvwsP1Fet6Q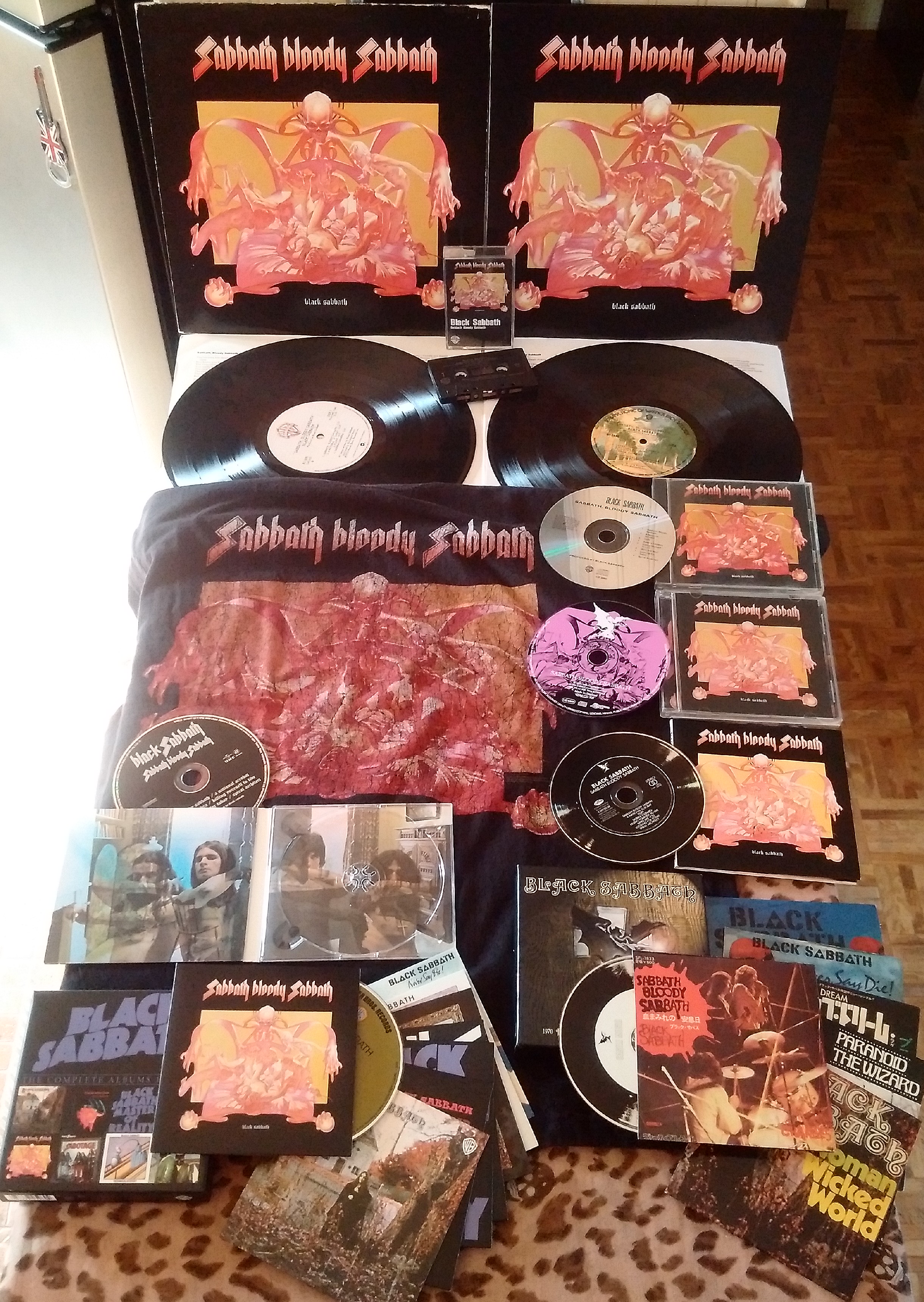 Le mot chef d'oeuvre est rarement utilisé pour décrire un album rock, mais voici une réelle exception à la règle: Sabbath Bloody Sabbath de BLACK SABBATH en 1973 !

Le 5ième opus du quatuor heavyrock Britannique atteint une apogée qui n'a plus jamais depuis été égalée. De proto-metal à prog-metal, d'envoûtant à ensorceleur, de doux à destructeur, Sabbath Bloody Sabbath possède toutes ces unique propriétés ...et bien plus.

Ce véritable tour-de-force inclus: l'atmosphère lunaire synthé avec "Who Are You ?", une quasi-comptine pour bambin avec "Fluff", la subtile finale jazz de "Sabbra Cadabra", l'orchestration de violon sur la saisissante "Spiral Architect" et les morceaux les plus heavyrock de la décennie avec "A National Acrobat" ainsi que la massive pièce titre.

Les années rock turbulentes post-60s ont produit la meilleure musique sur la surface de la Terre et BLACK SABBATH ont su rapidement relancer, de façon nonchalante, les standards et étiquettes de "précurseur", "innovateur" et bien sur "créateur"

Mesdames et Messieurs, les Rock-N-Roll Hall Of Famers, le véritable BLACK SABBATH:

Merci Tony Iommi
Merci Bill Ward
Merci Geezer Butler
Merci Ozzy Osbourne

*
VIDEO
https://www.youtube.com/watch?v=mfTpjrzas5E
LP
https://www.youtube.com/watch?v=LpKozWovE8k&list=PLMFTtgzckHg2Dkd2Cf1GHMl6ggWThJNyF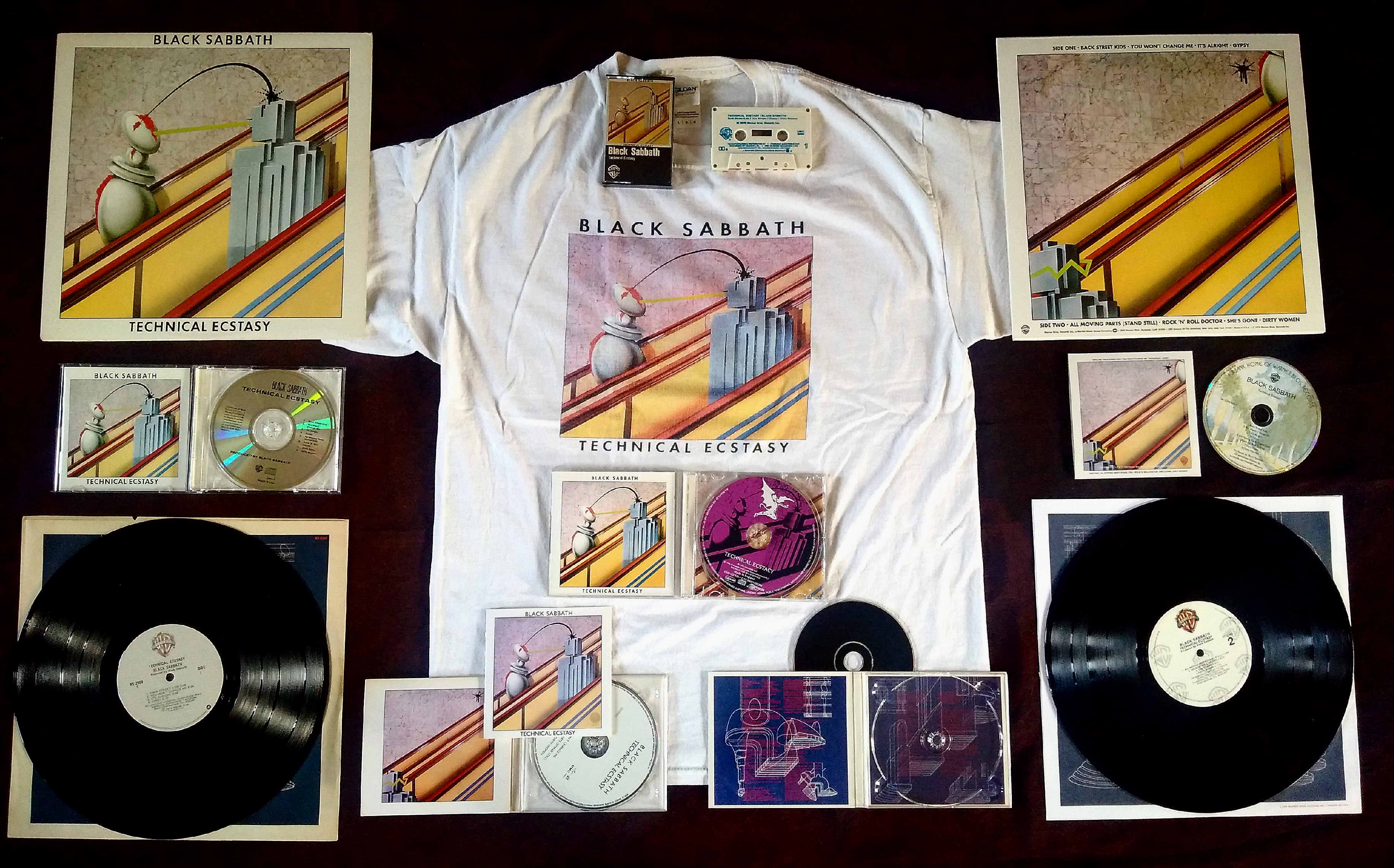 September 28, 1976 - 2021: 45 years of: Technical Ecstasy.

"I'm just another back street kid.
Rocknroll music is the only thing I really dig
Can't stop the music going round inside my head.
I'm a rocknroll soldier, gonna play it until I'm dead" - Ozzy Osbourne

Mythical mammoths of monolithic heavyrock BLACK SABBATH have been thru Heaven and Hell, between 1972's fat-toned Vol. 4, 73's majestic Sabbath Bloody Sabbath and 75's metalized Sabotage LP. Time to tone down and try another approach to heaviness.

A fast cut opens up, a rough meeting with the "Back Street Kids". Four men still on a mission, to play roknroll until they're dead. Hints of progressive and fusion-elements are present on "All Moving Parts (Stand Still)" and then comes the southern-vibed groove happy happy joy joy prescription of "Rock 'N Roll Doctor".

The folk Bill Ward sung "It's Alright" shows a different angle to the hard-hitting drummer, while the ballad-y "Gypsy" fills the room with a 60s hippie vibe. Dramatic and electric, the apocalyptic-factor is back with a bang, on the haunted keyboard display of "You Won't Change Me". A right path to the left hand side, courtesy of the Kings of doom and gloom.

The center-piece of the album, the ladies of the Red-Light 7:09sec "Dirty Women" is a heavy mix of raw-rock and it's second half the 2:33sec lead-improv, elevates once again, Tony Iommi as the King of heaviness as well as the King of soul-filled wah-supported lead-guitar.

The Technical Ecstasy LP is a very different take on BLACK SABBATH and a very different take on heavy-rock itself. The mid-70s where filled with these new progressive-elements that featured, extensive long lead ad-libs and off-beats. The SABBATH-men took note and made it even more paranoid.

The next and final step would be the last call to feature Ozzy Osbourne as frontman, the disco-vibed and lite-rock infused 1978's Never Say Die LP. The last incarnation of the original BLACK SABBATH, until eons later in 2013.

1976 BLACK SABBATH: not too technical, yet filled with ecstasy !

*
Rock 'N Roll Doctor = video
https://www.youtube.com/watch?v=Kt0Xuw02TMQ
Technical Ecstasy = full LP
https://www.youtube.com/watch?v=jkxf_8jqVeM&list=PL4-oCE2y-CrGzkutorPdgn08cSV1o4u7k
Interview in 1976
https://www.youtube.com/watch?v=w2uOJyW5p3Y
Live in Pittsburg in 1976
https://www.youtube.com/watch?v=ixojRt-RAPU





April 25, 1980 - 2020: 40 years of: Heaven And Hell.

Would the monolithic BLACK SABBATH survive without original madman Ozzy Osbourne ?

Yes and YES !

Through adversity and rocknroll, the heavymetal creators eventually fell into limbo in late 1978, after the disastrous Never Say Die LP and touring cycle ...Ozzy had to go ! In early '79, the young men drank and literally bumped into each other in Los Angeles. Call it fate or destiny, but BLACK SABBATH 2.0 was created at that point. Ex-ELF and ex-RAINBOW frontman Ronnie James Dio was made for the big stages, but one question remained: could an American hardrock singer front the heaviest British band ?

Lightning struck and it struck hard, as the initial practice-sessions quickly turned into what would be the actual Heaven And Hell LP. Produced by renown studio-wizard Martin Birch, see all the classic DEEP PURPLE-catalog, Tony Iommi, Geezer Butler, Bill Ward and Ronnie Dio would not only create a worthy follow-up to the immortal Osbourne-led legacy but re-invent the band with this new-found energy and iron will.

The Second Coming:

Speedmetal before speedmetal is laid on "Neon Knights", the year is 1980 and it was created by the hands of the Master himself: Mr. Tony Iommi. Downstroked fast-paced riffing, heavy hitting courtesy of Mr. Bill Ward and magic from the top of the silver mountain: Dio behind the microphone. Magic is an understatement, as this track not only pushed the limits of heavyrock, but set and bred an entire new generation of rockers into faster heavyrock, all of this from the same Iommi, Butler and Ward that created this genre a decade ago in 1970.

The heavenly "Die Young" is introduced with the to-be long-time collaborator, Mr. Geoff Nicholls on keyboards. Fast as a shark, this cut grows with it's progressive elements and reaches biblical proportion at the 2:02sec and then explode into a heavymetal Armageddon at the 2:40sec. Sweet and beautiful, just like the tears of the gods !

Onto the majestic "Children Of The Sea". Classic-guitar intro and Dio's whispering throughout into the main explosive riff. The hammering doesn't stop until the chant-backed 3:08sec mark. The dark epic finale is worthy of any apocalypse: "Look out, the sky is falling down, look out, the world is spinning round and round and round, look out, the sun is going black, black, look out ...it's never, never, never coming back, look out !"

Mr. Geezer Butler sneaks-in on "Lady Evil" with a simple, yet commanding groove and leads us into a foot-stomping rock classic.

And now, the ultimate show-stopper, the pristine "Heaven And Hell" ...one of heavymetal's best track, ever. The E-F#-G-C-D powerchord progression cuts thru the simple crowd-gathering bass-line. Massive and monstrous, the epic mid-part is one of the Diamond-clad crown-classics SABBATH possesses in it's impressive repertoire. The 2:16sec mark lays-us into the euphoric 2:38sec Titanesque Iommi break-down riff, one of heavymetal's most respected guitar riffs. We then enter Heaven at 3:13sec and the progression climaxes at 4:16sec where we ultimately enter Hell. Epic lead, epic chord-crescendo and epic lyric-works: THE EPIC FINALE !!! The track "Heaven And Hell" is everything classic heavymetal, or heavenandhellmetal, should be in this 7:01sec monumental body of work.

It is clear to say that the powermetal-genre was issued by the divine Heaven And Hell masterpiece LP. Muscular rhythms, melodic lines and powerful vocal acrobatics, all the very best of both heaven and hell.

Now it wasn't all smooth sailing for Dio, has Osbourne-fans tauntered him onstage and teased the man because of his 5'4" stature. Yet the blunt power of his larger-then-life pipes, vivid persona and now-iconic hand gestures, rapidly made him loved and worshipped by millions of headbangers around the globe, and beyond. Sadly on tour, Bill Ward had to leave due to personal issues, his throne was replaced by new-comer Mr. Vinny Appice.

In 1981, the band struck another hit and released the louder and dirtier Mob Rules LP. Although, months later, egos came into action and that would close the door on BLACK SABBATH 2.0 for a decade, until the 1992 reunion, for the gigantic Dehumanizer CD.

In the world of Kings and Queens of heavyrock, the BLACK SABBATH / Ronnie James Dio era is an undeniable fusion and key-element that confirms the following universally accepted fact: Dio = God ......we are dead serious, literally "Dio" is "God" in Italian !

*
Neon Knights = video
https://www.youtube.com/watch?v=nhe1SuBGkiA
Die Young = video
https://www.youtube.com/watch?v=9KbkQqFmUAU
Full LP
https://www.youtube.com/watch?v=oFSCleamr-0&list=PLcSgURauFwoArRQ77uxDf4dPUqCk1lZC0
Interview in Australia in 1980
https://www.youtube.com/watch?v=pcHGLMYDKRM
Live in Uniondale NY in 1980
https://www.youtube.com/watch?v=vpEK88rHKDo





Is there life for BLACK SABBATH after Ozzy Osbourne ?

The rebirth started with 1980's Heaven And Hell: one of heavymetal's best LP ever, featuring new frontman and rock-icon Ronnie James Dio. SABBATH's new voice wasn't accepted by die-hard Osbourne fanatics and that is understandable, but vocally, Dio is a far more superior lyricist and singer ...and now the real trial by fire: album #2 in 1981's Mob Rules LP.

At that point in time, competition was full 360°. In Europe, new kids like LEPPARD, MOTÖRHEAD and MAIDEN were bubbling just below the surface, while in the USA the hardrock tidal-wave was in full motion with KISS, VAN HALEN and AEROSMITH.

Not to be outdone, BLACK SABBATH had to come out strong and came out strong they did. Mob Rules is the band's strongest (aka most sonically powerful) record, in every department: Geezer's bass never sounded so present, the Iommi riff-machine steamrolled away, the loud over-heads of new drummer Vinny Appice and the mighty Ronnie was standing tall ...on top of the silver mountain !

The madness kick-starts with the fast-paced "Turn Up The Night", followed-up by the possessive "Voodoo", to the mesmerizing mid-tempo of the monumental mammoth that is "The Sign Of The Southern Cross" ...but don't hold you breath yet, as the title-track sets the ground-work for a new genre that would become thrashmetal.

On the flip-side, another murder in the swinging "Country Girl" to the epicenter of the LP, the apocalyptic doom of "Falling Off The Edge Of The World".

The excesses of rocknroll where displayed while supporting the Live Evil double-LP and eventually the SABBATH / Dio connection abruptly came to an end, for a decade, until the first reunion with 1992's Dehumanizer. In 1981-82, real heavymetal was roaring and the mob definitely ruled: the BLACK SABBATH MOB !

Would you listen to fools ?

*
LP
https://www.youtube.com/watch?v=W_GGB9d5pIQ&list=PLBzBwYhHpqLLhWx0ch_8mXtj_4socQHBa
LIVE 82
https://www.youtube.com/watch?v=OgjQ7Z2_Sis
LIVE EVIL FORGOTTEN TAPES
https://www.youtube.com/watch?v=J8PVyp1HcqY





BLACK SABBATH
Born Again
1983

I'm born again. BLACK PURPLE / DEEP SABBATH ...Ian Gillan made me do it !!!

*
https://www.youtube.com/watch?v=ZXwzyXcuVtE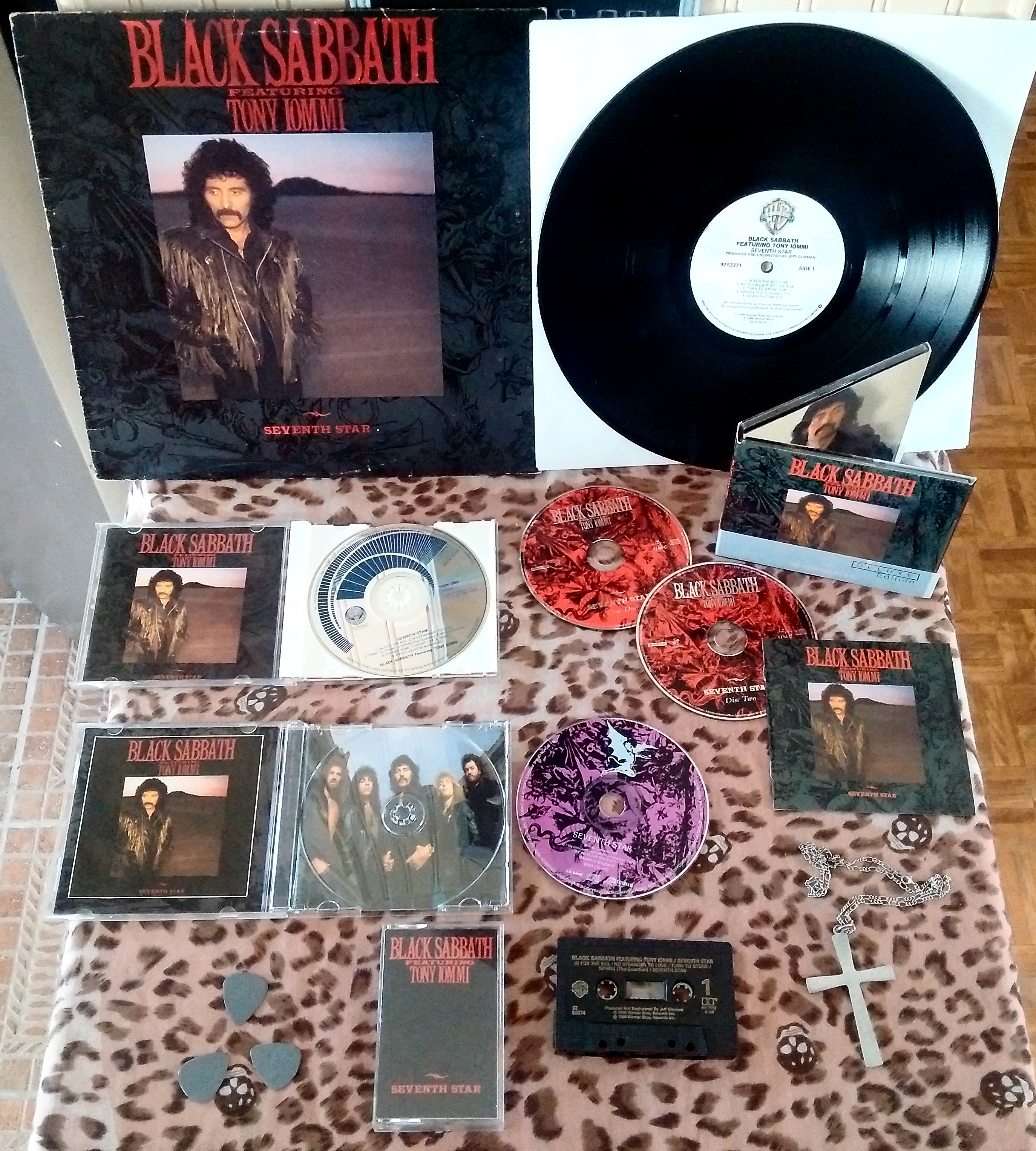 January 28, 1986 - 2021: 35 years of: Seventh Star.

From genre creator, to solo artist, all under the legendary moniker ...Tony still makes magic !

After the collapse of the DIO-era BLACK SABBATH, the revived legends got help from another British legend in DEEP PURPLE's Ian Gillan, but it was just not meant to be long term. Exit Gillan also exit long-time bassist and co-founder Geezer Butler, which left Tony Iommi as the sole active SABBATH member. Enters yet another ex-PURPLE member in bassist / singer Glenn Hughes and once again, for a very short while, the rocknroll stars were fully aligned.

Purposely patented as a solo-release from the six-stringer, label-company legalities ended up releasing the album as an official BLACK SABBATH record. Official as in, going as far as labeling the product "BLACK SABBATH featuring Tony Iommi" on the cover-art and related media-material.

The collaboration kicks in high-gear with "In For The Kill" and "Turn To Stone", were Hughes rages and buuuuuurns like a stormbringer. Get all bluesed-up on "Heart Like A Wheel" as it displays another side of Iommi. Some fine guitar-crunch is found on the heavier "Danger Zone" and heavymetal sneaks in on "Angry Heart", yet somewhat Americanized. Remember that the Made In L.A. hardrock was steamrolling the decadent decade at that point in time.

Now the single "No Stranger To Love" is the BON JOVI-song not written by Jon and Richie. Suave FM keys intro and rhythm, matched with Glenn Hughes's best Michael Bolton impression ...black leather clad poprock !

Labels aside, what makes a band, a "band" ?

Answer: the union of musicians and the different chemistry that shapes said band as a unique unit. Once all is said and done, the Seventh Star LP is not and should not be considered a "BLACK SABBATH" release, albeit the marketing strategies used to promote the record. Iommi himself wrote the songs and fully intended this to be a solo-release, hence the different hardrock and blues elements found within. This LP is another major turning point in Iommi's career, the man behind SABBATH, as numerous lineup changes would occur in the upcoming decade.

On tour, the Iommi + Hughes partnership would last a mere 5 shows, as Glenn would be fired, following problems with substance abuse. His short-term replacement would be Ray Gillen (future BADLANDS), who would ultimately be replaced by new frontman Tony "The Cat" Martin in 1987, paving the way for the fifth version of the almighty "BLACK SABBATH"

RIP Ray Gillen (1959-1993)

*
No Stranger To Love = video
https://www.youtube.com/watch?v=LMQZLU-aoNs
Seventh Star = full LP
https://www.youtube.com/watch?v=Nhwj7wzKHCo&list=PLA2K7Uhu9TwADP6sk4H5J2Hxb3XH7NjRF
Interview at MuchMusic in 1986
https://www.youtube.com/watch?v=zYgzxO92fPI
Live in Detroit with Glenn in 1986
https://www.youtube.com/watch?v=pLCyVzwsLTc




Référence croisée Helter Skelter:



BLACK SABBATH
INDEX
helterskelter.ca

(c) (p) 2021 helterskelter.ca. All Rights Reserved. Tous Droits Réservés.