CARCASS


October 30, 1991 - 2021: 30 years of: Necroticism: Descanting The Insalubrious.

A swarming vulgar mass of infected virulency.

Liverpool's raw-meat grinders CARCASS are opened for business ...and business is good. After the initial vomiting of 1988's Reek Of Putrefaction and 89's decaying Symphonies Of Sickness, THE CARCASS were now changing the tides, while still wearing their blood-splattered morgue-uniforms.

Keeping on rotting, round Three shall be a major step-up in the creative department and a major step-up in the deathmetal genre altogether. Enter Swedish guitar-wizz Michael Amott for extra tissue laceration.

The heart is still beating on "Inpropagation", a strong punch to the face, built on chord progressions, coagulated melodies and slick Bill Steer and Mike Amott Shrapnel-like leads. The killings goes on with the crowd-favorite "Corporal Jigsore Quandary", where the rocknroll vibe quickly sets-in. Intros after intros, we've got a good pulse here. Grind and growth is present on both "Symposium Of Sickness" and the closer, the center-piece of the record, the 7:11sec riff-raff internal bleeding of: "Forensic Clinicism / The Sanguine Article".

Keep your surgical-gloves on, the corpse is still warm. A bloody blast, the burned to a crisp videotrack "Incarnated Solvent Abuse" might not be a single per say according to industry-standards, but it did found some MTV airplay and press-coverage for it's edgy artistic esthetics.

1991's deathmetal tidalwave was the ultimate extreme-metal takeover. Sorry thrashers, thanks for the last decade, but were are now Kings of the moshpit. Even so that major-labels Sony Music came knocking on the door in 1992 for proper US-licensing. Hard to picture a label-roster that includes Michael Jackson, NEW KIDS ON THE BLOCK, SANTANA and ...CARCASS ! All of this rocknroll-madness while Seattle was changing the face of music-itself, what a great time to be alive.

Witnessing this dissection in concert in 1992, along other Earache oddities BRUTAL TRUTH, CATHEDRAL and NAPALM DEATH, this bloke can tell ya that the meat was definitely on the hook.

Round Four would bloom into a full death-n-roll adventure, the maniacal melodies of the modern trend-setter of 1993's Heartwork CD ...the genesis of a new softer-extreme: melodic deathmetal.

Pretty, euphonic, perfect ...yet still repulsive.

*
Incarnated Solvent Abuse = video
https://www.youtube.com/watch?v=AfjYYh2AWrs
Corporal Jigsore Quandary = video
https://www.youtube.com/watch?v=JTPOtkoP93U
Necroticism: Descanting The Insalubrious = full CD
https://www.youtube.com/watch?v=of85SdcJDuo&list=PLiLDkNTiyE1zOtu2P96JmSh6zpD1EMSsg
Interview with MTV in 1992
https://www.youtube.com/watch?v=_338hPe58gk
Live in the UK in 1992
https://www.youtube.com/watch?v=s189ykQ3Ruw
some guy
https://www.youtube.com/watch?v=BSmFT3RprVk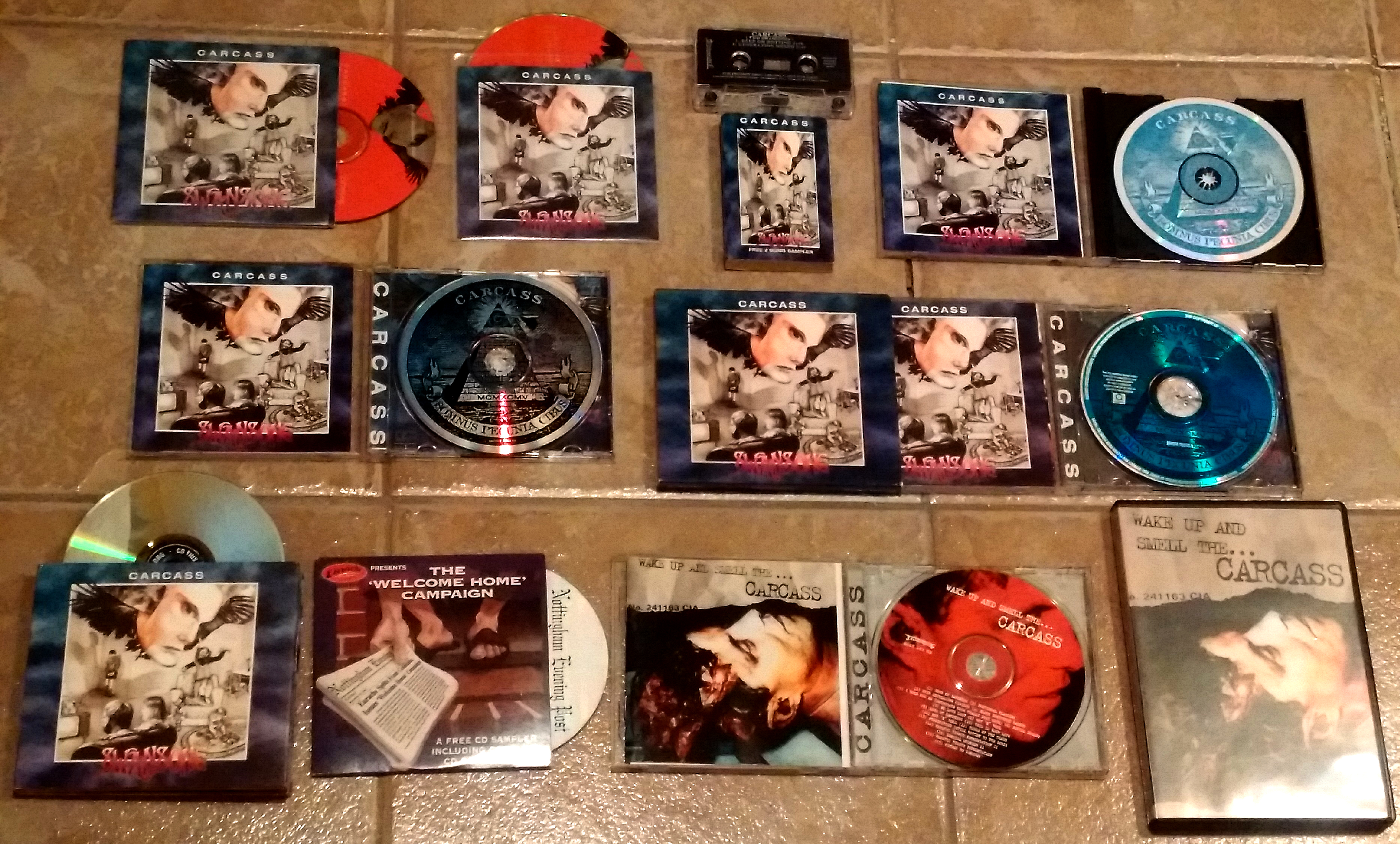 June 4, 1996 - 2021: 25 years of: Swansong.

Swansong ...or how to bend over extrememetal.

Maniacal murder-melodies have been apart of CARCASS's DNA since the 1991 tour-de-force Necroticism: Descanting The Insalubrious CD. The following opus, 1993's trendsetting beastialy beautiful Heartwork CD is still today a reference in the genre and a turning point in the global deathmetal time-line.

Produced again by studio genius Colin Richardson, for Columbia Records, the vegan British gang was at the pole-position for extrememetal's dominance ...or where they ?

The agro-punches of the appropriately titled "Keep On Rotting In The Free World" kicks the rocknroll factor into full overdrive. Not deathmetal, but death-n-roll, a fine mix of aggressive downtuned guitar, raspy vocals and those beloved mid-60s acidrock overtones. Implausible, yet palpable.

The party continues with the crunchy "Black Star", the vile "Don't Believe A Word" and the dark fist-pumping "Child's Play". This is the most commerciable, deathmetal ever was, or ever could be as more verse-chorus-verse addiction is present on the lovely track "Cross My Heart"

Massive changes in the rock-landscape in 1994-95 and major-label politics eventually got the best of them. Taped and ready to go, the album was shelved by some execs, the band broke up and eventually indie-label Earache Records acquired the rights and released it in June 1996.

Ironically, the album's title would dictate the band's putrefying future ...that is until the boys gave in to fan-pressure and reunited for a since healthy and lucrative comeback in 2008. Wake up and smell the CARCASS: then, now and forever. One of extrememetal's finest body of work.

*
Keep On Rotting In The Free World = video
https://www.youtube.com/watch?v=xMqTuMMtqIc
Swansong = full CD
https://www.youtube.com/watch?v=pxZMMl29wqs&list=PLHTo__bpnlYWSB68rUeCzO9rIS2yE6MOu
Documentary: Part V
https://www.youtube.com/watch?v=nWFUUqujDdQ




Référence croisée Helter Skelter: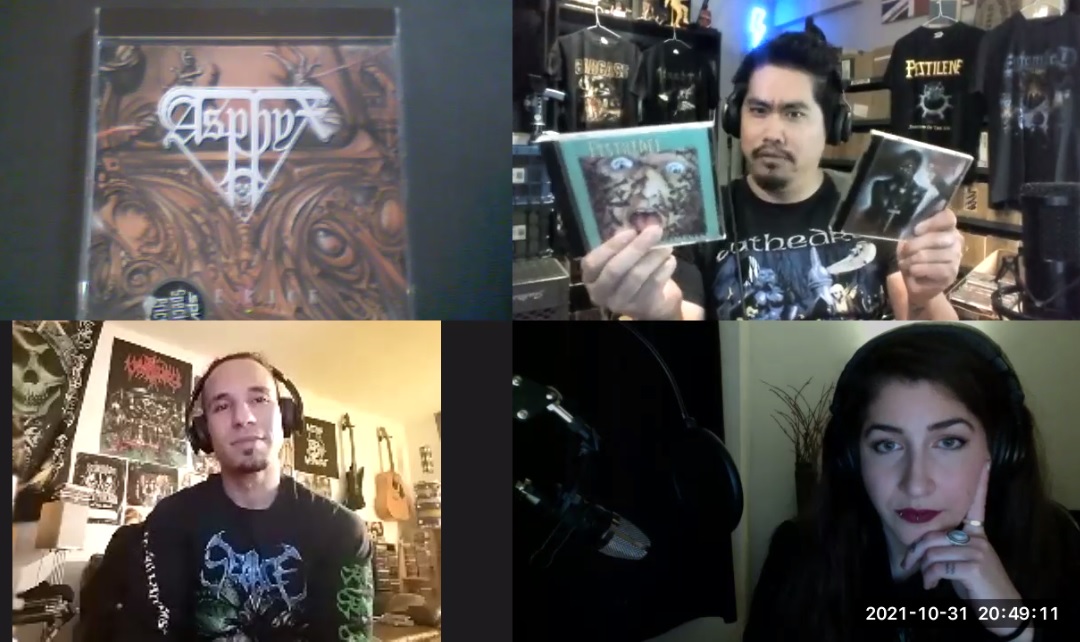 Death-Metal EU 1991
INDEX
helterskelter.ca

(c) (p) 2021 helterskelter.ca. All Rights Reserved. Tous Droits Réservés.