NUCLEAR ASSAULT
1986 - Game Over.
1988 - Survive.
1989 - Handle With Care.
more NUCLEAR ASSAULT.
way more Helter Skelter.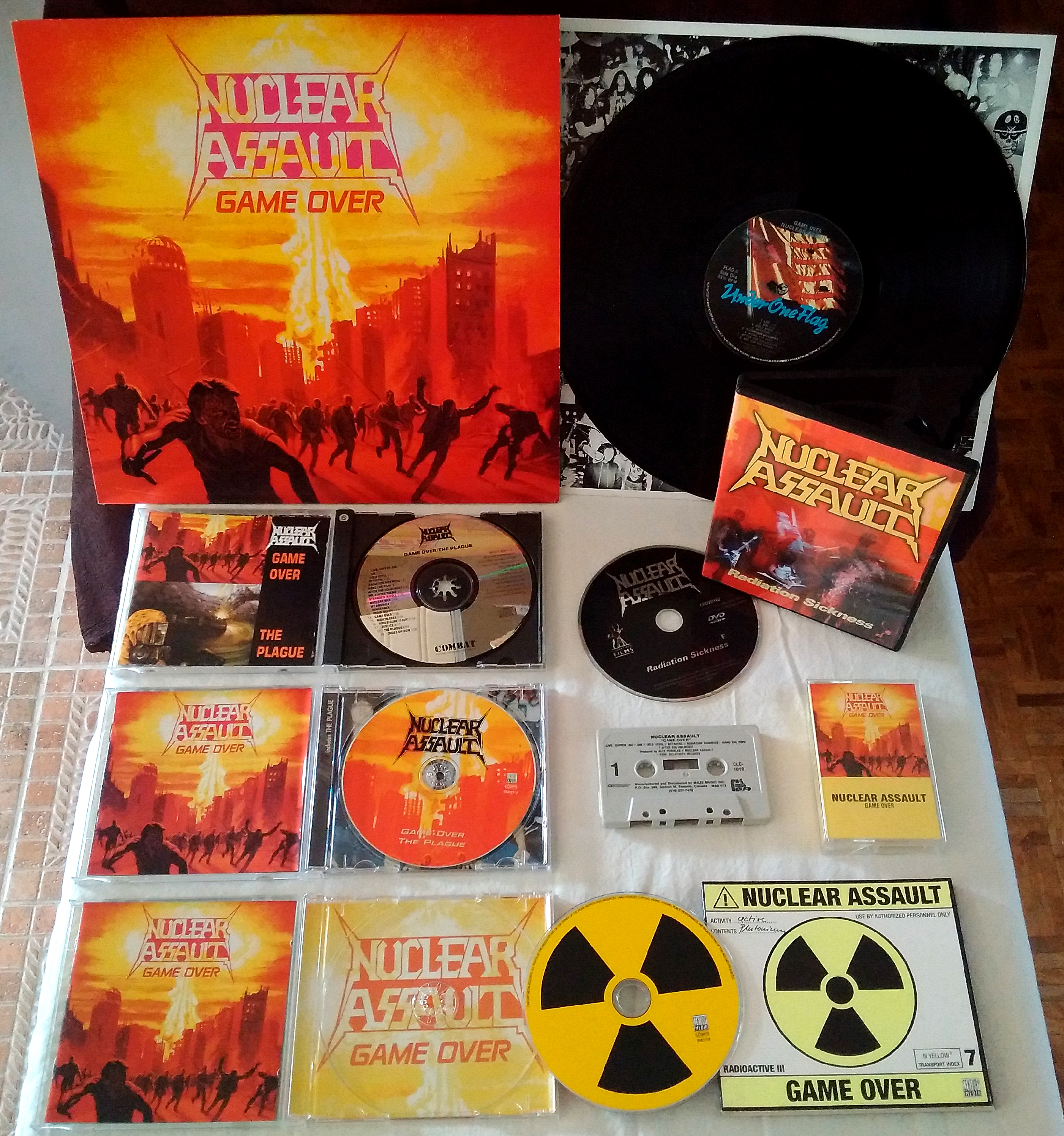 October 7, 1986 - 2021: 35 years of: Game Over.

NYHC finally crosses over.

After S.O.D.'s 1985 chaotic grinding burst of energy, Danny Lilker left for more energy ...the atomic burst of WW3's NUCLEAR ASSAULT. Tagging along with singer / guitarist John Connelly, the warheads were now locked and loaded ...ready for some sweet DEFCON extravagenza.

"Life, Suffer, Die" is simple math: speed, speed and speed. "Sin" jumps right in the pit, filled with "Cold Steel" action. Street-speedmetal with a DIY-flair, as "Radiation Sickness" leaves any survivors with dire consequences.

Some fun with "Mr. Softee Theme" and right back with a boot to the face with the circle-pit "Stranded In Hell". More apocalyptic thrash with "Nuclear War" and the closing, the MAIDEN-esque "Brain Death", is the only sign of actual musical progression.

The immortal 0:46sec almost grindcore cut "Hang The Pope", shall eventually bloom with Danny into a sickening brutal truth.

It ain't game over for these two ex-ANTHRAX mofos. Representing the East-Coast, along CARNIVORE, OVER KILL, PRONG and the latter THRAXers. The fun shall continue with 1987's The Plague EP, and the upcoming devastating full blown global explosion aftermath of 1988's Survive LP.

*
Game Over = full LP
https://www.youtube.com/watch?v=mnFv7W7mqw4&list=OLAK5uy_lStYSMgYcCCsMlzl-EkA9elnLLqv6ojjQ
Interview in 1987
https://www.youtube.com/watch?v=Tc2Ujm5UpAU
Live at Hammersmith in 1987
https://www.youtube.com/watch?v=_wtgoNrzV-E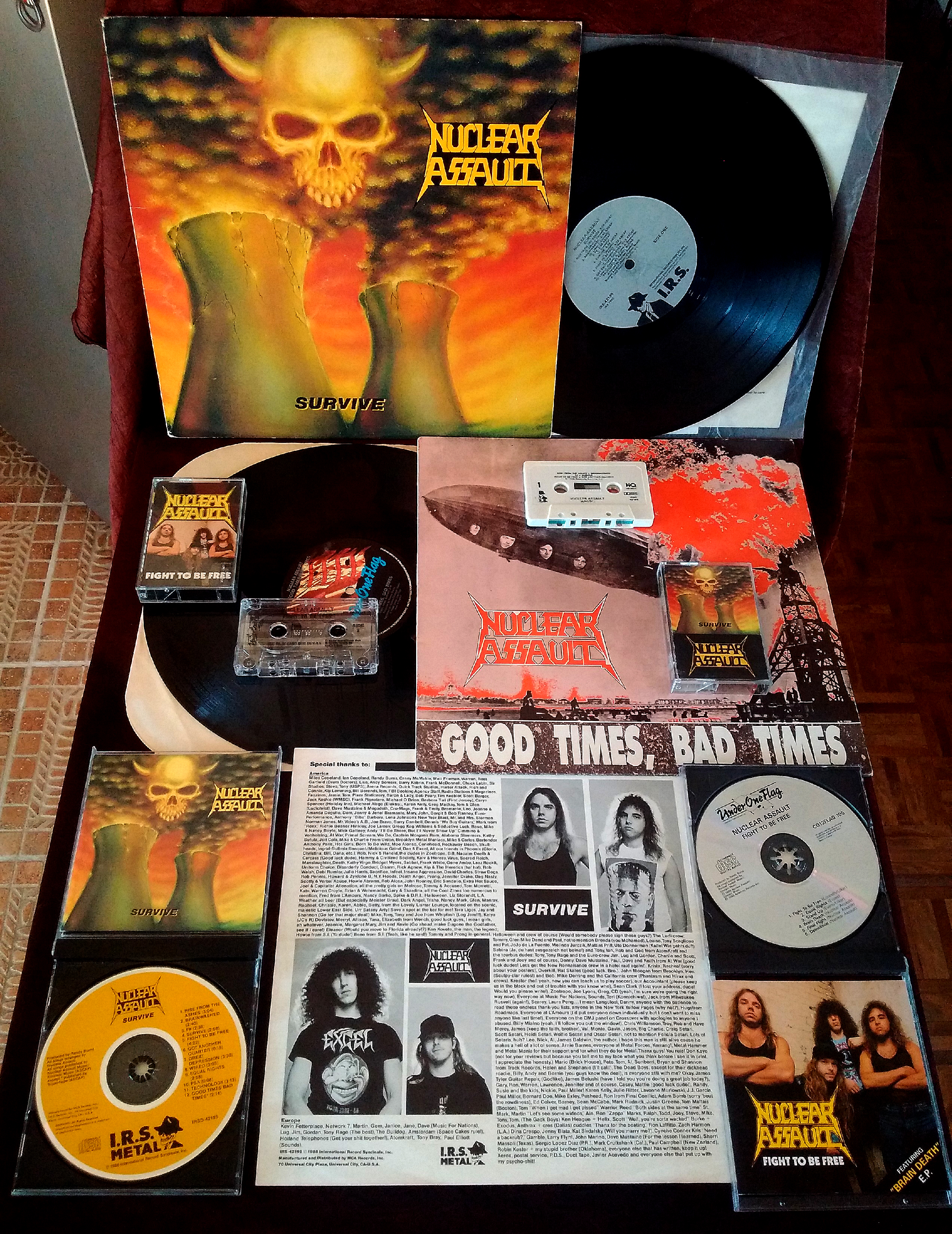 June 13, 1988 - 2023: 35 years of: Survive.

World War Three thrash !

Thrashmetal's golden years, the glorious second wave. It ain't game over for them, it's game over for us. After 1987's The Plague EP, the speed would morph into more social-consciousness. The take-over comes from the deep slums of New-York City, following the pope hanging, who will survive this NUCLEAR ASSAULT ?

The circle-pit starts off with "Rise From The Ashes", from deadly downpicking to cryptic chaos, the fun never stops ...as further displayed on "F#" and the ultra ultra ultra speed of "Technology".

Smart-metal covering serious topics from the anti-war message of "Fight To Be Free" and the self explanatory: "Equal Rights". The added LED ZEPPELIN reprise of "Good Times, Bad Times" is a nice bonus in the cool-factor and the butt-fuck is real, as the funny video-single for "Brainwashed", is an imminent wake-up call for this apathic 80s-society, see below:

"Moronic sit-coms and one-sided news, alters your feeling give you conformist views.
Why can't you get that garbage out of your head, you'd better off to read a good book instead."

1988 was the turning-point where speedmetal was trading places back to thrash, while incorporating new textures of musicianship and more intelligent lyric-set. NUCLEAR ASSAULT is a fine example of extending thrashmetal beyond the front-row carnage. Other key-players of this new-school would include: DEATH ANGEL, SUICIDAL TENDENCIES and SACRED REICH.

After the holocaust, the upcoming fallout would be with 1989's rough 30inch steel blast-doors of Handle With Care LP.

*
Brainwashed = video
https://www.youtube.com/watch?v=OUXkqNjoaQQ
Survive = full LP
https://www.youtube.com/watch?v=nw6X_v49eI4&list=PLd6x4-VpRx7h6IA_1Zcp6he2KDlp35q0_
Interview in 1988
https://www.youtube.com/watch?v=Us1fJ6i-9E4
Live in New Rochelle in 1988
https://www.youtube.com/watch?v=1feuJ0EcITc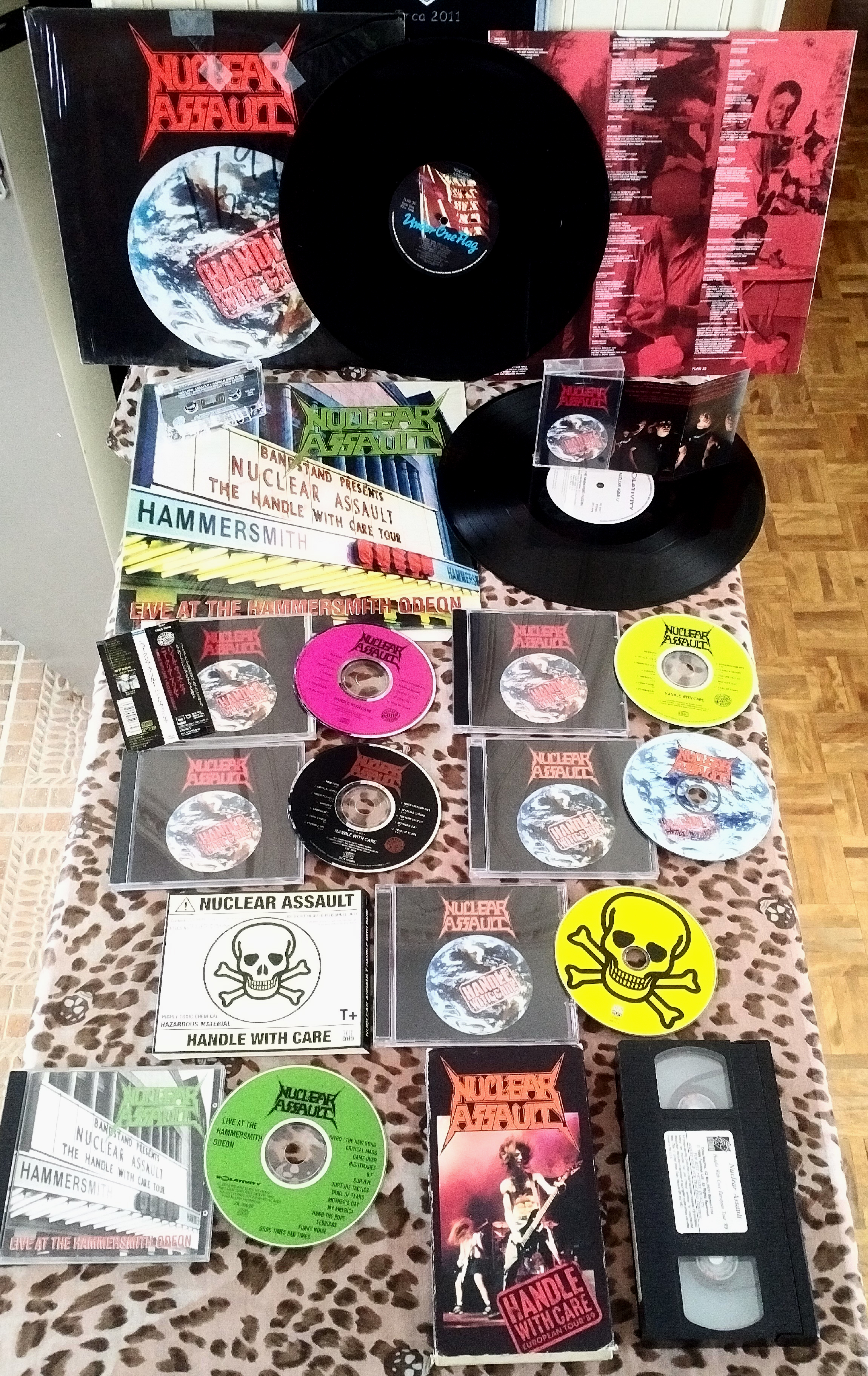 NUCLEAR ASSAULT
Handle With Care
1989

*
Handle With Care = full LP
https://www.youtube.com/watch?v=HWtPPE2qX7w&list=PLzDMOar-1Y_xdRZlvAJePIjkYaq6DOV3T



more NUCLEAR ASSAULT:


S.O.D.
&


BRUTAL TRUTH
INDEX
helterskelter.ca
(c) (p) 2017-2023 helterskelter.ca. All Rights Reserved. Tous Droits Réservés.