JUDAS PRIEST


March 23, 1976 - 2021: 45 years of: Sad Wings Of Destiny.

Hail Great Britain !
Hail JUDAS PRIEST !

The turning-point in the greatest heavymetal band in history. The turning-point in heavymetal history.

JUDAS PRIEST 1974's debut Rocka Rolla LP is a fine colored heavyrock-blues record but this time, the amps are humming and the band goes to 11, into full overdrive. Following the British-path of the CREAM + ZEPP-school, they would now forever breakaway beyond the realms of death and craft the true basis of actual heavymetal. BLACK SABBATH are heavy, JUDAS PRIEST are metal, do the math.

"Take another look around, you're not going anywhere !"

The LP opens with heavymetal's greatest song ever, the monstrous "Victim Of Changes". From highs, too glass shattering highs, frontmen Rob Halford provides the pace for bloody heavymetal, for eons to come. From the left K.K. Downing shreds on the Flying V and from the right Glenn Tipton rocks on the SG: there is no escape. The first mid-part is the template for thrashmetal, the quick-punches and later rough rhythms albazed by a smoking feedbacking lead is all it took to create the new genre. The second mid-part breakdown is ethereal magic as the free-style ad-libs builds-up, constructs and climaxes with some of Halford's greatest performance ever. No song as or ever will match the driving feeling this 7:48sec rocknroll journey ...NONE !

Speaking of thrashmetal and wrist-warmers, the killing machine "Tyrant", the firepower of "Genocide" and the turbo riffing of "Island Of Domination" are the best three jugulating examples of actual white heat red hot metal meltdowns.

From whisper to rabid rage, the Stairway-type epicness of "Dreamer Deceiver" ascends from subtle to extreme mayhem. Part II with "Deceiver" is a crystal pure commanding all guns blazing heavymetal riffraff. Slowing down for a second, the boys gives us their best QUEEN-impression. The piano-only "Epitaph" ain't no love bites, but a posh mix of falsettos and melodies, that no other hardrock band would produce in this time-space.

Never turn your back on "The Ripper". London's foggy streets never looked so dark, cold and lethal. The intro, the riff, the spine-chilling scream ...all of this sin after sin chaos in merely 0:23sec. Mid-paced with a mid-evil anti-hero as the main character, the machine-man in black comes alive and slashes his way with cut-throat hard as iron heavy-rock.

Sad Wings Of Destiny has rapidly become synonymous with the early era of the PRIEST, as the new decade would turn them into a rock metal-machine we now worship at the altar. With immortal classics like 1980's heavy-duty trend-setting British Steel LP and the bloody 1982 ear-drums splitting Screaming For Vengeance LP, JUDAS PRIEST would not only emblazon the look of heavymetal, but the sound and the characteristic of this rebellious-religion.

Album #2 and drummer #6 ...Sad Wings Of Destiny also introduced to the world, a now iconic metallic symbol that would be associated with the almighty faith defending PRIEST forever to come: the Devil's Pitchfork.

Heavymetal is worth fighting for ...so ride on the wind through these pestilence and plagues ...get unleashed ...and rock all around the world !

The band is: JUDAS PRIEST !
The album is: SAD WINGS OF DESTINY !
The fact is: THE GENESIS OF TRUE HEAVY-METAL !

*
Sad Wings Of Destiny = full LP
https://www.youtube.com/watch?v=lqSo85W10w4&list=OLAK5uy_lmm2JCbFJnHxIqTjQliJe2NVdHVX0QehM
Live at the Old Grey Whistle Test in 1975
https://www.youtube.com/watch?v=Wvlq1F-X6Ko





The greatest Heavy-Metal album by the greatest Heavy-Metal band !!!

Yes, you've heard about AC/DC, BLACK SABBATH, IRON MAIDEN, METALLICA and SLAYER ...but it all really started with England's JUDAS PRIEST. The year 1980 is ground-zero for real heavymetal, the Stonehenges of the genre with albums like: Back In Black, Heaven & Hell, Ace Of Spades ...and British Steel !

British Steel is just that: 100% pure red-blooded raging British heavymetal (aka Steel). Picking-up hints from the street-vibes of the UK-punks of '78, the PRIEST's 6th record forever encompassed:
- The sound of heavymetal,
- The style of heavymetal,
- The attitude of heavymetal and
- The look of heavymetal, from the ground-up.

The heavymetal lifestyle before PRIEST, didn't include leather, chains, spikes, motor-bikes and ear-splitting guitar-solo challenges as a whole ...PRIEST made all that happen !

From Halford's banshee high-pitched vocals, all the way to the creative killing duo of Downing + Tipton's lead-guitar trade-off: PRIEST were at the heavymetal pole-position with an all killers - no fillers trend-setting album !

From the opening razor riff of "Rapid Fire" (UK track-listing), to the heart-pounding drums of "Metal Gods", to the biker-anthems of "Breaking The Law", to the arena-rock-sing-along of "United", to the positive message of "You Don't Have To Be Old To Be Wise", to the rocknroll realities of "Living After Midnight" ...all the way to the ending fast-paced "Steeler" (one of the first speedmetal songs, the first one being another PRIEST track with "Exciter" in 1978) ...British Steel is the full heavymetal package, there is none higher !

JUDAS PRIEST = HEAVY-METAL = BRITISH STEEL

*
LP
https://www.youtube.com/watch?v=B0yjVypSOCU&list=PLPf69IGxwfBHCkttXq7TtmTKQGxC6cc8u
VID
https://www.youtube.com/watch?v=L397TWLwrUU
TOP OF THE POPS
https://www.youtube.com/watch?v=zBJ8D_cjy28





Hard to stand-out when you're sandwiched between two of the greatest heavymetal albums of all time !

After 1980's heavymetal gem British Steel and before 82's Platinum-selling metal monolith Screaming For Vengeance, JUDAS PRIEST released 1981's Point Of Entry ...in retrospect, a breath of sough-after fresh air.

Before 86's pop-metal abrupt left-turn Turbo, there was Point Of Entry. The forgotten one, the light-hearted one, the un-metallized one that fans tend to put aside ...but they are dead wrong, as the accomplished fans understood the pattern from Day 1: PRIEST never played it safe and never recorded the same album twice !

Granted, to some extend, Point Of Entry is a softer-British Steel: hints of ACCEPT, roots of AC/DC and shades of SCORPIONS, Point Of Entry is a hybrid hardrock/heavymetal album performed by a heavymetal band yet heavier then the other hardrock acts out there at the time. Also consider that POE is the PRIEST's seven full-length album, they already had the fame and success and now they had the liberty to think out-of-the-box, so this time let's have some fun (see cheesy videos below)

Written and recorded in Ibiza, earth's everlasting party-place, the union with the PRIEST's sixth member, producer Tom Allom, repeats itself after the British Steel success.

The album opens-up with the landmark rock anthem "Heading Out To The Highway" a rocking track still present in today's setlist, "Don't Go" is a foot-stomper that really shines with Downing's lead-work, "Hot Rockin'" does just that, a faster track that keeps a perfect pacing for the album as a whole. The flanging heavy intro and laid-back drums of "Solar Angels", to the boogie-feel of "You Say Yes", to the bass-driven rhythm of "Troubleshooter" rocking all the way to the album's closer, the positive kick-ass vibe of "On The Run". The album revolves around the epic "Desert Plains", the perfect metal ride-along-song, a story about driving on a motorbike thru the vast hot desert. A number that features some of Halford's strongest vocal performance, in the live environment, ever.

Witness Desert Plains in concert in 1982, heavymetal's best live vocal tracks:
https://www.youtube.com/watch?v=1Es9LAHSqmc

Point Of Entry is another living proof to the fact that JUDAS PRIEST is THE premiere heavymetal band of all time. Better and more diverse than it's peers, on both sides of the Atlantic ...PRIEST innovates and is the one unit that can be: bluesy on Rocka Rolla, push biker-rock on Stained Class, solidify heavymetal on Killing Machine, go glamrock on Turbo, perfect powermetal on Painkiller, energize modern thrashmetal on Jugulator and even do the concept-album on the 100mins+ Nostradamus !!!

1981's Point Of Entry stands as an iron-fist in a velvet-glove within PRIEST's impressive catalog.

Some of the lukewarm welcome must be attributed to the pale-artwork, hard to come hard again after such previous iconic designs like Sad Wings Of Destiny, Stained Class and British Steel ...yet the best was ahead, AKA the Doug Johnson trilogy-era.

Still going strong, 45+ years of creating, recording and performing heavymetal worldwide, JUDAS PRIEST is the monarchy of heavymetal.

From desert plains I bring you love !!!

*
HEADING TO THE HIGHWAY
https://www.youtube.com/watch?v=LKuuHfMx3CQ
DON'T GO
https://www.youtube.com/watch?v=3ROVXf6fZ0U
HOT ROCKIN'
https://www.youtube.com/watch?v=UxV7GTbqC10
LP
https://www.youtube.com/watch?v=fe3Z2-hu3KY
LIVE 1981 AUDIO
https://www.youtube.com/watch?v=kVfWGrDs3ZE
LIVE 1981 VIDEO MEDLEY
https://www.youtube.com/watch?v=gLLyNDLvyDw





JUDAS PRIEST
Screaming For Vengeance
1982

*
https://www.youtube.com/watch?v=ADtpUXe2YmA&list=PLw3BaJwSfPMXuI-u_r94-LwWlmCEAMtRt





April 14, 1986 - 2021: 35 years of: Turbo.

Ready for some wild nights ?

1986 - America - the massive tidalwave for hardrock ...and JUDAS wanted a part of it. From Birmingham, the sound and the looks of the almighty PRIEST got a major facelift, West-Hollywood style.

Defending the faith since 1974, sin after sins under British steel, the hell bent for leather rocka-rollers were now entering this new arena. Traditional English-heavymetal in a full 90° from this young new-school made of: hairdos that defies gravity, loud headroom production, made-for-radio powerballads and a sexy rebellious attitude.

The vibe, the darkness, the synth-guitars of "Turbo Lover" mesmerizes. Hooked on deadly diesel, American-teens became lovers on turbo-mode and shifted the action into overdrive. One the band's best sleaze-rock track ...tell me there's no other !

3 - 2 - 1 - GO !

Pistons goes into full RPM on the race-track as you are now "Locked In". Loud guitars, loud drums and loud hardrock, it's heavymetal wrapped in party-rock attitude: PRIEST did it, PRIEST made it happen. Welcome to sin-city, with more lava-like hardrock. Blow your sound-system speakers and rock 'round the clock with "Wild Nights, Hot & Crazy Days" and let it roll worldwide with the wall of sound of "Rock You All Around The World"

Slow down and let the melodies flow on the FM-cut, the chilling "Out In The Cold". The powerballad template, revamped by the great British metal-monarchy. Let Halford's voice take you in the love-zone as the climax explodes at 4:26sec with master axe-men Downing and Tipton under full metal-command. Just one more chance baby, I need all your lovin' tonight !

Want some more ?

Back in the saddle with more ass-kickin' loud arenarock. Look but you can't touch, hands-off as this is "Private Property", where youth is king, hence we don't need no "Parental Guidance". Guilty pain and pleasure: cheesy, yes ...cool, hell-fuckin' yeah !

Unleashed in the live environment, the PRIEST metal-machine came out with a full roar. The enormous stage set, literally a statement that bigger is better, did steer some US-bands to push the boundaries to new heights: see upcoming Girls Girls Girls 87 and New Jersey 89 tours. Particularly on the East-Coast, in the surroundings of the Cap Centre, the rage was burning up. Teenage beer-drinkers and hell-raisers gathered and all of this mayhem was immortalized on tape, as they rabidly waited for the PRIEST's Fuel For Life concert.

Hardrock fans in the mid-80s in America: Heavy Metal Parking Lot.
https://www.youtube.com/watch?v=QBryTebK2Og

Caught between the WASPs, the CINDERELLAs and the DOKKENs, PRIEST had to try a shot at American-hardrock. A commercial success and a turning-point in the band's career. Still today, the Turbo-era is either loved or hated by heavymetal-fans. Albeit opposition from die-hard old-school 70s-fans, JUDAS did came back with the heavier 1988 Ram It Down LP and later changed the game for everyone under the sun, with the iconic metal-meltdown all guns blazing masterpiece: 1990's Painkiller.

The 80s, Earth's best decade for hard-rocknroll !

*
Turbo = video
https://www.youtube.com/watch?v=JhY9GOhFwN4
Locked In = video
https://www.youtube.com/watch?v=Zr6rChjsWgs
Turbo = full LP
https://www.youtube.com/watch?v=ietU5yUJ7zk&list=PLdAXwRhDPkPWY3HBKBdgOucKXX7RUBDj4
Press conference in 1986
https://www.youtube.com/watch?v=5yyuYs1oHTI
Live in Montreal in 1986
https://www.youtube.com/watch?v=3d4poQQVy60
Priest ...Live ! = full LP
https://www.youtube.com/watch?v=xT6c3fDyMZY&list=PLw3BaJwSfPMWMQFWIvxGod_r7PGn5uvW2
Priest ...Live ! = full VHS
https://www.youtube.com/watch?v=9oaC0SW1i8M&list=PLFM0NOsrWApSTTh4z7IjHlV7zNcMXLQ5y





September 3, 1990 - 2020: 30 years of: Painkiller.

The greatest heavymetal band of all-time delivering the greatest heavymetal album of all-time.

JUDAS PRIEST is the band and Painkiller is the album !

England's hard as iron Metal Gods have been hot rockin' 'n rollin', faith defendin' and law breakin' under sad wings since 19-fuckin-74. The look, the feel, the sound, the attitude, the voice, the rage ...it's heavymetal and it's all here. Nevermind the bollocks: here's the Painkiller !

Pushing the hell bent for leather-look with 1978's Killing Machine LP, grinding the hardrock-sound with 1980's British Steel LP, riding on the worldwind with 1982's Screaming For Vengeance LP and even fashionising themselves with 1986's Turbo LP ...yet it was all over now.

The past is the past.
Time to step-up the game.
Boys become Men, and then Men become Sirs.
The Marshalls are humming.
The Harley-Davidson is roaring.
A new era is here.
This is 1990: a new decade ...and once again JUDAS PRIEST are setting the pace with more blood red sky heavymetal.

JUDAS PRIEST is the band and Painkiller is the album !

Taking the harmonized-melodies of mid-80s European powermetal, mixed with the new sounds of late-80s American thrashmetal, all recorded using state-of-the-art digital studio-technology under the electric eye of power-producer Chris Tsangarides. The band that started it all were re-writing the heavymetal-handbook and heavymetal history itself, while paving the way for the upcoming centuries of heavymetal bands to follow.

Ladies and Gentlemen, would you please welcome the four horsemen:
Sir Rob Halford on vocals,
Sir Ian Hill on bass-guitar,
Sir K.K. Downing on lead-guitar,
Sir Glenn Tipton on lead-guitar.

JUDAS PRIEST is the band and Painkiller is the album !

...and now stand up, round of applause and please welcome on drums, the American-born: Sir Scott Travis.

The "Painkiller" drum-tornado intro, 30 years later, IS STILL THE ONE to be reckoned with. The title-track attacks, kills and annihilates everything under the sun. Full jawbreaking double-bassdrums roll, remember this was not common in traditional heavymetal at that point, as this signature was predominantly used in the thrashmetal-format only. We all heard the fast PRIEST tracks like Steeler, Exciter and Sinner ...but this is pure speedmetal hellion and fury. The hate-level jumps at Mach IV on cue as soon has the guitars kicks-in. The dissident aggressor, the Metal God Rob Halford shouts and desecrates in an unprecedented spew of maniacal vocals. The tale of a winged-robot riding the metal-monster, a dragon / motorbike hellrider, the "Painkiller" is the savior from above, ascending to earth to save mankind from an imminent apocalypse.

THE GREATEST HEAVYMETAL SONG IN ALL OF HEAVYMETAL'S GLORIOUS HISTORY: PAST, PRESENT AND FUTURE !

This type of music shall never be the same. Mark your calendars make a raw deal with the devil, as there is a pre-Painkiller and post-Painkiller era in heavymetal's timeline ...and this is just the opening-track, think you'll make it alive ?

Painkiller = isolated vocal-tracks
https://www.youtube.com/watch?v=FhH7wFpcqvI
Painkiller = isolated rhythm-tracks
https://www.youtube.com/watch?v=FEiXVDvw1ec
Painkiller = isolated drum-tracks
https://www.youtube.com/watch?v=XjAaoM7B2eY
Painkiller = isolated bass-tracks
https://www.youtube.com/watch?v=_kOxLxTldFw

Make way and stand by for the new exciter: the "Hell Patrol". Another type of metallic sentinel, this time bound to "Brutalize you, neutralize you, gonna go for your throat as you choke, then they'll vaporize you" ...sounds like fun ain't it ? The clinically-precise lead-guitar intros to the über-fast and furious freewheel burning "Metal Meltdown" is a rapid fire of metal-riffs and skull-crushing-rhythms. Ramming everything down, none shall survive this brutal assault.

The album's metallized powerballad, the epic tension-filler "A Touch Of Evil" is a true kiss-of-death metal-track. Slowly burnin' up, the dragonaut-like is a mesmerizing twist of melodies and overdriven-guitar unisons. The organ-like keyboard supports this gigantic piece and features some of the greatest white heat red hot fret-work by lead-guitarist Glenn Tipton, a modern and updated "Beyond The Realms Of Death". Pure evil fantasies, as ecstasy controls you.

The greatest heavymetal frontman / tyrant of all-time yells out the "All Guns Blazing" intro-call. More thrash-infused high-paced demonizing heavymetal takes a stand as the most powerful music in the universe. Lead-guitars abound and slice thru the skin in a lovely fashion. The hardrock flair of "Between The Hammer & The Anvil" takes no excuses with it's earth-shaking verse-riff and ultra-heavy bridge section that opens up the majestic metal-magic of K.K. Downing and Glenn Tipton, both unified under the high waving Union Jack.

And now the forgotten gem, the last track, the troubleshootin' battle cry of "One Shot At Glory". Not a mere run of the mill track, but a full 6:48sec of suave powermetal melodies. Clever riffs and even more clever dual-unisons, this cut creates and pushes the term: modern powermetal.

JUDAS PRIEST is the band and Painkiller is the album !

While in the midst of one of mankind's most historical event: the Persian Gulf War, the PRIEST would battle another type of evil. The album that almost didn't happen. In a controversial trial in Summer 1990, the band and their record-label were both liable under the US criminal justice-system. Truth, common-sense and the First-Amendment cleared them and from that angst, sadness and turmoil, they saved freedom of speech in rock-music and returned with full screaming for vengeance firepower.

The PRIEST's impressive legacy was already sealed and secured even before the 1990-era. Yet with this new Lochness metal-monster, the sin after sinners have not only busted the bank, but also reset the clocks and gave all those edgy 80s metal-bands a fair run for their money. 30 years later, Painkiller, the heavymetal-masterpiece album still delivers the goods and is still mentioned daily in heavymetal discussions and medias. Not only by it's immense march of the damned comeback, coming back from the lukewarm 1988 Ram It Down LP, but as a whole as it cemented a new musical-genre: modern powermetal.

The immaculate production and it's pristine lethal content are, just like Nostradamus: timeless and immortal. Now once again on top of the heavymetal food-chain, JUDAS PRIEST ARE RUNNING WILD AND REIGNING SUPREME, as they provided MORE leather, MORE studs and MORE heavy duty heavymetal than ever.

From the dawn of creation to the future of mankind, one cold hard fact remains:
JUDAS PRIEST ARE BRITISH HEAVYMETAL !
THERE IS NONE ABOVE !
THE METAL GODS HAVE SPOKEN !
JUDAS PRIEST IS THE BAND AND PAINKILLER IS THE ALBUM !

In the live environment, the band tagged along with some of the key-players in the thrash-scene, the explosive TESTAMENT and the forerunners MEGADETH on the US-leg, and with the new kids on the block: PANTERA and ANNIHILATOR on the European-leg. The world-tour would even make a stop at the second edition of the now legendary South American festival: the Rock In Rio II in January 1991.

Sadly, the Painkiller album and touring-cycle would be the last Rob Halford wild nights, hot and crazy days-collaboration. Recent years of tension and personal need for other musical endeavors would draw him away from the PRIEST, heading out to the highway into new pain and pleasures: FIGHT and later the reckless TWO. But fear not, you've got another thing comin' as JUDAS would rise from the ruins and eat us alive with new singer, the American-born devil's child: Tim "Ripper" Owens.

From the CBS Records advert: Painkiller awesome ! backwards or forwards.

*
Painkiller = video
https://www.youtube.com/watch?v=nM__lPTWThU
A Touch Of Evil = video
https://www.youtube.com/watch?v=PW-6FKFnHx8
Full CD
https://www.youtube.com/watch?v=nc1ayihR8NA&list=PLPf69IGxwfBFaYBu7pTf6YCABlM7ZL0sq
MTV interview in 1990 at Foundation Forums
https://www.youtube.com/watch?v=5tbgFpr_g8E
Interview in 1990
https://www.youtube.com/watch?v=5X0ilyHj3NU
Live in Detroit in 1990
https://www.youtube.com/watch?v=RDeBY1rmBmw
Live at Rock In Rio II in 1991
https://www.youtube.com/watch?v=bt3maQIHV8s
Some guy
https://www.youtube.com/watch?v=YatB62FQky0
Some girl
https://www.youtube.com/watch?v=K7gr5RMODTw
Some kid
https://www.youtube.com/watch?v=KqSx8kfwtpM
Some other guy
https://www.youtube.com/watch?v=Z4ChZpUMO0A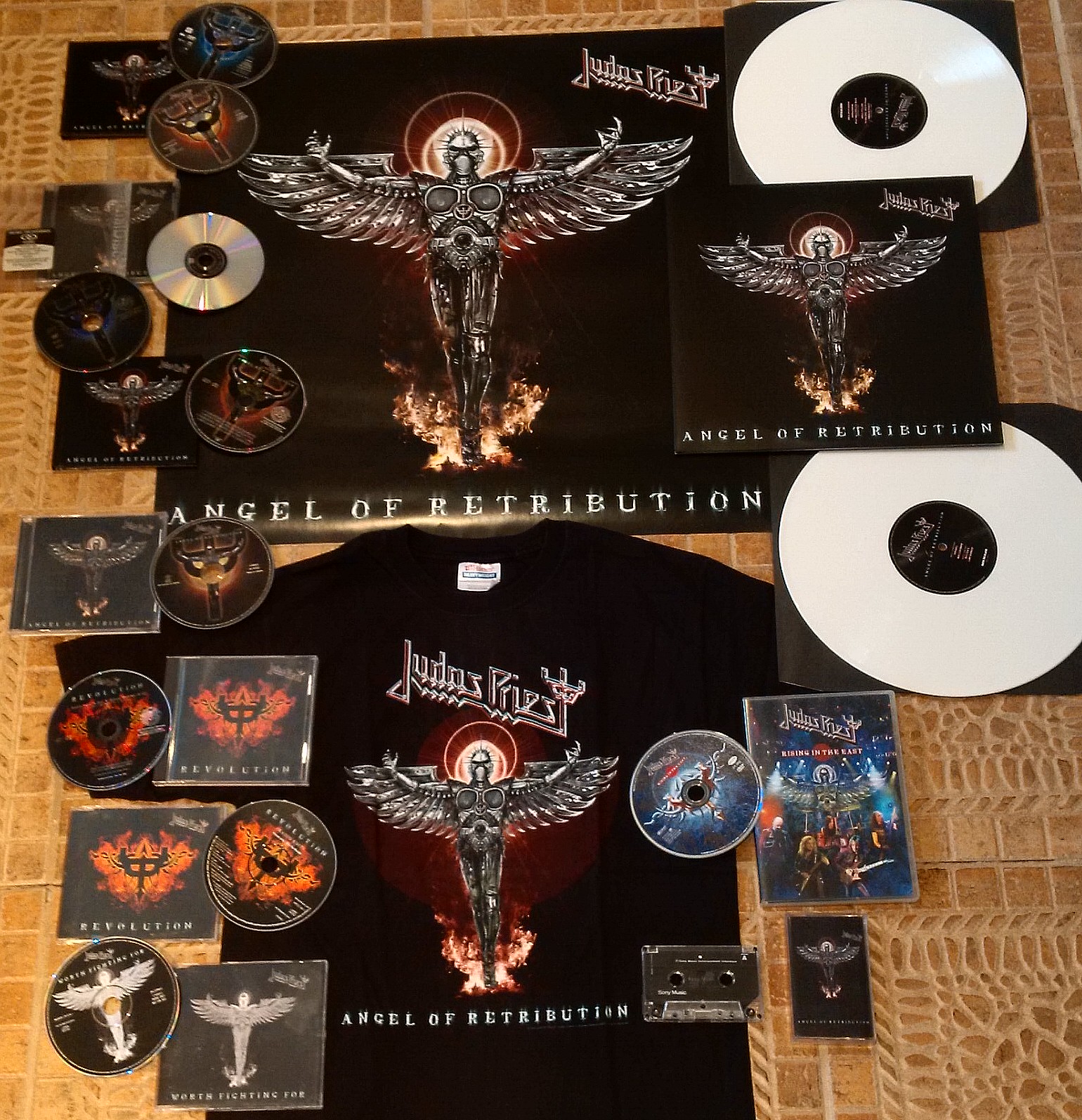 In 2005, the mighty Metal Gods were resurrected and reunited with the blessing of the Angel Of Retribution, the strongest return of the metal millennium by any metal band.

Next week, the Metal Gods shall return once again re-metalizing heavymetal in it's purest form ...with full FIREPOWER !!!

https://www.youtube.com/watch?v=dALNxrbeGnQ
https://www.youtube.com/watch?v=jaU00RaMDfk






JUDAS PRIEST FIREPOWER: l'album heavy-metal le plus puissant dans sa catégorie depuis le début du millénaire, bar none !

Mon aventure Firepower:

Fan fini depuis 1990, chaque nouvel album du PRÊTRE est une cérémonie métallique finement protocolaire. Ma prévente fut placée le 21 Février sur un site spécialisé qui offre des items exclusif pour l'abum. Je commande et paye mon vinyle-double, mon digibook, ma cassette exclusive (300 unité sur la planète) et mon baseball-jersey exclusif.

Tout va bien, keep on rockin' et la date de sortie du 9 Mars approche, j'me dis que j'va recevoir ma commande durant les jours qui précède, mais non. Le 8 passe, le 9, le 10, le 11, crisse rien dans la fuckin' Poste. Je email la compagnie, questionnant l'état de ma commande pour me faire dire qu'il y a eu des "problems with the cassette and vinyl records from our supplier"

CRISSE DE TABARNAK, cette cassette est ultra limitée et maintenant vendu sur ebay/discogs a 90$US. Mon hype est mort, je cancelle ma commande, il me rembourse (avec un taux de change dévaluatif) fini fuck off, je suis en OSTI D'SACRAMANT ...les mains vide, nous sommes le 2 Avril.

Quelques jours plus tard, en magasin j'achète le CD normal ainsi que la version digibook (je suis collectionneur, oui je sais, je suis malade) Très amer de cette mésaventure, tsé j'ai pris la peine de PRE-COMMANDER des items à l'avance, pour me faire dire qu'ils sont sold-out 3 semaines plus tard. J'étais 1 des fuckin' premiers 300 à avoir passé ma commande pour cette cassette (et le jersey aussi)

Ceci dit, le temps s'écoule et hier après-midi (20 avril) dans ma boite à malle, surprise sur prise, un paquet assez gros, pesant, avec un chandail dedans, pourtant j'ai rien commandé ?

Eh oui, l'entièreté de mon stock y était, comme le démontre la photo ...et tout ça GRATISSSSS !

Happy Record Store Day !

KEEP THE FAITH !!!

*
ALBUM
https://www.youtube.com/watch?v=Isu5JpXNzxI
VID
https://www.youtube.com/watch?v=CUzcxJNZKC4




Référence croisée Helter Skelter:


HALFORD projects
&


JUDAS PRIEST
INDEX
helterskelter.ca

(c) (p) 2021 helterskelter.ca. All Rights Reserved. Tous Droits Réservés.